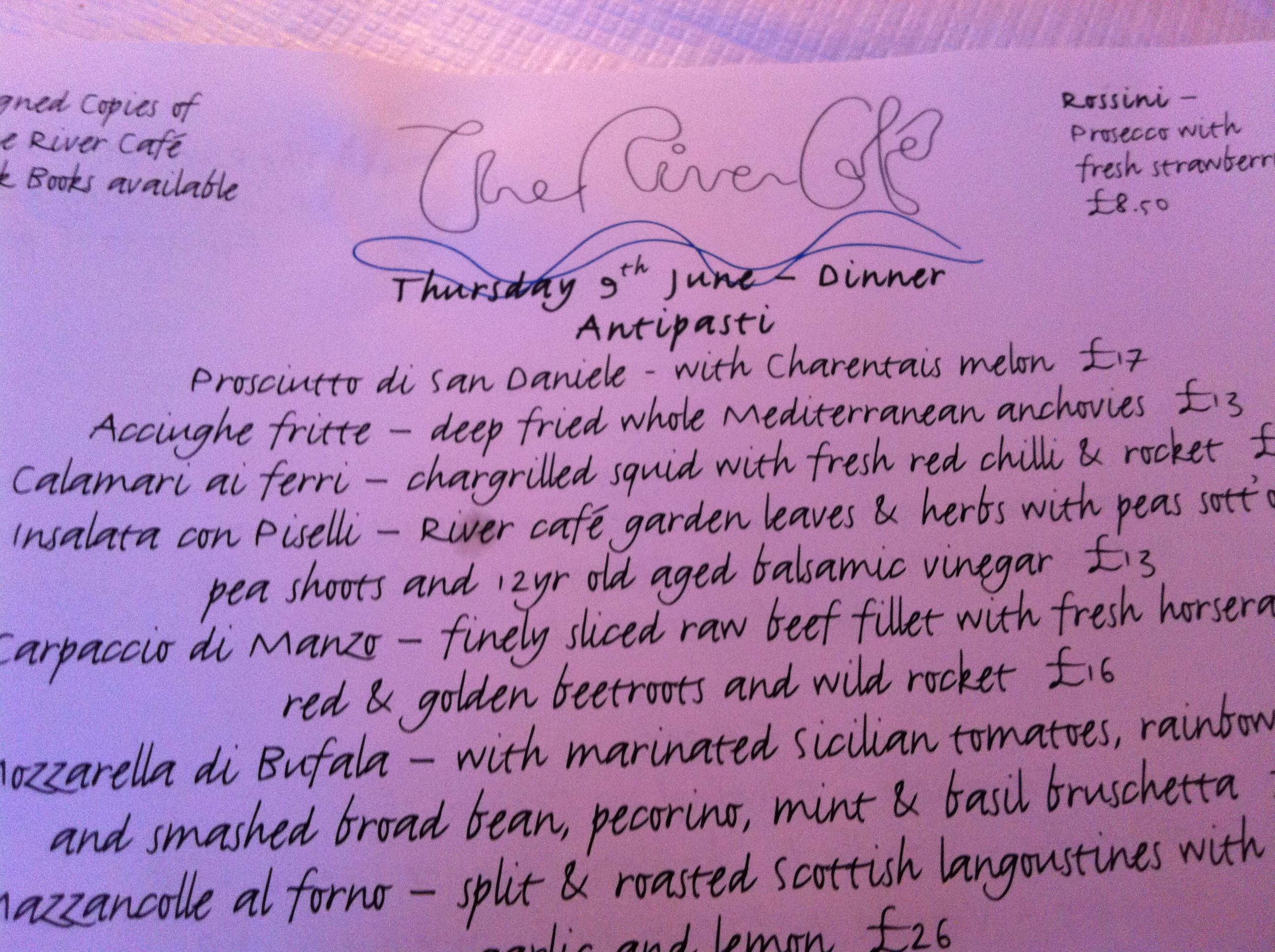 Like it or not, we live in a consumer culture. Whether it's Prada or Primark, foie gras or filet-o-fish, we're a society that knows the meaning of money and (with some exceptions) we like to spend it. Some more than others. What exactly is it that makes people fork out for a designer dress, an eye-wateringly expensive hair cut,  a £100+ bottle of wine? Is it an assurance of quality that we often seem to accept as going hand-in-hand with a high price tag, the status and sense of self-importance that comes with flashing one's flexible friend, or are these products actually better, more rare, made from finer products and with more love, care and attention?
Any review of The River Café is going to mention price, so I'm not going to pussy-foot around it. Renowned for its incredible approach to food and fabulous ingredients, this Michelin starred restaurant is also much maligned for its extremely expensive menu. Jay Rayner has described it as 'peasant food at plutocrat prices', and there seems to be a great divide in the foodie world as to whether it falls into the category of the sublime or the ridiculous. Or as A.A. Gill puts it in his full marks review for The Times, 'Depending on the delicacy of your own social digestion, the River Caff either fills you with syrupy feelings of excitement, warmth and nameless intellectual superiority, or it makes you want to join a nihilist terror cell'. . .
Perhaps it's their underlying ethos which rubs people up the wrong way. The River Café is all about simple, seasonal ingredients cooked without complication; perfectly made pasta, fresh vegetables and local cheese, slow-cooked meat with unctuous beans. Peasant food without a purée, coulis or foam in sight. The lack of fancy frills seems to jar with the astronomical prices and, while it may have started life as an employee canteen, this is definitely not food for the masses or for every day. But if you're willing to brace your wallet, pick a special occasion (it's unlikely to become your local) and take a closer look at this eating institution, I'd like to suggest that it might just be worth the price.
The River Café's approach to sourcing food is second to none. Ruth Rogers and Rose Gray's reverence for simple, seasonal ingredients can be seen on every plate, and has clearly been passed on to their numerous graduates, the list of which reads like a who's who of all that is good about cooking today (Sam and Sam Clark of Moro fame, Theo Randall, Hugh Fearnley-Whittingstall, Ed Baines, April Bloomfield, Allegra McEvedy and Jamie Oliver to name a few). The new wave of wonderful London Italians (Trullo, Zucca, Tinello, Bocca di Lupo…) all give a nod to this grande dame and, while some might argue that their diminutive prices and superlative cooking take them one step ahead of the more elderly institution, I think The River Café is still at the top of its game.
Service is friendly, laid back and unobtrusive. In fact you really don't even have to think about it, which I guess it how it should be,  leaving more time to focus on your fellow diners and the fantastic food and wine. We visited for a family birthday in June, so the menu was rich with strawberries, broad beans and peas, crab, scallops and new season lamb. Amongst our starters, my roasted langoustine was the most dramatic; huge pink crustaceans with tender white flesh dripping in garlicky goodness and giant claws to crack, this was a hands-on dish to ooze and slurp as I attempted to defend my plate from the jealous wandering hands of my dining companions (Carniverous boyfriend and brother take note).
Deep-fried whole Mediterranean anchovies were simple and delicious, the batter light and crisp against the tiny, melting fish; an insalata con piselli perfectly showcased The River Café's simple, seasonal approach to food with peas and pea shoots dressed in a rich, fruity olive oil. But it was my brother's dish that truly stole the show; creamy mozzarella di bufala with marinated tomatoes, rainbow chard and a bruschetta of smashed broad beans, pecorino, mint and basil, it sang with the flavours of early summer, of beautiful bread, cheese and vegetables, and of the care and attention lavished on these carefully selected ingredients by the kitchen.
Pasta, as always, was show-stopping in its simplicity. Perfectly al dente stracci ('rags') dressed with vine tomatoes, black olives, basil and pecorino = bliss. Stinco di vitello proved popular in our party with three of us opting for the veal shin and accompanying slow-cooked peas (a lovely and different treatment of the same peas that appeared as a starter), chard and gremolata. Coscia d'Agnello ai ferri appeared succulent and blackened by the grill, with fresh borlotti beans and a spicy red salsa. All incredible ingredients, beautifully cooked, lovingly seasoned, and combined in ways that can't help but bring a smile to your face.
People rave about the chocolate nemesis at The River Café. The scourge of dinner parties, many claim that the recipe for this dense, dark dessert is so incredibly top secret that the version printed in the eponymous cook book is not actually the real deal.  My advice? Ignore the conspiracy theorists and opt for the pressed chocolate cake if it's on the menu. Sweeter, fudgier and altogether more delicious, this is the cake to melt a thousand hearts and win a thousand more. Especially if served with the egg-yolk rich vin santo or zabaglione ice creams which the kitchen is famous for. The combination of rich, silky chocolate (it sticks to the roof of your mouth, but in a totally good way) and creamy, boozy ice cream is utterly unbeatable, and worth every penny for its perfection.
For a restaurant criticised for its high prices, the wine list is surprisingly reasonable. For this special occasion we drank a Vermentino from Lunae, a fresh, dry Favorita and a deep, grassy Teroldego. We kicked off with a deliciously light prosecco from De Faveri, and Carniverous Boyfriend and my brother rounded everything off with a glass of chilled Aleatico which stood up to the pressed chocolate cake surprisingly well. Whatever your taste there plenty of options to suit different moods and budgets, including some half bottles, and it's certainly not as daunting as it could be.
The River Café is not the kind of place you eat every day. Even if money was no object, the copious amounts of incredible oil and parmesan, the extremely generous portions and the unmissable puddings would probably see your waistline expand in direct proportion to your diminishing wallet. However it is an amazing place, and well worth trying if you haven't already been. A beautiful space, impeccable service and incredible ingredients combine to make this a truly five star experience, and I've not had a bad meal there yet. Sublime or ridiculous? I'd definitely say the former, but you'll have to make your mind up for yourself – I'd love to hear your thoughts.