There's something about Christmas that can bring out a militant side in the most relaxed of people. Those who at other times of the year will happily go with the flow suddenly become sticklers for tradition, asserting their right to enjoy the season's festivities exactly as they're used to them. This differs from family to family, but the same Christmas conversation seems to take place on an annual basis amongst my friends; we list the dishes we always eat, the smoked salmon starters or lack thereof, the bubbly opened at breakfast, turkeys basted, potatoes roasted and enforced enjoyment (or not) of the dreaded brussels sprout. While dishes might vary from household to household (turkey is traditional, others go for goose, etc) there seems to be one constant; people stick to what they know at Christmas. With a few exciting elements thrown in perhaps, but generally speaking, if Mum's mince pies or Granny's incredible gravy don't feature, there's going to be trouble.
It might be a different story in your family, but for me it feels like there's a slight disconnect between these Christmas traditions and the festive alternatives that are consistently fed to us at this time of year. Open the latest foodie magazine or turn on your TV and your favourite chefs will be suggesting contemporary takes on the Christmas classics; Asian spiced potatoes, raw sliced sprouts or even the astonishing turkey wellington I saw in a recent Jamie Oliver magazine (I have to admit it looked pretty good). They all sound interesting, but does anyone actually end up making them on Christmas Day?
Maybe a lot of you do. Maybe it's just my family that has to have their potatoes roasted just right, two different types of stuffing, sticky little sausages snuggled around the turkey and presents opened after lunch (ok, that last bit might well be just my family. My Granny instigated this ridiculous rule that we had to wait until after the Queen's speech to open our presents and somehow it's stuck. As soon as I'm in charge of Christmas, some things are going to change round here… ).
Having said that, our approach to the sweet stuff is a different story. Christmas pudding isn't hugely popular in the little loaf household, so every year we experiment with a different dessert. This almost always has a chocolate theme – you can't go wrong with a Yule log or dense slice of chocolate biscuit cake, studded with jewel-like cherries and scented with cinnamon – and is usually accompanied by a plate of my Mum's mince pies and a dollop of my Dad's lethal alternative to brandy butter, laced with rum and guaranteed to perk up the quietest of guests.
It's strange that we don't mess around with the mince pies really – everyone else seems to. Browse the supermarket aisles and you'll find a wide variety of pies, from traditional shortcrust to flavoured or puff pastry, different fillings and various varieties of lids. This year Heston Blumenthal has created a pine-scented pie for Waitrose more akin to an Eccles cake (I'm not convinced, the pine sugar smells a bit like air freshener to me) while his Fat Duck Chef Ashley Palmer Watts has developed a deep fried pie for charity bake-off The Mince Pie Project (this sounds dangerously delicious). Look online and you'll find numerous recipes involving mincemeat from tarts to truffles, terrines, palmiers and even ravioli, while mince pie ice cream is another alternative slowly creeping into mainstream consciousness.
The recipe below is something I created with fellow foodie Miss South of the fabulous North South Food blog. We'd planned in a day of dessert making back in the summer but, due to various unforeseen commitments, didn't actually get around to getting together until last weekend. Our original idea of ice cream felt a little cold and naked now that winter has descended, so we've tucked it inside a crisp, short pastry and blanketed it with a cloud of chewy, toasted meringue. Jamie Oliver makes a Baked Alaska Mince Pie which is somewhat similar, but rather than topping an existing pie, this recipe incorporates the filling into the ice cream, making it that little bit lighter and brighter after a large festive meal.
It's pretty easy to make but does involve a fair few stages, so make sure you read the instructions thoroughly before embarking on this recipe. If you're stuck for time you could also make life easier by substituting shop bought pastry and ice cream, although – as is usually the case – the better quality ingredients you start out with, the better the final result.
Baked Alaska Mince Pies
For the clementine pastry
(makes enough for about 12 normal mince pies, but as we're not making lids, you'll have a little left over. Make more pies, bake it as biscuits or you can also freeze any extra pastry)
Ingredients:
250g plain flour
50g icing sugar
Pinch of salt
150g unsalted butter, cold but pliable & diced
2 large free range egg yolks
5ml ice cold water
5ml ice cold clementine or orange juice
Zest of half an orange
Method:
Sift the flour, sugar and salt into a large bowl. Rub the butter through the flour mixture til it vanishes, working quickly and with light fingers. Stir in the egg yolks and water, then mix everything together to form a soft, smooth paste. Pat into a flat block, wrap in clingfilm and chill for 30 minutes minimum, ideally overnight.
Roll out the pastry to about 3mm thick. Cut out rounds using a cookie cutter or a water glass, put each round in the hollow of your pie tin and press gently into place. Prick the bottom with a fork then pop in the freezer for 15 minutes (this will help stop the pastry shrinking when baked).
Preheat the oven to 200 degrees C. Remove your pie cases from the freezer, line with baking parchment and a few baking beans and bake for about 20 minutes until just starting to colour. Remove from the oven, remove the baking parchment and beans, then cook for a further 10 – 15 minutes until beautifully golden and crisp. Remove from the oven and allow to cool completely.
For the ice cream balls
Ingredients:
300ml mince pie or mincemeat ice cream, slightly softened (we used Miss South's fabulous quincemeat ice cream recipe, for the recipe click here)

Method:
Cover a tray with greaseproof paper and pop in the freezer to chill.
Once chilled, remove from the freezer and scoop small balls of ice cream onto the tray, spaced about 2cm apart, with an ice cream scoop or melon baller. Return to the freezer until frozen solid, at least two hours.
For the meringue
Ingredients:
3 large, free range egg whites
1/2 tsp cream of tartar
100g golden caster sugar
Method:
Whisk the egg whites and cream of tartar until soft peaks form. Whisk in the sugar, a little at a time, then turn the speed up and continue to whisk at high speed for around 5 minutes until the meringue is thick and glossy (you can test this by holding the bowl over your head. If the meringue stays put, it's ready. If not…well, you'll need to whisk it a bit longer. If it's not already on the floor…).
Once your meringue is ready, transfer it into a piping bag fitted with a large star nozzle.
For the mince pie baked alaskas
Remove your frozen ice cream balls from the freezer. Pop one into each pastry case, making sure it fits snugly. Carefully pipe your meringue over the ice cream – you can swirl in a circle like on a cupcake, or stud in lots of little stars, as you can see in the photos. A large surface area is good as it allows you to get a good colour on your meringue. This is the stage that you'll understand why you bothered to freeze the ice cream balls ahead of time – don't allow long enough and you could end up with a puddle of creamy mess.
Once you've piped all your pies, pop in the freezer for 30 mins. Put the grill on.
After 30 mins, remove the pies from the freezer and pop under the grill for 2-4 minutes, keeping a close eye on them as the meringue can suddenly turn. We finished ours off with a blow torch to add extra colour, but do be careful at this stage – one over zealous attempt resulted in the whole pie going up like a bonfire and some very toasty meringue!
Serve straight away for the perfect contrast of short, crisp pastry, fruity spiced ice cream and soft, toasted meringue.
Extra notes:
After making these pies last weekend, I realised you could make an amazing alternative – Christmas tree baked alaskas. Simply add a little green food colouring to your meringue and pipe little branches around your ice cream pie. Finish with silver balls as baubles and a dusting of glittery sugar.
You can also use any kind of ice cream in these little pies to keep them going all year round. Chocolate would be delicious with the clementine pastry, or try a different pastry flavouring – vanilla, chocolate, almond or nut all work well.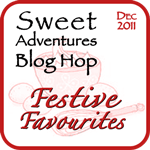 I've entered this post into the Festive Favourites blog hop hosted by 84th & 3rd. To see all the other fabulous festive recipes, click here.