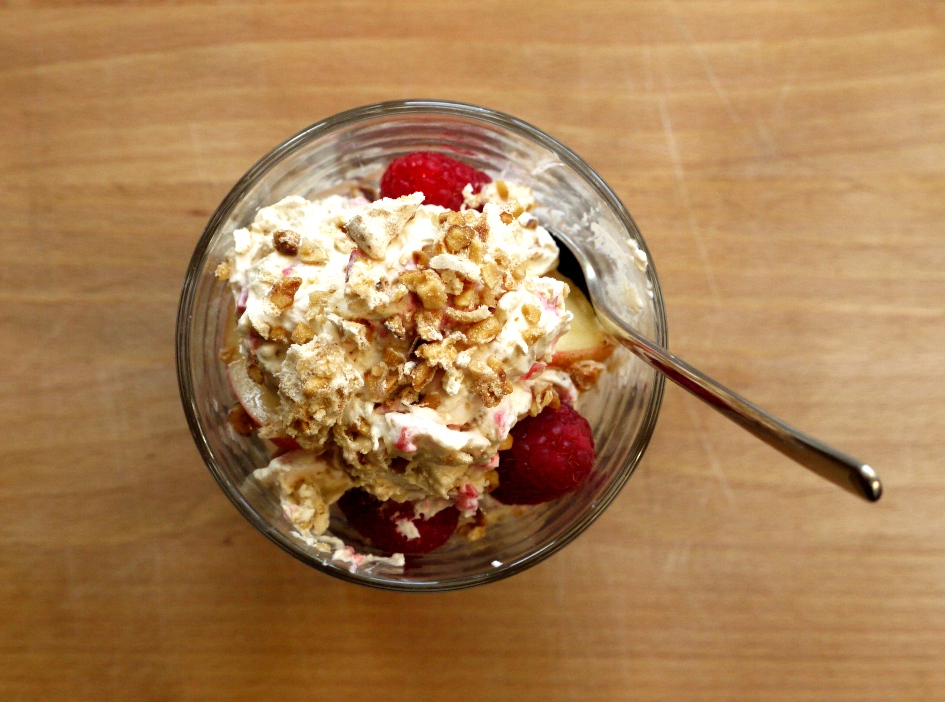 Where do you stand when it comes to freezers? Are they a baker's best friend, a modern monstrosity or simply a necessary evil?
If you like to bake as much as I do, you'll be familiar with the issue of leftovers. While our household has as large an appetite for sweet treats as the next (ok, possibly ever so slightly larger), sometimes there's simply more than we can manage. And while one of the best things about baking is sharing the spoils with family and friends, if they're not around the freezer can be a lifesaver.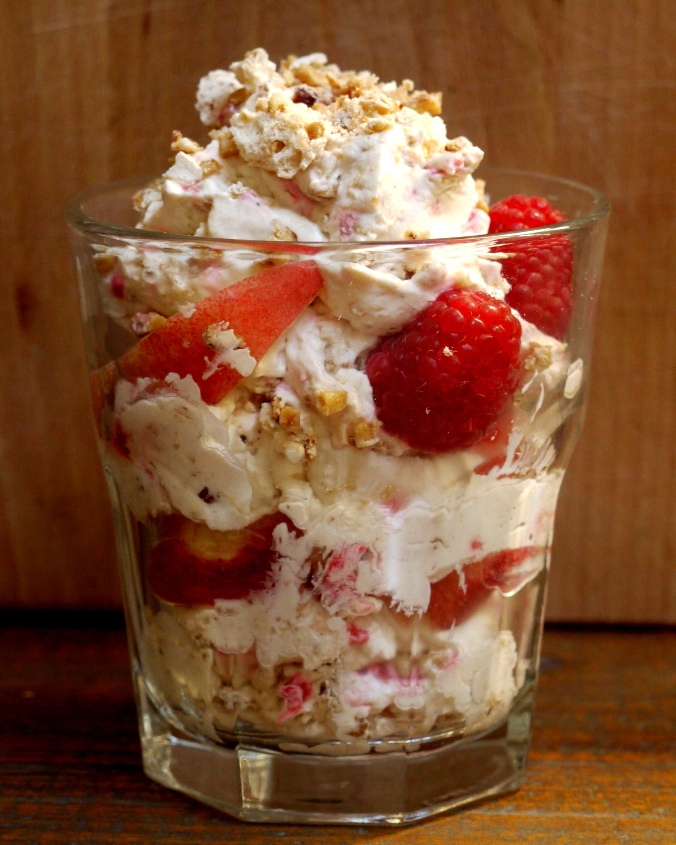 A good way to spot the signs of an obsessive baker is by having a rummage round their freezer. Amongst other things mine contains: a labeled bag of egg whites leftover from a custard based ice cream (and perfect for future macaron making); some scraps of shortcrust pastry; a log of chocolate chip dough ready to be sliced for freshly baked cookies; and two rounds of chocolate almond cake hidden away after I had to remake dessert for someone with an unexpected nut allergy.
Other than that, I don't use my freezer all that much. I'm slightly scared of leaving anything in there for too long and never completely convinced how great it is for things like bread and meat which seem to lose both flavour and texture in the freezing process. Petit pois are about the extent of my concession to freezing anything other than baking leftovers plus, at latest glance, a bag of ice, some berries, a wine cooler and a tub of my precious sourdough starter. Oh, and a small tupperware of these.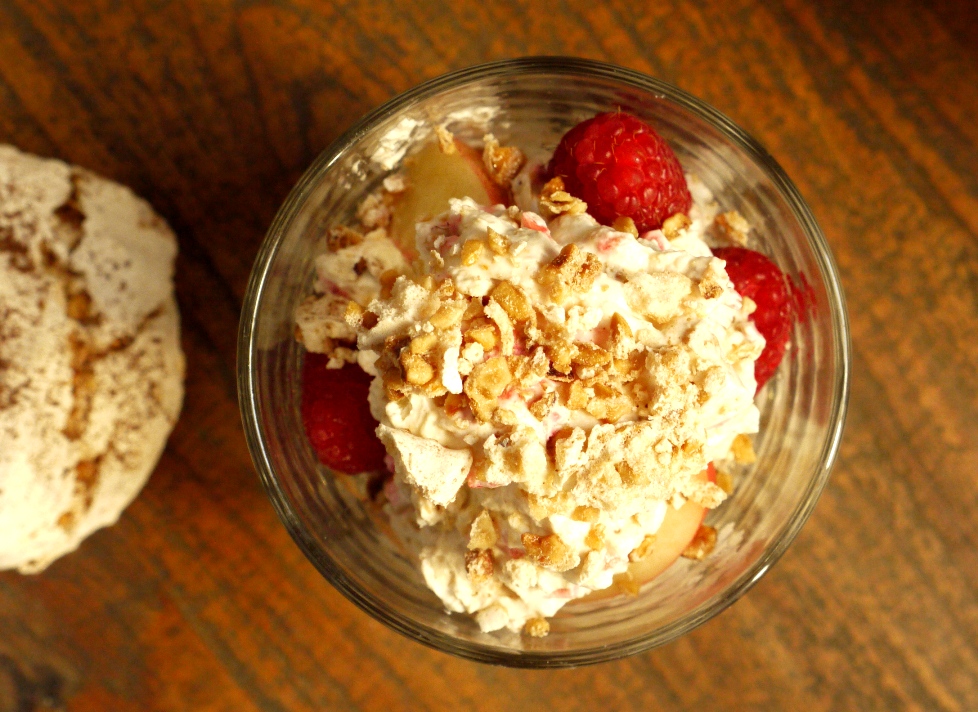 I made these crunchy little hazelnut meringue cookies just before we left for Italy, wanting to make sure the recipe worked and that I could replicate it once we were abroad. We ate some that night with ice cream and a couple more the next day crushed into a simple chocolate mousse, but knowing that we'd then be leaving the country for over a week, I stashed the rest in the freezer.
Yesterday we went to visit a photographer to discuss plans for our wedding next year (excited? Who me?!). After arriving home late and throwing together a simple supper of fresh crab, courgettes and cannellini beans, I still craved the satisfaction of something simple and sweet. While I think brutti ma buoni are rather lovely in their own misshapen way, it certainly doesn't do them any disservice to be crushed into crumbs. The high percentage of nut in each cookie adds a lovely texture when folded through soft whipped cream while a dash of tangy yoghurt offsets the sweet, ripe peach.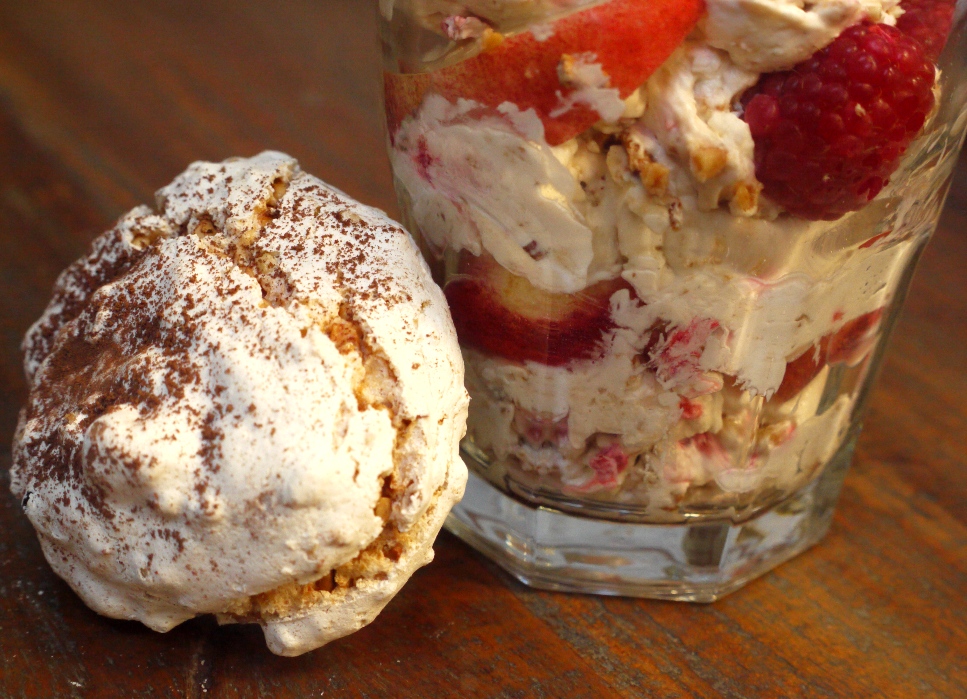 If you can't be bothered to make brutti ma buoni, you could easily substitute meringue in this recipe, making it more of a traditional mess – just up the hazelnut quantity slightly for that lovely contrast in texture and toasty flavour. And if you can be bothered, but aren't quite sure how you're going to eat them all at once, stick a few in the freezer for a later date and an (almost) instant, delicious dessert.
Raspberry, Peach & Hazelnut Eton Mess
(serves 4)
Ingredients:
500ml double cream
Small handful raspberries plus more for decoration
Seeds from half a small vanilla pod
50ml thick natural yoghurt
8 brutti ma buoni biscuits (recipe here) or homemade meringues
2 ripe peaches, stones removed and sliced
Small handful toasted hazelnuts, roughly chopped (optional)
Method:
In a medium bowl, whip the cream until soft peaks form.
Crush the raspberries lightly with the back of a fork then stir through the cream along with the vanilla seeds and yoghurt.
Crush your brutti ma buoni or meringues into rough chunks. Stir through the cream mixture.
Spoon a small amount of cream mixture into four individual glasses or bowls. Top with a couple of peach slices, raspberries and a sprinkle of hazelnuts. Add another scoop of creaminess and repeat the layering process, finishing with a final scattering of nuts.
Serve immediately if you like your meringue to remain crispy. If you prefer something altogether softer, allow to rest in the fridge until ready to eat.