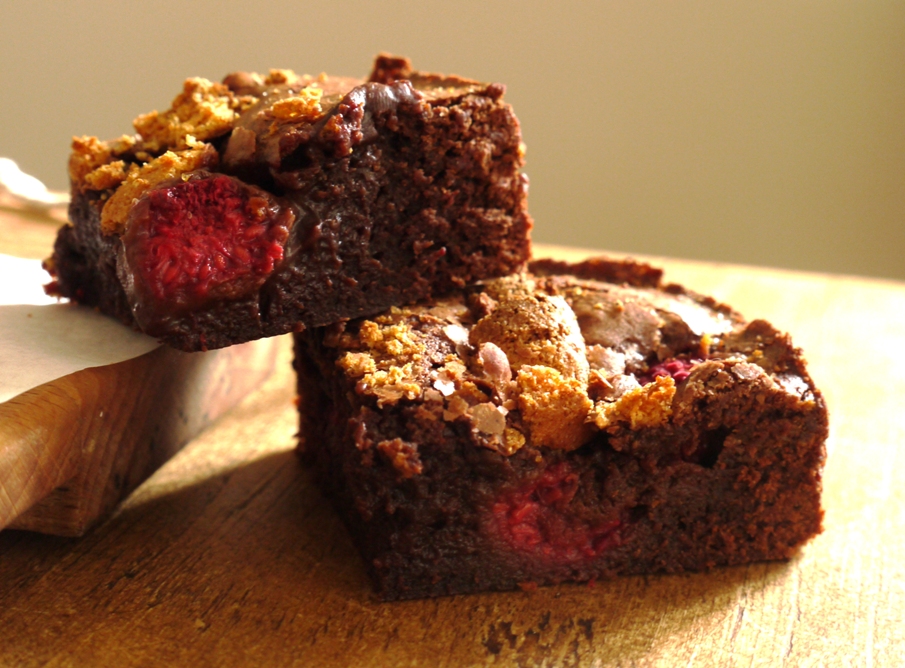 Celebrity chefs are making us fat.
Or so the media might have you believe. According to recent research from the British Medical Journal, recipes from the likes of Jamie, Hugh and Nigella are less healthy than a supermarket ready meal. The study shows these recipes to contain, on average, considerably more calories and saturated fat than their pre-packaged counterparts, casting the latter in a much more favourable light.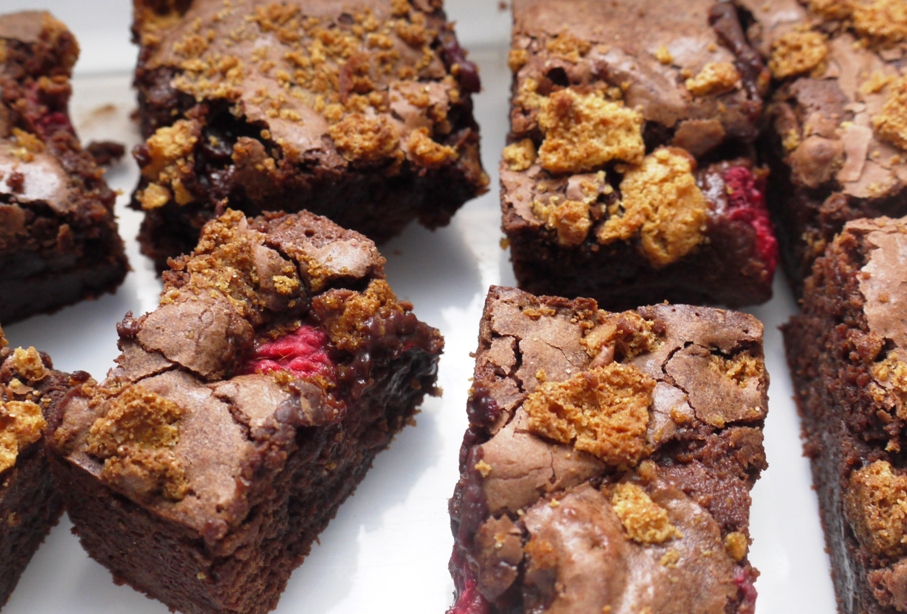 Which feels a bit ridiculous. Of course people are unlikely to praise Nigella for her health conscious cooking (and recipes such as the salted caramel pasta from her recent Nigelissima series are verging on the absurd), but surely the benefits – at a fundamental level – of famous faces encouraging people at home to cook with fresh ingredients from scratch (rather than relying on a microwave) outweigh the negatives that this study brings to light.
I don't lie awake at night worrying about whether recipes on this blog are contributing to obesity. I've mentioned before that I eat a pretty balanced diet: lots of fruit, vegetables, protein and whole grains with most of my baking and eating of treats limited to a couple of days a week. Yes, the recipes I share can be heavy on the butter and sugar, but these are known, natural ingredients, to be eaten and enjoyed in moderation. And while I appreciate that I'm not in the same position of influence as these celebrity chefs, I'm pretty sure the principles are the same: cook what you can from scratch and know exactly what it is that goes into your food.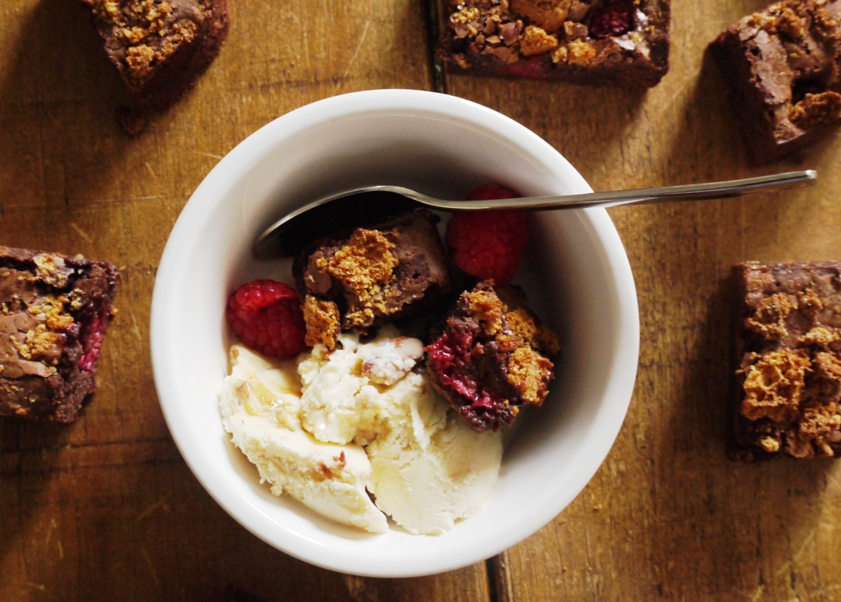 So ready meals are still out in my book and homemade treats very much in. None more so than the brownie as I've never bought a pre-packaged bar that tasted a fraction as good as the gooey, dark, crackly-crusted deliciousness you can bake in the comfort of your own home. Good chocolate, yellow yolked eggs and rich golden butter are ingredients that just can't be beaten, but while I love a plain and simple chocolate brownie, Christmas is as good an excuse as any to jazz it up with some extra ingredients.
The basic brownie recipe here is ever-so-slightly adapted from one given to me by a lovely fellow blogger, stirred through with delicate red raspberries and crumbled crisps of amaretti. The brownies are soft and truffle-like with juicy pockets of fruit and a textural crunch of biscuit, delicious served warm from the oven with ice cream or cold with a glass of milk. They'll keep for a couple of days, but I'm planning to churn what we didn't eat this weekend into ice cream with an amaretto-spiked custard.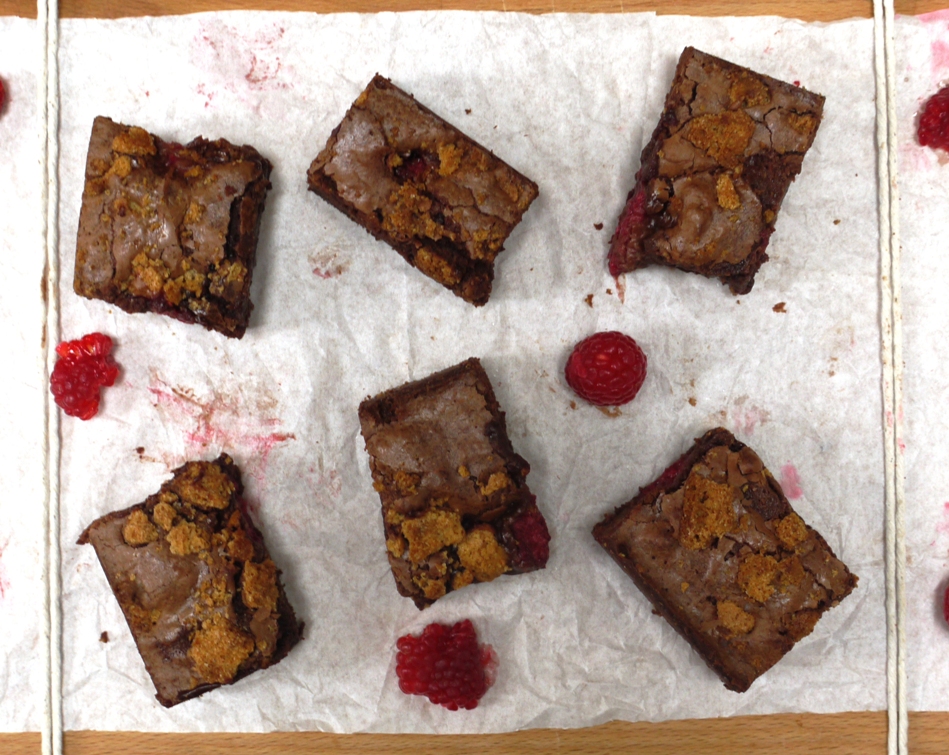 As a responsible blogger I should probably tell you to eat these brownies on rare occasions, enjoy in moderation and advise that they may pack a more calorific punch than the tiny squares that pass for a portion you can buy in the shops. But it's Christmas. And it's obvious. And I'm reaching for a second square as I write this post . . .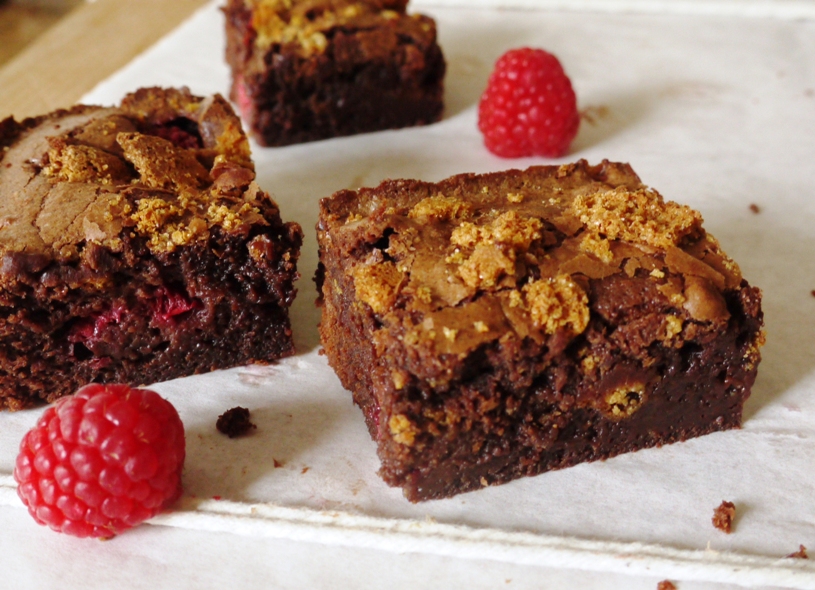 Raspberry Chocolate Brownies with Amaretti Crunch
(makes 16)
Ingredients:
240g unsalted butter
240g dark chocolate, broken into pieces
4 large free range eggs
320g golden caster sugar
Pinch salt
1/2 a vanilla pod, seeds scraped
120g plain flour
75g amaretti biscuits, coarsely crushed
125g raspberries
Method:
Grease and line a 23cm square baking tin. Preheat the oven to 170 degrees C.
Melt together the butter and chocolate in a heatproof bowl suspended over a pan of simmering water. Set aside to cool slightly.
In a separate bowl, whisk together the eggs, sugar, salt and vanilla seeds. Add the cooled chocolate mixture and whisk to combine.
Fold the flour into the mixture until combined then gently fold in the crushed amaretti biscuits and raspberries. Scrape the mixture into the prepared tin and bake for approximately 20 minutes or until the top is set firm but a little batter still clings to an inserted skewer.
Remove from the oven and allow to cool completely in the tin before turning out and slicing into thick, squidgy squares.