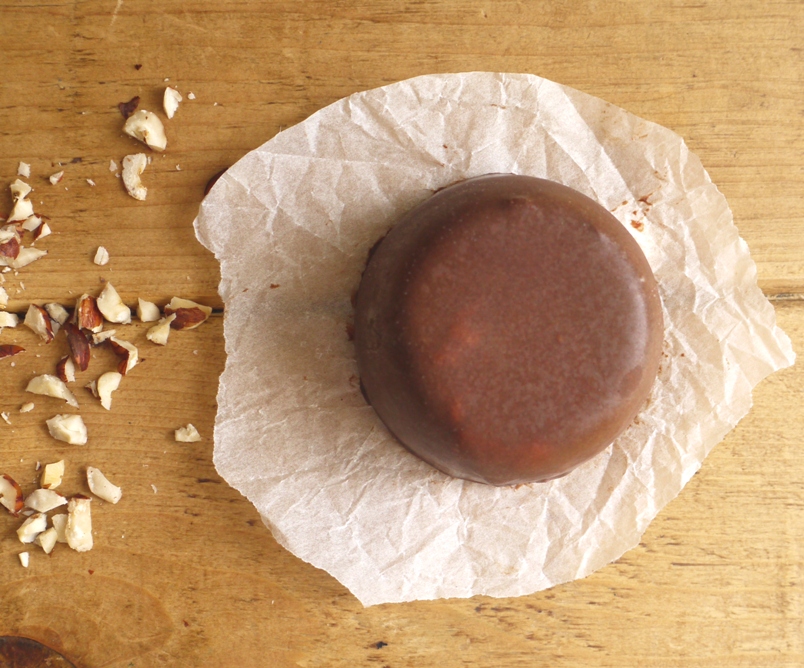 Every family has a set of favourite stories in rotation, the kind you tell at social gatherings, on meeting new people or simply to each other: a kind of comfortable, if slightly repetitive, recognition of knowing each other inside out and of memories fondly shared.
When she's feeling sentimental, my Mum loves to tell stories from our childhood holidays in Italy. The tale of choice for my brother involves a restaurant laid out for a wedding banquet, an excitable two-year-old boy, a table cloth corner just a little too enticing not to pull and . . . well, you can probably guess the rest (except, perhaps, the part where the restaurant owners forgave the devastating mess, whisked my brother into the kitchen and onto the counter, then proceeded to feed him as my mortified mother finished up her meal. God bless the Italians).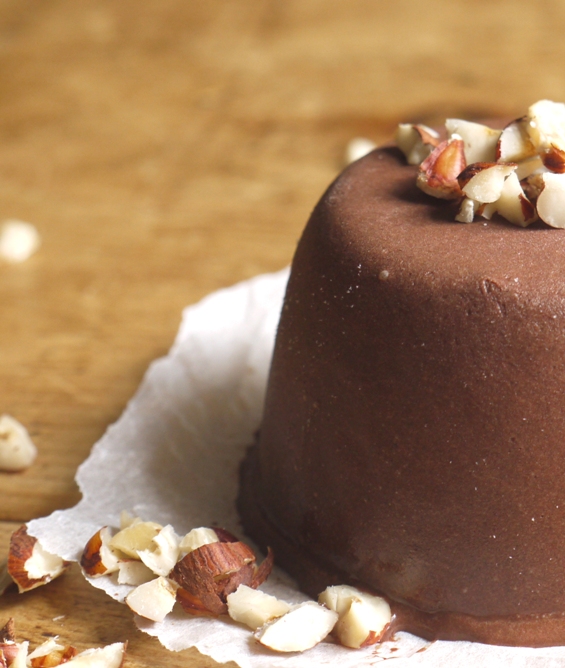 One of her favourite stories about me, again, takes place in a restaurant. As others around me perused the (no doubt lengthy and delicious) menu, I regally announced from my plastic high chair 'Pasta coming, then chips, then ice cream'. Both stories set in Italy, both indicative in many ways of my brother's and my different personalities (one a little bit mad but charming, one opinionated and ever-so-slightly demanding) and both focused (surprise surprise) on food.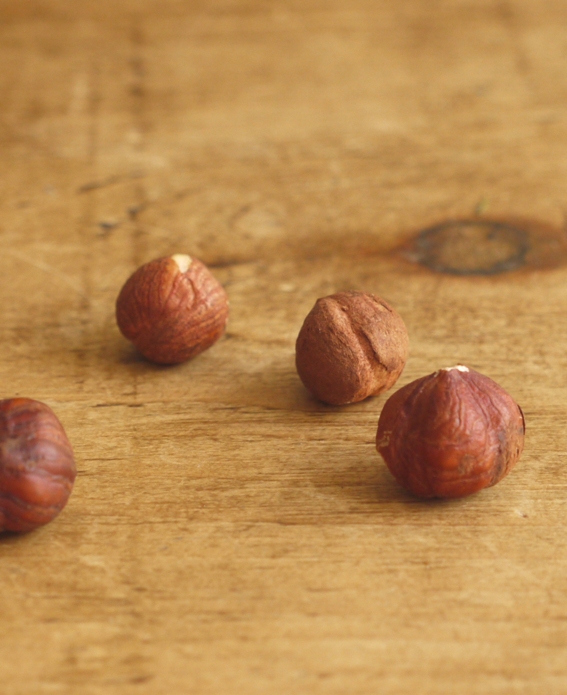 It was my great aunt who lived in Italy – and was most likely present at both the occasions above – who gave me my nickname of the little loaf. However looking at photos from the time, the little ice cream cone would have been almost as appropriate: most holidays filled with daily pit stops for a cone or two. Accompanying flavours might come and go, but looking at photos, chocolate would almost always feature: scooped into a cup or cone, smeared down my t-shirt and occasionally all over my face.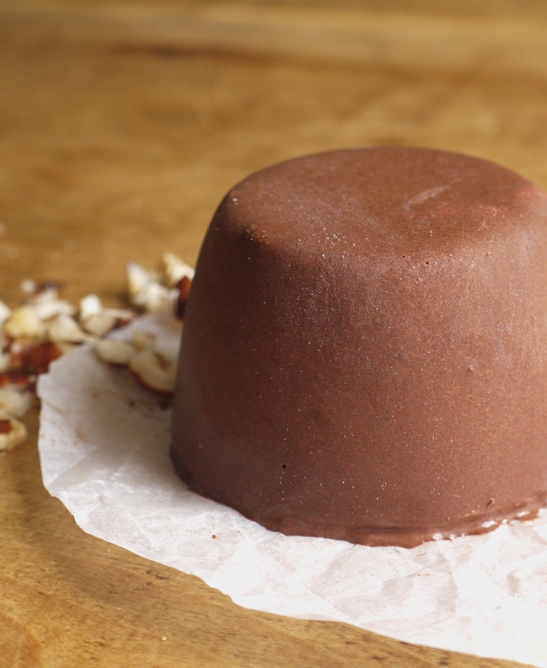 Back in England, my favourite chocolate ice cream to eat as a child (yes, I've finally got to the point of this post) was the chocolate and vanilla bombe at Pizza Express. Nothing elaborate or expensive but part of a favourite weekend treat, served in a little silver bowl, accompanied by a cheap ice cream wafer and eaten so slowly that my whole family would start to despair about their chances of ever leaving the restaurant alive . . .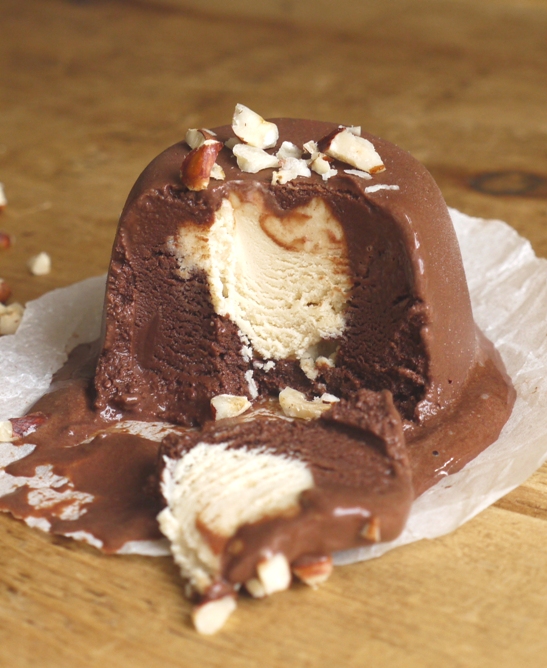 This recipe is my attempt to recreate that childhood memory, updated with some slightly more sophisticated ingredients. I've been testing some recipes for Why Nut (more info on this to follow soon) and had a freezer full of incredible hazelnut ice cream to use up. Combined with chocolate it's an amazing combination, but feel free to try any flavours you like in these lovely little bombes. Delicious eaten slowly, with a small spoon; pasta and chips entirely optional.
Chocolate & Hazelnut Ice Cream Bombes
(makes 8 small or 6 medium bombes)
This is less of a recipe than a technique, but I've linked to a few favourite little loaf ice cream posts in case you're not sure where to start. These bombes are best made using ice cream fresh from being churned for the outside coating as it's a little softer and easier to mould.
Ingredients:
500ml hazelnut ice cream (my hazelnut praline ice cream would work well here), slightly softened
1 litre dark chocolate ice cream, chocolate sorbet or gianduja ice cream, just churned
Method:
Line a tray with parchment paper and place in the freezer. Remove after 30 minutes.
Using a tablespoon, scoop eight small round balls of hazelnut ice cream onto your prepared tray. Freeze until firm, about one hour. In the meantime, churn your choice of chocolate ice cream according to the manufacturer's instructions.
Lay out eight individual dariole or pudding moulds on your work surface. Cut eight small rounds of baking parchment and place one in the bottom of each mould.
Once the ice cream has churned, spoon a small amount into the bottom of each mould – about 2cm. Remove the hazelnut ice cream balls from the freezer and place one in the middle of each mould. Top each ball with the remaining chocolate ice cream, allowing it to completely encase the hazelnut balls. Smooth the top of each mould with a knife, cover with cling film and freeze until firm, overnight if possible.
When you are ready to serve the bombes, fill a bowl with just boiled water. One at a time, sit the bottom of each mould into the bowl for 30 seconds, wipe to make sure it's dry, then put a small serving plate on top and upturn the mould. If your bombe doesn't come out first time, dip it into the warm water again briefly.
Remove the baking parchment hat (if it hasn't stuck inside the mould anyway) and serve with a small spoon and a scattering of toasted hazelnuts, if you like.