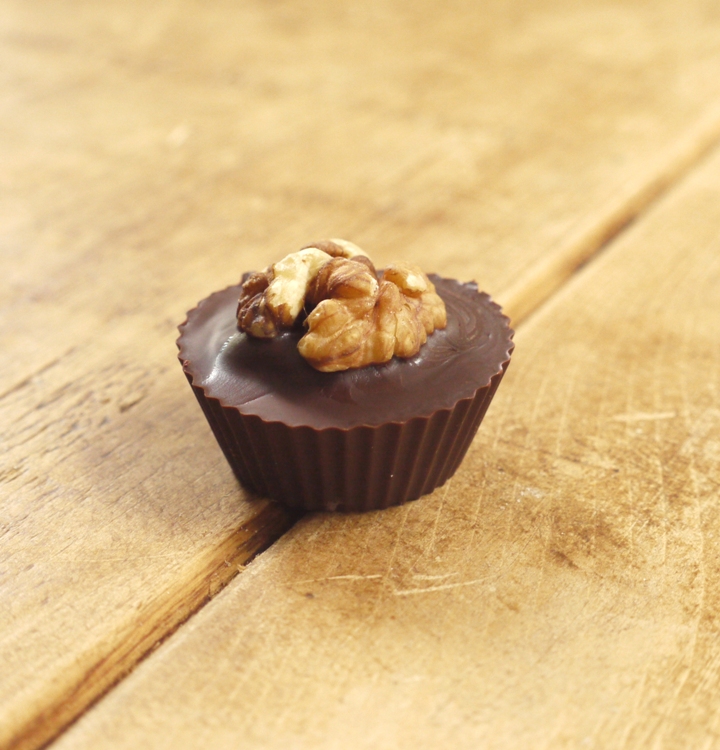 As a child, there's something slightly exciting about spending a day off school sick. Not, of course, if you're seriously unwell, entirely bed-bound and unable to eat. I'm talking about those days when you're possibly still contagious but ultimately on the mend, able to appreciate eating on the sofa, watching too much TV and your Mum (or another adult) making a great big fuss of you.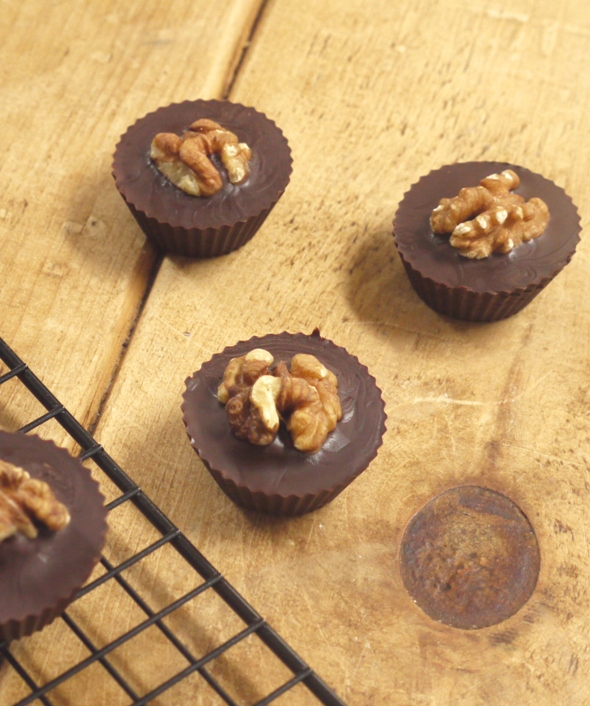 When I ill as a little girl, provided I could eat, my Mum would make me orange juice with ice and Marmite on toast cut into soldiers. If I was upright by the evening, my sick day staple was an individual toad in the hole, eaten off a tray on my knees in front of a film: something we were never normally allowed to do and so incredibly exciting because of it.
As an adult, being off sick is a different kettle of fish. Gone are the days when you can snuggle up, undisturbed, in front of back-to-back reruns of Friends. Mothers are no-longer a live in support system, work can be in constant contact via email and husbands have their own jobs which – unless you're on death's door – they're going to have to prioritise over staying at home and mopping your brow (I know, can you hear my tiny violin . . . ?).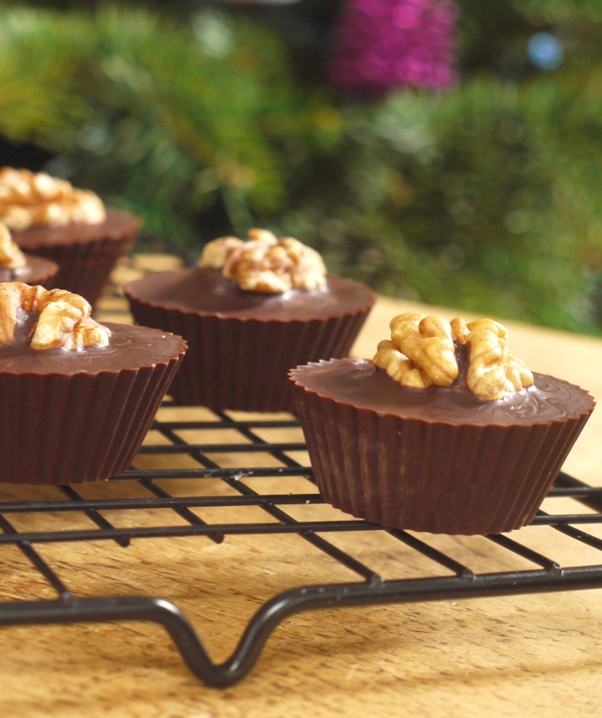 On Saturday I was struck down with food poisoning (you may have noticed a distinct lack of Instagram and Twitter, the little loaf kitchen was a sad and empty place). No-one wants to read about food poisoning on a food blog so I'll spare you the gory details, but suffice to say that come Monday I was still feeling rotten and decided to work from home.
By the afternoon, I was starting to feel a bit better and in need of some sugar to replenish my energy. My furry pink slipper and dressing gown ensemble meant I wasn't going to going anywhere near the shops, so I rummaged through the cupboards and found ingredients to make these lovely little bites.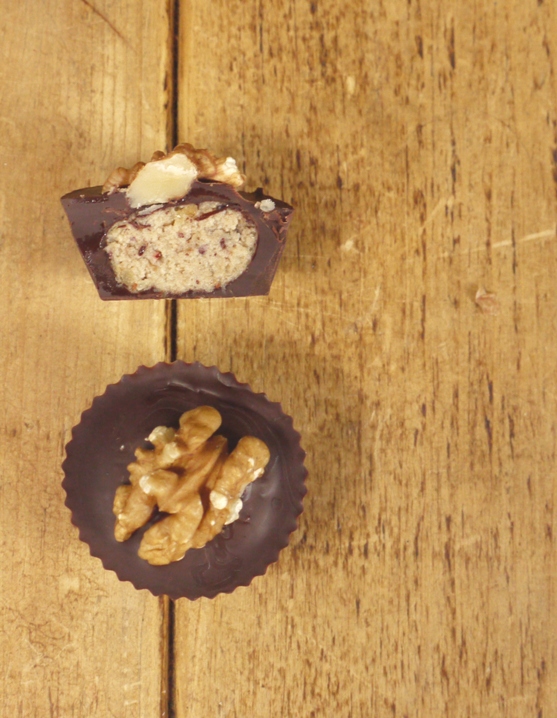 Although homemade nut butter cups are nothing new, I haven't seen a walnut variation before. Walnuts are slightly more bitter than their creamy almond and peanut counterparts but paired with maple syrup, vanilla and crunchy cocoa nibs, they really hold their own as a sophisticated grown-up treat.
Good fats from the nuts, energy from the sweetness and happy chocolate hormones make these little bites the perfect post-illness indulgence. They'd also make a lovely homemade Christmas present if you've started to plan that far in advance (spot the Christmas tree in the background of photo #3, it's full on festive mode from here on in).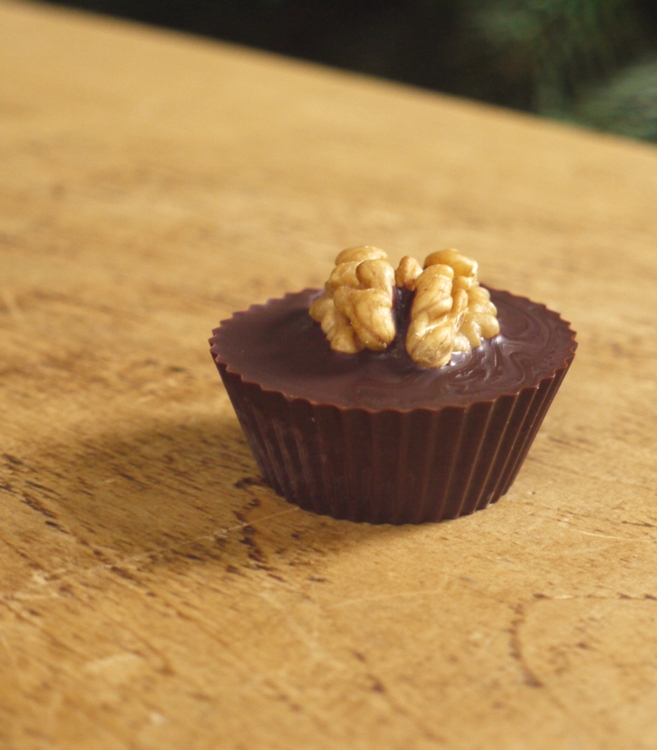 Crunchy Maple Walnut Butter Cups
(makes about 18 mini cups)
These nut butter cups are made using freshly ground walnuts. If you don't have a food processor, substitute with the same quantity of shop-bought walnut, almond or peanut butter. You can also substitute the maple syrup with honey and some of the dark chocolate with milk for more of a child-friendly version.
I haven't tempered the chocolate here as part of the attraction here is how easy they are to throw together. If you want a perfect finish on the cups or are giving them as presents, you can find tips on tempering chocolate here.
Ingredients:
200g dark chocolate, 70% cocoa solids, chopped
1 tbsp coconut oil
125g walnuts halves, toasted in a pan over a low heat for a few minutes
1 tbsp + 1 tsp maple syrup
1 tbsp cocoa nibs
1 tbsp coconut flour (substitute icing sugar for a sweeter variation or omit for a softer set cup)
pinch salt
approx. 18 walnut halves, to finish
Method:
Lay out eighteen mini silicone muffin moulds or line a mini muffin tin with papers (I prefer the silicone moulds but the latter version works fine if you use a tin to help the cups hold their shape).
Melt the chocolate and coconut oil in a heatproof bowl suspended over a saucepan of barely simmering water, then remove from the heat.
Spoon about a teaspoon of melted chocolate into the bottom of each prepared mould, swirling each one gently so the chocolate coats the sides. Set aside while you make the filling.
In a high speed blender, blitz the walnuts until they start to release their oils and a thick, smooth paste forms. Add the maple syrup and cocoa nibs and blitz until just combined (you want the cocoa nibs to retain some crunch for texture). Scrape the paste into a small bowl and add the coconut flour and salt before stirring to combine.
Use a teaspoon to scoop out eighteen little balls of nut paste, rolling each one between your hands before popping on top of the melted chocolate in your moulds. Top each ball with the remaining melted chocolate until covered completely then gently place a walnut half on top of each cup before the chocolate sets.
Chill in the fridge for one hour to set. Allow to come to room temperature before eating or enjoy straight from the fridge if you like a firmer nut butter cup.