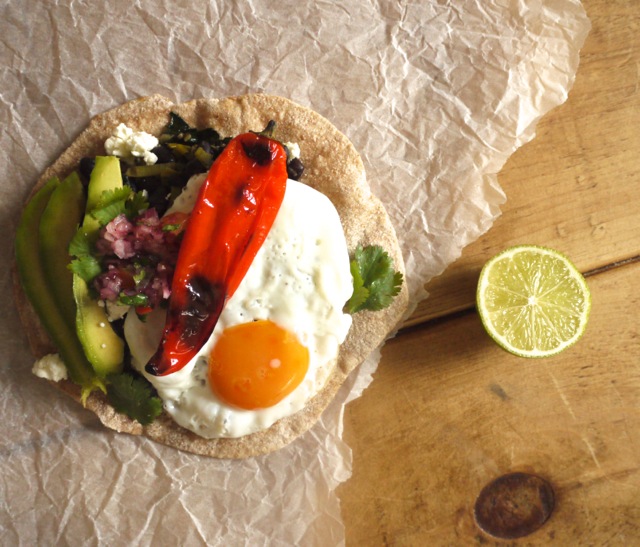 'Only dull people are brilliant at breakfast'.
I'm hoping Oscar Wilde was referencing the conversation not the cooking because I, for one, love a little bit of brilliance at breakfast time.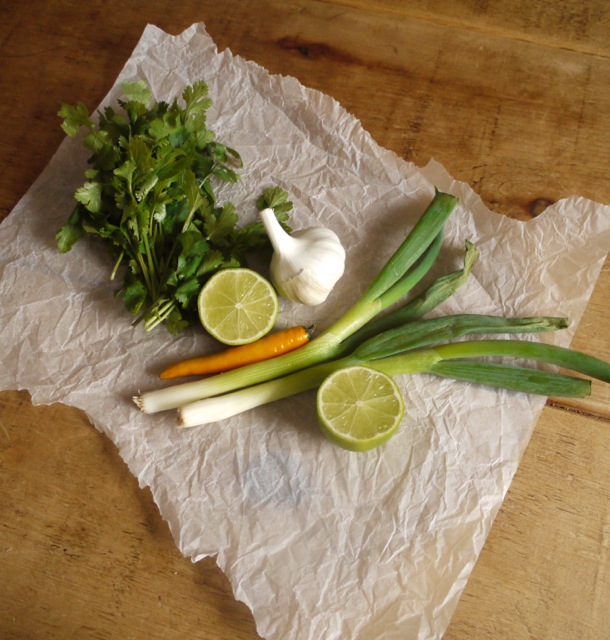 While others make a mad dash out the door or grab something on the go, I always take time to sit at the kitchen table, collect my thoughts and make a proper little meal. Perhaps it's because my parents always made sure we breakfasted together as children, perhaps I'm just greedy, but breakfast is an important and considered start to my day.
In the week my breakfast is mostly a solitary affair: Carnivorous Husband will have left for the gym by the time I get round to my post-yoga (yes, we love our exercise round here) smoothie and porridge, green juice and bircher muesli or some kind of egg and avocado over toast. On the weekend we always sit down together: usually something on the sweeter side for me, something savoury and protein-packed for him.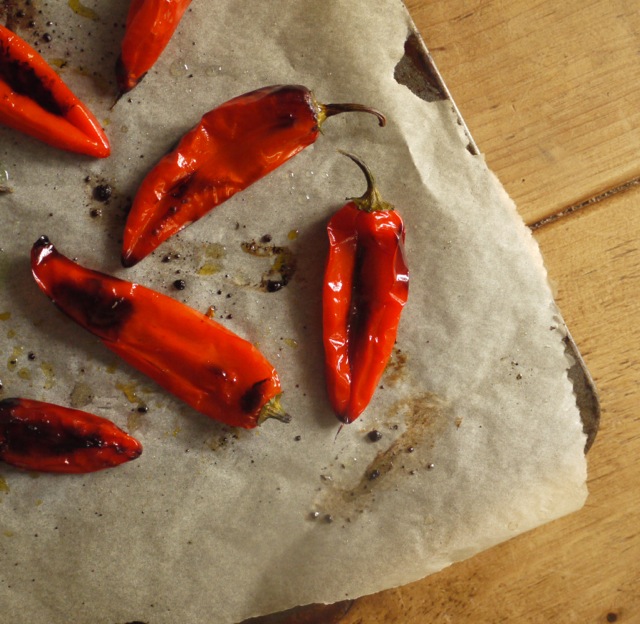 On Saturday we celebrated our nine year anniversary. NINE YEARS! We might be newlyweds and only five months into marriage, but we've been doing the breakfast thing together for a very long time. As with any meal, I always take our individual preferences into consideration – a little more protein for him, a few more greens for me, a level of spice that can be scaled up or down: the little things that make for a personal perfect meal.
Having made a resolution in this post to share a few more savoury recipes, I can't think of a better place to start than this meal. Pulses are an important part of our diet at any time of day and I almost always have a vat of black or pinto beans, cannellini or chickpeas soaking to be made into salads, soups, hummus and more. If you build soaking pulses into your everyday life, it's honestly as easy as opening a can (one of my first ever little loaf savoury tips, for what it's worth).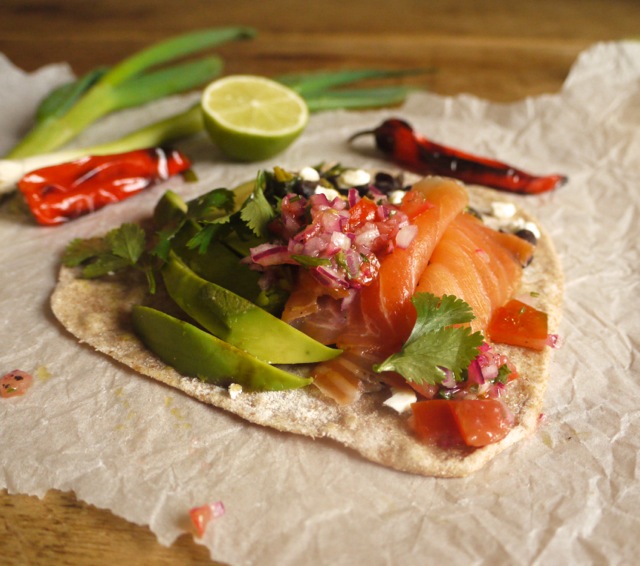 The flatbreads which form the base for this recipe are a simpler version of these, more frugal by necessity because I had no yoghurt in the fridge. The filling is also made from ingredients I needed to use up (spring onions, herbs, a few stalks of kale) and could easily be adapted to use different spices, spinach and leeks or whatever you have to hand. The salmon adds richness, the feta and avocado creamy texture the egg that all-important oozing yolk, but again the toppings are up to you and infinitely adaptable. Just make sure you make the salsa as it wakes up the tastebuds and brings everything together.
I've called these tostadas because the flatbreads (flour tortillas?) are pan fried until slightly more crisp than usual, but if you fancy a burrito cook them just a minute or so each side and roll everything up rather than leaving them open. I'm never entirely sure that I know the difference between tortillas and tacos,  burritos, tostadas and enchiladas, but what I do know is that this recipe tastes amazing.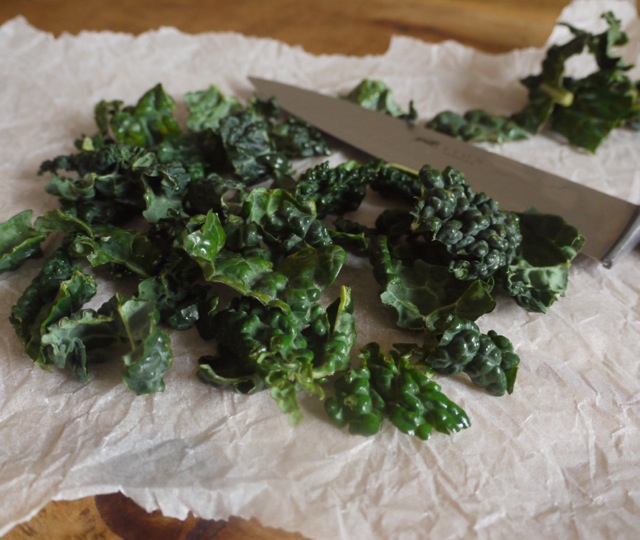 A brilliant breakfast. My second savoury recipe in 2014. And nine years with the love of my life. Happy days.

Spicy Black Bean Breakfast Tostadas
Crispy wholemeal spelt tortillas, spicy beans and greens plus a whole host of rich, creamy, salty toppings make for a indulgent weekend breakfast. These black bean tostadas also make a lovely light supper if you find it hard to break from your usual bowl of oats in the morning.
Ingredients
For the flatbreads
165g wholemeal spelt flour
pinch cumin
few sprigs coriander, finely chopped
large pinch salt
100ml water
2 tsp coconut oil
For the salsa fresca
1 small red onion, finely chopped
1 small garlic clove, finely chopped
1 small lime, juice & zest
large pinch salt & pepper
1 - 2 jalapeños, finely chopped
handful cherry tomatoes, deseeded and finely chopped
small bunch coriander, coarsely chopped
For the black beans
1 tbsp olive oil
4 spring onions, chopped
6 stalks cavolo nero, ribs removed and roughly chopped
pinch cumin
pinch coriander
pinch smoked paprika
300g cooked black beans (plus a little leftover cooking water)
salt & pepper, to taste
To serve
Smoked salmon
Free range eggs, fried
Feta cheese, crumbled
Roasted baby red peppers
Ripe avocados, peeled & sliced
Fresh coriander, torn
Instructions
To make the flatbreads, combine the flour, cumin, coriander and salt in a medium bowl. Add the water and mix to form a smooth dough. Knead for a couple of minutes until no longer sticky, wrap in cling film and pop in the fridge for 30 minutes for the gluten to relax.
To make the salsa fresca, combine all the ingredients in a small bowl. Taste and adjust if necessary (a little more chilli, salt, pepper etc) then cover and refrigerate to allow the flavours to intensify.
To make the black beans, heat the olive oil in a medium saucepan over a low heat. Add the spring onions and cook until slightly softened, then add the spices and cavolo nero and continue to cook until the greens have softened, about 5 minutes. Add the black beans, plus a little cooking water and simmer for a few more minutes then turn off the heat and cover to keep warm.
Take the dough out the fridge and divide into eight equal balls. Flour the worksurface and roll each ball out into a thin circle, about 2mm thick. Heat a little coconut oil in a frying pan and fry the flatbreads, one at a time, until puffed, golden and slightly crisp - they will need a few minutes on each side.
To assemble, place 1 - 2 flatbreads on each plate (we ate one at a time and came back for seconds). Divide the black beans between the tortillas then top with smoked salmon, fried eggs, crumbled cheese, a roasted pepper, avocado slices and coriander. Scrunch over some black pepper and serve.
Notes
This recipe calls for cooked black beans. I almost always have a bowl of pulses soaking on the kitchen counter - you'll need 120g dried beans to make 300g cooked weight. If you're in a hurry you can use tinned beans: a standard tin (240g drained weight) should be fine unless you're absolutely starving.