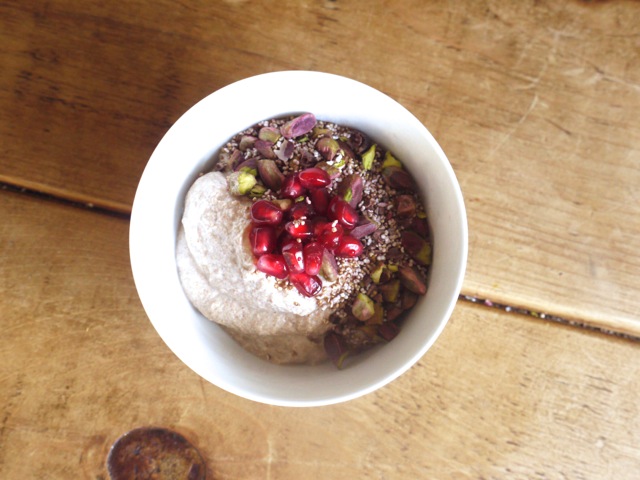 Today we're talking breakfast (again). Breakfast and whole-grains to be more precise: the subject of a beautiful new book which hasn't left my kitchen counter since it arrived last week.
Wholegrain Mornings
is, at face value, a book of breakfast recipes from food blogger, Megan Gordon. But it's also so much more than that. Like her blog,
A Sweet Spoonful
, the book is understated yet compelling, an honest insight into Megan's life: from the way she thinks her way around a kitchen to running a granola business to a long-distance love story with a wonderfully romantic ending.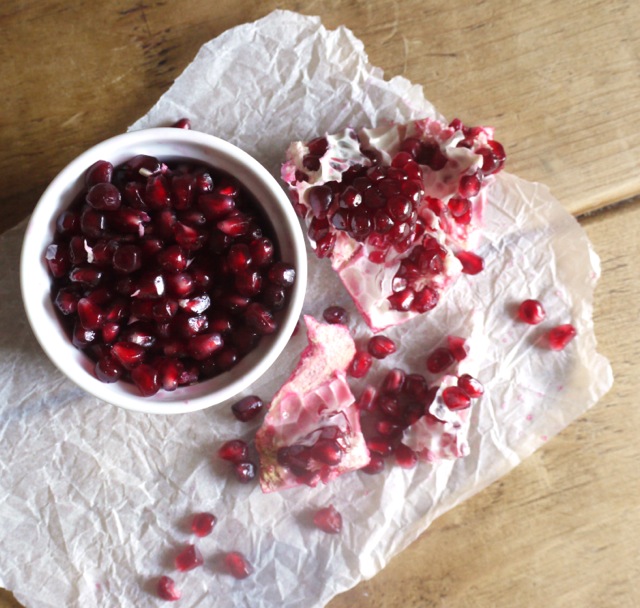 As someone who can't begin to think about her day without the promise of something good to eat, this book of breakfasts is a very good thing. And even if you're not a morning eater, there are more than enough recipes that can be adapted into a light lunch or dessert. Zucchini farro cakes with herbed goat's cheese make for a fantastic single-girl supper and the bacon and kale polenta squares have already been requested by Carnivorous Husband twice. In amongst so much deliciousness, this simple little parfait almost passed me by. I'm no stranger to the layered breakfast bowl – I love the contrast of texture you get from toasted grains, creamy yoghurt, crunchy nuts and pockets of fruit – but tend to stick to the basics of oats and yoghurt, only rotating the fruit and nuts for a bit of variety.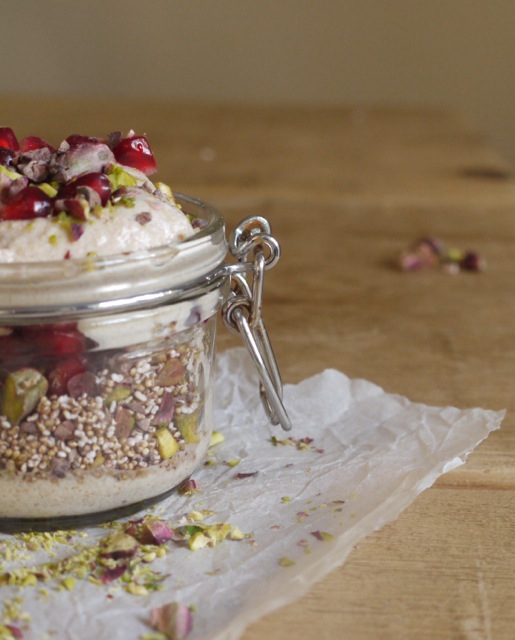 Taking me slightly out of my cooking comfort zone, these little pots replace dairy with a sweetened almond cream and oats with amaranth, a packet of which I confess to having had in the cupboard for several months without ever having touched. Note to self, popped amaranth is amazing: think tiny white puffs of slightly nutty popcorn that take literally seconds to cook. I couldn't find any figs but did have a heavy pomegranate to hand, so subbed that in. I imagine this recipe would also work wonderfully with raspberries and blackberries, softened poached plums or stewed rhubarb. The sweet nut cream has a strong almond flavour so you want the fruit and nuts to complement it, but beyond that, think of it as a bit of a blank canvas, the base of a bowl of goodness that you can enjoy for a light breakfast, mid-morning snack or simple dessert.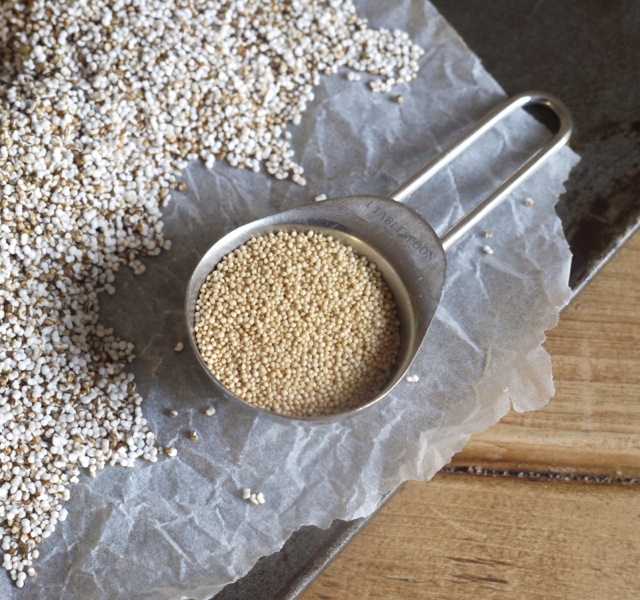 Next week I promise to post something other than breakfast. But from now til then, I'll be making a lot more recipes from this brilliant book. Congratulations Megan, it's a keeper.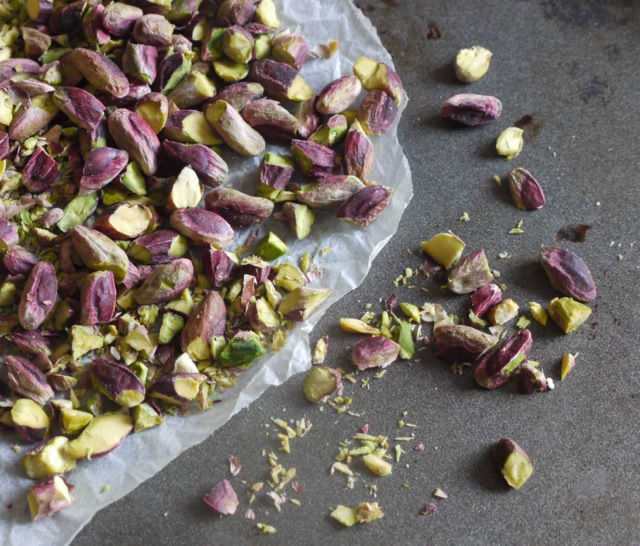 Want to see more from 
Whole Grain Mornings
? Check out the following blogger love for recipes from the book:
Banana Walnut Baked Oatmeal
California Barley Bowl
Breakfast Cookies
Hazelnut & Cocoa Nib Granola
The Best Toasted Oatmeal
 and
The Very, Very Best Oatmeal
Morning Glory Oatmeal
Buckwheat Crepes with Honeyed Ricotta
Pear & Hazelnut Muffins
Trail Guide Nut & Seed Bars
Rye Granola with Sour Cherries & Pistachios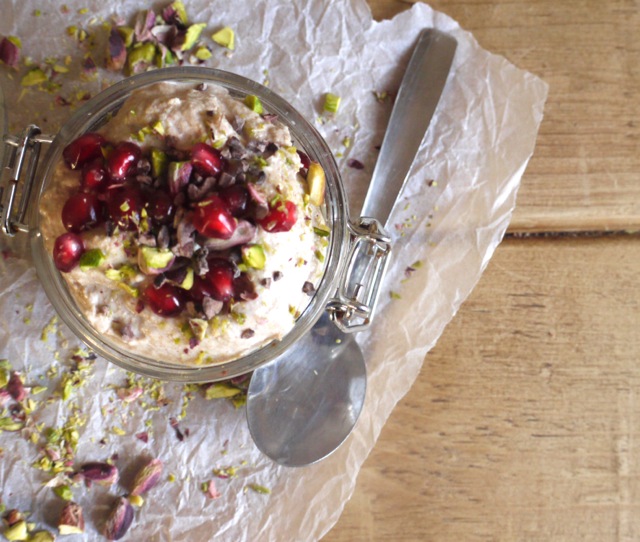 Pomegranate Parfaits with Popped Amaranth & Almond Cream
A dairy-free but beautifully creamy breakfast packed with toasty popped amaranth, crunchy pistachios, cocoa nibs and bursts of sweet pomegranate seeds, these bowls also double up as a delicious dessert. The almonds in this recipe need soaking for a minimum of 6 hours, so make sure to bear in mind when planning this recipe.
Ingredients
Almond cream
140g raw almonds
180ml filtered water
½ tsp vanilla powder
pinch fleur de sel
2 tbsp runny honey
1 tbsp melted coconut oil
Parfaits
45g amaranth
40g pistachios, toasted & chopped
1 tsp cocoa powder
15g cocoa nibs
Seeds from half a pomegranate
Runny honey, to serve (optional)
Instructions
In a medium bowl, cover the almonds with filtered water and leave to soak at room temperature for a minimum of six hours, or overnight. Drain and rinse.
Combine the soaked almonds, fresh filtered water, vanilla, fleur de sel, honey and coconut oil in a powerful blender and blend 2 - 3 minutes until completely smooth and the consistency of thick yoghurt. Add a little more water if necessary. Spoon into a bowl and refrigerate for one hour.
To pop the amaranth, place a deep, dry saucepan over a high heat. Once the pan is scorching hot, drop in 2 tbsp amaranth, cover and shimmy for 10 - 20 seconds until all the amaranth has puffed up or popped and turned white in colour. Be very careful as the tiny grains can easily catch and burn. Tip the popped amaranth into a small bowl and repeat with the remaining grains.
To assemble the parfaits, add the pistachios, cocoa powder and nibs to the popped amaranth and stir to combine. Take four small bowls or mason jars and spoon 3 tbsp almond cream, followed by 2 tbsp of the popped amaranth mixture and a handful of pomegranate seeds into each. Repeat the layers again, finishing with a sprinkle of pomegranate seeds. Drizzle with a little more honey, if you like, and serve.
Notes
In the book, Megan suggests popping the full quantity of amaranth in one go. I tried this and had to give up after 2 minutes of toasting when the amaranth was more brown than golden and not at all popped. Doing it in smaller quantities - as detailed in the recipe above - seemed to work much better for me.

I'm sure it's because I'm a novice, but worth bearing in mind if you're new to the whole amaranth thing too.