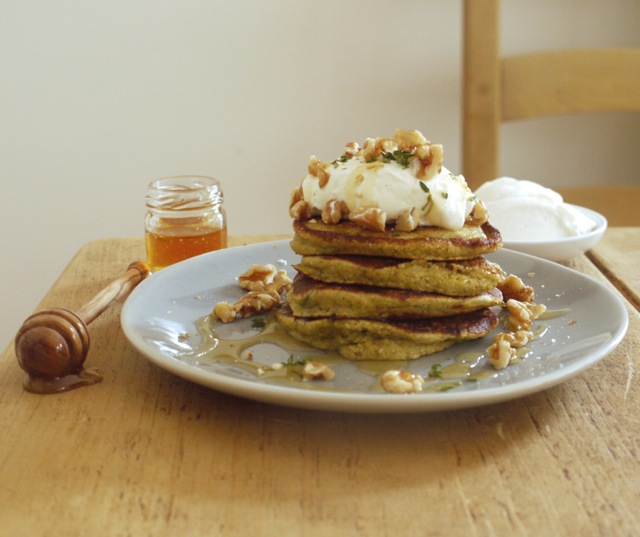 When I was fifteen I got my first mobile phone. Not your standard smart phone with fancy apps, a camera or even a colour screen; just a pink-cased Nokia brick which I used as a sort of portable telephone box to call my parents. Friends were contacted using our good old-fashioned landline and the internet (including the joy of MSN Messenger) accessed by via our clunky home PC. I didn't spend much time online and any baking we did was inspired by my Mum's extensive collection of recipe books, magazine cuttings and a little bit of imagination.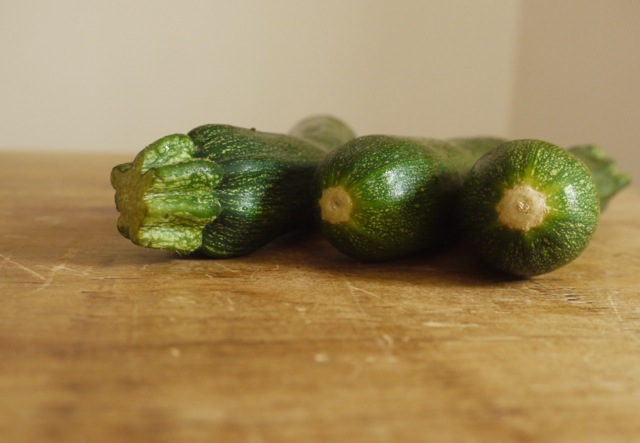 That same year, the Blogger platform was introduced and David Lebovitz launched his website. Julie Powell's Julie & Julia project, the Smitten Kitchen blog and 101 Cookbooks were several years away and foodie favourites Tastespotting and Food52 wouldn't arrive online for 8 and 10 years respectively. A lot of good things were yet to come.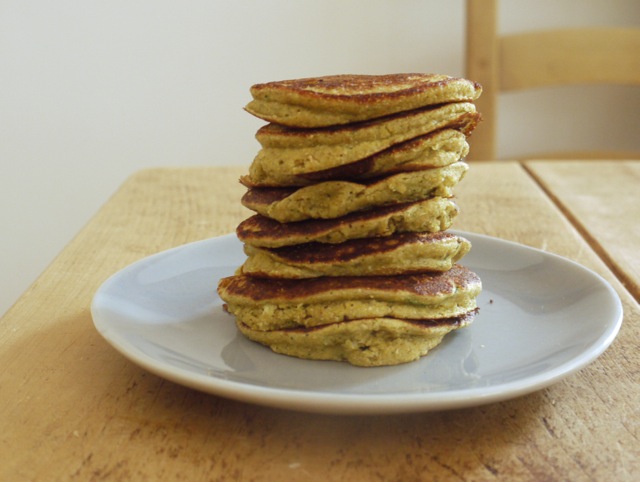 When Izy Hossack was fifteen, she started her own food blog, Top With Cinnamon. Three years later and only just the right side of her A-levels, she's published her debut cookbook of the same name. A lot has been made of Izy's age in the publicity surrounding the launch – which I suppose I'm only compounding with the introduction to this post – and it's impossible to ignore. But at the same time I think she deserves credit beyond that – this book is not just impressive for an eighteen year old. It's knock-your-socks-off impressive in its own right. Full stop.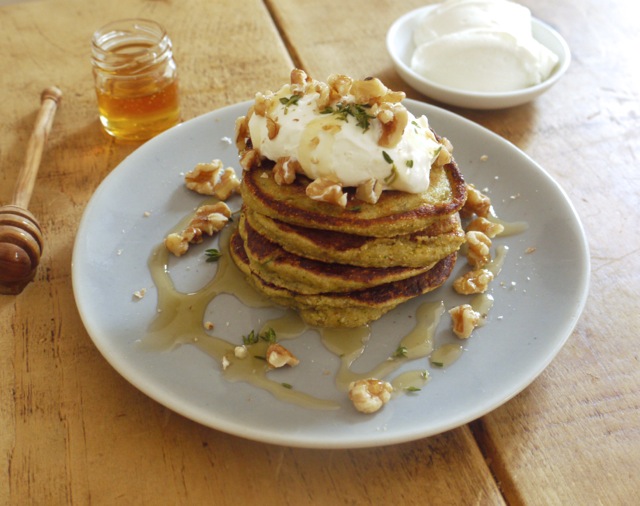 As I'm coming to the end of this process myself, I appreciate all the hard work that goes into writing a cookbook. I wrote and tested mine with a full-time job; Izy did hers while doing her A-levels, but what's even more amazing is that she took all the photographs herself. Her unique sense of style and lighting shines through on every page and her book is beautiful enough to compete with the best. Hats off to you Ms. Hossack, you've done an awesome job.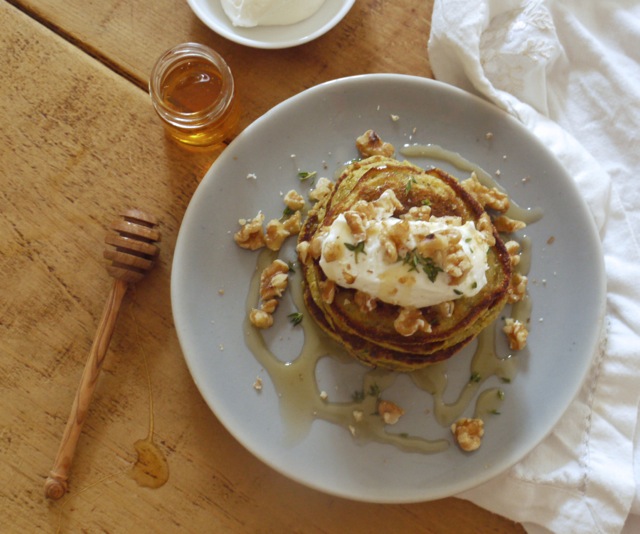 As you'd expect from Izy's blog, there's a lot of baking in the book. Plenty of classics, some reinvented using wholegrain flours, coconut oil and other good-for-you ingredients that we're all beginning to incorporate more into our everyday lives. There are also a couple of lovely savoury chapters and I've already promised Luke (Carnivorous Husband) that her shredded beef chilli and chicken tacos with peach BBQ sauce will make an appearance on the menu soon.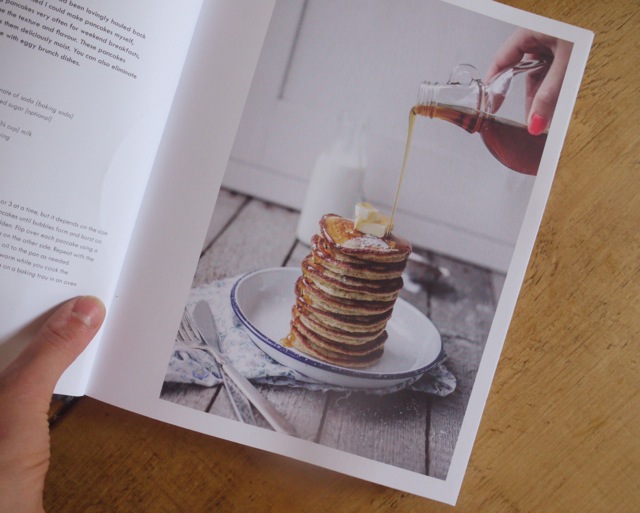 When picking a recipe for this post, I had to go with pancakes. They're not something I make that often and seem to sum up the essence of Izy's recipes– simple, stylish, slightly American and incredibly more-ish. I added a little thyme to the batter and topped them with thick Greek yoghurt, honey and walnuts as a nod to the lovely Greek holiday we've just returned from, but you could just as easily serve them with smoked salmon or a soft, savoury cheese.

Top With Cinnamon's Courgette Cornbread Pancakes with Yoghurt, Honey, Walnuts & Thyme
These lovely light pancakes are moist with grated courgette and ground almonds, and slightly crunchy from the cornmeal. The only changes I made to Izy's recipe were reserving some of the grated courgette til the end to add texture and omitting the sugar as I planned to drench them in honey. These pancakes would also be delicious with smoked salmon and tzatziki or whipped goat's cheese and honey for a salty-sweet twist. If you use gluten-free oats, they are naturally gluten free.
Recipe type:
Breakfast & brunch
Ingredients
For the pancakes
100g (about 1) grated courgette
55g rolled oats
65g cornmeal/polenta
30g ground almonds
1 tsp baking powder
¼ tsp bicarbonate of soda
1 sprig thyme, leaves picked
1 large egg
190ml milk (almond or soy milk will also work here)
sunflower oil, for frying
To serve
Greek yoghurt
Handful walnuts, toasted
Runny honey
Thyme leaves
Instructions
Squeeze the grated courgette in your hands to wring out as much water as possible.
Place the oats, cornmeal, almonds, baking powder and bicarbonate of soda in a blender and blitz until the oats are fine. Add the thyme leaves, two thirds of the grated courgette, the egg and milk then blitz again until well combined. Stir in the remaining grated courgette.
Heat 2 tsp oil in a large non-stick frying pan over a medium heat, swirling until the pan is evenly coated. Spoon in 2 tablespoons of batter per pancake - I cooked three pancakes at a time.
Once bubbles begin to form and burst on the surface of each pancake, flip and continue to cook until golden on the other side. Repeat with the remaining batter, adding more oil as necessary.
Serve the pancakes topped with a dollop of Greek yoghurt, a handful of walnuts, a drizzle of honey and a few picked thyme leaves.
Notes
Recipe barely adapted from the Top with Cinnamon cookbook by Izy Hossack.