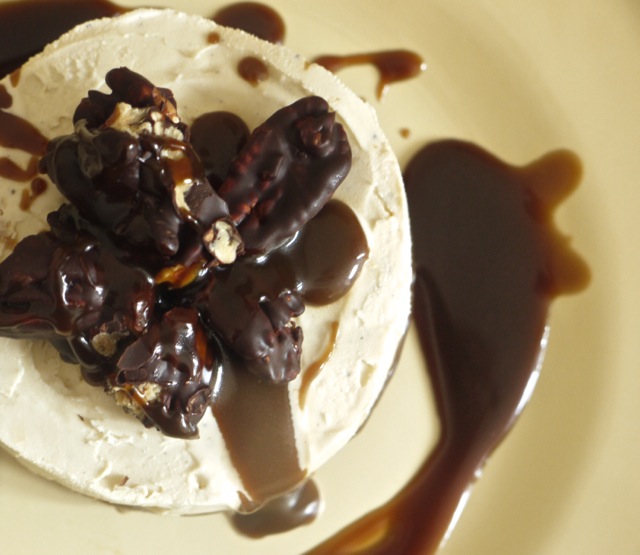 Valentine's Day is just around the corner and this year we're going out. Not for a romantic meal, mind you, but because not just one but two of our friends are turning thirty, accompanied by the requisite parties and presents. Some people might be sad to miss out on 'the most romantic night of the year' but I'm happy to. We've never been ones for joining the doey-eyed masses in restaurants on Valentine's Day, instead preferring a date night in with just each other for company and a menu I can take charge of. More specifically, a menu which includes a dessert like this Chocolate Pecan Ice Cream Pie with Bourbon Butterscotch and a Pretzel Crust.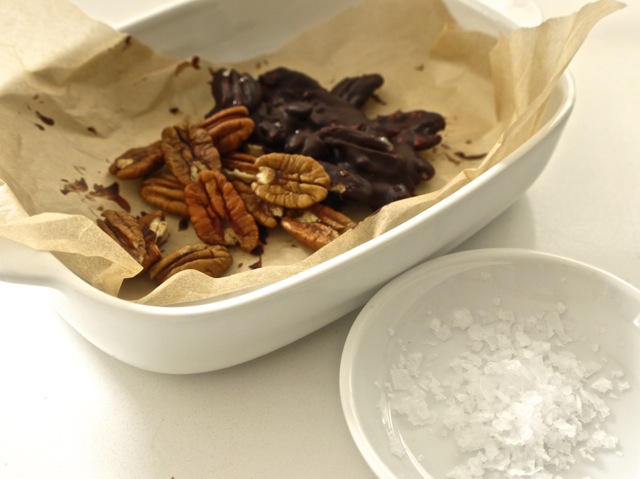 This recipe is an epic mouthful in more ways than one and comes from Ashley Rodriguez's gorgeous debut cookbook, Date Night In. If you follow The Little Loaf on Facebook, you'll have seen me raving about the book there already. The idea for it stemmed from a series Ashley runs on her blog, Not Without Salt, called Dating My Husband; the idea being that every week she and her husband dedicate a night to each other with cocktails and talking and a menu that's that little bit more special than the usual.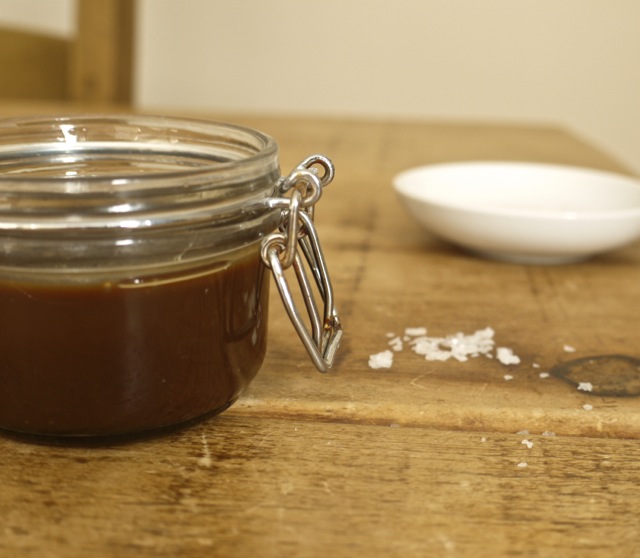 I've been a fan of Ashley's blog for several years now. Not only does this lady know how to cook, she takes incredible photographs and speaks so candidly about marriage, hopes and dreams, as well as the reality of making them all happen. The writing in Date Night In is incredibly honest and open, inviting you into Ashley's family life and relationship as well as her kitchen which makes it so much more than a mere collection of recipes. Carnivorous Husband and I don't yet have children but I know that when we do, whole chunks of the book will ring even more true; Ashley's stories of juggling being a wife and mother with her own independence and aspirations. It's a really a very special book.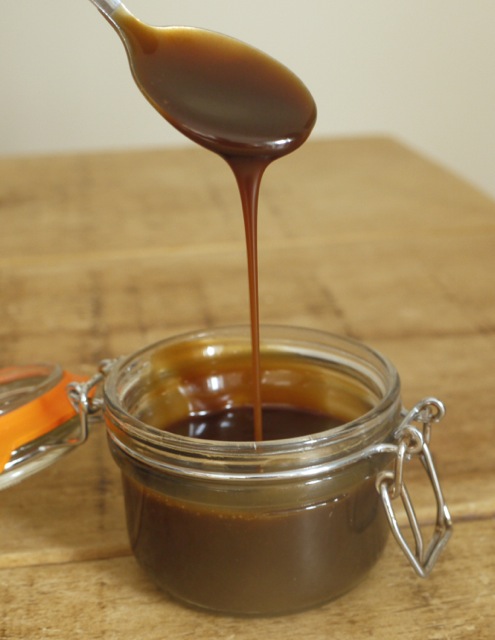 The recipes are also a large part of what makes Date Night In so special, laid out as 25 seasonal menus each with a starter, main, dessert and a drink or cocktail. A couple of weeks ago we celebrated our 10 year anniversary (of meeting, not marriage!) and I picked out the menu for melting pulled pork sandwiches, sticky baked beans, an apple and radicchio slaw and avocado, olive and orange salad. Rather than including the dessert from that menu, I swapped in this ice cream pie from another chapter. It's a dessert that manages to find that perfect combination of crunchy, creamy, hot and cold and salty-sweet that makes you want to kiss it for its deliciousness, then kiss the person you're sharing it with. It's indulgent, over the top and better than anything you'll get in a restaurant. Who needs Valentine's Day when there are 364 more days a year for a date night in?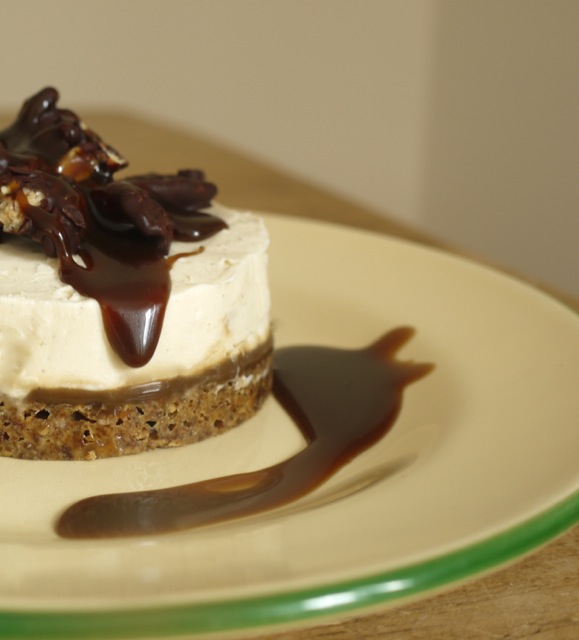 Chocolate Pecan Ice Cream Pie with Bourbon Butterscotch & Pretzel Crust
An incredibly decadent dream of a dessert from
Date Night In
by Ashley Rodriguez. My only change was to make this as six individual pies rather than one big one. And as I write this, there's one left in my freezer just calling out to be eaten.
Ingredients
For the bourbon butterscotch
200g dark brown muscovado sugar
240ml double cream
60g unsalted butter
2 tbsp bourbon (or another favourite tipple)
pinch flaky sea salt
For the chocolate-coated pecans
125g pecan halves
100g dark chocolate, chopped
pinch flaky sea salt
For the pie
100g pretzel twists
115g unsalted butter
60g dark brown muscovado sugar
1 x quantity bourbon butterscotch (recipe above)
1 x quantity chocolate coated pecans (recipe above)
750ml of your favourite vanilla bean ice cream, slightly softened
Instructions
Start by making the butterscotch. In a medium saucepan, combine the sugar, cream and butter, stirring to combine. Bring to the boil then reduce the heat to a brisk simmer and cook, stirring regularly, for 5 minutes. Remove from the heat and carefully whisk in the alcohol and salt. Allow to cool to room temperature.
To make the chocolate coated pecans, preheat the oven to 175 degrees C. Line two trays with baking parchment, spread out the pecans in an even layer on one tray then toast for 7 - 9 minutes until fragrant and lightly golden. Remove from the oven (leaving it on for the pie base - see below) and combine the toasted pecans and chopped chocolate in a heatproof bowl, stirring until the nuts are evenly coated with melted chocolate. Spread over your second prepared tray, sprinkle with salt and refrigerate until ready to use.
To make the pie, line a tray that will fit in your freezer with baking parchment and place six round metal dessert rings on top (mine were 8cm in diameter). You could also use a 22cm round cake tin.
Blitz the pretzels in a food processor until you have mostly fine crumbs. In a medium saucepan, melt the butter then continue cooking until golden and toasty. Allow to cool a couple of minutes. Stir the sugar into the pretzel crumbs, followed by the browned butter then divide this mixture between your six dessert rings, pressing down firmly so you have a flat layer of crust. Bake for 10 minutes then remove from the oven and allow to cool to room temperature.
To assemble the pies, pour 1 - 2 tbsp bourbon butterscotch over the top of each pie crust. Freeze one hour. Divide the vanilla ice cream between the dessert rings, smoothing as flat as possible. Top each ring with a few chocolate coated pecans then freeze for one hour before serving.
To serve, run a sharp knife round the bottom of each ring to loosen the base then press each individual pie up and out of its mould. Serve with a jug of gently rewarmed butterscotch for spooning over the top - the heat will start to soften the ice cream making for an even more delicious experience.
Notes
This combination is so incredibly delicious, it would be hard to beat. But next time I'm trying it out with homemade peanut butter ice cream and roasted, chocolate-coated peanuts on top. Just saying.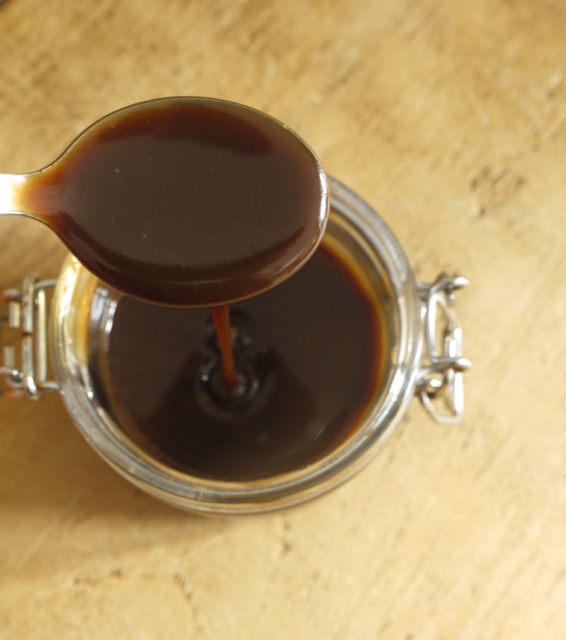 Other bloggers feeling the love for recipes from Date Night In:
Thyme & Parmesan Roasted Sweet Potatoes on Sprouted Kitchen
Grapefruit & Olive Oil Cake with Bitter Chocolate on Seven Spoons 
Lentils with Mushrooms, Kale & Eggs on Cannelle & Vanille
Bittersweet Brownies with Peanut Butter Frosting on The Wednesday Chef
White Salad with Pomegranate & Hazelnuts on A Sweet Spoonful
Kale Salad with Apples, Dates & Pancetta on Turntable Kitchen  
The amazing Winter BBQ with Pulled Pork & Baked Beans that we made on Treats with a Twist
Special Sauce and THE most delicious looking sandwich on Dolly & Oatmeal