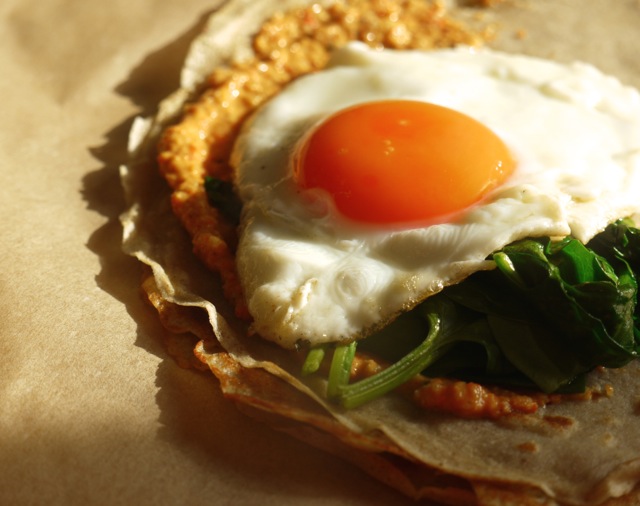 When I was growing up, Pancake Day in the Little Loaf household involved crêpes. Not the fluffy stacks of American-style pancakes which have become so popular, but good-old fashioned, lacy thin crêpes with all the added fun of flipping involved. Of course one would always stick to the pan, another to the ceiling and nobody could eat at the same time as we flipped and rolled and trailed spoons of batter all over the hob and floor, but that was all part of the chaotic fun that was Shrove Tuesday.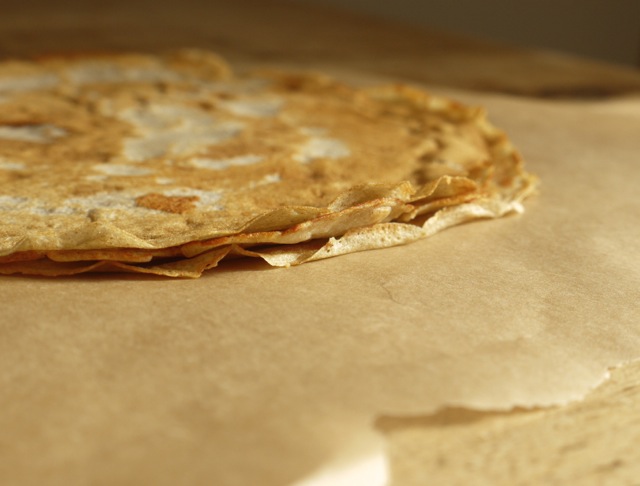 Filling-wise, we'd start off with the obligatory savoury crêpe stuffed with melting cheese, onion and possibly a slice of tomato – a nod to some semblance of a normal supper – before getting stuck into round after round of lemon juice and sugar. We'd roll and eat and run our fingers round our plates to catch the grainy sugar syrup until the batter was finished or we couldn't move to make more pancakes. Or both.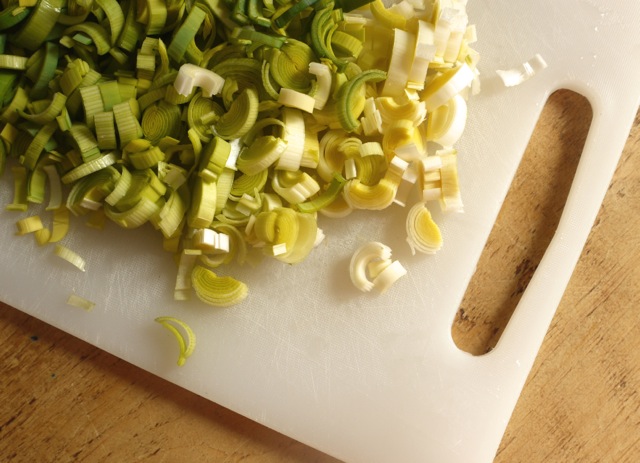 This savoury recipe takes inspiration from both France and Spain. The batter is essentially that of a French galette, a gluten free crêpe made with buckwheat flour.  I add a small amount of spelt flour to mine as I find it makes the galettes a little less dense, but if you're avoiding gluten feel free to use just buckwheat. The combination of leeks and romesco is one I first tried in Barcelona where we were served new season calçots (a giant green onion not dissimilar to a leek) with bowls of smoky red pepper sauce and bibs to catch the drips. And the finishing touch is a brown butter fried egg, the yellow yolk running into the leeks to create a rich, glossy sauce.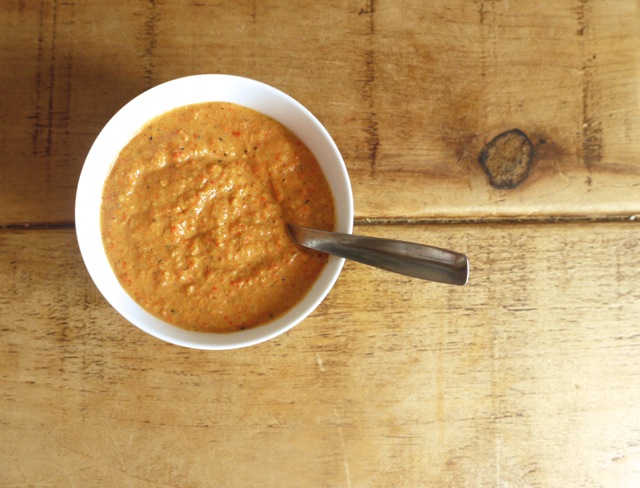 If you prepare everything in advance, you could easily serve these for breakfast before work. The galettes, leeks and romesco all keep in the fridge for several days so all you'll need to do is warm them in a pan and fry up your eggs. Carnivorous Husband likes his with extra crispy bacon and I often crumble feta or stir gruyere into the leeks for a more substantial meal.
This recipe makes more galettes than you'll likely eat in one sitting, but they heat up beautifully. If you're more of a sweet breakfaster or fancy a fuss-free dessert, try cooking sliced banana in a little browned butter and maple syrup. Spread your warm galette with peanut butter, top with the banana then grate over a square or two of dark chocolate. Fold into quarters and serve with Greek yoghurt and more maple syrup, to taste. Breakfast, dinner and dessert all sorted: happy Pancake Day!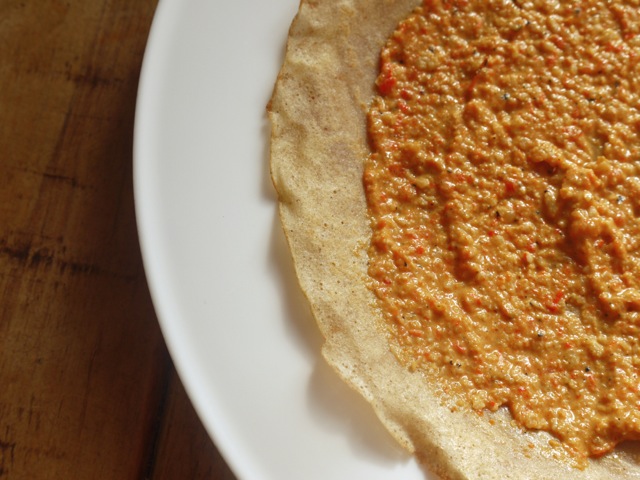 Buckwheat Galettes with Leeks, Romesco+ Brown Butter Fried Eggs
Filled with softened leeks, romesco sauce and a sunny side up egg, these tender buckwheat galettes are perfect for breakfast or dinner. This recipe serves 4 people, with several spare galettes.
Ingredients
Galette batter
200g buckwheat flour (I used Rude Health sprouted buckwheat flour)
65g spelt flour
600ml milk of your choice (cow, goat, oat, almond etc)
2 large eggs
2 tbsp melted unsalted butter, plus more for greasing
pinch salt
Romesco sauce + caramelized leeks (see below) to serve
8 free range eggs
Romesco sauce
3 large romano peppers
3 tbsp blanched almonds
1 tbsp sherry vinegar
1 small garlic clove, finely minced
2 - 3 tbsp extra virgin olive oil
salt + pepper, to taste
Caramelized leeks
3 leeks, cleaned, halved & finely sliced
25g unsalted butter
1 sprig thyme, leaves picked
pinch salt
50ml stock (I use chicken but if you're vegetarian use vegetable)
handful baby spinach
Instructions
Start by making the galette batter as it needs to rest. In a large bowl, whisk together the flours, milk, eggs, butter and salt. Cover and pop in the fridge for at least 2 hours, or overnight.
To make the romesco, use tongs to hold the peppers over a naked flame on the hob or place under a very hot grill, turning regularly, until the skin is blackened and blistered. Transfer to a bowl, cover in cling film and leave for 15 minutes.
Once cool, slip the blackened skin from the peppers, scrape out the seeds and transfer to a blender. Add the almonds, vinegar, garlic, 2 tbsp olive oil and blitz to combine. Season to taste and add a little more olive oil if you want a thinner consistency. Transfer to a small bowl.
To caramelize the leeks, melt the butter in a medium saucepan over a medium heat. Add the leeks, thyme and salt and stir to coat with the butter, then cook for about 10 minutes, stirring regularly, until soft. Add the stock and baby spinach, turn the heat to low and leave the liquid to cook away slowly while you make your galettes.
Remove the batter from the fridge about half an hour before you want to use it. Whisk thoroughly.
Turn the oven on low and place a baking parchment-lined baking tray inside.
Heat a 20cm non stick or cast iron pan over a medium heat. Drop a tiny knob of butter into the pan and use a piece of kitchen paper to wipe it round the surface.
Ladle 3 - 4 tablespoons of batter into the hot pan and swirl to distribute evenly over the bottom. Cook for 1 - 2 minutes until the edges begin to bubble and brown then flip and cook for about 30 seconds on the other side. These galettes are quite tender so it may take you a couple of times to get into your flipping stride.
Transfer your galette to the baking tray to keep warm and repeat with the remaining batter.
To serve, spread a heaped tablespoon of romesco sauce and a spoonful of leeks on the underside of eight galettes (two per person). Fry eight eggs in a little browned butter, then place one on top of each galette. Fold each galette in half then in quarters over the egg.
Serve two galettes per person, with extra romesco sauce on the side.
You will have some galettes leftover - unfilled, they will keep in the fridge for 3 - 4 days.