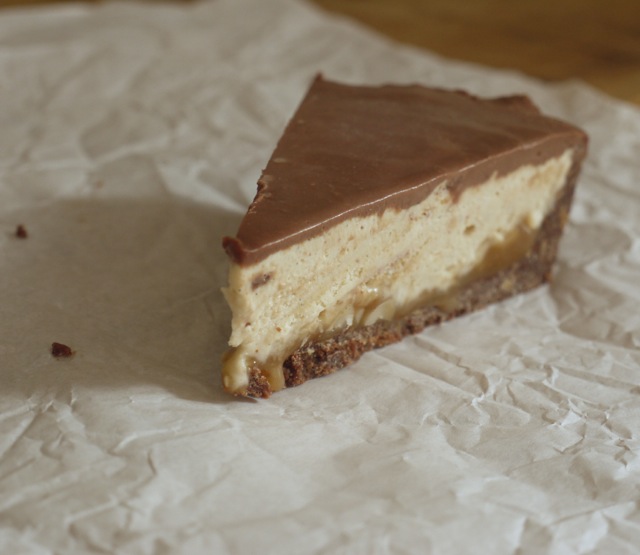 Every week when my blog goes out, I'll get an email from my Dad. Aside from the spelling and punctuation which, as an ex-publisher, he always picks up on, the messages range from complimentary to longing: 'looks delicious', 'definitely not on my diet!', 'reminds me of our trip to X' or 'I wonder if your mum might make me that.' Dad, I'm afraid to say this definitely falls into the 'not on my diet' category. Everyone else, if you've given up sweet stuff for Lent you might want to look away now . . .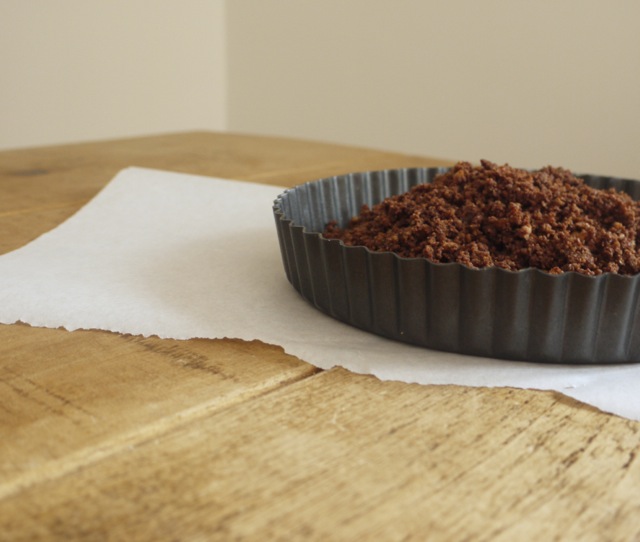 I struggled to come up with a title for this recipe. Luke and I spent several minutes tongue twisting around various riffs on chocolate, peanut, caramel, ice cream and pie and I still don't know that we nailed it. It's tricky to sum up in one sentence all the sugary goodness of a crunchy biscuit base, salty peanut caramel, smooth peanut butter ice cream and melting chocolate ganache. In fact I'm not sure a sentence could ever sell it better than the satisfied silence its consumption elicited around the dinner table followed by appreciative 'mmmnns', the licking of plates and requests for seconds. What I think I'm trying to say is that you really need to make this pie.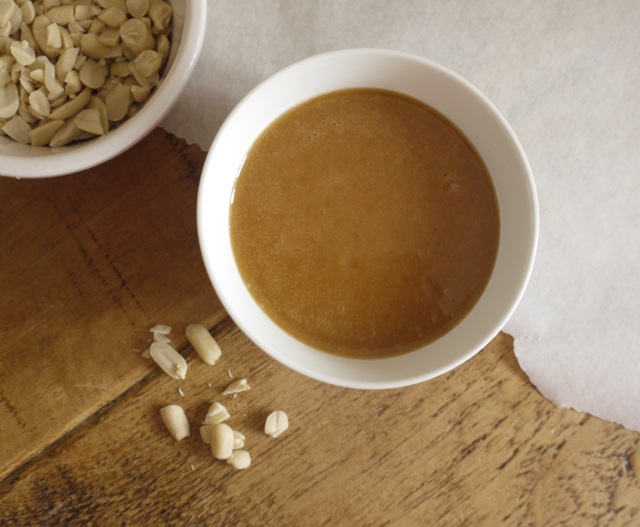 The recipe is inspired by Ashley's Chocolate Pecan Ice Cream Pie, which I knew I needed to reinvent in peanut butter form as soon as I tasted it. There's something about that Snickers-like combination of peanuts, caramel and ice cream that I find utterly irresistible and this pie is possibly my all-time dream dessert. Not only does it taste incredble, but using a chocolate biscuit base and covering the top with a layer of ganache makes the whole thing look like a giant peanut butter cup, which is endlessly pleasing to my inner child.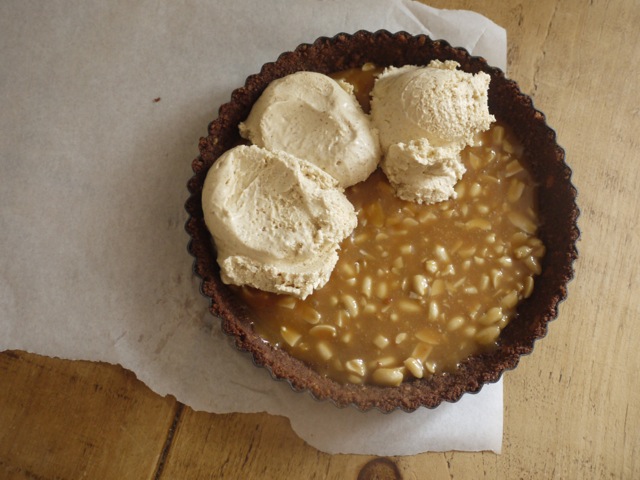 The instructions below look fairly lengthy but please don't let that put you off. There are no tricky techniques here – not even any baking – and if you don't have an ice cream machine (or want to speed things along) you can use good quality ice cream from a tub instead of making your own. I imagine a hazelnut variation (both ice cream and caramel) with Nutella ganache would also be epic. Not diet-friendly, perhaps, but nothing a few extra portions of greens over the week can't cancel out (that's how it works, right?).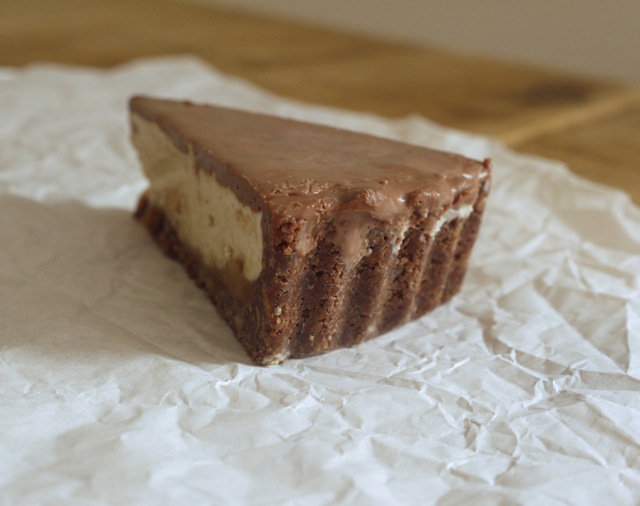 Giant Ice Cream Peanut Butter Cup Pie
With its crisp biscuit base, salty peanut caramel and ice cream and smooth chocolate ganache, this is an incredibly indulgent dessert. Perfect for dinner parties with friends and family or simply because.
Ingredients
For the salted peanut caramel
100g golden caster sugar
3 tbsp golden syrup
4 tbsp double cream
25g unsalted butter, cubed
pinch flaky sea salt
60g shelled peanuts, roughly chopped
For the biscuit base
220g digestive biscuits, homemade or shop bought
110g unsalted butter
50g dark chocolate
For the peanut butter ice cream
150g smooth peanut butter
120g golden caster sugar
300ml double cream
250ml whole milk
pinch salt
½ tsp vanilla extract
For the chocolate ganache
100ml double cream
50g milk chocolate, chopped
50g dark chocolate, chopped
Instructions
Start by making the caramel. In a small saucepan combine the sugar and syrup over a medium heat. Swirl the pan but do not stir. When the mixture is a copper colour, take off the heat and slowly whisk in the cream. Add the butter and salt, whisk to combine, then stir in the peanuts.
Lightly grease a 23cm loose bottomed tart tin with butter and line the base with baking parchment. Blitz the digestive biscuits to crumbs in a food processor. Melt together the butter and chocolate then stir into the biscuit crumbs. Press the crumbs into the base and sides of your prepared tin then pour the peanut caramel over the bottom. Refrigerate while you make the ice cream.
In a food processor, blitz together all the ice cream ingredients. Churn in an ice maker according to your manufacturer's instructions. Once churned, transfer the ice cream to the tart shell and smooth flat. Freeze for one hour.
When one hour is up, make the ganache. Combine the cream and chocolates in a small pan and melt over a gentle heat, stirring until smooth. Allow to cool for a few minutes then remove your ice cream pie from the freezer and pour the ganache over the top. Return to the freezer for at least one hour.
Allow to soften slightly before serving in thin slices. Will keep in the freezer for at least a week.