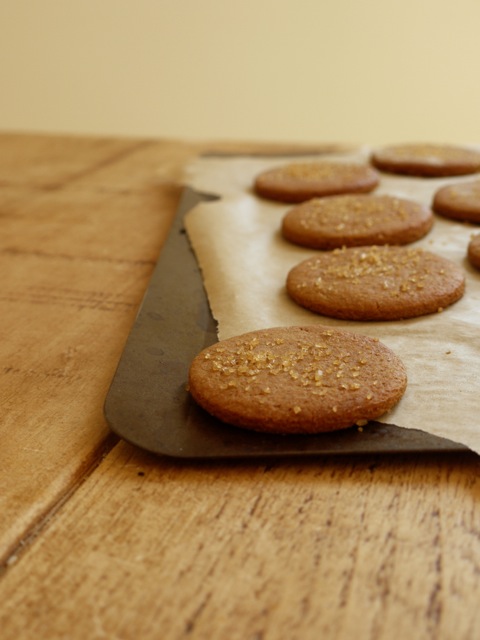 With their fiery flavour and tooth-breaking crunch, ginger nuts – sometimes known as 'snaps' – regularly come top of 'dunkability' experiments. If you don't have a cup of tea to hand but prefer something softer, a shop-bought ginger nut can be gently warmed in the oven or microwave. Just be careful with the timings or you'll end up with incinerated biscuits, a wailing fire alarm and an angry university warden (I'm speaking from experience).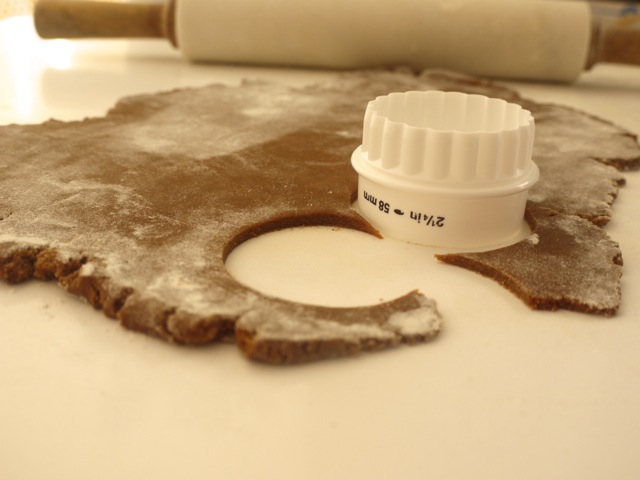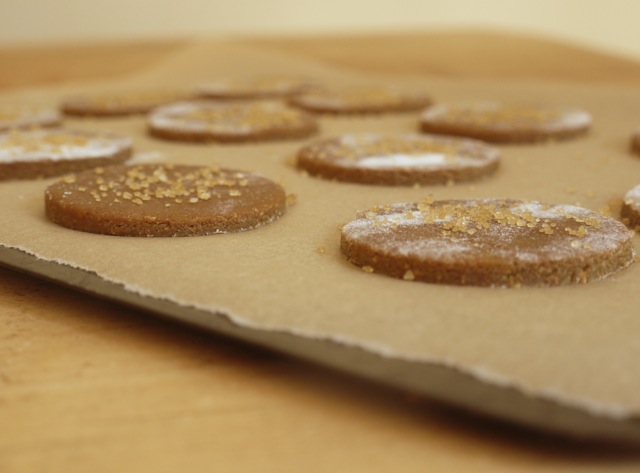 In fact, if you're at all fussy about your ginger nuts, you should be making them at home. This recipe comes together in minutes and can be adjusted to have more or less snap as well as varying levels of spice. I like mine packed with ginger (fresh and ground) plus the full compliment of cinnamon, nutmeg and allspice. Some chopped crystallized ginger is a lovely added extra and will make for an altogether more sophisticated biscuit, but I've kept things simpler today.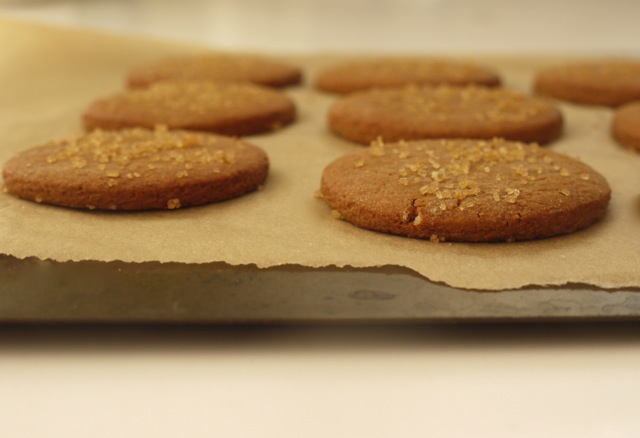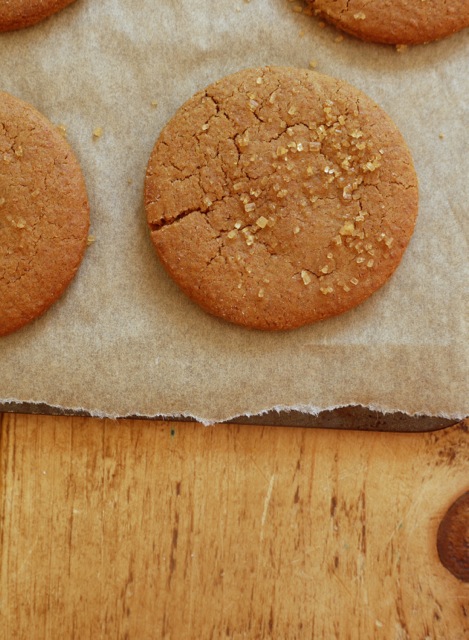 A mixture of caster and fudgy brown sugar gives the dough a lovely richness whilst retaining that all-important snap. If you prefer a biscuit with even more snap, use all caster sugar. A combination of golden syrup and sticky molasses again adds richness and I've thrown in half and half plain and wholemeal spelt flour to add a bit more body.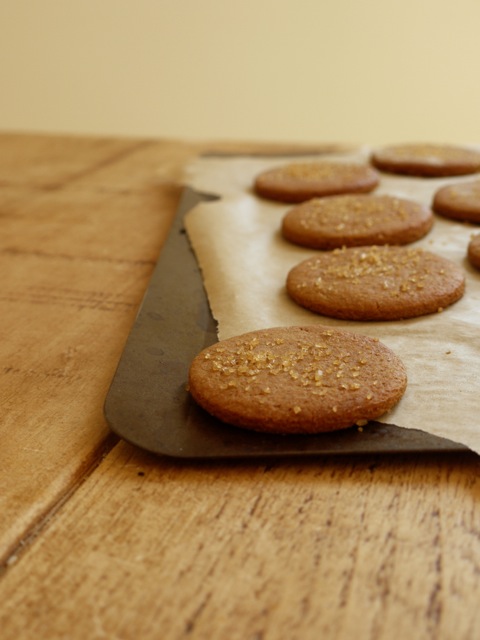 We ate these biscuits after Easter lunch, crumbled over vanilla roasted rhubarb and a scoop of coconut sorbet (recipe for which I'll be posting soon). The soft, sweet rhubarb, creamy cold coconut and crunchy nubs of ginger nut made for the perfect dessert and they were delicious the next day dunked into tea.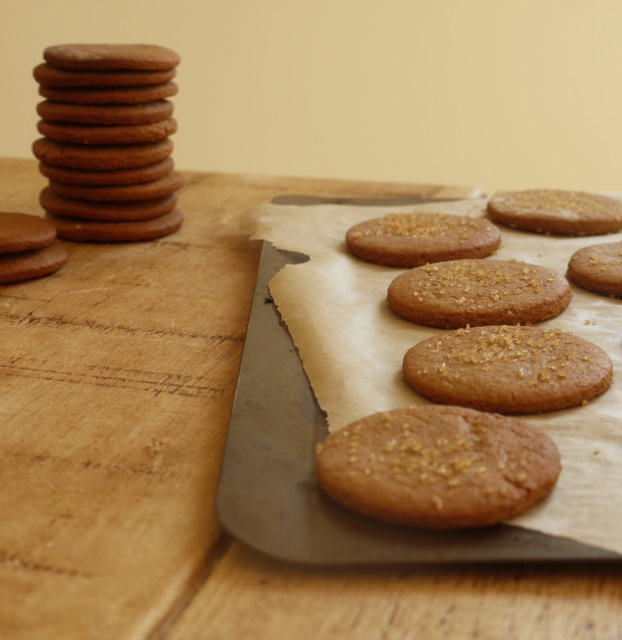 This recipe makes for quite a lot of biscuits – 60 to be precise – which is clearly more than any household needs at once. The amount is so large because you want a small amount of egg in relation to the dry ingredients (this keeps the biscuits crisp), but the dough freezes beautifully and will keep you in biscuits for weeks. With the weather turning warmer, I've got my extras earmarked for BBQ season, sandwiched round toasted marshmallows with a slab of chocolate for a fiery take on a s'more.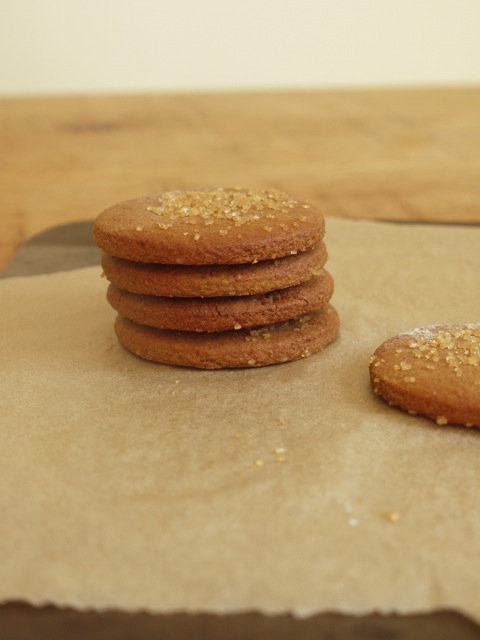 Homemade Ginger Nuts (Ginger Snaps)
Fiery little ginger biscuits, perfect for crumbling over ice cream or dunking into tea. Ginger nuts should pack a real flavour punch so don't skimp on the spice. This recipe makes a lot of biscuits, but the dough can be frozen for up to a month.
Ingredients
175g plain white flour
175 wholemeal spelt flour
2½ tsp ground ginger
½ tsp cinnamon
¼ tsp allspice
scraping fresh nutmeg
pinch salt
100g cold unsalted butter, cubed
90g soft brown sugar
75g golden caster sugar
1 large egg
2 tbsp golden syrup
2 tbsp molasses or treacle
2cm piece fresh ginger, peeled and finely grated
Demerara sugar, for sprinkling (optional)
Instructions
Preheat the oven to 180 degrees C fan. Line two baking trays with baking parchment.
In a large bowl, combine the flours, spices and salt. Rub the cubes of butter in with your fingertips until the mixture resembles very fine breadcrumbs. Stir in both sugars.
In a small bowl, stir together the egg, golden syrup, molasses or treacle and ginger. Stir this wet mixture into the dry, gently kneading until you have a soft, smooth dough.
Lightly flour a clean work surface and roll the dough out to about 5mm thick. Use a 5 or 6cm cutter to stamp out biscuits - you should get about 60 in total - before placing on the tray. Sprinkle with a little Demerara sugar, if you like.
Bake for 7 - 9 minutes until golden and the kitchen smells toasty and of ginger. Allow to cool on the trays for 5 minutes before transferring to a wire rack to cool completely.
Will keep in an airtight container for about a week.