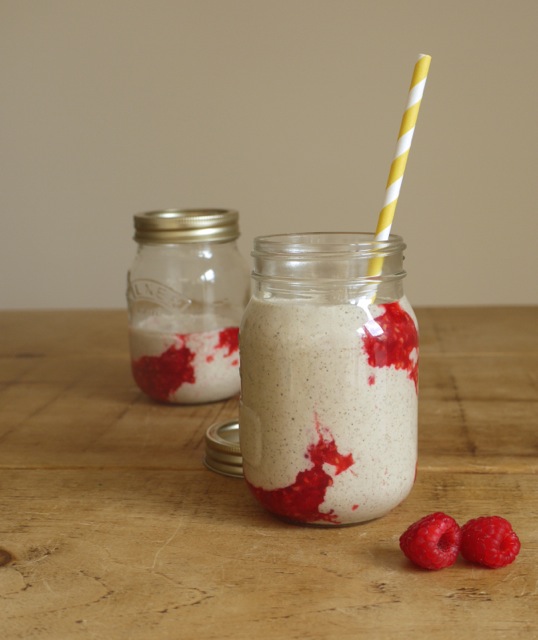 Peanut butter and jam is something I've come to later in life. I grew up on butter and Marmite for breakfast, melted and scraped over slightly burnt toast or mashed together and spread on bread (which will sound delicious or disgusting depending on your love/hate stance). My Dad would mix peanut butter into his Marmite (which definitely sounds disgusting, regardless of your stance) but combining it with jam just isn't something that happened in our household.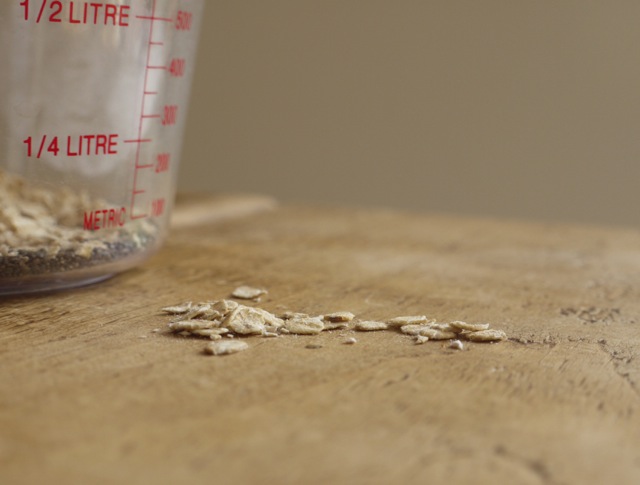 Nowadays I'm still unlikely to make myself a peanut butter and jam sandwich, but the combination of flavours in drinks, baked goods or ice cream? Out of this world. There's something about the way sweet, slightly sharp berries cut through the fatty richness of salty nut butter which really gets my taste buds going. There are biscuits and an Arctic roll in my upcoming book which pay tribute to this fact.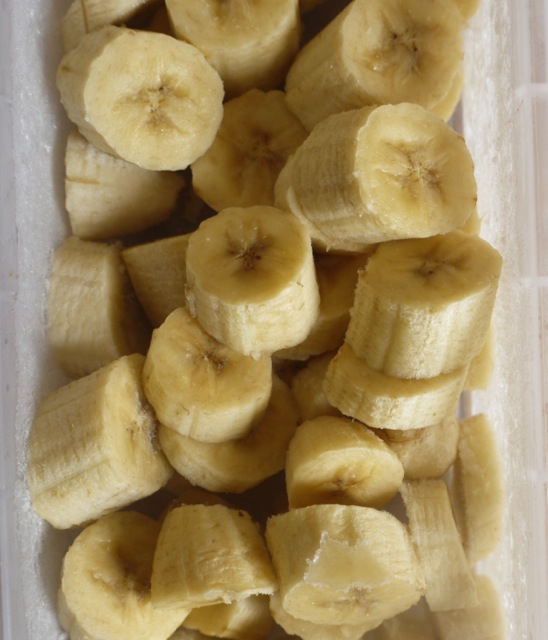 Today though, I'm keeping it simple. And healthy as far as the peanut butter and jam combo go. There are juicy red raspberries – shipped from Spain or defrosted from your freezer until the season is upon us – and a dairy-free shake made ice creamy (technical term) with frozen bananas, oats and soaked chia seeds, plus a pinch of cinnamon and vanilla. I'm loving the little pots of vanilla powder you can now buy which add flavour without the alcohol of extract or expense of a real vanilla bean, so seek them out if you can.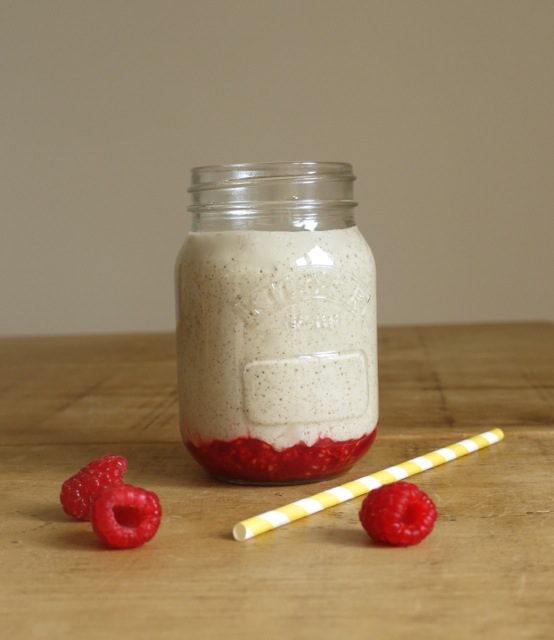 I got the idea of putting fruit purée at the bottom of my milkshakes from Green Kitchen Travels. They use this method to add raspberries to a green smoothie without turning it sludge-coloured, but it's a lovely technique for any thick drink. I've also fallen into the food blogger black hole of serving up any drink in Kilner jars complete with stripy paper straws. The jars are great – the perfect portable size and easy on the eye – but the straws get soggy pretty quickly, so if you're more sensible than me you might want to invest in something sturdier to slurp up these drinks.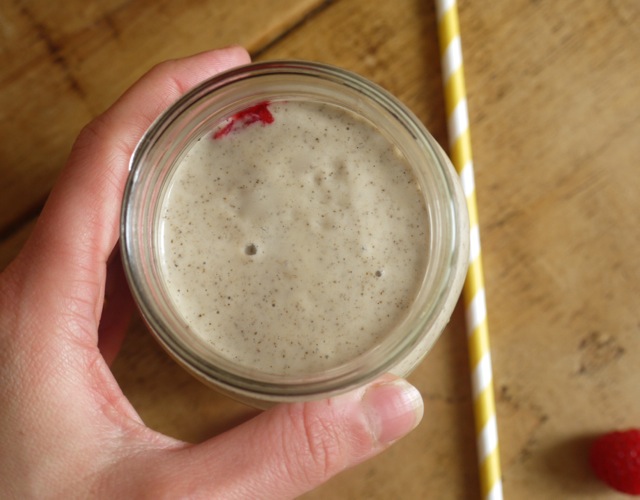 Peanut Butter Milkshake with Raspberry Swirl
A creamy milkshake made with good-for-you ingredients and a fresh fruit swirl, perfect for breakfast, a mid-morning snack or a healthy dessert. I keep a stash of frozen banana coins on hand for smoothies, milkshakes and instant ice cream but if you don't, make sure to freeze the banana several hours before.
Recipe type:
Breakfast or Dessert
Ingredients
2 tbsp rolled oats
1 tbsp chia seeds
375ml milk (I use almond but cow's milk or another nut/plant milk will also work well)
2 medium bananas, peeled, sliced into coins and frozen
2 heaped tbsp smooth natural peanut butter
½ tsp vanilla powder
½ tsp ground cinnamon
small punnet of raspberries (fresh or defrosted from frozen is fine), about 20
Instructions
In a small bowl, combine the oats, chia seeds and 75ml milk. Stir then refrigerate for 20 minutes or until the oats are softened and the chia seeds are plump with milk.
In a high speed blender combine the oat and chia mixture with all the remaining ingredients and blitz until smooth and creamy.
In a small bowl, mash the raspberries with the back of a fork then divide between two glasses. Carefully pour the smoothie over the raspberries and serve.
The raspberry puree should travel up a wide straw - use to swirl into the milkshake as you drink for alternating mouthfuls of creamy sweetness and sharper fruit.