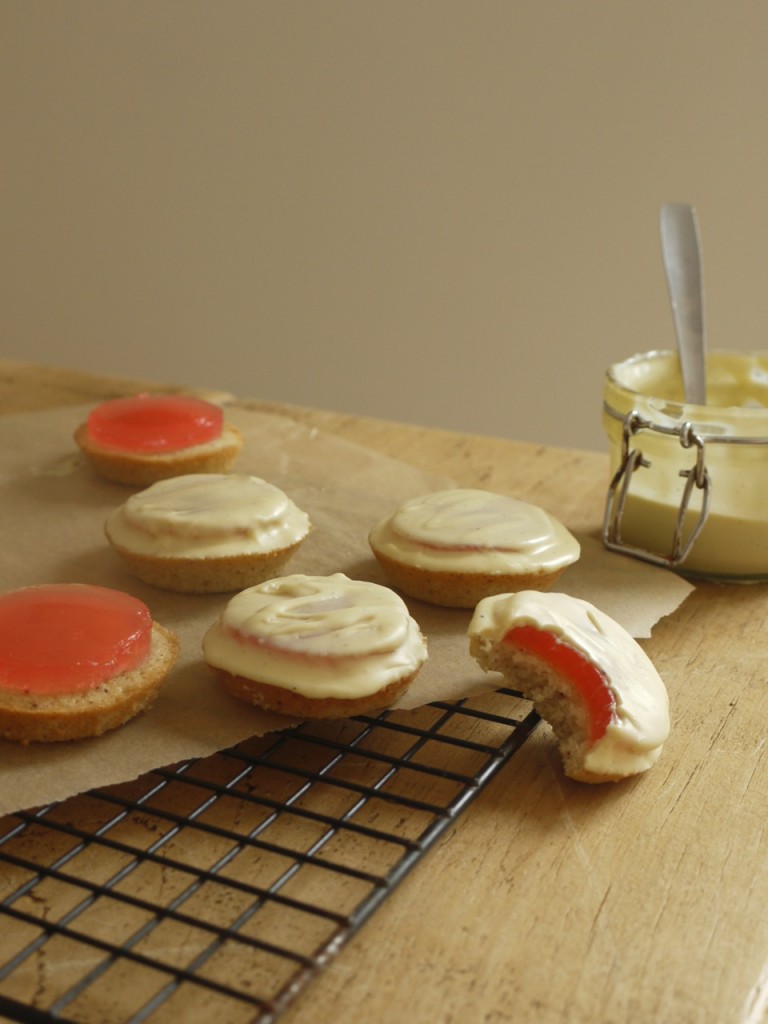 A shop-bought Jaffa cake is one of those goodies somehow so much greater than the sum of its parts. The cake-y base is drier than you average sponge, the jelly too sticky to wobble and the outer coating too thin for a proper chocolate fix. Yet somehow, combined, these elements make a uniquely satisfying and more-ish mouthful. Better still, have you ever tried making your own Jaffa cakes at home? Now that's where the magic really begins to happen . . .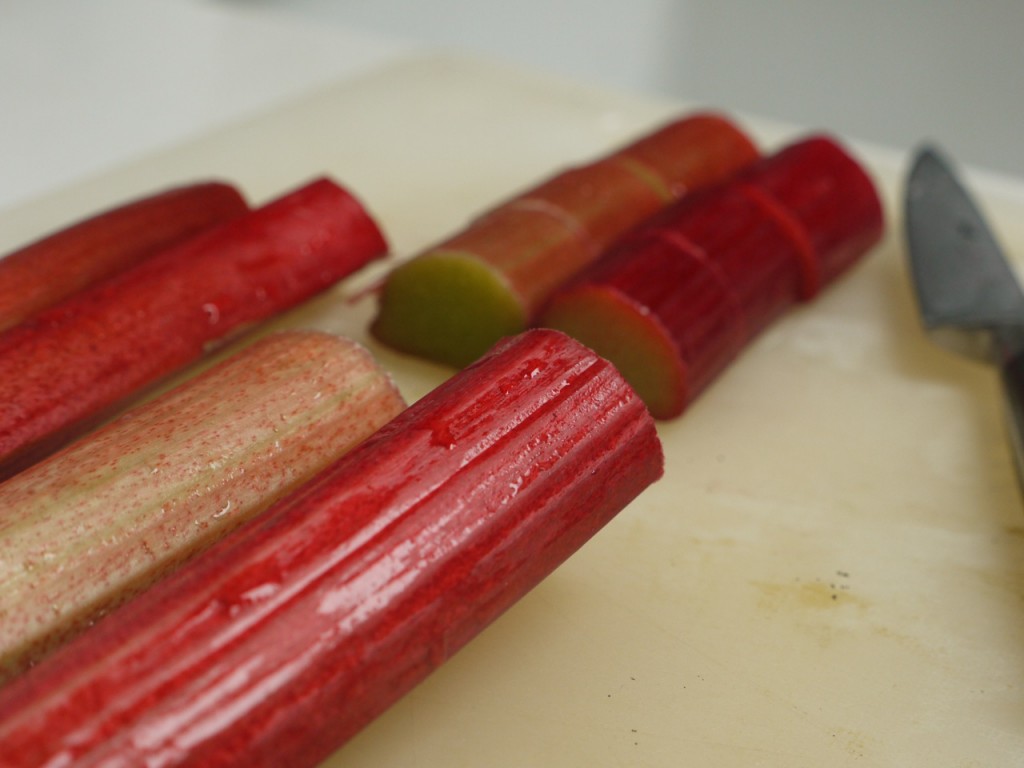 The eagle-eyed amongst you will have noticed that homemade Jaffas grace the front cover of my upcoming cookbook, Homemade Memories. When I was testing recipes for the book, I toyed around with various different jaffa jelly and chocolate combinations: mango and white chocolate, strawberry and milk, but my testers pointed me back in the direction of dark chocolate orange as a classic that would stand the test of time.
I'm sadly not allowed to share any recipes from the book with you in advance as there will be a feature in a national newspaper around publication (!!!), but I do have a little video of the jaffa-making process for you here today. I had so much fun filming this and although the video is short, I hope it shows some of the thought process behind Homemade Memories and what I'm hoping to bring to your table with this book.
Now, while I can't post a recipe from the book, nobody mentioned an adaptation so today I've got a recipe for rhubarb and white chocolate jaffa cakes to share. Tempted? I know a lot of people are anti-white chocolate, but I've kept the jelly slightly tart with the intention of balancing out that creamy sweetness. These layers sit on top of a vanilla brown butter sponge, a sort of flat financier as opposed to the traditional fatless jaffa base. It's all really rather delicious, and seasonal and pretty in pink, to boot.  
I've been talking about this book for such a long time that I can't quite believe it's about to happen. I'm excited for you to cook from it and find your favourites, to tell me your substitutions and share the memories that the stories and recipes bring back to you. I'm also in conversations about a possible afternoon tea style event in London, so with any luck may be able to share those stories (and cake. Jaffa cakes!) together in real life in the not so distant future.
Just a final bit of housekeeping. My publisher's pre-order incentive is still open to all readers so if you pre-order Homemade Memories, do send proof of purchase to homemadememoriespreorders@orionbooks.co.uk and you'll be entered into a prize draw to win a ton of amazing baking goodies, handpicked by me.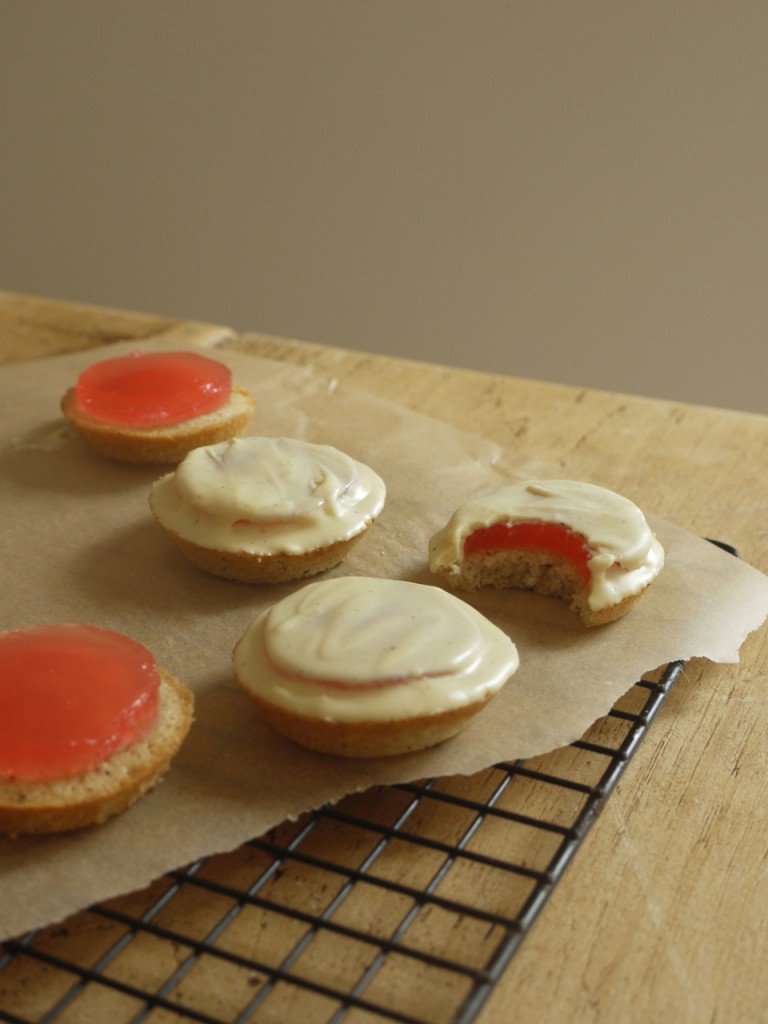 Rhubarb White Chocolate Jaffa Cakes
Even if you're not a jaffa cake fan, you need to try this version. Tart rhubarb jelly sits beneath creamy white chocolate on a vanilla brown butter sponge. I used regular outdoor grown rhubarb for the photos and still got a vibrant jelly - if you use forced rhubarb earlier in the season, the jelly will be even more of a shocking pink.
Ingredients
For the jelly
230g rhubarb, cut into 3cm cubes
45g golden caster sugar
finely grated zest of half a small orange
150ml water
3 leaves gelatine
For the cakes
40g butter, browned and cooled
60g icing sugar
20g plain white flour
40g ground almonds
seeds of half a vanilla pod
pinch salt
2 large egg whites, lightly beaten
To finish
120g white chocolate, roughly chopped
Instructions
Start by making the jelly. Line a tin or tupperware approximately 18cm square with cling film. In a medium saucepan, place the rhubarb chunks in a single layer. Scatter over the sugar and orange zest then pour over the water.
Bring to the boil then immediately reduce the heat and simmer for 8 minutes, or until the rhubarb is tender and gives easily when a knife is inserted. Meanwhile, soak the gelatine in a small bowl of cold water.
Remove the rhubarb from the heat and strain into a clean bowl through a piece of muslin. Allow the juice to drip slowly through - don't be tempted to squeeze or your jelly may go cloudy.
Return the rhubarb juice - you should have about 200ml - to the saucepan and gently heat. Squeeze any excess water out of the gelatine then stir into the warm liquid until dissolved. Strain into your prepared tin or tupperware and refrigerate until set, around 2 hours.
To make the cakes, measure out 30ml of the brown butter and set aside. Use the rest to grease a 12-hole muffin tin. Preheat the oven to 170 degrees C fan.
Sift the icing sugar and flour into a bowl, then whisk in the ground almonds, vanilla seeds and salt. Add the egg whites and brown butter and whisk to a thick batter.
Divide the batter between your muffin tin holes and bake for 9 - 12 minutes, until the cakes are lightly golden round the edges and firm to the touch. Remove from the oven and allow to cool completely in the tin.
When the jelly has set, use a 4cm round cutter to cut out discs. Carefully place one ddisc of jelly on top of each cooled cake.
To finish the cakes, melt the chocolate in a heat-proof bowl suspended over a pan of barely simmering water, then leave to cool for 10 minutes - if it's too hot it will melt the jelly. Carefully spoon 1 - 2 teaspoons of chocolate over the top of each jelly disc, coating the top of each cake. Leave to firm up at room temperature.
The cakes will keep in an airtight container for 2 days.
Notes
Adapted from the Jaffa Orange Cakes in my cookbook (!), Homemade Memories.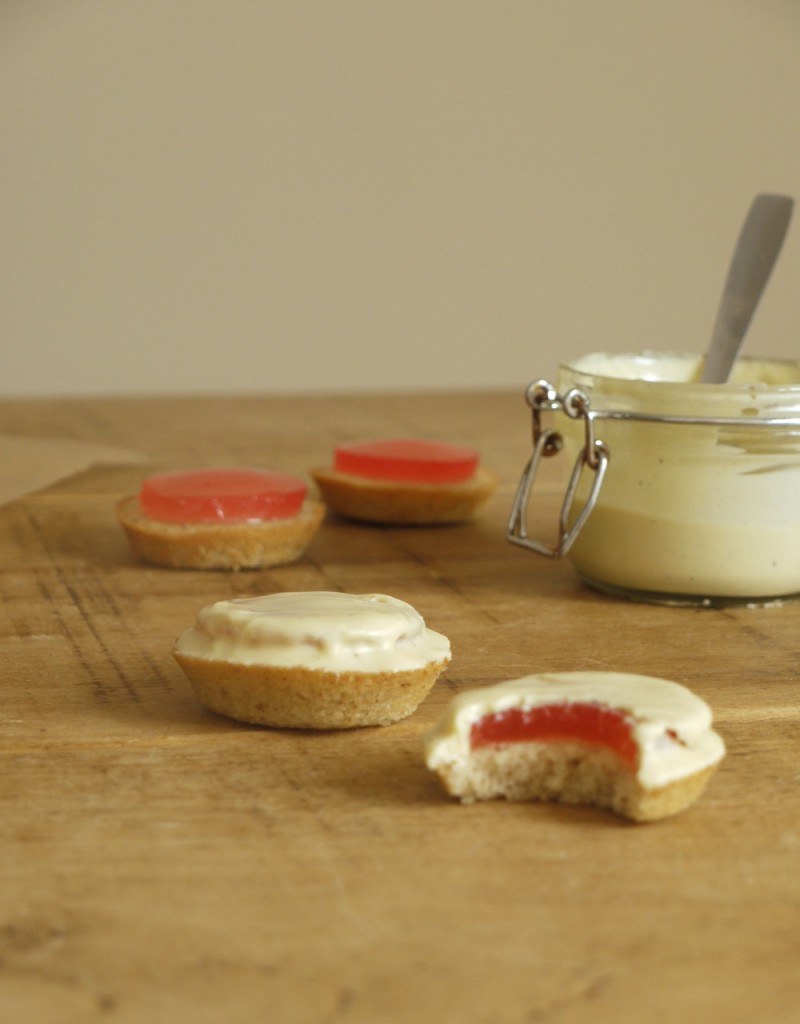 A final ps. Did you know that the McVities fac