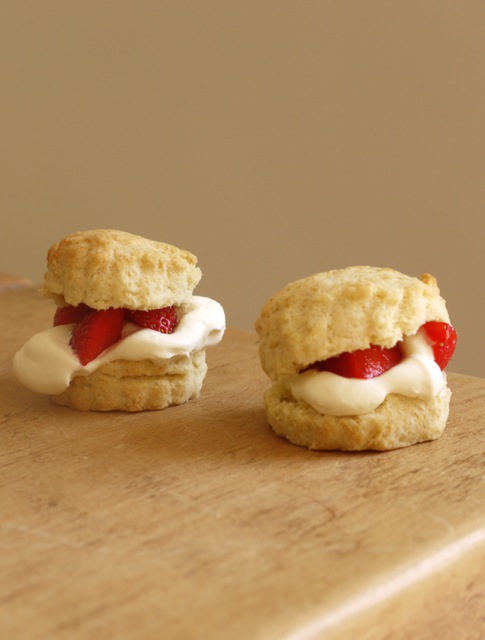 Strawberries + cream = Wimbledon. Which means the recipe for these strawberries and cream scones is exactly one day too late. Sorry. I was far too busy popping these moreish little morsels into my mouth whilst watching the final yesterday to think about posting them online, but if you look on the bright side you're now 350 odd days ahead of schedule for planning in snacks for Wimbledon 2016.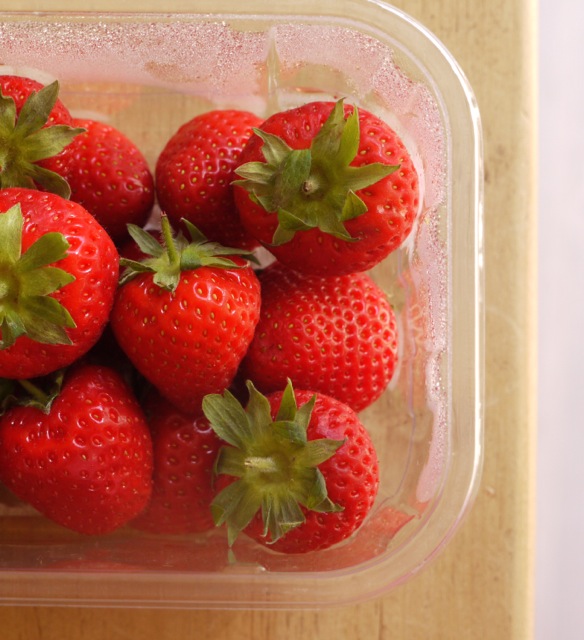 These scones, as with so many recipes, started off in my mind as something slightly different. For a while I've wanted to attempt those pretty fresh fruit scone recipes I've seen so many of online, bursting with fruit and little puddles of juice that look completely Pinterest perfect. With my first batch of dough I duly folded in freshly sliced strawberries and ten minutes later pulled out a tray of scones that looked and smelled divine. They had that lollipop strawberry scent that's just the right side of too sweet, and the obligatory attractive pockets of scarlet ooze, but the lightness I love in a scone was interspersed with an almost sogginess. Back to the drawing board.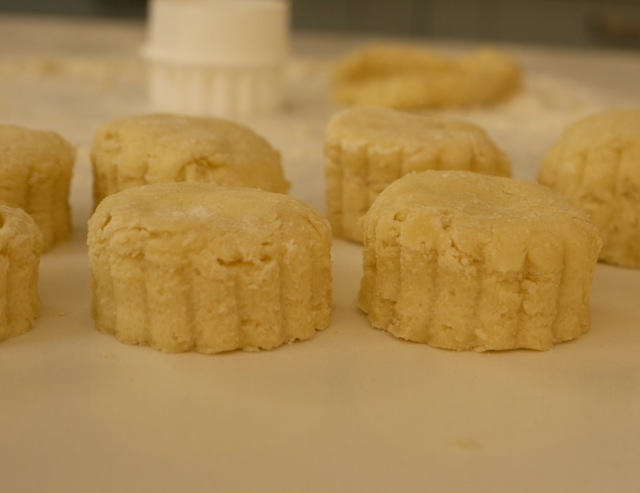 I'm sure there are delicious strawberry scone recipes out there. On Instagram some of you suggested I roast the strawberries them first to draw out some moisture which sounds sensible (and almost certainly delicious) but the sun was shining and my bikini was calling and I didn't fancy keeping the oven on much longer than was really necessary. So instead I'm sharing these super simple scones, no mix-ins or fancy tricks or anything other than sifting and stirring required.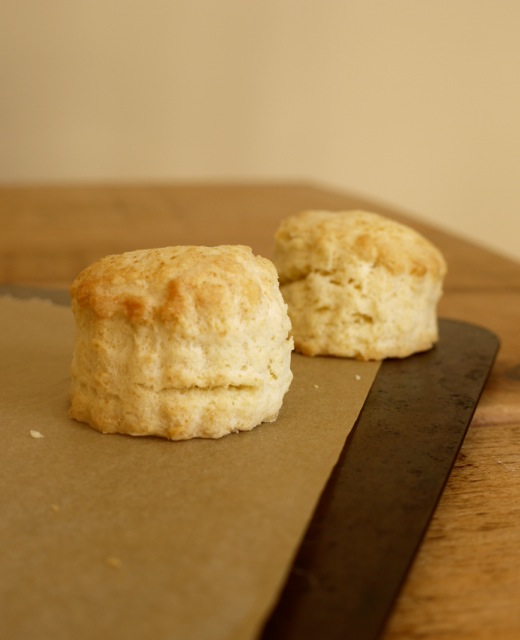 My go-to ingredients for scones are butter and buttermilk – you'll find a recipe using this combination plus some plump sultanas and oats in my book – the two working together to give both gorgeous flavour and texture. But here I've used just double cream for a lighter, blank canvas sort of a scone. If you think about it, butter and buttermilk both come from cream so you're essentially going a step back in the process and combining the two for ease.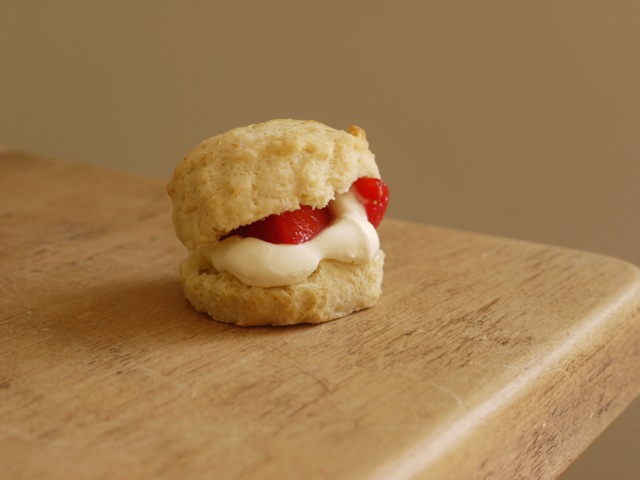 These scones are delicious split open warm and spread with too much salty butter, but this weekend I left them to cool before breaking open their tender bellies and filling with strawberries and a pillow cream. If you use a 5cm round cutter as I did, this makes for a (slightly messy) two bite mouthful and means you can definitely eat several in one sitting. Watching tennis hungry work.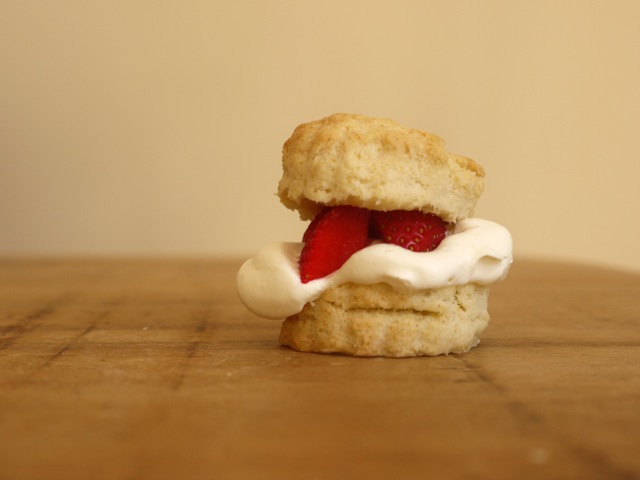 Strawberries & Cream Scones
Light, fluffy five ingredient scones filled with fresh strawberries and lightly whipped cream. Perfect for afternoon tea.
Ingredients
For the scones
175g plain white flour
1 heaped tbsp icing sugar
2 tsp baking powder
pinch salt
175ml double cream, plus extra as needed
For the filling (optional)
125ml double cream
¼ tsp vanilla bean paste
handful fresh strawberries
Instructions
Preheat the oven to 220 degrees C/200 C fan and line a baking tray with baking parchment.
In a large bowl, sift together the flour, icing sugar, baking powder and salt, lifting the sieve high to aerate the mixture. Pour in the cream and use the end of a table knife to mix the dough together until just combined. If it looks very dry, add a dash more cream but you don't want the mixture to be soggy.
Lightly flour the work surface and pat out the dough to 2 - 3cm thick. Use a lightly floured 5cm round or fluted cutter to stamp out scones, re-rolling any scraps.
Place the scones on the tray, brush the tops with a little extra cream and bake 8 - 10 minutes until risen and golden on top. Eat warm with lots of butter or allow to cool completely on a wire rack before filling, as follows.
Whip the cream and vanilla until thick and floppy. Cut the strawberries into small pieces. Split open the cooled scones, top one half with whipped cream and a few pieces of strawberry then place the other half on top. Eat immediately.
Scones are best eaten on the day of making but will keep in an airtight container for a couple of days.
Notes
If your strawberries aren't as juicy and ripe as you'd like, macerate in a spoonful of sugar and a squeeze of orange juice for 10 minutes before using.