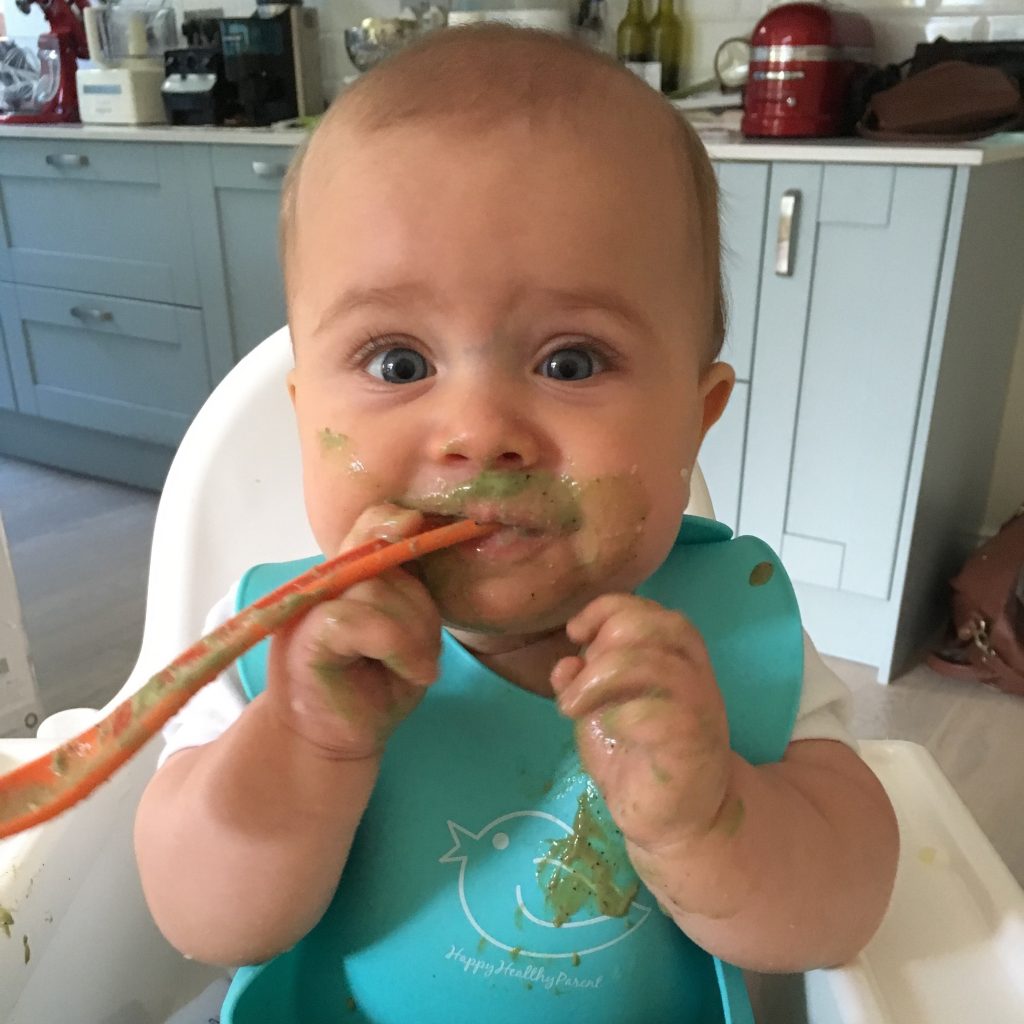 Today Nino turns seven months old. Seven months! My sweet bean. You're growing up so fast. Your thighs get longer and even chunkier by the day, your soft blonde hair (you were so dark at birth) is starting to curl and two pearly white teeth fill your gummy smile. You're pretty much crawling (your knee coorindation hampered only by your desire to walk), and for the last six weeks you've been discovering all sorts of solid food in addition to your voracious appetite for boob.
I appreciate this post won't be for everyone. I'm not planning on giving Nino any sugar other than what naturally occurs in fruit and dairy til he's one year old (that first taste is going to be the best birthday cake I've ever made), so if you're here for grown up recipes, please do have a mosey round the sugar and butter filled archives or come back next week. But if you're interested in weaning, or have babies of your own, here's a little run down of what we've been doing for the last six weeks. I'm by no means an expert – we're still at the very early stages and learning every day over here, but I've loved reading about what other mums have done – check out here and here and here for blogs I've found especially helpful during the weaning process – and hope you'll find a few nuggets of interest here too.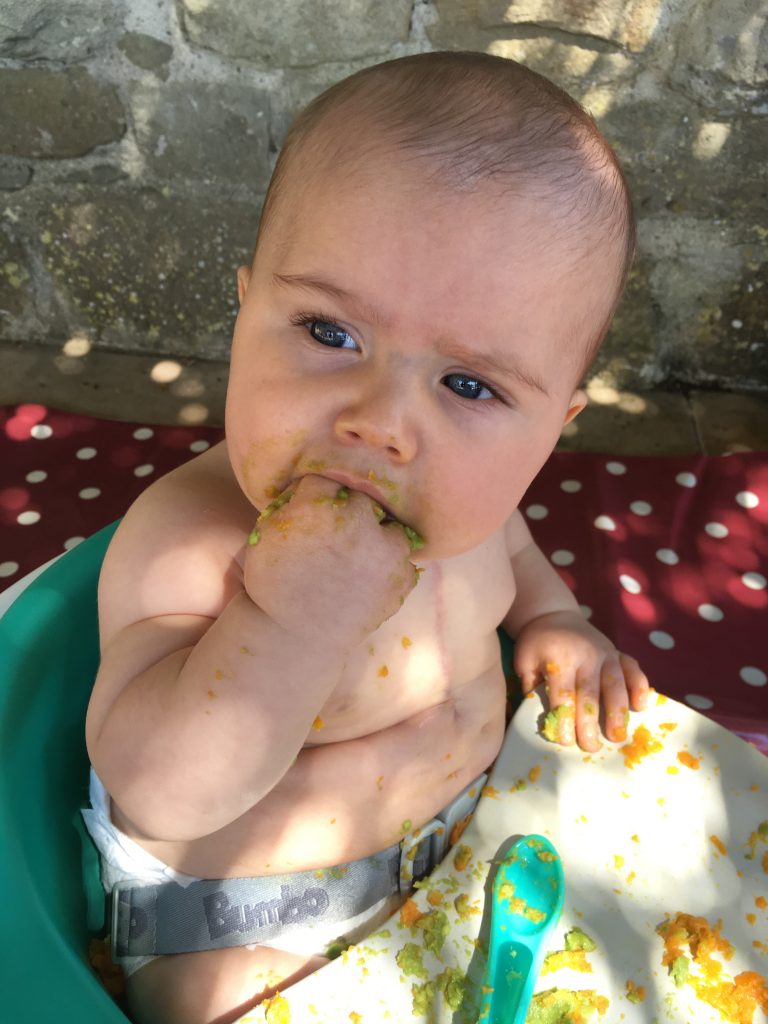 First tastes
Avocado is one of my all time favourite foods. I mash it on toast, toss it into salads, add thick slices to lunchtime bowls and blend it into smoothies and desserts. It's also the trendiest first baby food of choice of the Insta-Glam-Mama, so how could I resist?
Because we started Nino on solids at five and a half months (i.e. before he'd completely lost his tongue-thrust reflex) I was keen not to offer anything that needed too much chewing. When we started this process, I was adamant about going the pure baby led weaning route, but over the weeks I've modified it somewhat to incorporate some purees and spoon feeding alongside. Nino was getting frustrated with his inability to get certain foods into his mouth fast enough (like father, like son) and I've found that using a spoon occasionally means he can enjoy smoothies, porridge, yoghurt, bolognese and other softer dishes with fewer meltdowns (and less mess!) than if he was solely feeding himself.
For Nino's very first taste of solids I mashed a slice of avocado with a little breastmilk (yum…), took his Bumbo seat outside (we were at my parents' house in Italy and the weather was gorgeous) and let him at it with his hands. I also offered a dollop of steamed carrot (same mushy breastmilk situation) alongside, thinking a choice of vibrant colours would be fun and off he went. Baby led carnage ensued as Nino investigated the possibility of to ingesting avocado through his ears, nose, eyelids, belly button and thigh creases.
A quick aside on feeding avocado to babies. Under-ripe it's easiest for little hands to hold but not as tasty to eat or, I imagine, as nutritious. I've found the best way to get the creamy green good stuff into Nino is to mash it and pre-load onto spoons or smear it on toast to suck.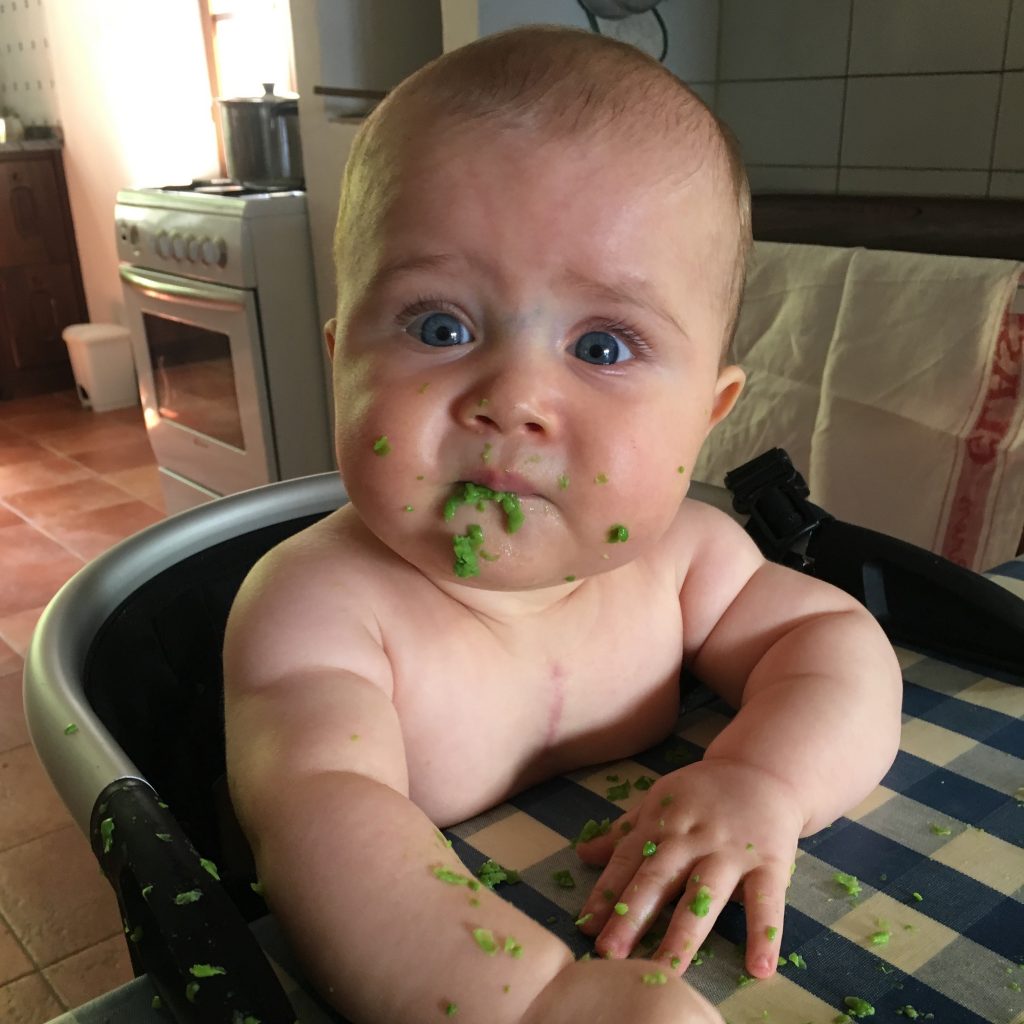 Vegetables
I'd read that offering too much fruit to start off with can give babies a penchant for the sweet stuff, so we mostly focused on veg with a natural sweetness for Nino's first few tastes. Carrot, steamed and mashed then later served in sticks was a success, as were coarsely mashed peas as finger food or on a spoon. I can mix pretty much any ingredient with peas and he'll wolf it down – long may that last! Similarly, sweet potato was and is still very popular. It's a fine balance steaming sticks so they're firm enough to hold yet soft enough to gum, but if you miss the mark and overcook it, sweet potato makes a perfect vehicle for introducing other ingredients like egg and fish (more on this below). Nino also seems pretty keen on regular potato – he'll eat a boiled new potato like an apple now that his hand coordination is a bit better, and I've also served it roughly mashed with a little olive oil.
We've found sticks of cucumber, red pepper and celery with the ribs removed to be the perfect combination of teething toy and food, offering refreshment on hot days with their high water content and cool relief for sore gums. I've been giving Nino cold celery since five months, but it's only when he cut his first tooth just shy of six months that he really started to appreciate the flavour and actually eat some.
We ate a lot of chard and spinach in Italy and the larger, soft steamed leaves were great for Nino to pick up and chew. Green beans and asparagus are perfect for little fingers, but although I've read a lot about the popularity of regular broccoli 'trees' with little ones, Nino just ends up smushing these shorter, fatter stalks to pieces. His preference for the longer tenderstem or purple sprouting broccoli is purely ergonomic, but it also makes him sound like such a Fulham baby . . .
Baby led weaning inevitably results in a lot of half chewed sticks of veg, so in an attempt at frugality (not including anything that's been dropped on the floor), I've been whizzing the leftovers into purees and patties. Some floppy courgettes I'd over-steamed ended up in a course dahl with red lentils, onion, spices and a little stock, stringy asparagus stems were chopped and added to little frittatas and I've made smoothies from random assortments of broccoli stalks, chard, apple and avocado which – bless the eager little greedster – he dutifully scoffs.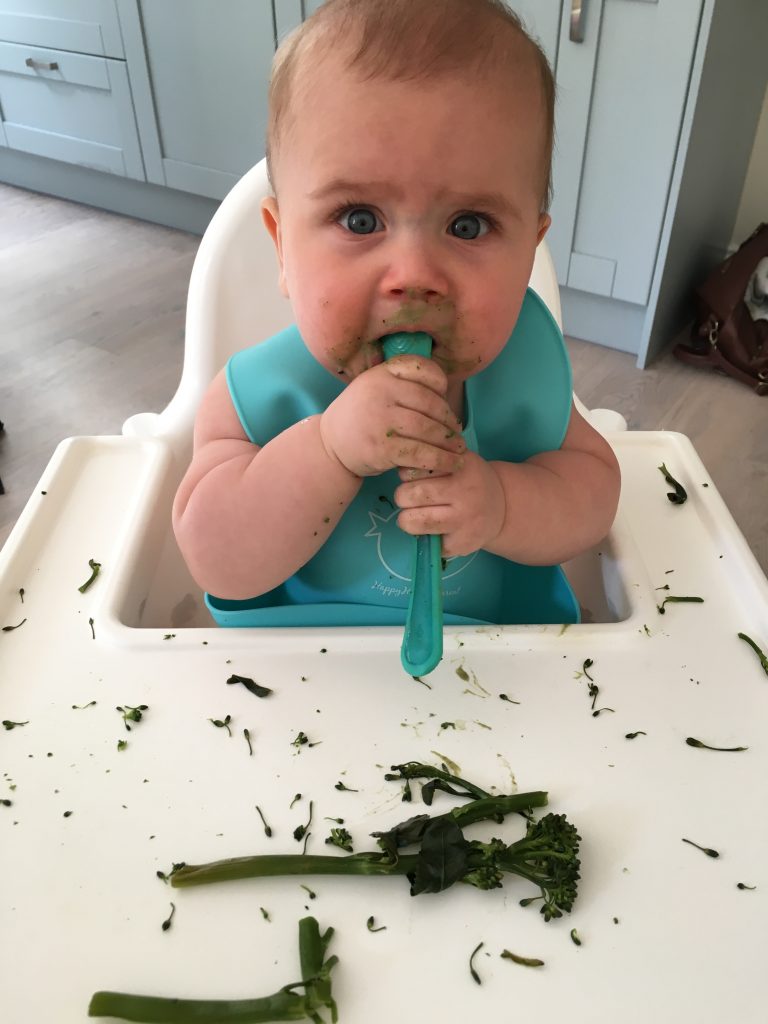 Fruit
With its natural sweetness and so many bright colours to choose from, fruit was always going to be popular. Ripe nectarines and peaches have, to date, been the biggest hits – Nino will suck the flesh messily from the skin then chew away in sticky sweet bliss. We have had a couple of hairy moments when he's – quite literally – bitten off a bit more than he can chew, but for the most part it's a fruit I'm comfortable giving him to handle by himself.
If you've never fed lemon to a baby, google it and you'll see them pull the funniest faces. Nino does something similar with anything sweet – I think it makes his mouth pucker up in a similar way to anything tart. He's tried everything from oranges and apricots to slices of apple (steamed) and pear (just juicy), watermelon (which he wasn't sure whether to suck or chew), blueberries in porridge and slices of melon. The only fruit he's been a little bit funny about thus far is raspberries – the confusing combination of tart flesh and little seeds, I think – and banana, which he'll scoff readily in pancakes or mushed into oatmeal, but doesn't seem to like the texture of on its own.
One scorching day in August I was eating a homemade ice lolly (essentially this smoothie in frozen form). Nino kept reaching for it and, as it contained no dairy or added sweeteners, I let him have a lick. I thought he'd be put off by the fact that it was frozen but he couldn't get enough – I think he'd have eaten the whole thing if I let him! He's also a fan of smoothies slurped from a plastic cup or served up on a spoon. A thick shake of oats, oat milk, berries, spinach and avocado at breakfast time is a great way to get some greens into him at the start of the day.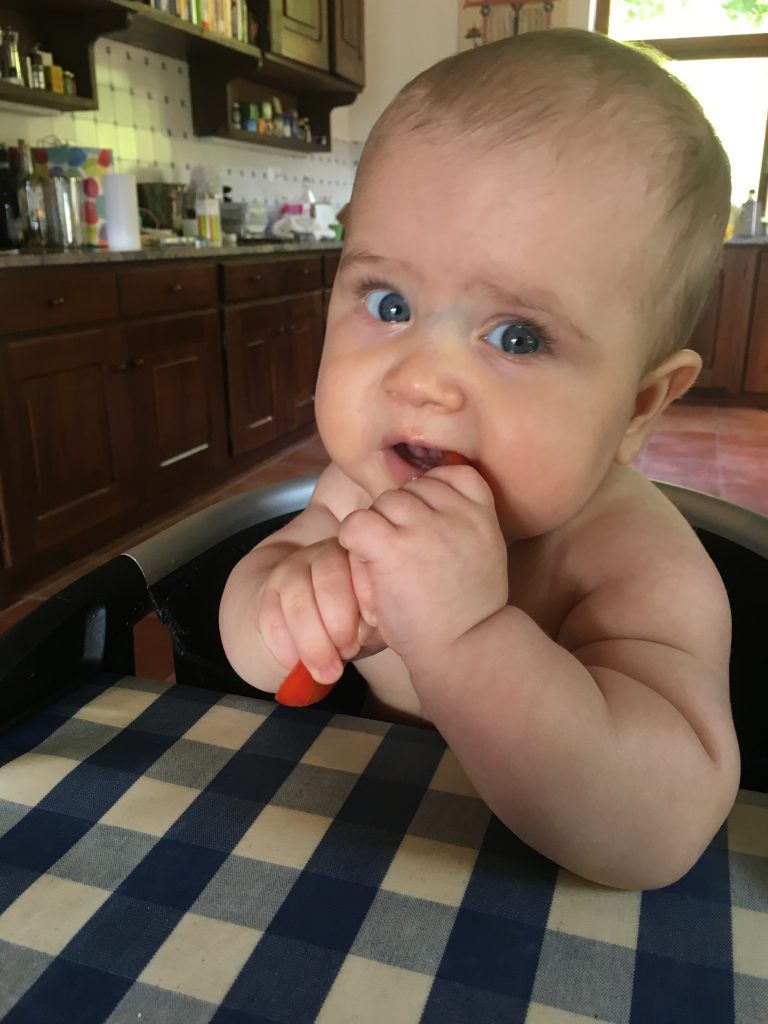 Grains and pulses
Oats are a real favourite in the little loaf household and most mornings begin with a bowl of porridge or Bircher muesli. I've been making Nino's bowls with oat milk (water feels a little penitential) and a dash of cinnamon, and from six and a half months introduced some full fat yoghurt. I'll probably start cooking it with cow or goat's milk soon as he hasn't displayed any intolerances so far. I've been giving porridge (cooked and then allowed to cool) on pre-loaded spoons, but any leftovers can also be baked into fingers for little hands to hold. Sometimes I'll mix it up with quinoa flakes – I wanted to get Nino used to its grassy taste from early on – or stir in pureed apple, carrot or, now that he's seven months old, a little nut butter.
In Italy we always had a bowl of pulses soaking and over the course of a couple of weeks we introduced Nino to chickpeas, lentils, cannellini and black beans. Mashed with a little olive oil, pulses make a delicious, filling meal full of good fats, protein and carbs and I also made a farinata, or pancake, from chickpea flour. I've yet to give him falafel, but they're on my list of things to make and I'm pretty sure he'll love them as much as I do.
The littlest loaf was always destined to love one food in particular and Tuscany, home of the unsalted loaf, was the perfect place to introduce Nino to my beloved bread. We started him on hard crusts before he progressed onto eating slices of toast spread with avocado, vegetable purees or a drizzle of olive oil. Plain slices of bread are a brilliant, not too messy distraction if you want to take your baby to a restaurant awake, and one lunchtime by the seaside he spent a good half hour happily gumming away at various bits of bread. We've since tried sourdough, toasted pittas, homemade breadsticks and various other crusty loaves (just watch out for ones with seeds which can be a choking hazard).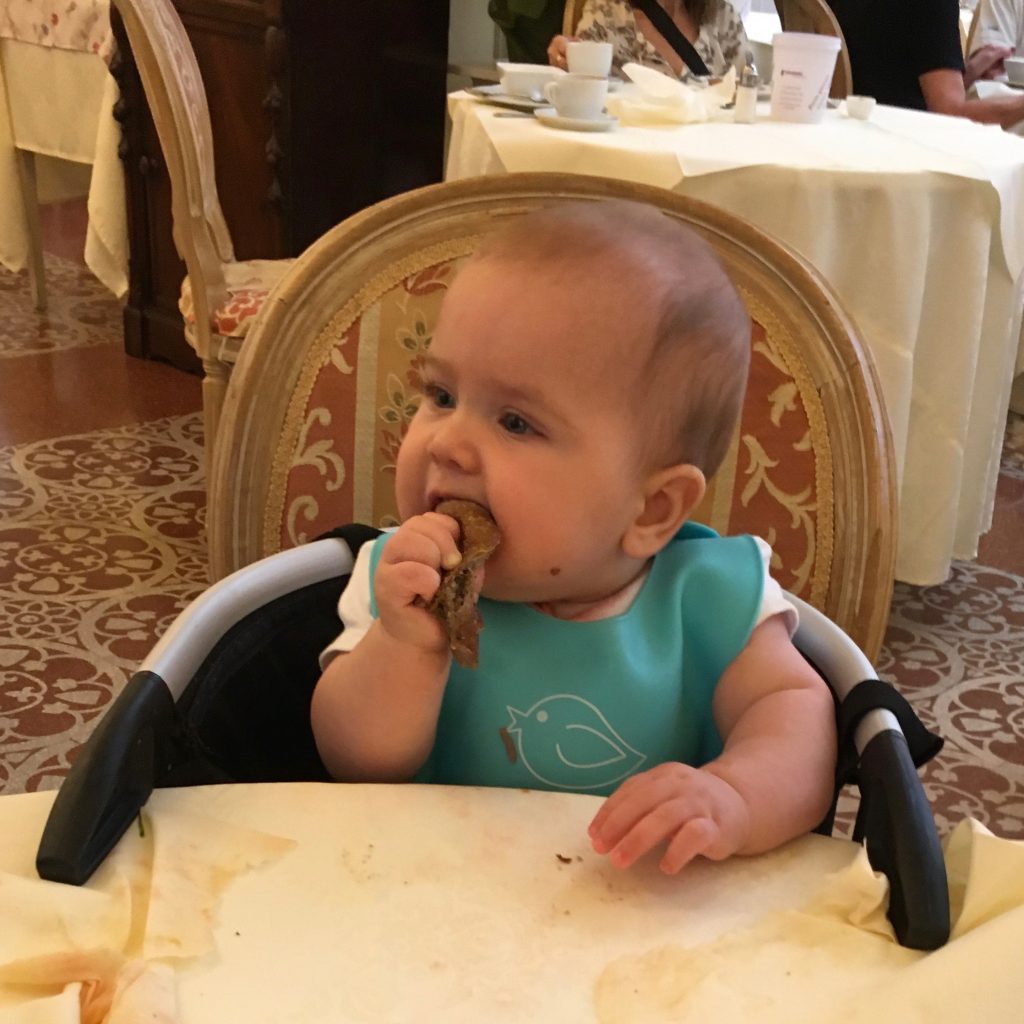 Eggs, meat, fish and tofu
At just over six months old I introduced Nino to eggs in the form of two-ingredient banana pancakes cooked in coconut oil. He wolfed them down and since then I've made similar versions using a little added oat flour or subbing pumpkin puree or butternut squash for the banana. Nino also adores a frittata which is lucky as it's my go-to lunchtime eat. We add softened onion, cooked quinoa or sweet potato and herbs around here, all variations of which he loves. Once he's a little older, I'll also be adding some not-too-salty grated cheese.
Nino's first taste of meat was a turkey 'chilli' made with turkey thigh mince, passata, onions, carrots, oregano and mashed kidney beans. I didn't dare give him any of our (pretty spicy and also salted) version so cooked it up in a separate little pan, but I'm keen to try him on some mild chilli soon. Served on pre-loaded spoons with a little mashed avocado, he thought it was the bees knees.
Tofu was next on the list, simply because I had some in the fridge. I thought it was going down pretty well until I realized he'd hamstered about a tablespoon of semi-chewed pieces into his cheeks. I managed to rescue what he hadn't slobbered all over and finely minced it into a sweet potato and carrot puree which went down a little more easily.
Iron is one of the most essential nutrients to include in your baby's diet, so soon after introducing various vegetables and fruit, I gave Nino stewed lamb, stewed beef and bolognese sauce. One of the things that scared me most about baby led weaning was the idea of giving him hunks of flesh to chew as I know plenty of adults who've choked on meat, let alone babies with only two teeth. I let him suck on a slice of steak once, which he LOVED (I had a sneaking suspicion he would), but it was so tender I was worried he'd gum off too large a piece. As his chewing skills improve I'm hoping I'll get a little braver, but for now we're sticking with slowly cooked, softened meat in very small strips or minced.
Just before Nino turned seven months I tried him on salmon in the form of little fish cakes made with sweet potato and bound with an egg. Like pancakes and and kind of eggs, he was a big fan of these and fishcakes made with different kinds of white and oily fish will definitely be on the menu again soon.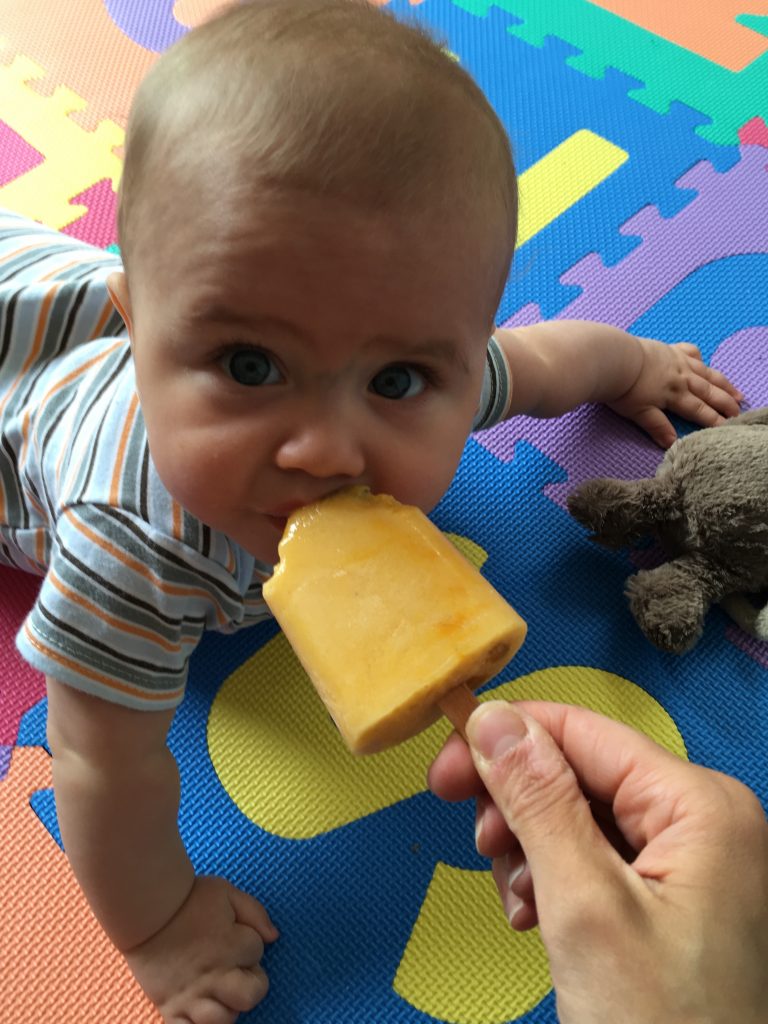 Food from a packet
I'd be lying if I said I'd never given Nino food from a packet. Three days after we got back from Italy we went to Lithuania for a wedding. I had no idea what we'd be served over the course of the weekend, if it would all be salted, sugared, pickled or processed, so I bought a few pouches of Ella's Kitchen baby food to cover any emergencies. All the ingredients are organic with no added sugar, salt, preservatives or other nasties, and the only thing wrong with them, as far as I can see is the freshness of ingredients (unopened, the pouches can be kept out of the fridge), and of course the price. I'm sad to report that my traitorous baby boy loves the shop bought stuff easily as much as the homemade meals his hard working mummy puts on the table, so much so that I've been noting down the ingredients lists of various other flavours in the supermarket to recreate at home myself.
Next steps
Six weeks in it's still very early days, but it feels like we're falling into a routine. Nino has breakfast, lunch and dinner, with grainy, fruit based meals to start his day, vegetables and pulses for his middle meal and usually some sort of protein, vegetables and carbohydrate to fill him up before bed. The amount he eats varies quite a bit depending on how active a day he's had, any teething issues and, of course, what's on offer, but I'm pretty impressed by the portions he can pack away given the size of his stomach. Now that he's an established himself as an enthusiastic and adventurous eater, my plan for the next few months is to give him more and more of what we're having with fewer modifications. Less mush, more texture and the chance to become a more autonomous eater. I know at some point he'll learn how to say 'no', but for now I'm loving how adventurous this little man has been. We have such fun sitting at the kitchen table, pulling faces, singing songs and sharing meals. And of course it won't be all that long before I have a little helper around the kitchen too. I'm not one to wish the time away but cooking with my boy? I cannot wait!