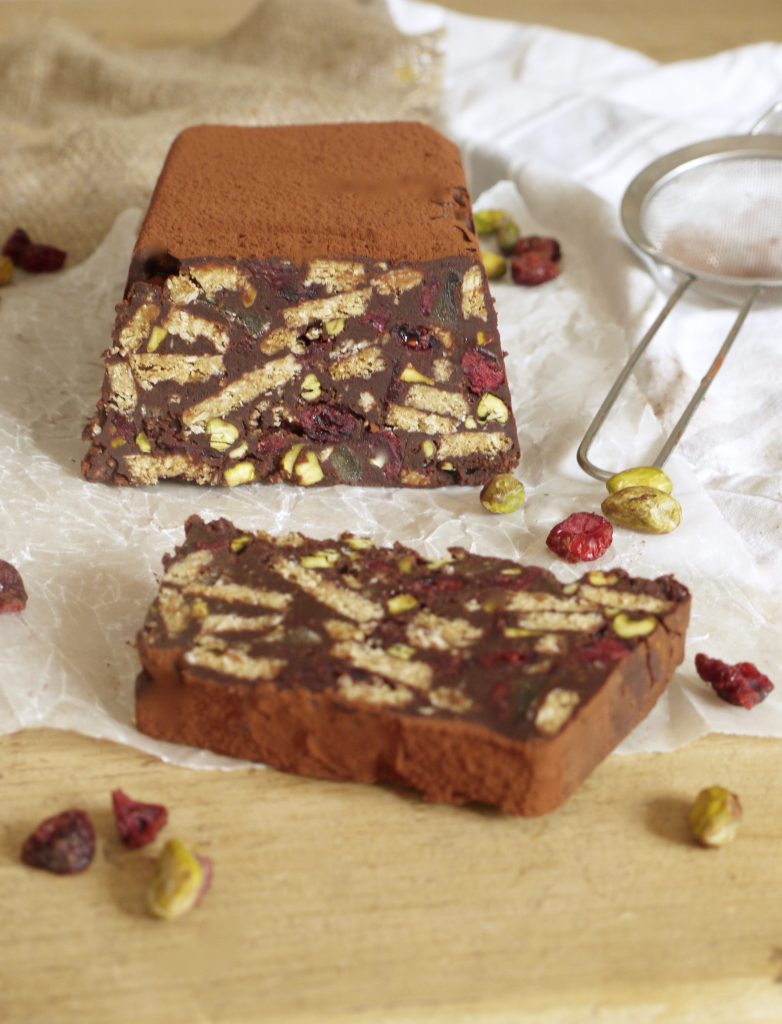 Now that Halloween and Bonfire Night are out the way, I feel like I'm legitimately allowed to mention the C-word. I'm not normally one to plan the festivities too far in advance, but since a certain little person arrived in our lives I've been looking forward to his first Christmas and the magic it will bring. There's a stocking embroidered with Nino's name that I'm hoping will last a lifetime, his very first decoration for the tree (we have a tradition of getting a new bauble or item to hang every year), matching jumpers to wear, stories to read and a long list of presents to buy, even if he's (inevitably) more interested in the the boxes they arrive in. And then of course – although I'm not allowing Nino refined sugar til he's one (mean mummy) – there's dessert to plan for the grown ups in attendance.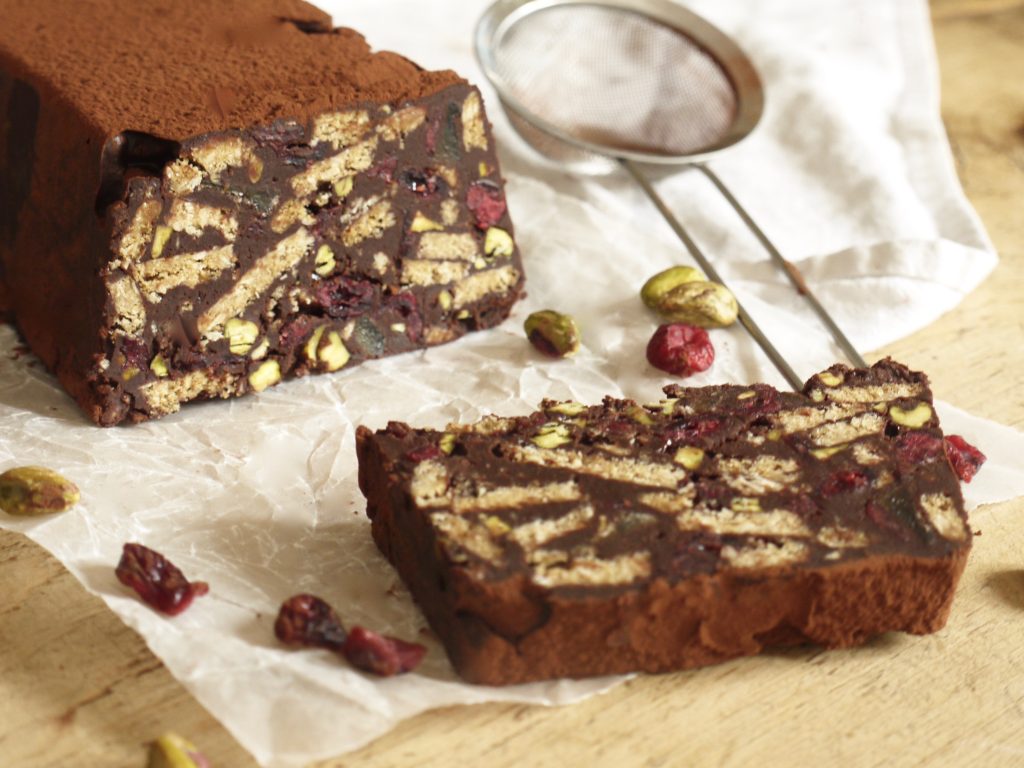 Every year I'm tasked – ok, I task myself – with making a Christmas dessert. Not everyone – alright, me again – loves the traditional Christmas pudding and cake, so it's nice to have an alternative up your sleeve. In years gone by we've had a sugar snow-dusted chocolate log, chocolate orange tart, chocolate cranberry cake and a chocolate chestnut torte. You may be sensing a theme and while some might say a chocolate dessert could be a little rich to follow an enormous Christmas roast, I feel like it's the one day where you're in for a penny, so you might as well go in for a pound. Or gaining several, at least.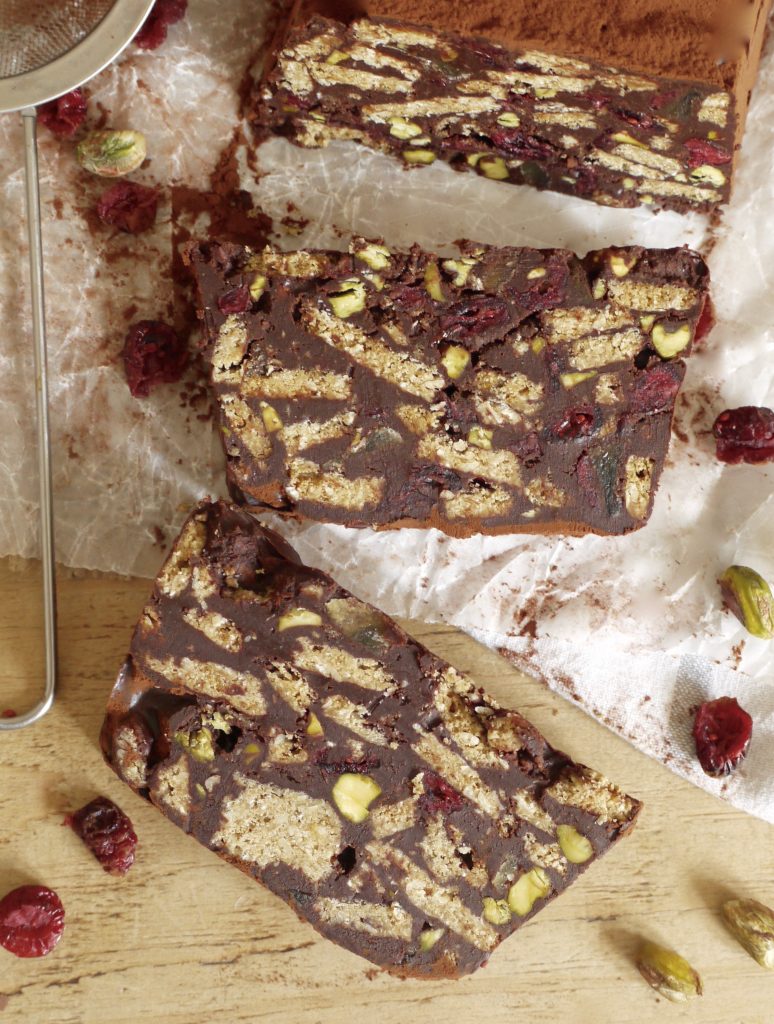 I developed this festive chocolate biscuit cake for The Secret Truffletier to showcase some of their delicious chocolate products and I have to say it's a strong contender for this year's Christmas pud. It's indulgent enough to enjoy as dessert, can easily be sliced and served at tea time as an alternative to Christmas cake and would also be the perfect way to use up any leftover dried fruit, nuts and chocolate during those glorious last days of December when you're trying to cram in as many treats as you can before the New Year New You guilt kicks in. There's warmth from ginger in both biscuit and crystallised form, crunchy pistachios and chewy cranberries all set in a truffle-like chocolate cloak. You might like to cut this cake into thin slices as it's rather rich, but we've been serving up great slabs in the interest of adding some insulation as the colder weather draws in.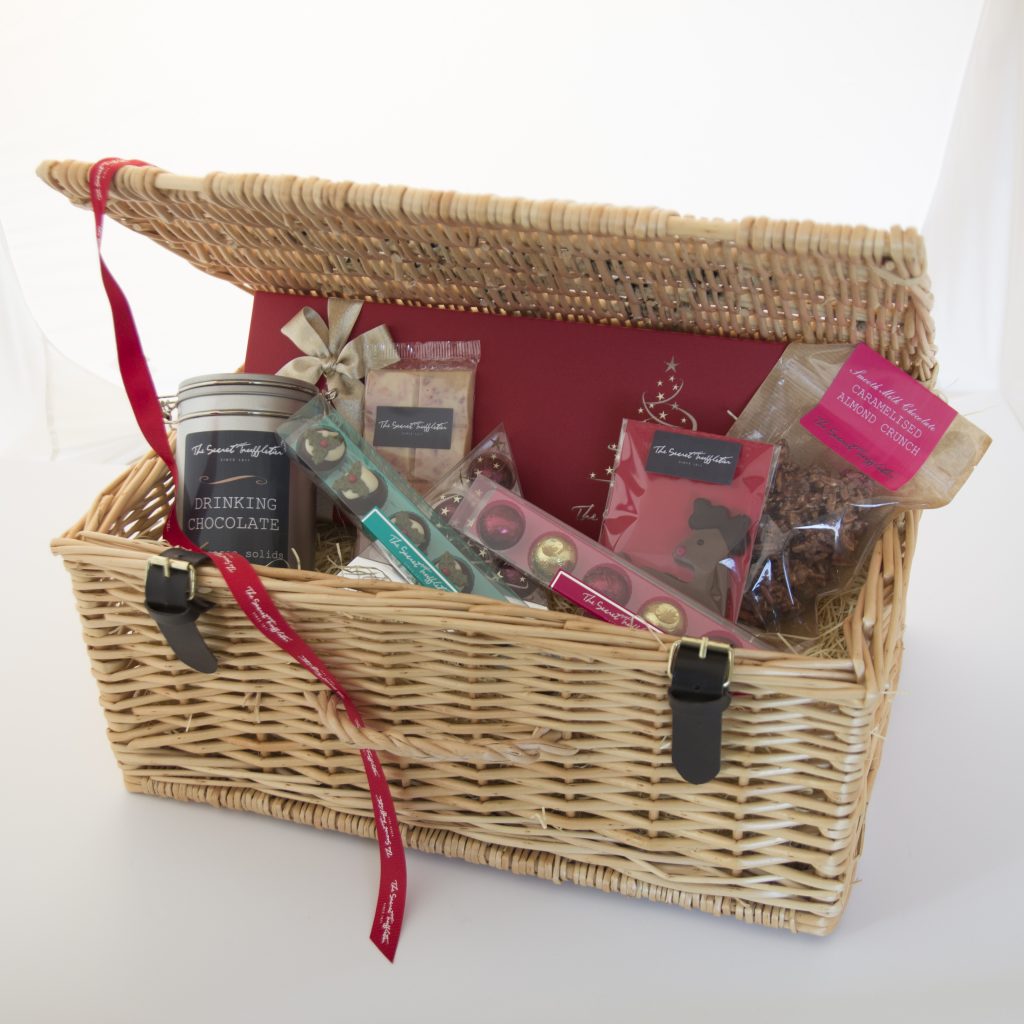 To continue the spirit of all things festive, the lovely people at The Secret Truffletier are also offering one lucky blog reader the chance to win a hamper of chocolate, perfect to treat yourself or give away as a Christmas gift. The hamper contains all sorts of chocolate goodies (most of which I've had the pleasure of sampling, and they're seriously good) including Milk Chocolate Almond Clusters, Mini Chocolate Reindeer, a Mulled Wine Truffle Tree, Boozy Truffles, Christmas Puddings, Drinking Chocolate and more.
To be in with a chance of winning, simply comment below telling me your favourite dessert to eat on Christmas Day. A winner will be randomly selected from all entries on Monday 21st November with the hamper dispatched to arrive in plenty of time before the big day. To find out more about The Secret Truffletier, click here. Please note that this competition is open to UK readers only due to delivery. Good luck!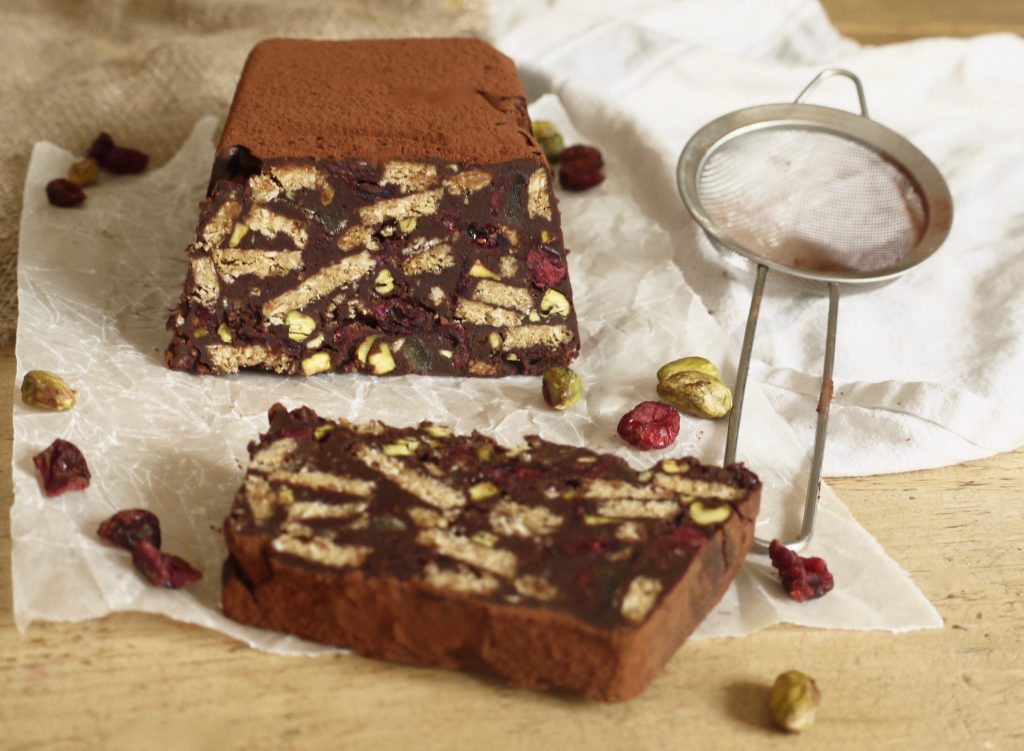 Festive Chocolate Biscuit Cake with Cranberries, Pistachios & Ginger
Serves:
8 - 10 rich slices
Ingredients
280g dark chocolate, broken into pieces
175g unsalted butter, plus extra for greasing
80g golden syrup
1 large free range egg, lightly beaten
275g ginger biscuits, bashed into large chunks
85g shelled pistachios, roughly chopped
75g dried cranberries
75g crystallised ginger, roughy chopped
2 tbsp cocoa powder, for dusting
Instructions
Grease a 1kg loaf tin with butter then line with baking parchment.
Combine the chocolate, butter and golden syrup in a large heatproof bowl suspended over a pan of simmering water, stirring gently until melted and smooth. Remove from the heat and allow to cool for 5 minutes.
Slowly and continuously stir the beaten egg into the chocolate mixture to pasteurise it, then fold in the biscuits, pistachios, cranberries and ginger, making sure each piece is evenly coated in chocolate.
Scrape the mixture into your prepared tin, smooth the surface flat then refrigerate until firm, 2 – 3 hours.
When ready to serve, remove from the tin, peel off the parchment paper and dust with cocoa powder. Cut into thin slices – this cake is very rich!