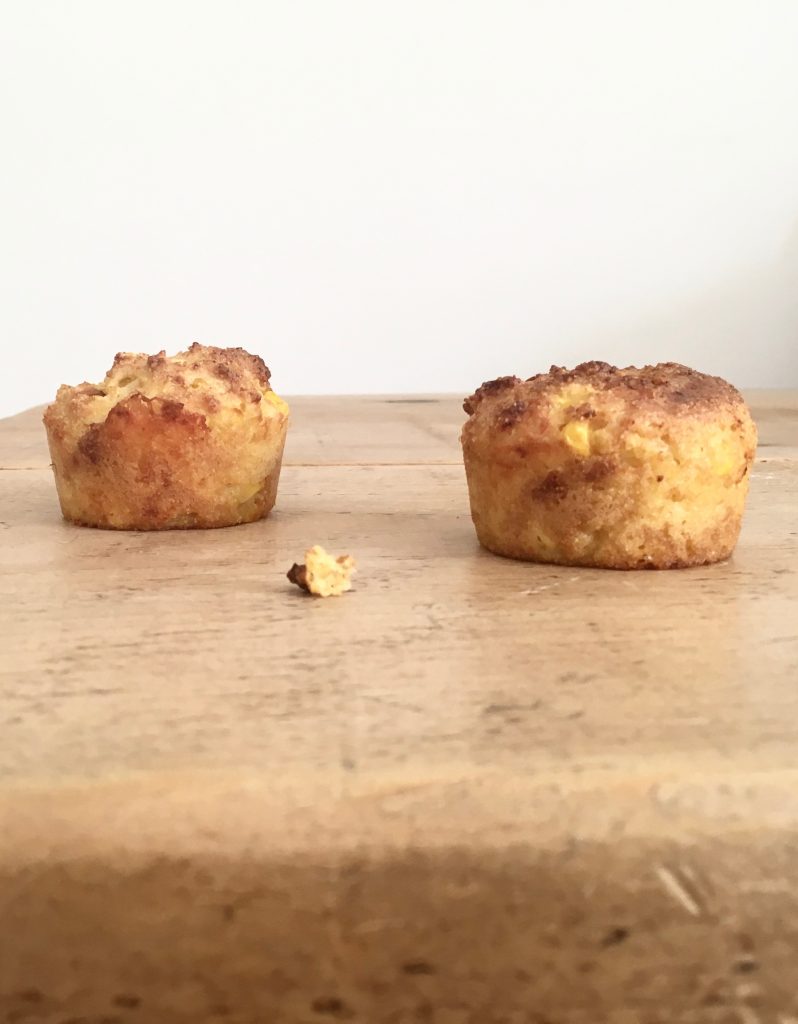 I've been thinking a lot about balance recently. Balance between being in the office and at home – which isn't always to say work life and home life when you freelance a little alongside the day job – being someone's mother, someone's wife, a daughter, a friend and also, although of course it encapsulates all of the above, finding time to be me. As a – relatively – new mum, the days are long, but still there never seems to be enough time to fit in everything I'd like to do. We're no longer in that shower or eat newborn phase but retest a recipe so it's solid enough to post on the blog or help our little boy build a tower out of toilet roll? Write up blog post or spend some quality time with my husband? These aren't the toughest of decisions, but it goes some way to explaining why things have been a little quiet round this space in recent weeks.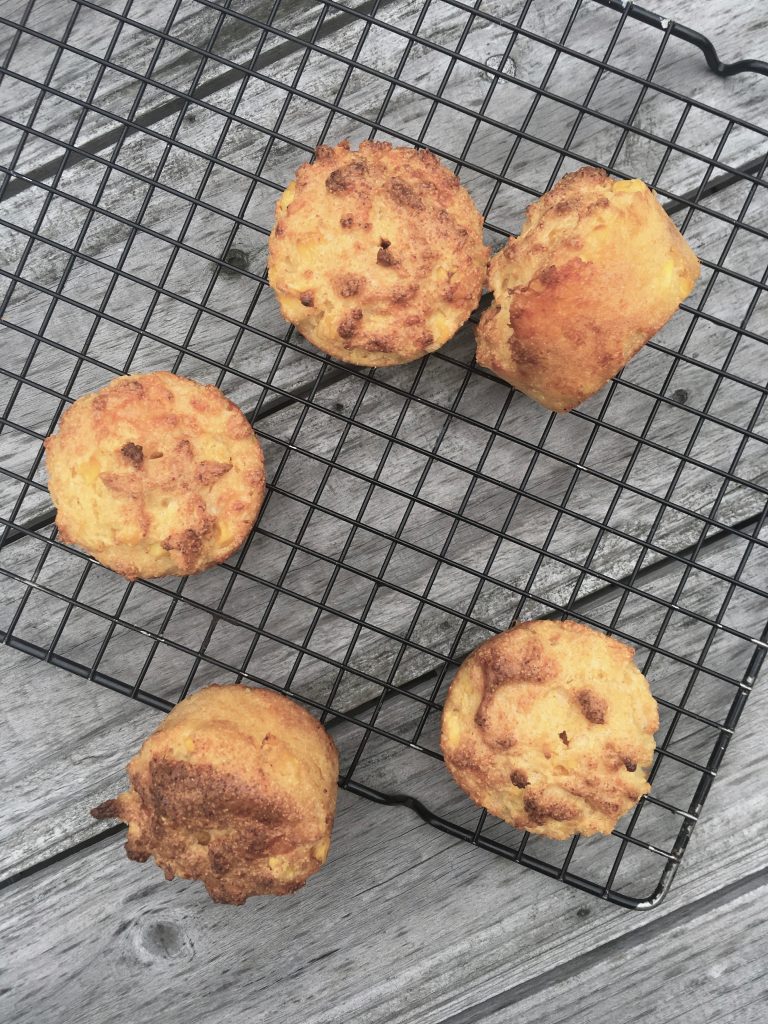 In the interest of saving precious time, I've been attempting to feed our whole family as much of the same food as possible. Things like Bolognese, fishcakes, homemade baked beans and risottos are simple enough to portion off. But it's also nice to have something a little more portable, tasty bites that fit into the lunchtime or snack categories. Frittatas are the key to both my boys' hearts, falafel is a staple and the broccoli and quinoa bites I've been making on regular rotation are so simple and delicious they've made it onto the grown up menu too. These cheesy cornbread muffins are in much the same vein: simple, perfect for tiny hands but equally delicious for the whole family.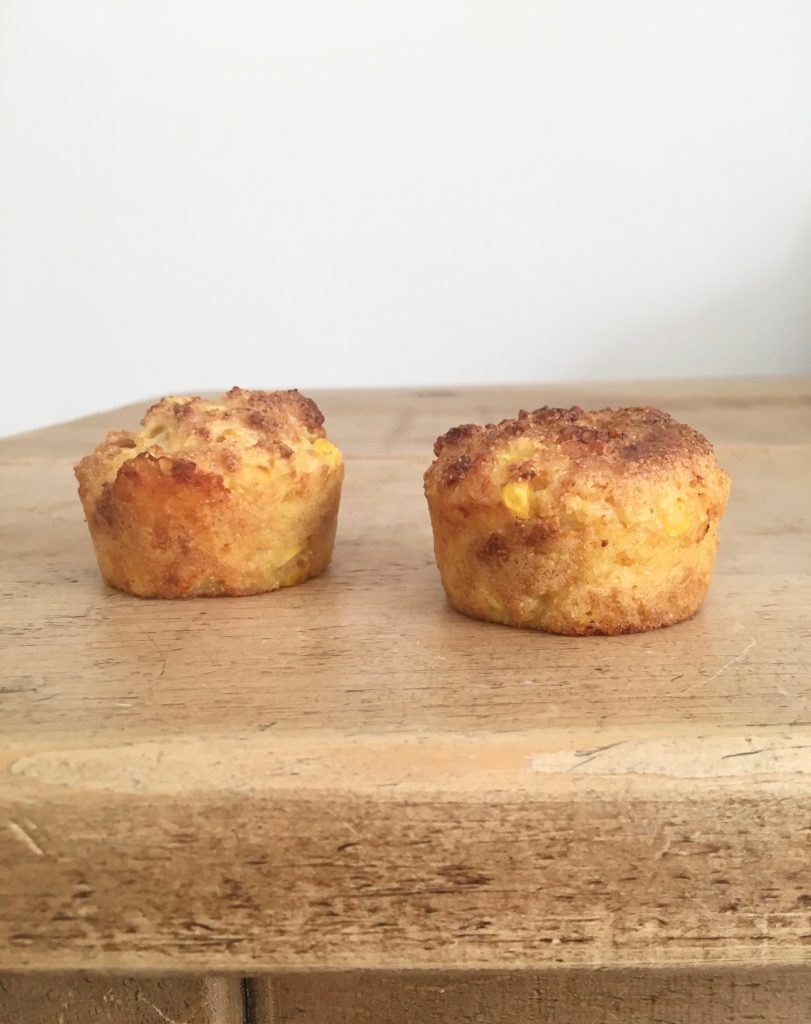 Polenta is one of my favourite ingredients to bake with, adding moisture, texture and that beautiful sunshine colour of corn. These muffins have toddler-friendly nuggets of sweetcorn and cheddar cheese, but do can see them as a pretty blank canvas. A little paprika, chopped chilli and spring onion would be nice, or you could frazz up some bacon bits or chorizo and stir them into the batter. Try adding feta or parmesan instead of the cheddar or omit the cheese completely and add a dash of maple syrup for a sweet treat. I didn't add any salt to these as I think the cheese imparts enough umami flavour, but if you're baking for an adult only audience, a generous pinch wouldn't go amiss here.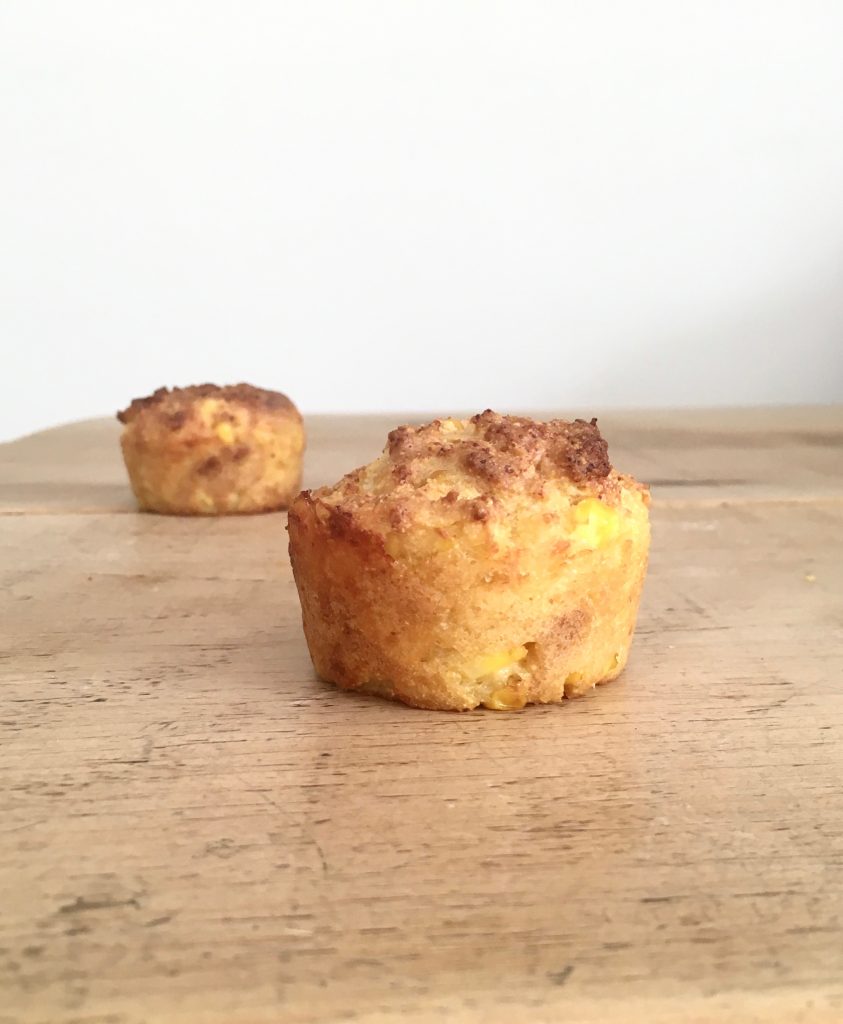 Cheesy Cornbread Muffins
Tender, cheesy muffins studded with sweetcorn kernels. Perfect finger food for babies and delicious for grown ups too.
Ingredients
150ml milk
140g polenta
65g flour
¾ tsp baking powder
½ tsp baking soda
50g butter, melted
120g yoghurt
1 large egg
steamed kernels from one ear of corn (or use from a tin, providing it's unsalted)
50g cheddar cheese, grated
Instructions
Heat oven to 220°C/200 C fan. Grease or line a 12 hole standard muffin tin with disposable liners.
In a saucepan, combine milk and 2 tbsp polenta. Cook over a medium heat, whisking constantly, until it thickens slightly, then transfer to a large bowl and allow to cool slightly.
Whisk the remaining polenta, flour, baking powder, baking soda and salt together in a medium bowl.
Whisk the melted butter and yoghurt into the cooked polenta until combined. At this point, the wet mixture should be cool enough that adding the egg will not scramble it, but if it still seems too hot, let it cool for 5 minutes longer. Whisk in egg until combined. Fold in flour mixture until thoroughly combined and the batter is very thick, then fold in the sweetcorn kernels and cheese. Divide batter evenly among prepared muffin cups.
Bake until tops are golden brown and toothpick inserted in center comes out clean, about 15 - 18 minutes. Let muffins cool in muffin tin on wire rack for 5 minutes, then remove muffins from tin and let cool 5 minutes longer. Serve warm while cheese still adds a little ooze.
Will keep in an airtight container for several days.