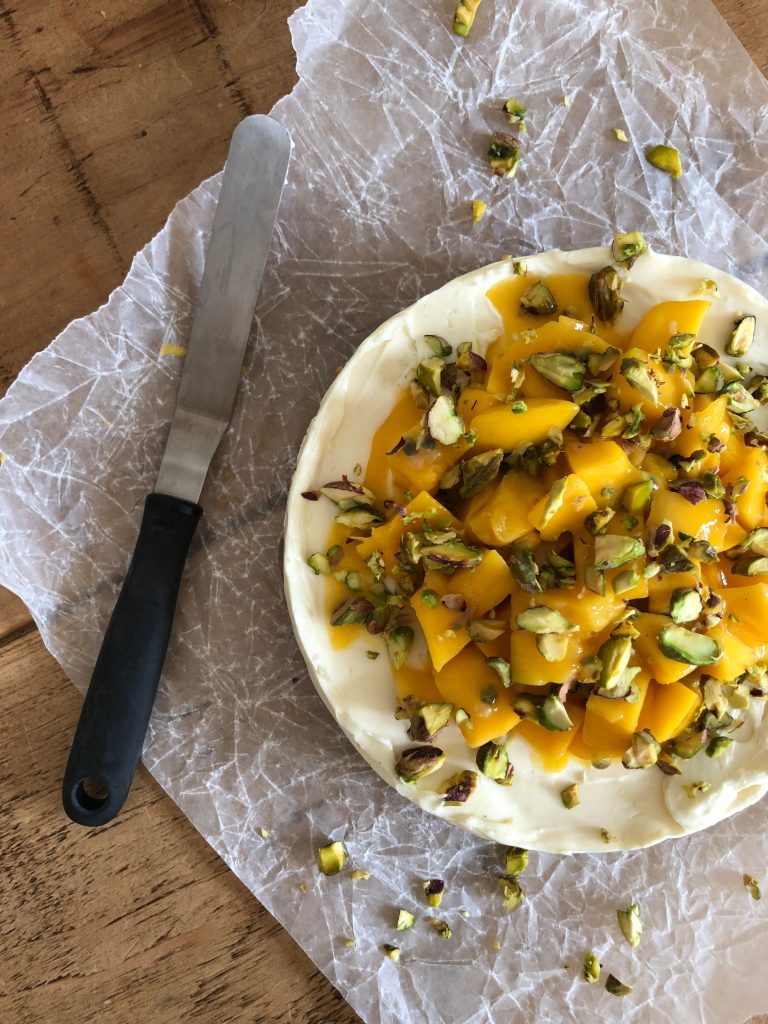 A few weeks back our family shared a slice of the most magnificent mango cheesecake. Buttery biscuit base, the creamiest of cream cheese fillings and a juicy, generous portion of mango with pistachios, passion fruit and pomegranate seeds. Sharing puddings isn't in my nature – my second 'sweet stomach' operates at generous capacity and I try not to share with my husband simply because he consumes at such breathtaking speed you have to speed eat the dish in question to be in with the chance of even a taste – but on this occasion a mouthful or two felt like it would fit the bill. A big mouthful for Daddy, a medium mouthful for Mummy and a teeny tiny mouthful for Nino, as our two year old still happily recounts, Goldilocks style.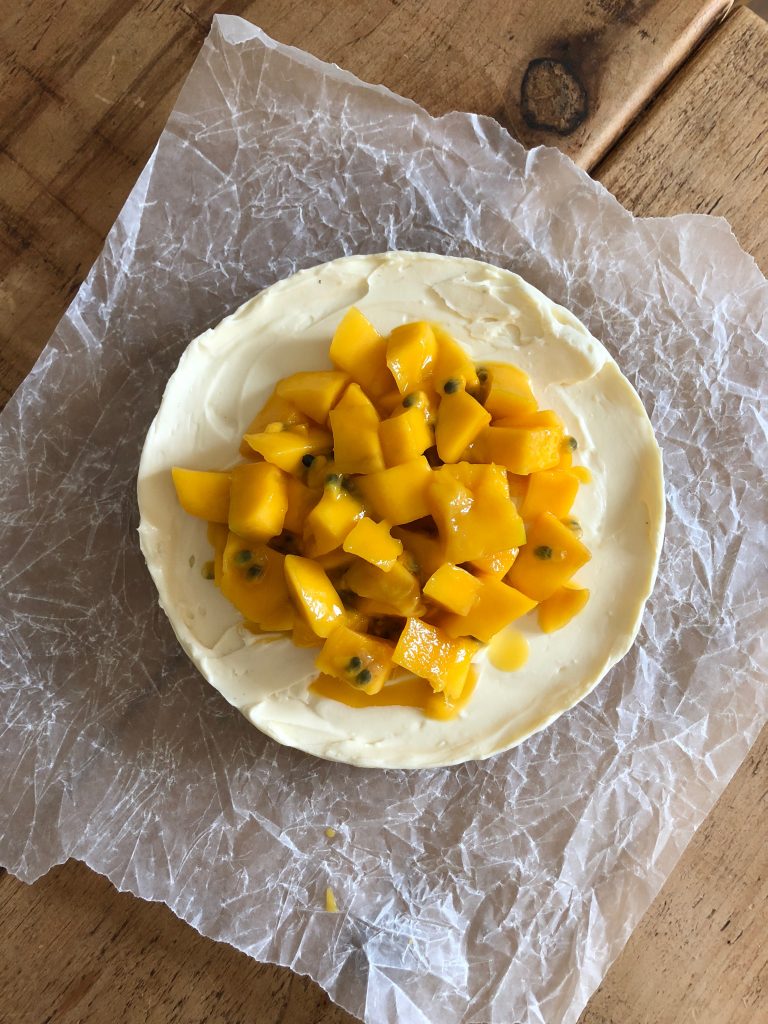 Recreating that recipe at home proved pretty easy with a fragrant Alphonso mango (hurray for the season) the real star of the show. I considered creating a mango jelly topping for a little finesse but this beautiful fruit is best not messed with and I love the look of rustic chunks piled high with passion fruit pulp and flecks of green pistachio. The base is a mixture of digestive biscuits and ground pistachios, giving it a gentle green hue and mellow, nutty taste. And the middle is my favourite no-bake cheesecake combination of cream cheese and white chocolate, here topped up with a little Greek yoghurt for additional creaminess and tang.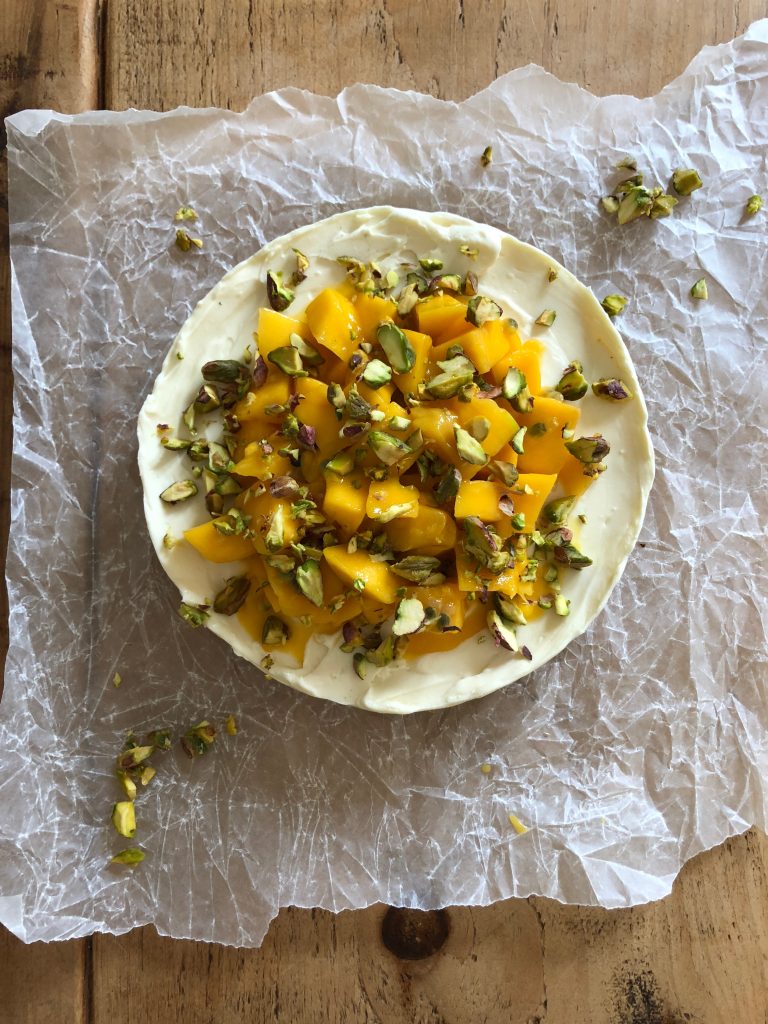 I'd love to say we shared a single slice again, exclaiming over each exquisite mouthful, but the problem with having a whole cheesecake in your fridge is that it just invites itself to be eaten. Creamy middle, crunchy base, fruity topping, this cheesecake is the perfect combination of sugar and fat that dieticians label so lethal to the waistline. Which may not be the nutrition news you're hoping to hear, but does mean it's pretty damn delicious.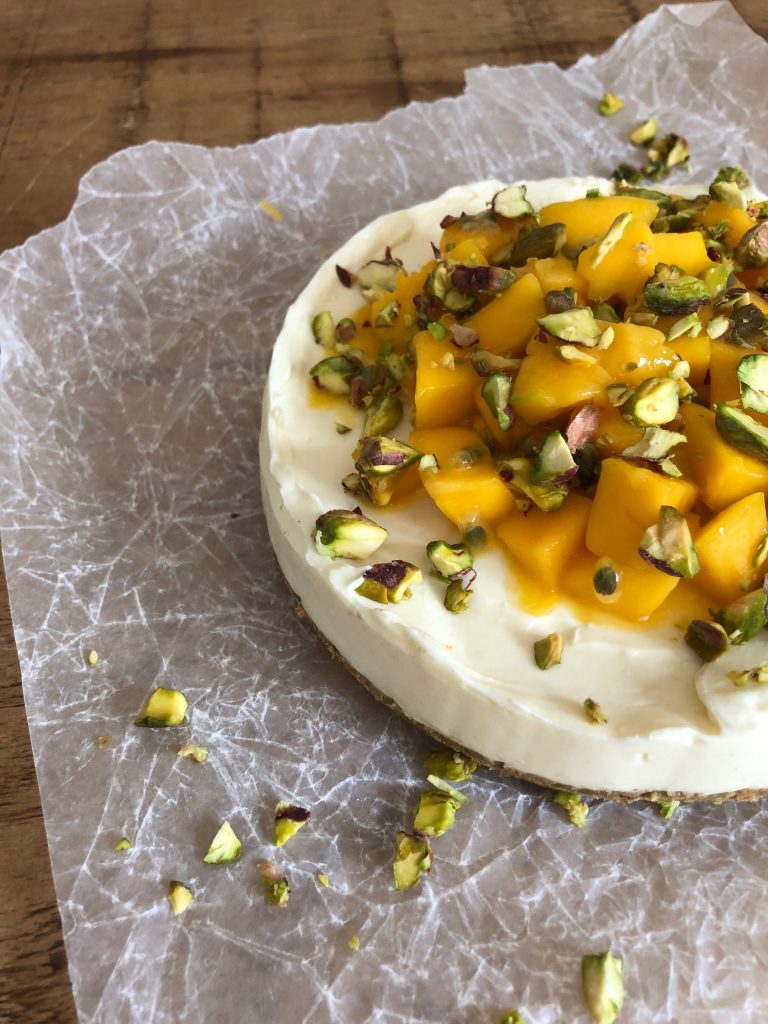 Mango & Pistachio Cheesecake
This creamy no-bake cheesecake couldn't be simpler to make. Rich with white chocolate and topped with sweet mango, passion fruit and toasted pistachios, it's somehow intense and the perfect palate cleanser all at once. Vary the fruit topping or sub in hazelnuts or macadamias in the base for a delicious twist.
Ingredients
65g shelled pistachio nuts, divided
125g digestive biscuits
60g unsalted butter, melted and cooled slightly
280g full fat cream cheese
125g Greek yoghurt
175g white chocolate, melted and cooled slightly
1 small ripe mango, peeled and cubed
pulp & seeds from 2 passion fruit
Instructions
Line the base of an 18cm round, loose bottomed cake tin with baking parchment.
Set aside 1 tbsp pistachios, to decorate. In a blender, blitz the remaining pistachios and digestives to a fine breadcrumb consistency. Stir in the melted butter then press into the base of your prepared tin.
In a large bowl, whisk together the cream cheese, yoghurt and melted chocolate until smooth. Spread evenly over the biscuit base then refrigerate for a minimum of 6 hours.
When ready to serve, stir together the mango and passion fruit. Roughly chop the reserved pistachios. Turn the cheesecake out of the tin then top with mango and sprinkle with the pistachios. Cut into wedges and serve.
Will keep in an airtight container in the fridge for 2 - 3 days.
More Little Loaf cheesecake recipes:
White Chocolate & Raspberry Cheesecake
Chocolate Peanut Butter Cheesecake Bars