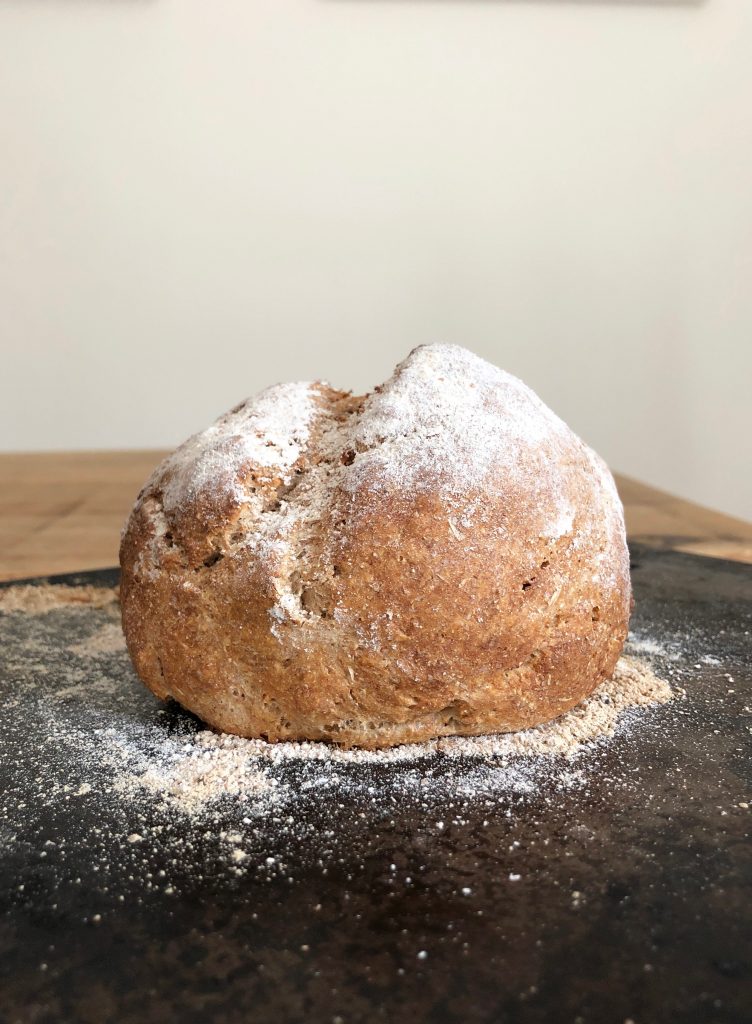 With just four ingredients, no kneading and twenty minutes cooking time, this wholesome little loaf could not be easier to make. Unless, of course, your two year old pulls the glass bowl you've been mixing ingredients in off the side and smashes it onto the floor. After two years of next to no television, Nino has recently discovered the delights of Peppa Pig and, more specifically, Mr Bull. A large, loveable rogue, Mr Bull's primary tasks in life seem to be making noise, digging up roads and breaking things (usually by accident). The perfect role model for a toddler. Needless to say, Nino's suggestions that 'Mummy mend it with superglue' as we stood surrounded – barefoot – by shattered glass were met with a weary raised eyebrow.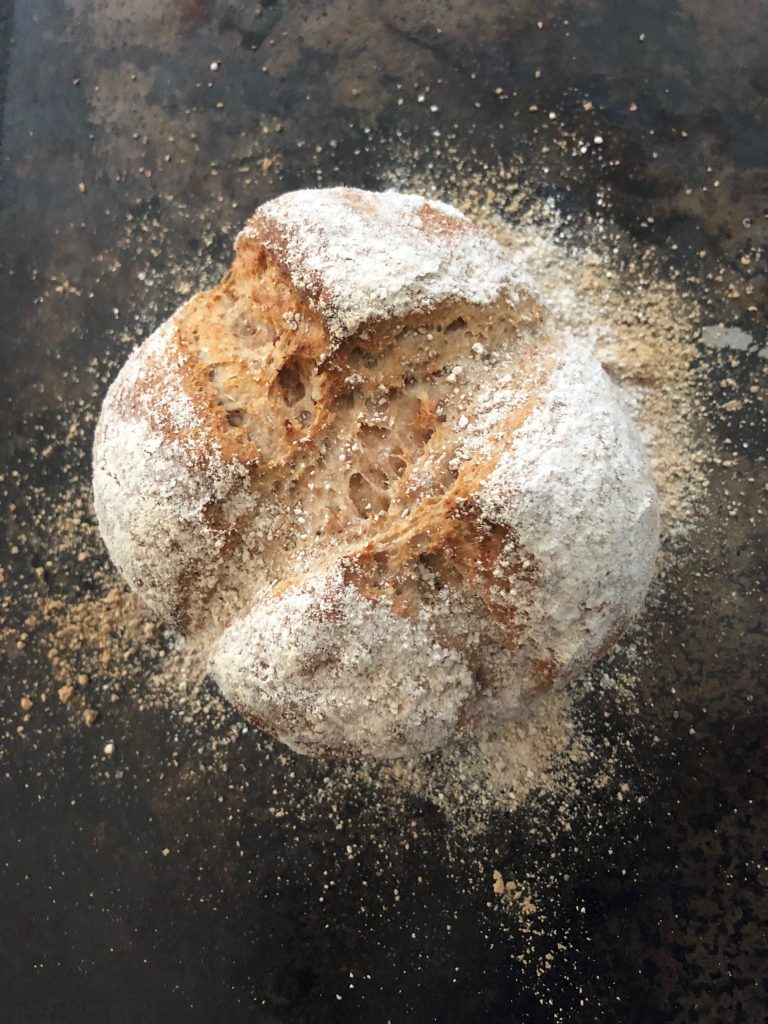 Bare foot inspection and broken glass sweeping aside – just be sensible and use a plastic or metal bowl – this fuss free loaf is perfect for making with kids. The flour and baking powder can be weighed and stirred together, salt sprinkled in and yoghurt dolloped after that without any concerns about knocking out air or kneading in a particular fashion. It's also pretty magical to see a fully fledged loaf emerge from the oven just twenty minutes after making and will quickly satisfy the hungriest tummy if your bread bin and freezer are bare. Even if you don't have kids, it's a lovely recipe to have up your sleeve for when you're short on time and only a freshly baked loaf will do.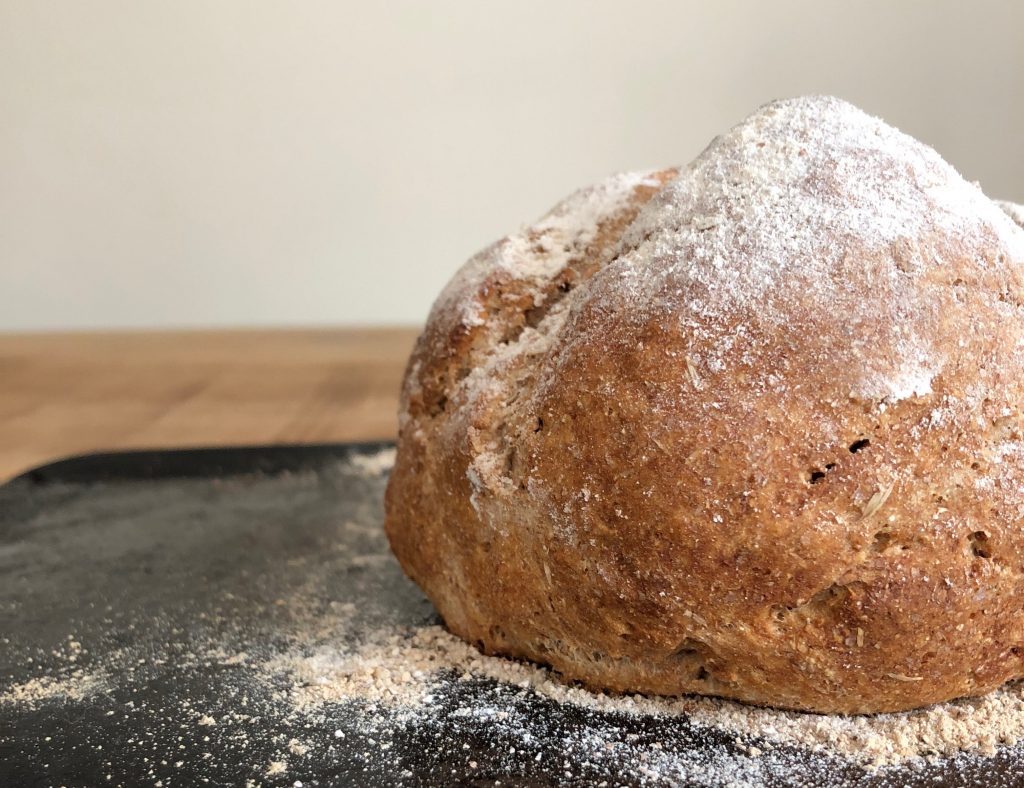 Rather than the traditional buttermilk, I've used yoghurt here. It's my go-to for soda bread, primarily because we always have flour in the cupboard and yoghurt in our fridge, and although this loaf is 100% wholemeal the texture is beautifully fluffy. We dug into ours warm mere moments after it came out the oven which – with my serious baking hat on – isn't advisable: you get a better crumb if you allow the loaf to cool completely before slicing. But with my mum hat on and a hungry, excitable toddler to feed, the steaming hot slices smeared with melting butter tasted pretty damn delicious. Your call.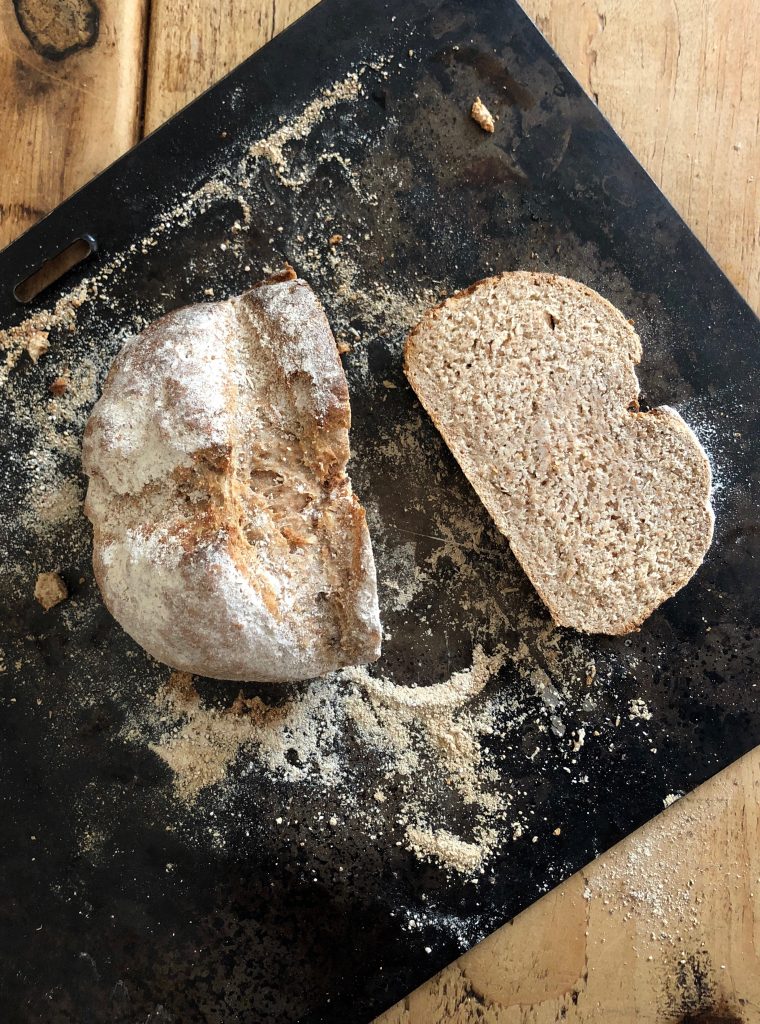 Wholemeal Spelt Soda Bread
The easiest bread recipe going, just mix, stir, shape and bake. No kneading or proving required. The end result is a beautiful crusty loaf, nutty from wholemeal spelt flour and delicious served with soup or toasted and spread with salty butter.
Ingredients
300g wholemeal spelt flour, plus extra for dusting
2 tsp baking powder
large pinch salt
240g natural fat free yoghurt
Instructions
Preheat the oven to 240 C/220 C fan. Place a baking stone or tray inside to heat up.
In a large bowl, stir together all the dry ingredients. Add the yoghurt and stir until just combined to a sticky dough.
Tip the dough out onto a lightly floured surface and shape into a round using your hands. Dust with flour then mark a deep cross in the top.
Transfer your loaf to the pre-heated baking tray or stone and bake for 15 - 20 minutes until crusty and golden and the bottom sounds hollow when tapped. Allow to cool completely before slicing.
Will keep for 2 - 3 days and can also be sliced and frozen.