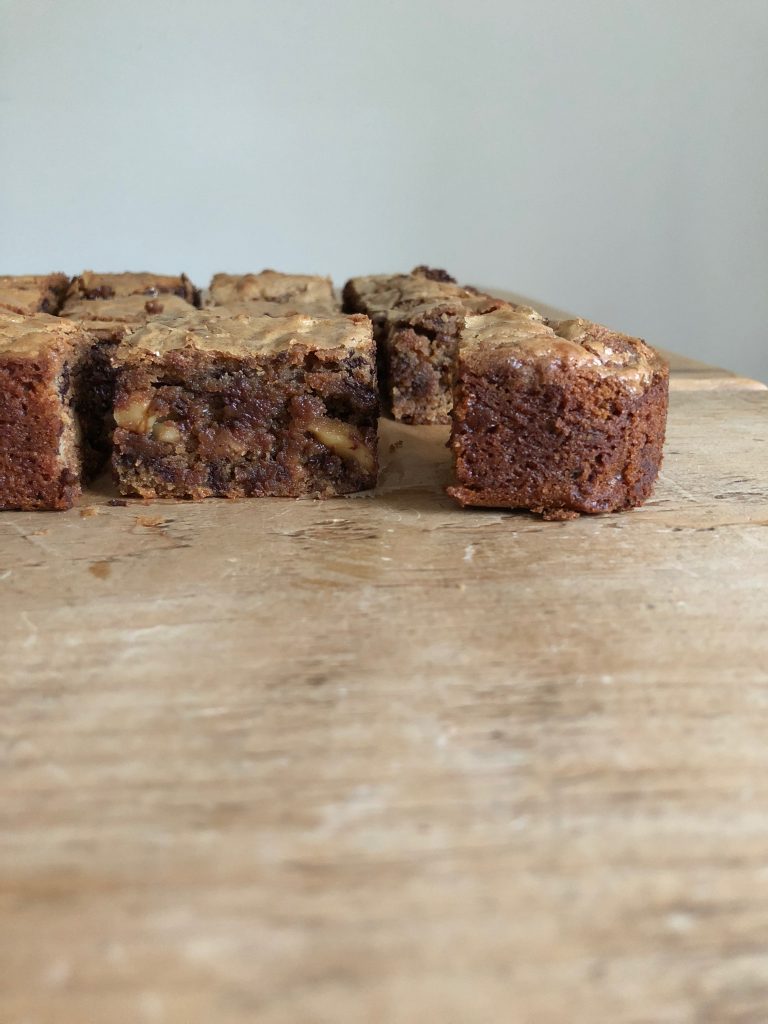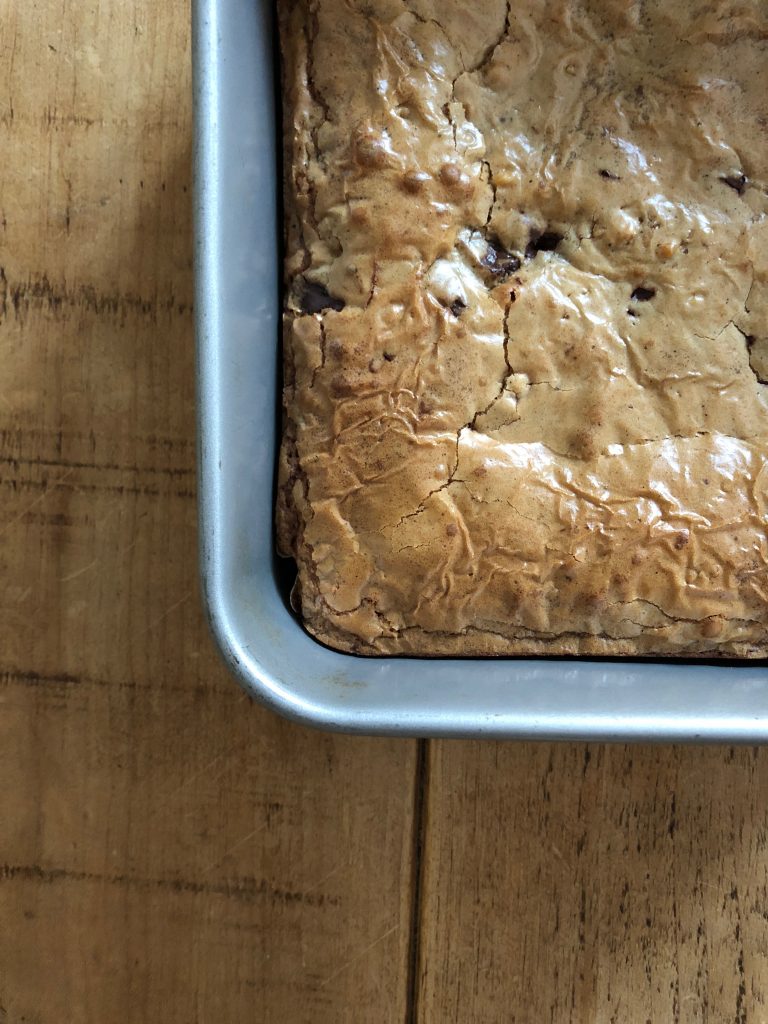 Brown butter and blondies go hand in hand. Thrown in chopped dark chocolate and walnuts and you're close to my idea of baked bar perfection. But miso? Turns out the staple so many of us use in soups can add a nutty, buttery quality to all sorts of baked goods.
Of course miso in dessert isn't a new idea. But I found myself desperate to try it after watching the latest episode of Chef's Table. This series is all about pastry and Momofuku's legendary Christina Tosi is first to the pass. Of course I knew about cereal milk ice cream and crack pie, but I wasn't familiar with her story, her ethos, her attitude to life. An aside, Christina Tosi is awesome, go watch the programme if you need to know why.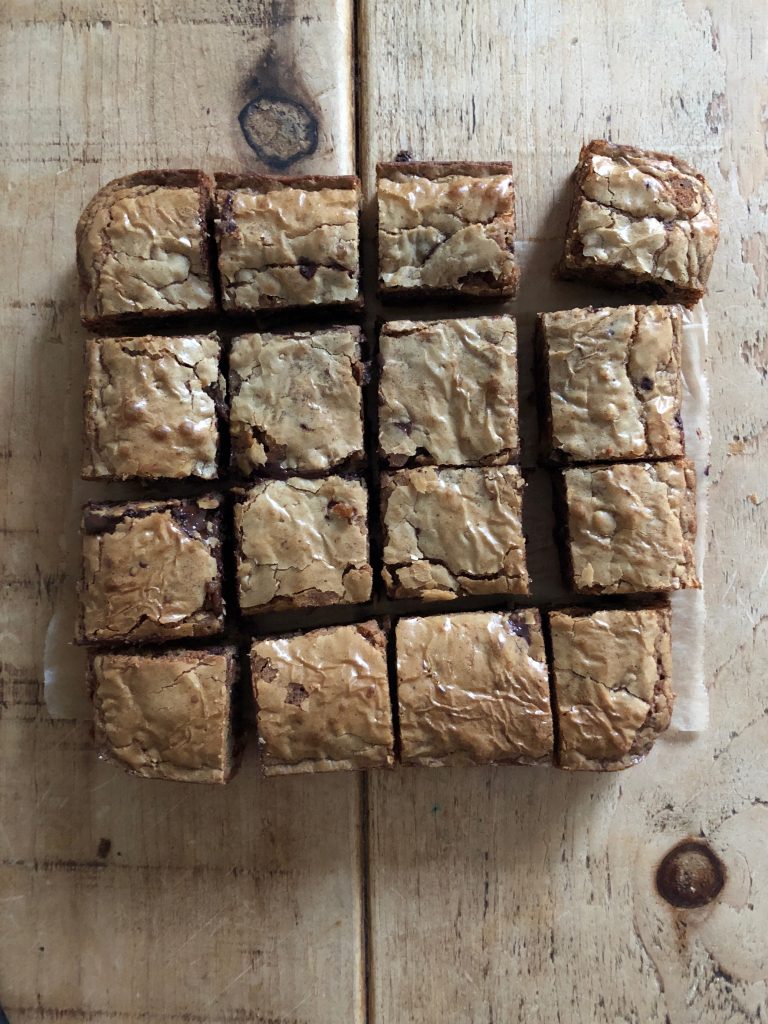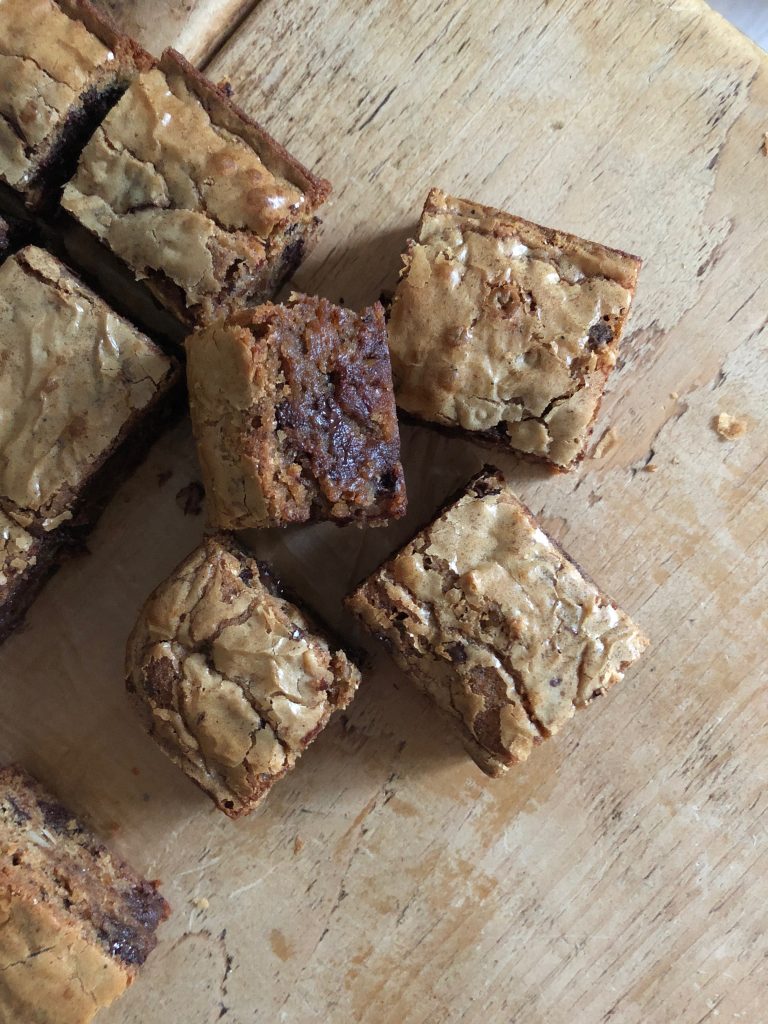 Tosi's miso butterscotch sundae might be more appropriate to this sunny spell we've been having, but before I even began searching I got sidetracked but a picture of these brown butter, miso and walnut chocolate blondies on Claudia's Instagram feed. They needed to be made.
The same – sweltering hot, let's chalk it up to pregnancy madness – afternoon I browned butter in pan. I swirled in miso and enjoyed the rich aromas wafting up. Brown sugar, vanilla, flour, heaping handfuls of chocolate and chopped, toasted walnuts and this one pan wonder went into the oven to bake. Thirty minutes later the blondies emerged – crackly-topped and chewy bellied, offering 'the maximum amount of thick, gooey, slightly chewy centre' as Claudia explains in her post.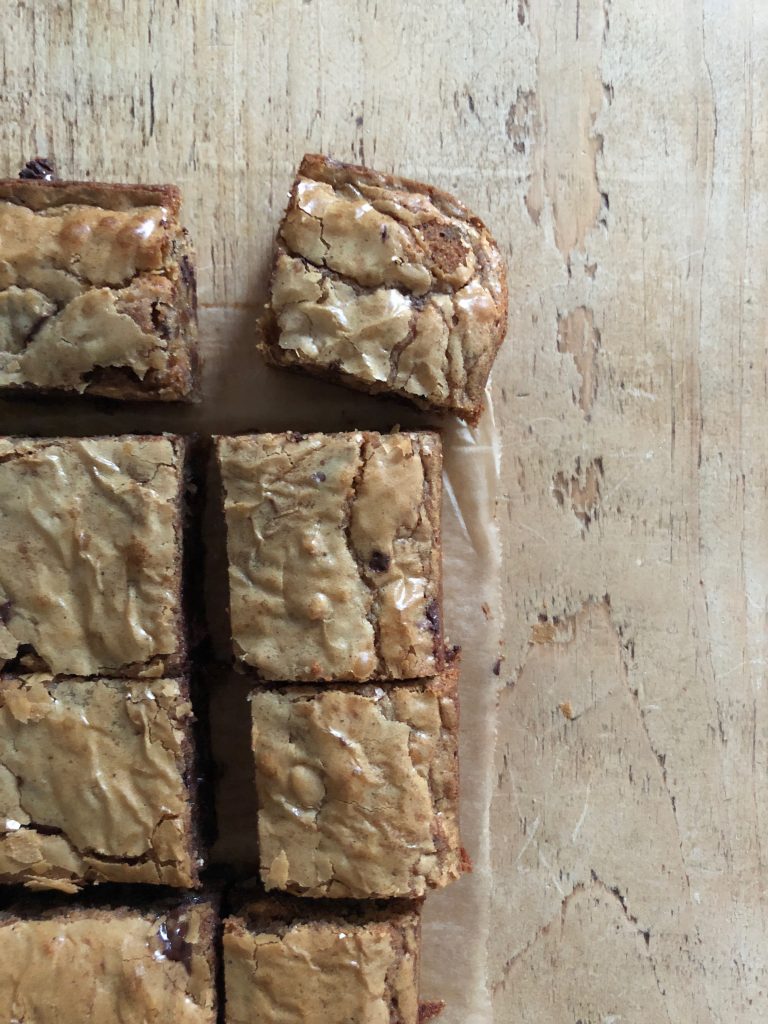 The result is a very beautiful blondie. There's fudge and crunch, enough texture to counterbalance the gooey middle, salt to balance sweet. I cut ours into sixteen bites rather than the twenty Claudia suggests because then I can eat two and call it one, or four and two, or . . . you get the gist. The only tweak I made was to reduce the amount of sugar slightly because we were at the end of a bag – perhaps those extra thirty grams are where blondie nirvana lies. Anyhow, this recipe is special enough to warrant turning on the oven when it's sweltering outside. And miso in baking is utterly delicious, so expect to see more round these parts very soon.
Brown Butter, Miso & Dark Chocolate Blondies
Ingredients
170g unsalted butter
280g soft light brown sugar
3 tbsp white miso paste
2 large eggs
2 tsp vanilla paste
200g plain white flour
1 tsp baking powder
180g dark chocolate, roughly chopped
75g walnuts, lightly toasted & chopped
Instructions
Preheat the oven to 180 C/160 C fan. Grease and line a 20cm square baking tin.
Melt the butter in a small saucepan until it begins to foam. Continue cooking, stirring regularly, until golden brown and starting to smell nutty - this is the milk solids toasting. Set aside to cool.
Once cool, whisk in the sugar, miso, eggs and vanilla.
Whisk together the flour and baking powder in a medium bowl, then fold into the wet batter, followed by your chopped chocolate and walnuts.
Transfer to the baking tin and bake for 30 - 35 minutes until the top is crisp and golden and just beginning to crack. Allow to cool completely then slice into squares.
Will keep in an airtight container for 3 - 4 days.