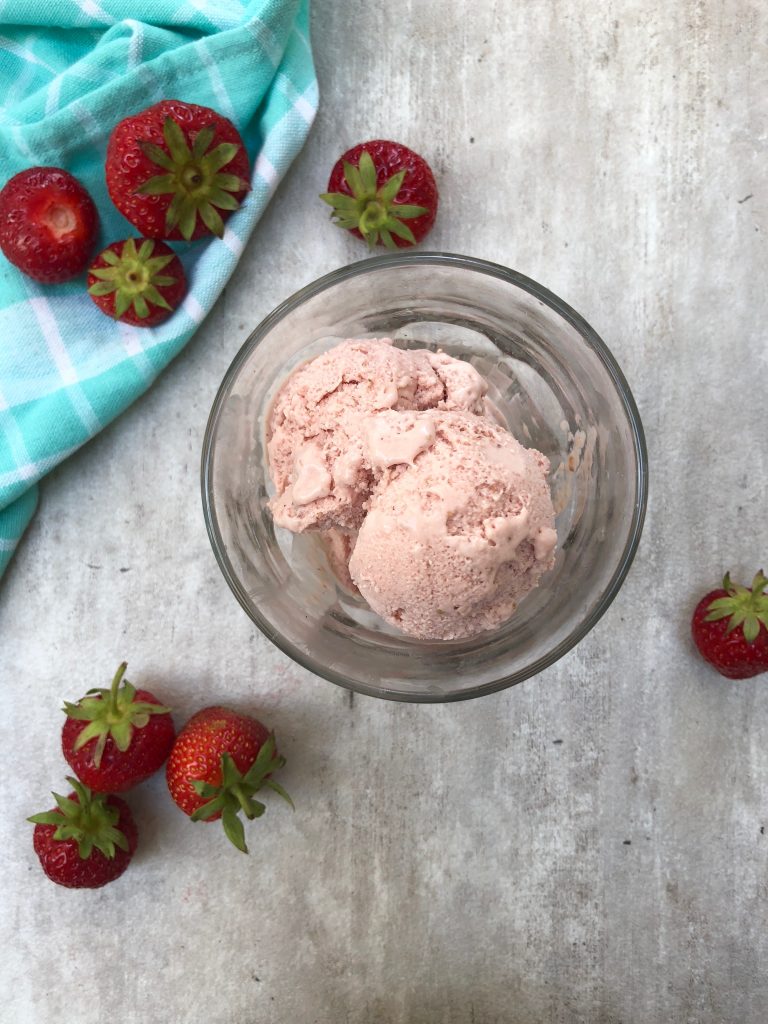 I'm hoping a suitably refreshing ice cream recipe in this scorching weather will make up for radio silence the last few weeks. We've just got back from two weeks in Italy split between three locations – a dear friend's wedding, my parents' house up in the Tuscan mountains and down by the sea in Senigallia, a sweet little town in Le Marche we've been visiting since I was seven. Nino stayed up well past his bedtime on multiple occasions, got to play properly in the sea and sand for the very first time, dined in a Michelin starred restaurant and ate mussels, clams, whole prawns (sucking the 'prawn brains!' from their heads with unabashed glee), wild boar and rabbit for the first time. We ate equally well, soaked up plenty of sunshine and indulged in the gift that is grandparental babysitting including an – unheard of – day of lunching and lounging by ourselves. All in all, it was bliss.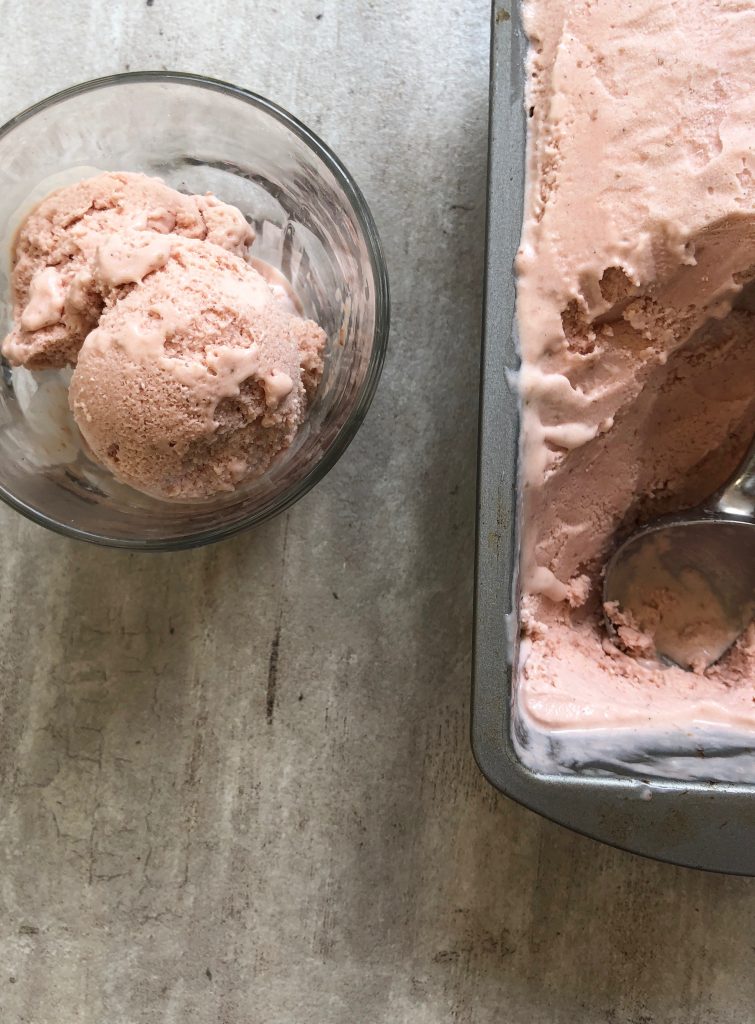 I would say we're back to reality with a bump, but the only bump around here is my ever-growing belly. Reality is in check as last week I officially started my first day of maternity leave. I'm only thirty three weeks pregnant but we recently moved house and as I won't be keeping Nino in childcare when the new baby comes, it didn't make sense to settle him into a brand new nursery for the six or so weeks after getting back. So several weeks of unadulterated time with the boy who made me a mummy stretch ahead of us and I couldn't be happier. We've been fruit picking and paddling in the local brook, testing out some new toddler classes, catching up with friends and I've been sunbathing at lunchtime during those glorious naps (which I fear may not last much longer). And of course cooking, although I've been limiting the baking in this heatwave to save our sanity in a kitchen backing onto a South facing sun-trap of a garden. Cue this ice cream.
Frozen treats are currently the order of the day. There have been ice creams in the park, lollies for breakfast (made with just fruit, oats and yoghurt before the food police come after me) and this simple strawberry affair. After an over-zealous fruit picking adventure last week we found ourselves with a large punnet of strawberries about to turn so we blitzed them with banana and a smidgen of honey before folding into a creamy vanilla custard. The result is summer in every mouthful, a little icier than your average ice cream due to the lower sugar content but so full of strawberry flavour that I really don't find it an issue. Leave it to soften a little longer than normal and – especially in this heat – you're onto a winner.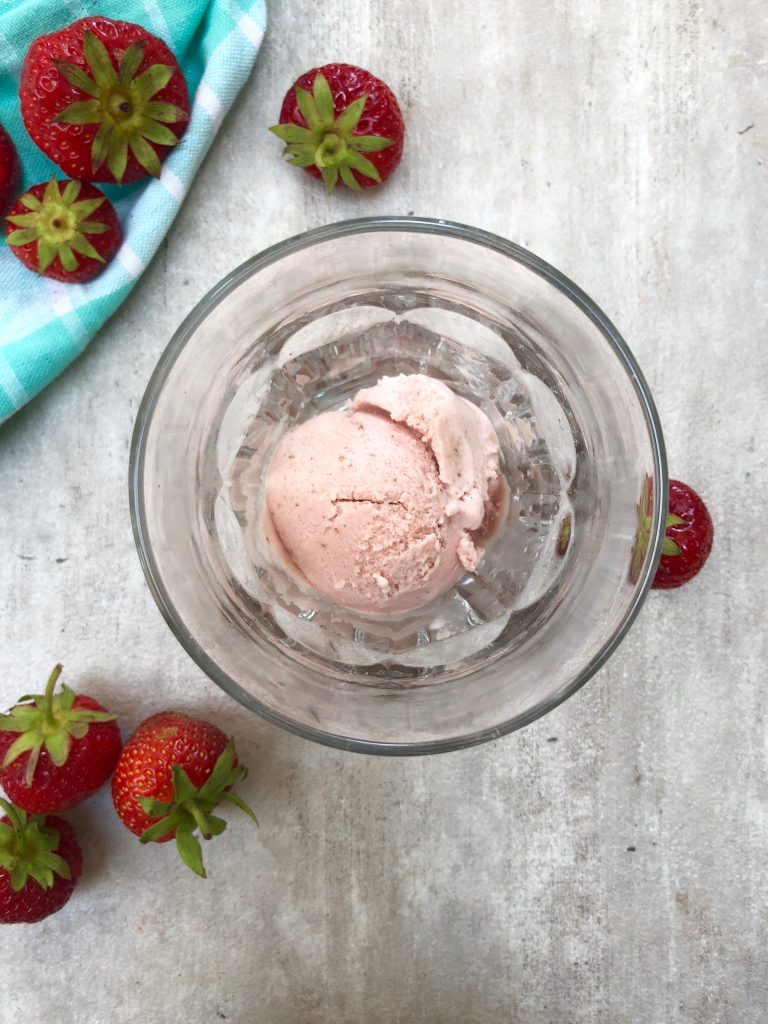 Strawberry Ice Cream
A simple ice cream making the most of summer's bounty of fresh fruit. Strawberries are blitzed with ripe banana and a drizzle of honey before being stirred into a smooth custard. Because there's no refined sugar, this ice cream is a little icier than the classic so take out the freezer to soften for around 10 minutes before serving.
Ingredients
300ml whole milk
300ml double cream
1 vanilla pod, seeds scraped
5 large egg yolks
500g strawberries
1 ripe banana
4 tbsp honey
Instructions
In a medium saucepan, combine the milk, cream and vanilla pod and seeds. Warm over a gentle heat until the mixture begins to simmer then remove and allow to steep for 15 minutes. Remove the vanilla pod.
In a medium bowl, whisk the egg yolks. Gently warm the milk mixture again then whisk into the egg yolks. Return the whole mixture to your saucepan and cook over a gentle heat, stirring regularly, until you have a thick, smooth custard, about 10 minutes. Leave to cool at room temperature.
Blitz the strawberries, banana and honey in a blender, then stir into the cooled custard. Refrigerate for a minimum of 2 hours.
Churn the mixture in an ice cream machine the transfer to a freezeable contain. Remove from the freezer 10 minutes before serving to allow to soften.