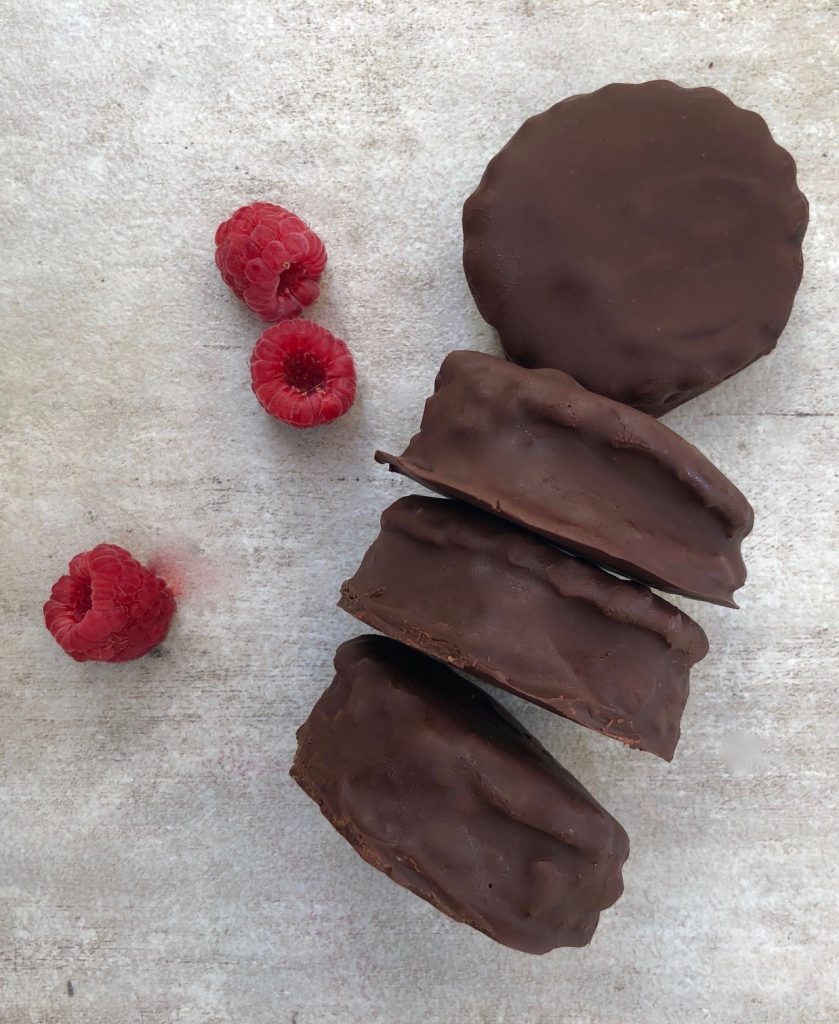 Earlier this week I ventured down to Brighton with seven week old Joy, leaving Nino in the hands of his ever-adoring grandparents for day of swimming and Gruffalo hunting. Not wanting to negotiate London rush hour with the buggy, I bundled her into a snowsuit then stuck her in the sling, quietly congratulating myself as we met with a wall of commuters twenty deep on attempting descent to the tube. Maternity leave has removed me so completely from central city life, I'd forgotten the silent grey sea that is the London rush hour, office workers hiding behind papers and iPhones, unspeaking, their clothing muted and gaze cast low. Navigating the crush with a child swathed in bright pink unicorns attached to my chest, I felt like an imposter, unable to imagine having done this twice a day, every day, for almost all of my adult life.
Making raw and/or vegan desserts is a little like going on maternity leave. Your point of reference changes. Crisp-edged cookies become soft and dense with dates, cream tastes of coconut and jam is held together with chia seeds. As a seasoned lover of butter and flour and sugar, I'm perfectly aware that the recipe posted here is not a cookie as we know it, but these treats are no less delicious for it. Just as hanging out in the playground in leggings is no better or worse than going suited and booted into work, it's just different, each to be enjoyed and appreciated on their own merits.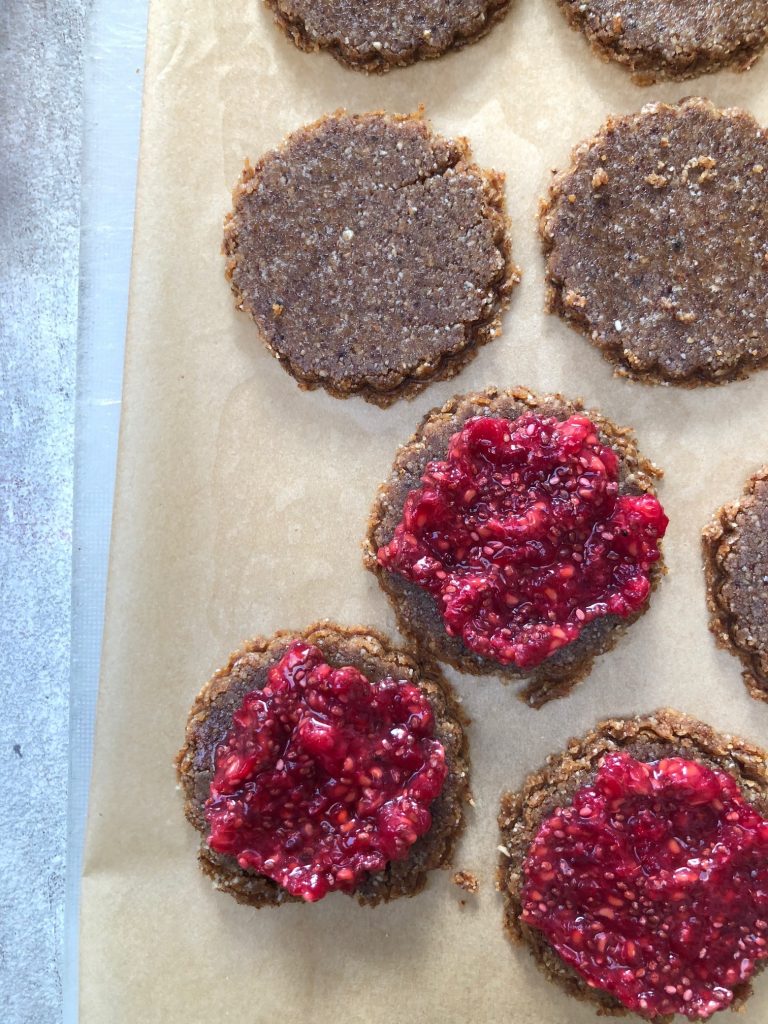 The cookies in question come from Donna Hay's beautiful new book, Modern Baking. When her publisher got in touch to see if I'd like a copy, I couldn't say yes quickly enough. Donna's recipes are brilliant and beautifully shot, she uses interesting flavours and textures and – from what I've seen from other cookbooks and her website, which is so important – they work first time. The press release came with several recipes attached and I was immediately drawn to the photo of these raw chocolate coated cookies with raspberry and coconut filling. Dense, sweet and creamy with a zing of fruit, they could be the raw vegan answer to a Wagon Wheel and went down a treat with both my boys.
Don't let this mislead you as to the content of the book. There's plenty of butter, sugar, eggs and baking throughout the 250 recipes inside, divided into chapters on Chocolate, Caramel, Toffee & Coffee, Sugar & Spice, Fruit & Berries and Milk & Cream. Each category has 'Quick Fix' and 'Fresh and Light' options but overall the theme is indulgence, reflected in the stunning moody photography that accompanies each recipe. Any book with over eighty pages dedicated to chocolate, and which includes recipes like S'Mores Cookie Sandwiches, Creme Brulee Custard Doughnuts, Chocolate Custard Poke and Sticky Date Meringue Cakes gets my vote, and I think you'll love it too, which is why I asked for an extra copy to give away.
To be in with the chance of winning a copy of Modern Baking by Donna Hay, simply comment below telling me your favourite ingredient to bake with. For an additional chance, head on over to Instagram and comment on the competition post. The competition closes next Friday 26th October, good luck!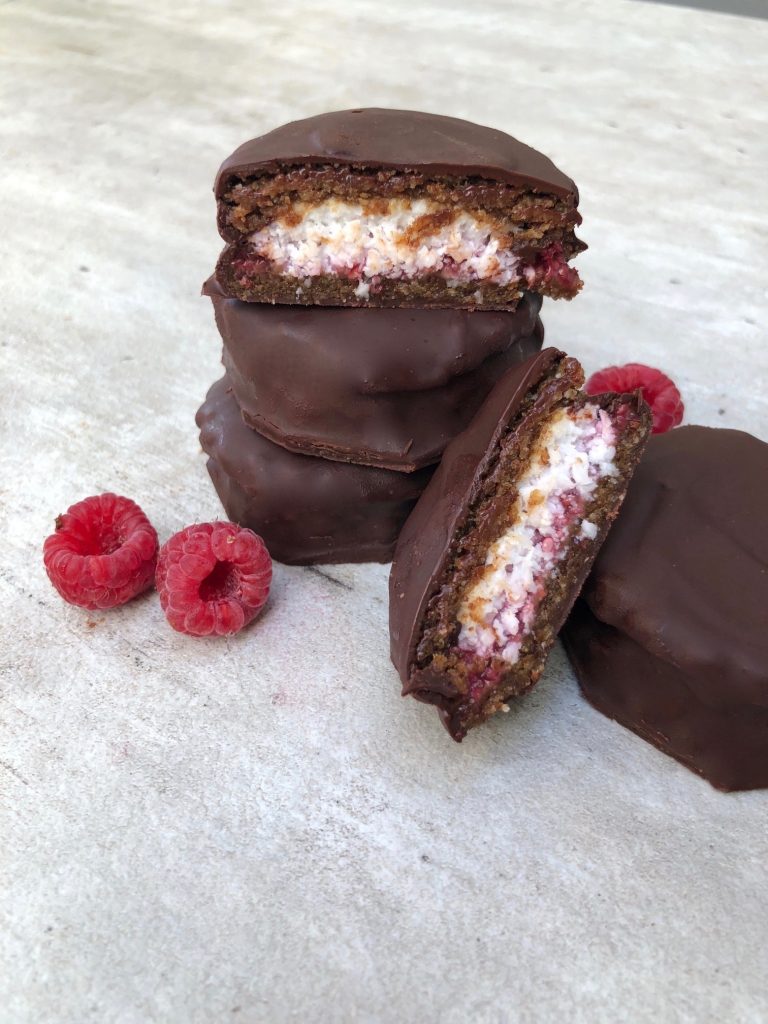 Raw Wagon Wheels
These chocolate coated raw cookies with raspberry and coconut filling are Donna Hay's take on a Wagon Wheel and utterly delicious. Raisins take the place of the ubiquitous date plus a little maple for sweetness and the sharp raspberry filling works beautifully with the chocolate coating.
Ingredients
For the filling
125g raspberries
1 tbsp chia seeds
60g dessicated coconut
125ml coconut cream
1 tbsp coconut oil, melted
For the cookies
60g rolled oats
120g almonds
2 tbsp natural almond butter
75g raisins
1 tbsp maple syrup
200g dark chocolate melted with 2 tsp coconut oil, to coat
Instructions
To make the fillings, crush the raspberries and stir in the chia seeds. Refrigerate at least 30 mins, until thickened. Blitz the dessicated coconut, coconut cream and oil in a blender and blend until well combined and fluffy. Transfer to a separate bowl.
To make the cookies, ilne a large tray with non stick baking paper. Blitz the oats, almonds, almond butter, raisins and maple syrup in a blender for 3 minutes or until the mixture comes together to a sticky dough. Roll out between two pieces of baking parchment to 4mm thick, then refrigerate 15 minutes. Once firmed up, remove the top sheet of paper and stamp out 5cm rounds - you should get about 20.
Top one cookie with a teaspoon of raspberry mixture and two teaspoons of coconut. Sandwich a second cookie on top then repeat until all cookies are sandwiched together. Dip each cookie in the melted chocolate mixture, shaking off any excess, then return to the lined tray. Refrigerate for 10 minutes, until set, then serve.
Will keep, refrigerated in an airtight container, for 2 - 3 days.