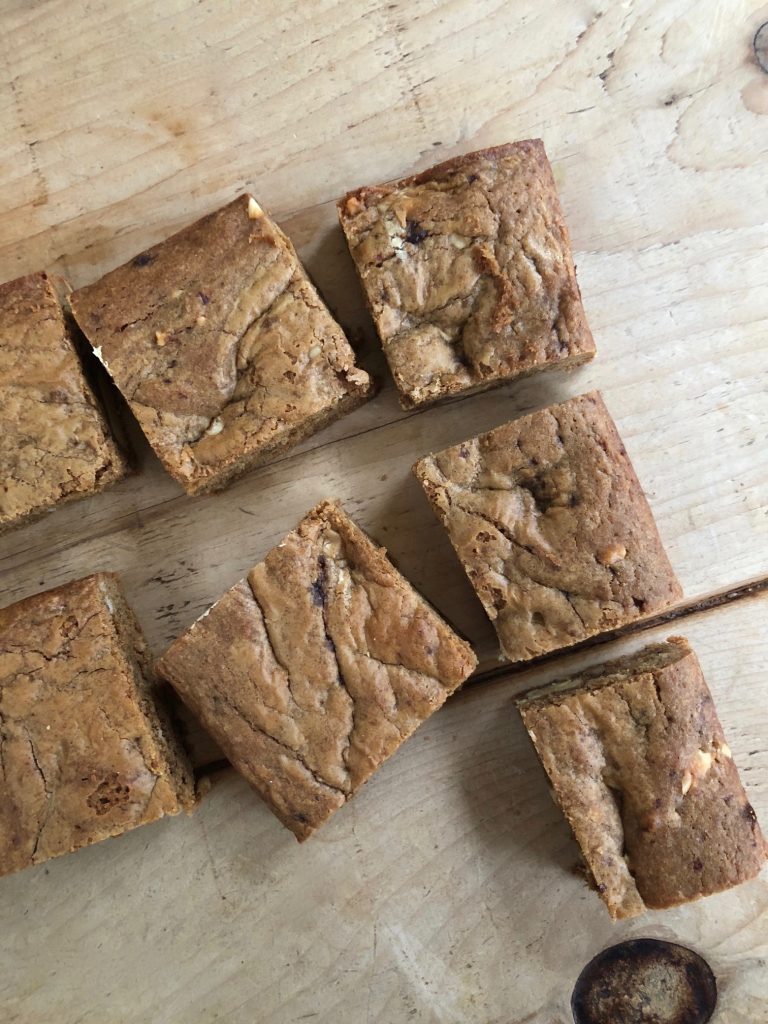 Yesterday I shouted at our two year old. After he repeatedly banged his little sister's cot with two wooden spoons he was pretending to be ski poles while I attempted to put her down for a nap, I told him he was old enough to know better, shut the door on him and promptly burst into tears. Granted he'll turn three in February and part of him knew exactly what he was doing, but because he's so much bigger than Joy I sometimes forget, he's still so very little. 'Be quiet' is a command he can commit to obey for a few minutes max before an exciting distraction sets in and patience is crucial on both our parts if we're going to survive. In my three short months of parenting two, I've discovered that frustration can be high on the list of emotions for all parties involved, but raised tempers rarely improve anything. Certainly not the likelihood of babies to nap. But blondies? I have scientific proof that blondies improve just about everything.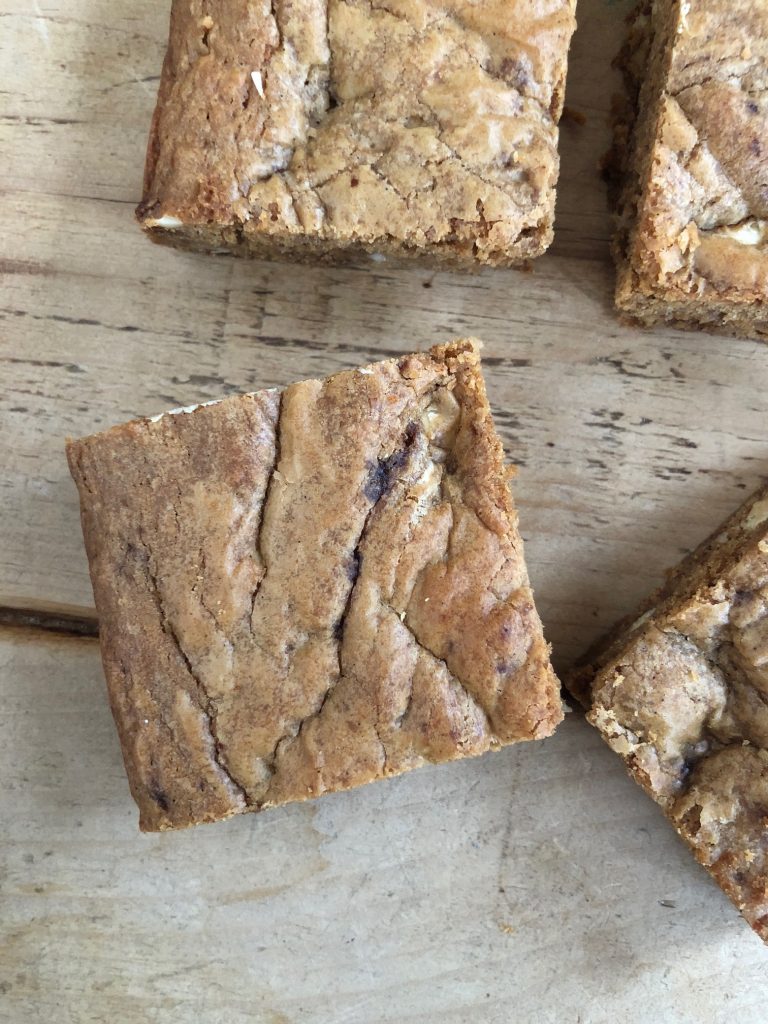 The blondies in question are made with both browned butter and peanut butter, giving them a doubly nutty note. Toasty, fudgy, crackly topped showstoppers with chunks of white chocolate and a beautiful caramel hue. Both the process of baking and the act of eating are therapeutic in their own ways and exactly what the doctor ordered after a frantic start to the morning. Whenever I tell Nino we're cooking, whether it's a specific recipe we've decided to bake or simply blending up a smoothie or cracking eggs at breakfast time, he races to the bathroom to grab his little steps so he can better see what is happening. He loves to help, if you accept a one step forwards, two steps back approach to 'helping' with ingredients disappearing either into his mouth or onto the floor, but the sheer joy on his face when we get together in the kitchen cancels out any extra work involved on my part. I love that he loves food as much as we do, both the preparation and the eating.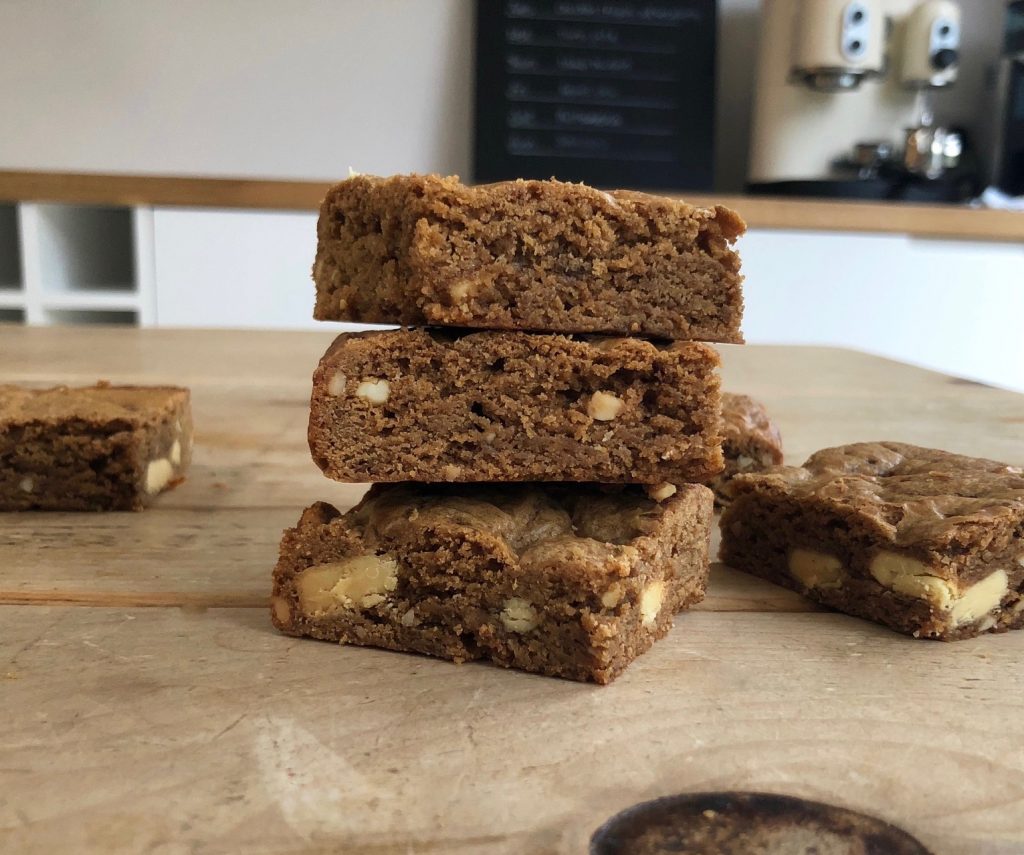 I serve these blondies warm with scoops of chocolate ice cream, but they're equally delicious just as they are. This recipe makes quite a few so I bake and freeze them in parcels of two – Luke likes to eat them straight from the freezer if that kind of thing floats your boat with emergency supplies left over for those mornings when parent life attempts to get the better of me. Less shouting, more blondies is my mantra for this week. Hope it's a sweet one for you and yours.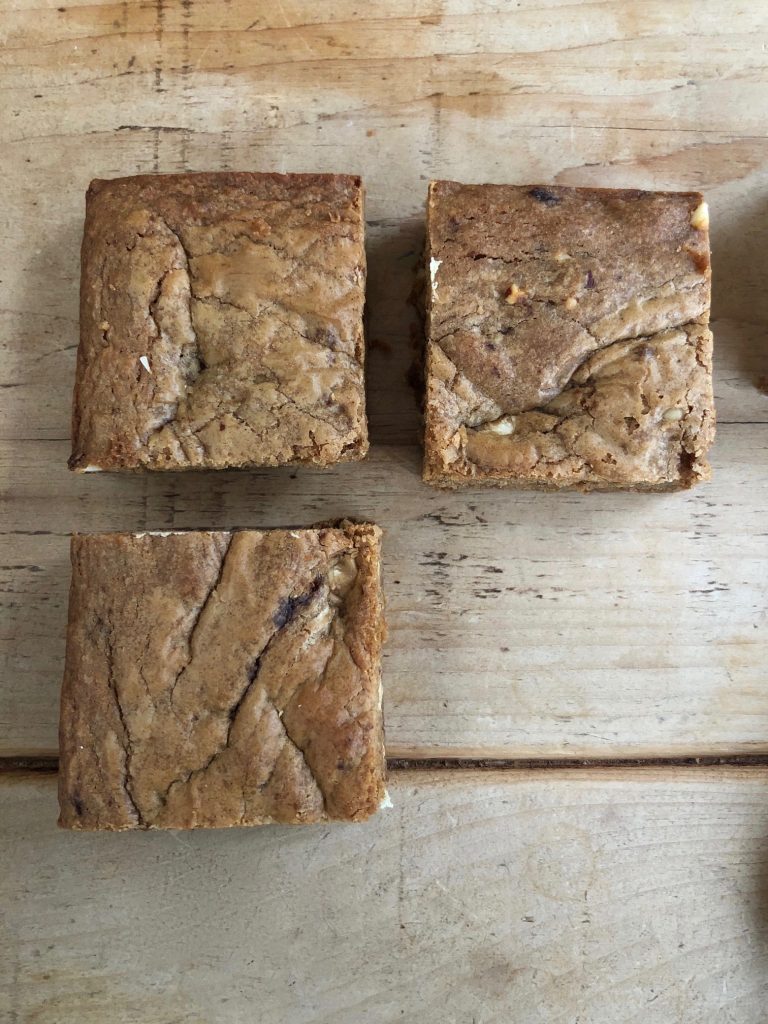 Double Nut Butter Blondies
My dream blondie with a chewy edge, gooey middle and crackly crust. The combination of beurre noisette and peanut butter gives a beautiful nuttiness while chunks of white chocolate contrast with the gooey centre. So good.
Ingredients
150g unsalted butter
125g peanut butter
225g light brown muscovado sugar
2 large eggs
1 tsp vanilla extract
175g plain white flour
1 tsp baking powder
pinch flaky sea salt
100g white chocolate, roughly chopped
Instructions
Preheat the oven to 180 C/160 C fan. Grease and line a 20cm square baking tin.
Melt the butter in a small saucepan until it begins to foam. Continue cooking, stirring regularly, until golden brown and starting to smell nutty - this is the milk solids toasting. Set aside to cool.
Once cool, whisk in the peanut butter, sugar, eggs and vanilla.
Whisk together the flour, baking powder and salt in a medium bowl, then fold into the wet batter, followed by your chopped chocolate.
Transfer to the baking tin and bake for 25 - 30 minutes until the top is crisp and golden and just beginning to crack. Allow to cool completely then slice into squares.
Will keep in an airtight container for 3 - 4 days.