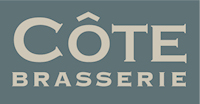 Last night Carniverous Boyfriend and I were feeling really lazy. After a hardcore day's shopping in Central London, we wanted the pick me up of a guaranteed good feed and bustling atmosphere without having to venture too far from home. After a few minutes debate we picked up the phone and booked a table at Côte.
When I was little, a margarita followed by a chocolate bombe at Pizza Express was the ultimate childhood treat. Then when Strada appeared on the scene, my tastes migrated over to their bigger,  more authentic Italian pizzas and wider choice of main courses. However nowadays I find chains like these pretty hit and miss; some locations serve up fairly tasty food in nice surroundings while others really feel like they're just going through the motions, serving out tired classics to disinterested punters.
Côte is the perfect antidote to these kind of chains (for the moment anyway. I guess with expansion and time it could go the way of others, but I really hope not). With its buzzy, informal dining rooms, simple take on French food and fairly modest prices, it offers the perfect neighbourhood brasserie experience. The food is never going to win any awards, but it's good, dependable and enjoyable, and sometimes that's exactly what you need.
After a pitstop at the Fulham Wine Rooms (separate review to follow. If you haven't been, its a great place to try over 50 different wines by the glass, with the added novelty of dispensing your own tasters, although this way costs do add up), we headed down to Côte opposite Parsons Green tube. At 8pm the dining room was pretty full already, testament to its popularity amongst a local crowd.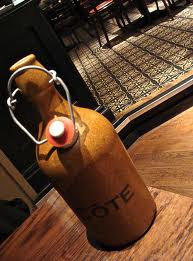 We didn't go for steak on this occasion, having had it t home the night before, but from previous experience you can't go wrong with the various different cuts on offer; from the simple steak frites at £9.95 to the fillet at almost double that, the meat is tender, cooked as you ask and full of good flavour. Instead we went down a more fishy route opting for light, crispy cod goujons with chips and salmon fishcakes with spinach for our mains. The goujons were beautifully light – a miniature French take on fish and chips – and, although the fishcakes were a little on the dry side, the flaky salmon worked well with a creamy dill and wholegrain mustard sauce.
My starter of seared scallops with pea & mint puree, pea shoots and crispy lardons was the highlight for me. This combination of salty crunch and creamy flesh is something you see on a lot of menus, but only because it works so well, and Côte definitely got it right. Carniverous boyfriend's rillettes of duck and pork with toasted sourdough and cornichons were another simple take on a classic French dish, delivering big, satisfying flavours.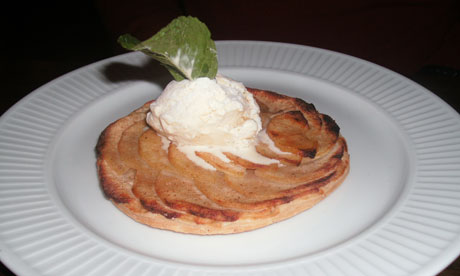 We finished with a huge tarte fine aux pommes and a rich chocolate fondant. If I really wanted to complain, the fondant could have been cooked a minute or so less to allow for an even more melting middle, but by the time I noticed I'd practically wolfed the whole thing anyway so sending it back was hardly an option.
Service throughout the meal was efficient and friendly. Wines by the glass arrived in time for the dishes we'd matched them to, something even higher end restaurants often get wrong by bringing too early, or forgetting to bring them until you're half way through your dish. The dining room was cosy, buzzy and full of contented diners enjoying the simple, sound modern bistro cooking that Côte does so well. Next time you're looking for an affordable local feed, I'd definitely recommend trying this neighbourhood gem.