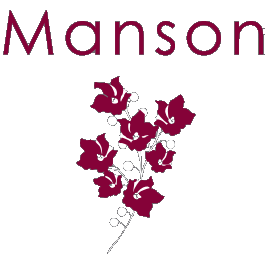 Sandwiched half way between The River Cafe in one direction and The Harwood Arms in another, we're spoilt for choice when it comes to delicious food on our doorstep. If you're in the mood for something a little lower key (and less budget busting), you can also find  numerous bistros, pizzerias and smart gastropubs in and around the Fulham Road, packed with locals throughout the week and showing little sign of being affected by the recession.
Manson has been around for a little while now, and falls into that category of smart, laid back local dining with a menu that has aspirations above its informal decor and straightforward, friendly service. Every review I've read so far makes some kind of comedy reference to the name, suggesting it smacks of serial killers and deranged recording artists, so I'm going to steer clear of that. Suffice to say that Manson is the owner's surname. His head chef Chef Gemma Tuley trained under Gordon Ramsay and this shows in the elegant presentation of well-sourced ingredients.  Food for The Beautiful People, although possibly not the kind Marilyn Manson had in mind (sorry . . .)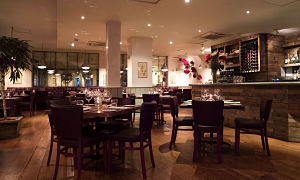 To celebrate my Mum's birthday, we headed down there on a quiet weekday evening. Arriving earlier than expected, we needn't have worried about reserving a table as the restaurant was only about a quarter full at 8.15pm. Candles twinkled invitingly from a row of cosy looking leather banquettes in the window, but as a three (my Dad's away tasting wine in Bordeaux under the pretext of work . . .) we opted against these in favour of a central table with plenty of elbow space. From there we had the chance to survey all of Manson's rustic charm – burnished mirrors running across the whole back wall, moody low lighting and a gorgeous wooden bar where fresh green apples, oranges and loaves of bread nestle in their own compartments.
After we'd ordered a bottle of something cold, crisp and fairly priced, our waitress brought over a basket of bread. I've been thinking about what I should include in my restaurant reviews since writing up Dean Street Townhouse and Trullo, and decided that, as the littleloaf, it would be rude not to include a round up of the bread, something often dismissed or ignored by other reviewers. Manson's offering was a mixture of freshly cut crusty wholemeal and cubes of focaccia. I don't imagine it had been made in-house, and the focaccia lacked that light crumb and slight salty ooze of grease you get with a freshly baked batch, but both options were perfectly good, and arrived with a smooth pat of salty butter.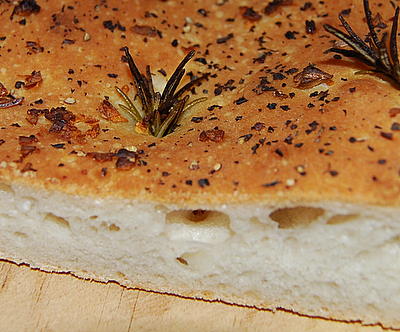 It got me thinking, maybe the bread basket is a good sign of where you're going with a restaurant's food, because moving onto the actual dishes it was a similar story  – tasty, considered ingredients cooked well, but lacking in that extra special element which takes a meal from the background of an evening to the main event. Having said that, my starter of grilled squid with potato, purple sprouting broccoli, garlic and chilli was very impressive – curls of charred creamy tentacles contrasting with the richness of the greens and brought to life with a spicy kick. It looked and tasted spot on. My Mum agreed that the squid was a good dish, and Carniverous Boyfriend's (CB) snails on toast disappeared from the plate pretty quickly.
As did his rare rib-eye and chips. Served with chips on a bed of roasted carrots it was juicy and well-cooked – the quality of ingredients shining through simple cooking. My Mum's sole with spinach and mussels was nicely presented with good clean flavours, although I think I've seen a similar dish on half a dozen menus in as many months. My tiger prawns were probably the biggest disappointment, and this isn't a huge complaint; just a minor gripe when Manson have proved they have the potential to make good dishes great.  They were nicely done, with sweet chargrilled flesh, but my plate contained just four slightly sad specimens, heads removed, but bizarrely left on the plate as a kind of macabre decoration. Possibly an attempt to justify the £20 price tag.
Dessert was a winner. CB and I looked no further than a pair of chocolate brownies with salted caramel ice cream and honeycomb, while my Mum went for her standard camomile tea (I definitely didn't inherit my sweet tooth from her). The brownie was gooey, dark and delicious, while the honeycomb provided crunch against the smooth cold ice cream. I'm not sure why the brownie had raisins in – the juicy plumpness of the fruit jarred slightly with the super sweet honeycomb crisps – but I'm not going to complain.
Which is probably my overall sentiment for the meal. The room was buzzy, the service friendly (if a little haphazard), the company happy and the food well-cooked from good ingredients. We had a really lovely birthday evening and were home within 10 minutes of paying the bill. But the high aspirations of this restaurant come with a high price tag considering the location, and I think there are probably a lot more restaurants where you could get a truly incredible meal at for the same kind of price. Maybe it was our mid-week timing, maybe I'm getting spoilt by the amazing places popping up round London every day now, or maybe Manson hasn't quite cracked it.
If you've been, I'd love to know what you think.