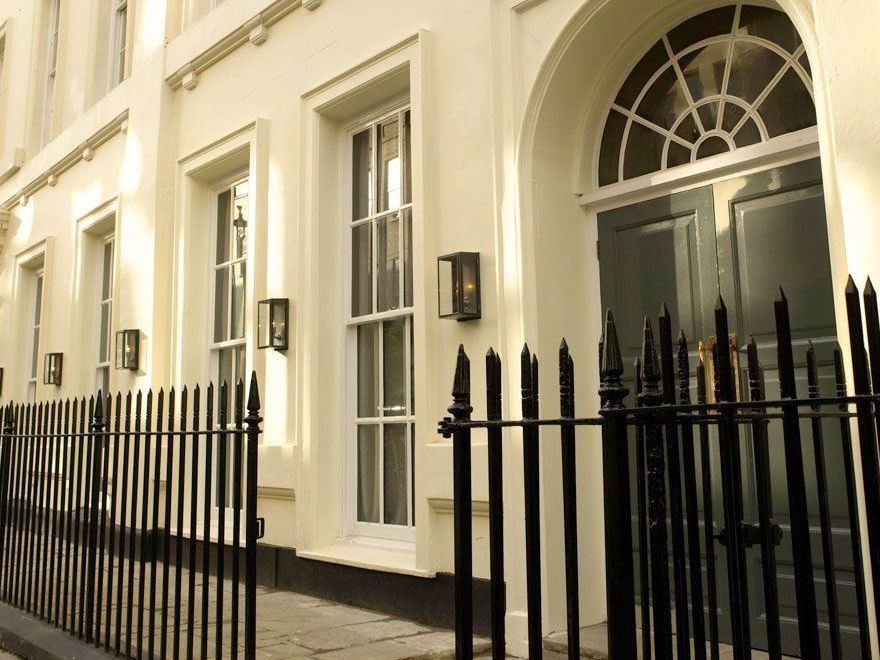 I've got a confession to make. I'm a little bit in love with Soho House Group.
I like their easy, comfortable style, the way they mix modern touches with the decadence of a bygone era, the relaxed efficiency (really) of their staff and the simple tastiness of their menus.  Last November I spent three glorious days in Soho House Berlin with carniverous boyfriend (CB), sipping champagne in the free standing bath, sinking into deep velvety sofas, indulging in cocktails and feasting on classic dishes.
So, when my six year (!) anniversary with CB came round, I jumped at the excuse to try another outpost of my new obsession.
Babington House sounded incredible, but slightly out of our price range once we'd factored in travel, accommodation and a button-busting romantic meal. Step up Dean Street Townhouse. I read on the Mr and Mrs Smith website (another favourite travel brand) that if Dean Street's older, more stately, sister Babington House attracts reclusive, romantic and poetic types with its deeply rustic Somerset charms, then the Townhouse plays the youthful role of sultry Soho girl about town, and this sounded spot on. We wanted somewhere fun and vibrant, and the fact that we'd be booking a hotel in the city we already live in made it feel extra indulgent.
The hotel was everything we dreamed it would be – Farrow and Ball paint on the walls, a huge bed piled high with downy pillows, a bathroom you could while away hours in, fluffy white bathrobes, luxurious Cowshed products, and a mini-bar packed with treats. The ultimate romantic bolt-hole and an oasis in the heart of London. But this is a food blog, so I'm guessing you want to hear about what we ate?
The restaurant, much like the one in Berlin, is that fabulous mixture of shabby and chic – a huge zinc topped bar runs the length of the room where rows of white table cloths contrast with the more relaxed, clubby feeling low slung velvet armchairs. The latter being perfect for an after dinner nightcap/snooze, but less good to eat a meal from. On arrival we were led to a gorgeously romantic fireside set of armchairs, clearly chosen for their moody dark lighting and intimate setting for our romantic meal, but after a couple of minutes straining to read the menu in the half light as the chairs threatened to engulf us, we asked if we could be moved to the buzzy, bright main area. Cocktails and snoozing could come later.
The menu is a joy to read. Good, old fashioned British cooking with a modern twist, it lacks the elaborate wording of so many restaurants today and settles instead on simple descriptions of comfort food from a bygone era. I could have eaten pretty much anything on there. Except the manx queenies with hedge bedstraw. Having no idea what this bizarre sounding concoction entailed, and feeling sure in my convictions that it wouldn't be something I wanted even if I did, I plumped for the crab salad, sipped my sauvignon and looked dreamily into CB's eyes…
Only to spot an incredible dish of scallops being delivered to the neighbouring table. I shamefacedly called over our waiter who explained that yes, Manx Queenie is in fact the affectionate local name for a queen scallop from the Isle of Man. I amended my order immediately and was rewarded with a plate of tiny bite sized scallops in their shell, decorated with a sprinkling of herbs and the sharp citrus kick of seasonal blood orange. CB's twice baked smoked haddock souffle was the complete opposite of this delicate dish, and not particularly beautiful to look at, but the smooth creaminess of the salty, smoky fish against a buttery chive sauce can only be described as nursery food heaven.
For mains, my protein loving other half opted for a hearty rare fillet steak which arrived oozing blood and beautfully cooked. My fillet of sea bass with fennel, Poole cockles and dill had crisp skin, delicate, meaty white flesh and melt-in-the-mouth fennel. The cockles were a bit gritty, but by the time I'd eaten enough to ascertain whether this was a one-off, or a major issue, there were hardly enough left to send them back.
The wine list at Dean Street Townhouse is perfectly sensible, with some more affordable options by both glass and carafe which meant we could happily mix and match to our very different choices of food. We were left for a nice pause after our main courses to chat, survey the room and steadily sip our wine before the temptation of pudding drew us back to the menu. We shared two puddings. The first was an incredible melting middled chocolate fondant, topped with pistachio ice cream which did exactly what it said on the tin. But for me the real winner was hazlenut ice cream with toffee sauce. Dished up in a little silver dish reminiscent of those they used to serve ice cream bombes in at Pizza Express when I was little (don't know what triggered that memory!), this was a sweet, creamy, grown-up version of a childhood treat with a little jug of butterscotch sauce so sweet it made your teeth itch.  Topped with rich whipped cream it was the kind of shared pudding that makes you eat twice as fast as normal to make sure your other half doesn't get all the good bits. Or is that just me?
After dinner we retired to our room and ordered up cocktails on room service in a moment of ultimate decadence. The perfect end to a perfect evening. If you're looking for a little romance, and some delicious food thrown into the mix, Dean Street Townhouse is the perfect spot. I've already found the man I love, but this is just the beginning of my Soho House affair.