Recently Carniverous Boyfriend and I have become slightly addicted to Travel Channel's Man vs. Food. For those of you without Sky, or of a less carniverous persuasion, this show sees self-styled food fanatic and inveterate eater Adam Richman travel round America's 'greatest pig-out spots', meeting chefs and participating in local eating challenges along the way. It's a button-busting, drool-inducing, sometimes sublime and always ridiculous programme, and while the food challenges would most likely leave you comatose, the places he visits at the beginning of each episode never fail to get the tastebuds turning. From slabs of steak and juicy crab claws to ooey-gooey cheese, slow-cooked BBQ cuts and crispy fried chicken, this is American excess at its very best.
With this in mind, and it being the Great British Summer (or the closest we're likely to get at any rate…), we decided to have a BBQ. As littleloaf and resident bread obsessive, I often find BBQs can be a bit of a non-event for carb lovers. From soggy potato salad and bowls of crisps to plastic packets of white cardboard buns, the side dishes are often an afterthought – an unwanted accessory to rows of sizzling sausages and burgers, succulent chicken and strips of steak. Don't get me wrong, I know that at a BBQ meat is always going to be the main event, but that doesn't mean the sides should suffer, and that's where these beautiful buns come into play.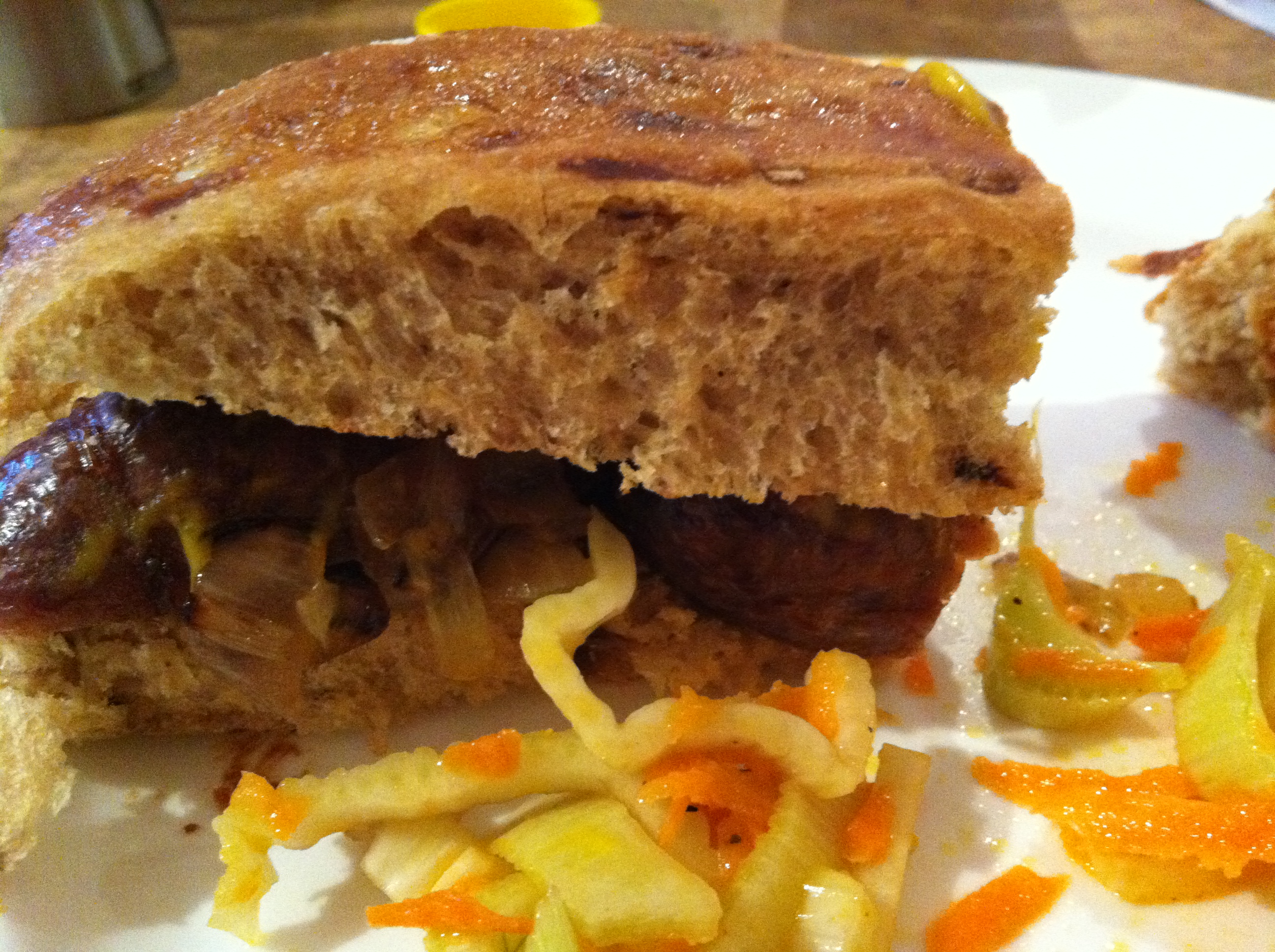 Homemade onion hot dog buns (an ever-so-slightly tweaked Dan Lepard recipe):
Makes 8 jumbo or 12 regular buns
Ingredients:
400g white onions, finely chopped
50ml sunflower oil, plus a little extra for kneading
2 tsp fennel seeds
75ml cold milk
2 large free range eggs
1½ tsp fine salt
7g sachet dry instant yeast
500g strong white flour, plus extra for shaping
100g malted grain or wholemeal flour
Method:
Fry the onions in the oil over a low heat for 10-15 minutes until soft, golden brown caramelized. They should have lost most of their moisture – if not, pat dry as you don't want this seeping into your loaf. Scrape into a bowl.
Add the fennel seeds, milk, one egg, salt and 200ml warm water to the onion. Then add the yeast and both white and brown flours and mix to a sticky dough. Return to a clean bowl and leave for 10 minutes.
Oil your hands and a 30cm area of worktop. Knead the dough for 10 seconds, leave for 10 minutes, then repeat twice more at 10-minute intervals. Return the dough to the bowl, wrap in a black plastic bin liner and leave for an hour.
Divide the dough into twelve, shape into balls, then roll each to the size of a small pitta. Roll up into a tight sausage and place seam-side down and touching on a nonstick paper-lined tray. Cover, leave for an hour and a half, then brush with beaten egg and bake at 200C (180C fan-assisted)/ 400F/gas mark 6 for 25 minutes.
Leave to cool and serve with your sausage of choice – preferably of a porky persuasion as it works perfectly against the fennel seeds.