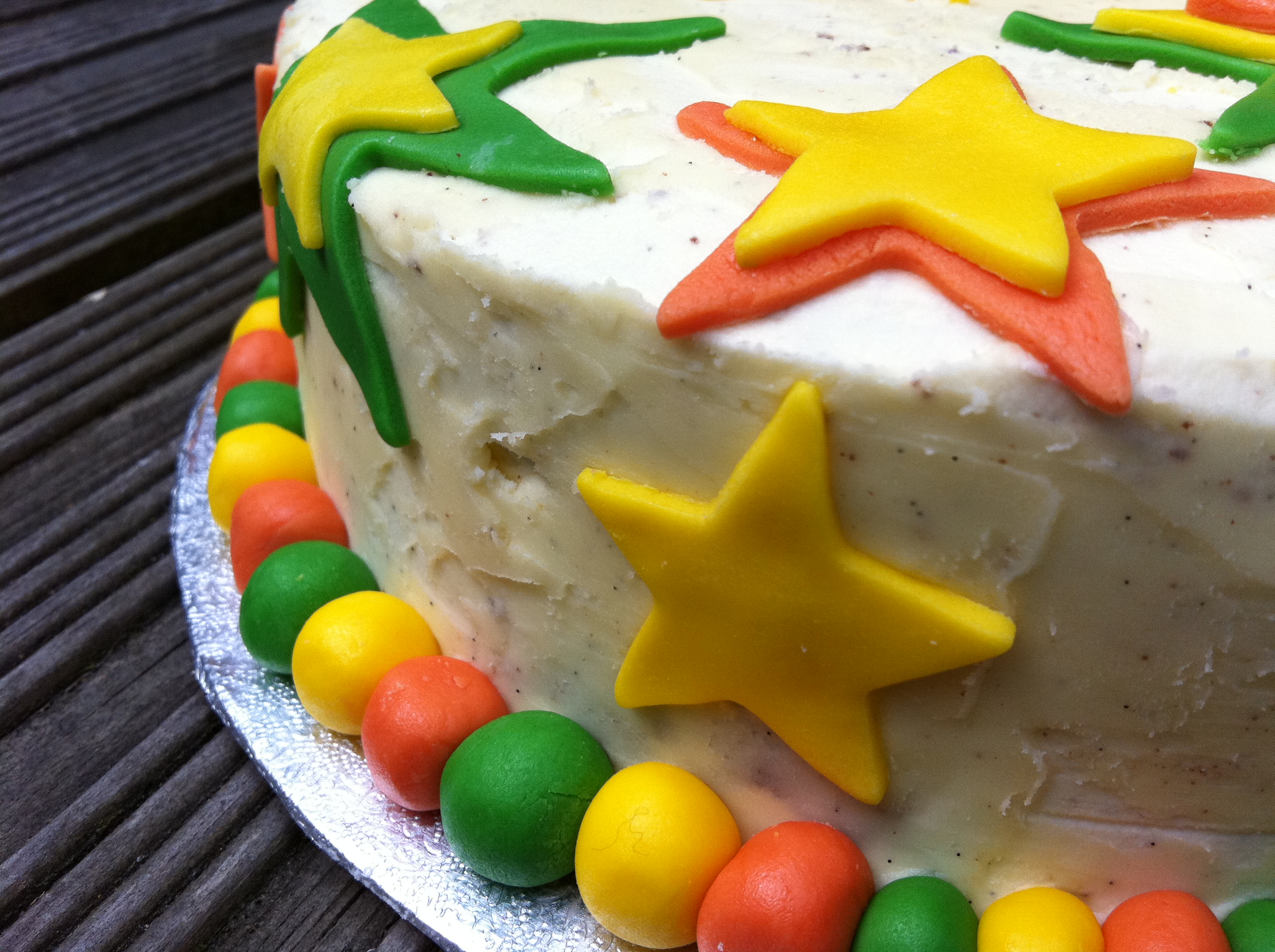 And I will. For my 21st birthday, due to the sheer number of guests, we decided against attempting an industrial-sized bake-off and instead commissioned a confection of epic proportions from Konditor and Cook. Based on their classic Curly Whirly cake recipe, this was a chocolate lover's dream with a touch of kitsch; a huge, rich base layered and smothered with a blanket of sugar-sweet vanilla bean cream cheese frosting, piped with balloons and sprinkled with edible glitter. Amazing. Since then, the recipe has featured on the Guardian website, and a well-thumbed print-out now lives tucked inside one of the books on my kitchen shelf.
Fast forward a couple of years and last weekend we headed up north to celebrate Carniverous Boyfriend's little twin brother and sister's birthday. I'd offered to bake the cake, but with a minimum of three hours' Friday afternoon fun on the M1 ahead of us, and a stuffy boot for storage, I didn't fancy the chances of survival for a cream cheese frosting. Buttercream is a hardier option, remaining stable as it does at ambient temperatures, so I opted for this as my icing, adding a little white chocolate for flavour.
The cake itself is a more classic take on a birthday sponge than the Curly Whirly recipe, with a beautifully light, moist crumb. The chocolatey flavour comes entirely from cocoa powder, not chocolate, which adds a rich, earthy roundness and the sugar is golden, which increases the depth of flavour. It's also a one-bowl-wonder which means next to no washing up, and you can have the whole thing mixed, cooked and cooled in less time than it takes to say 'Marks & Spencer caterpillar cake'. I decorated this version with little star shapes cut out of rolled royal icing and stuck together with edible glue, but if you're in a hurry a few chocolate curls or a dusting of cocoa powder would be more than enough.
Best served straight-up in thick wedges, this cake should feed twelve hungry guests with ease.
Do you have a go-to birthday cake recipe or do you like to experiment? Can't live without chocolate, addicted to Victoria sponge or crazy for carrot cake? I'd love to know your favourite recipes.
Simple chocolate cake with white chocolate frosting (adapted from Mich Turner's Cake Masterclass):
For the cake:
(all ingredients should be room temperature)
200g unsalted butter, plus extra for greasing
85g cocoa powder
140g self-raising flour
200g golden caster sugar
4 medium free range eggs, lightly beaten
2 tbsp milk
Method:
Preheat the oven to 180 degrees C (or 160 if fan assisted). Grease and line 2 x 20cm loose bottomed cake tins.
Put all the ingredients in a large, clean bowl and whisk with a hand-held electric whisk for 8-10 mins until light and airy.
Divide the mixture between the two cake tins and bake 20-25 mins, until the cake has shrunk away from the sides of the tin and is springy to touch, and a skewer inserted in the middle of the cake comes out clean. When cooked, remove from the oven and cool in tins before turning onto a wire rack to cool completely.
For the frosting:
175g unsalted butter, softened
300g icing sugar
seeds from 1 vanilla pod
100g white chocolate, melted and cooled
Royal icing cut into star shapes to decorate (optional)
Beat the butter in a mixing bowl with an electric whisk for 1 minute. Add the icing sugar and beat slowly until blended, then on full speed until light and fluffy. Beat in the vanilla seeds and white chocolate until smooth and glossy.
Spread approx. 1/3 of the frosting over one cooled cake, top with the second cake and cover in frosting. You can pop it in the fridge to set further, then serve as is, or decorate with royal icing stars or flowers.