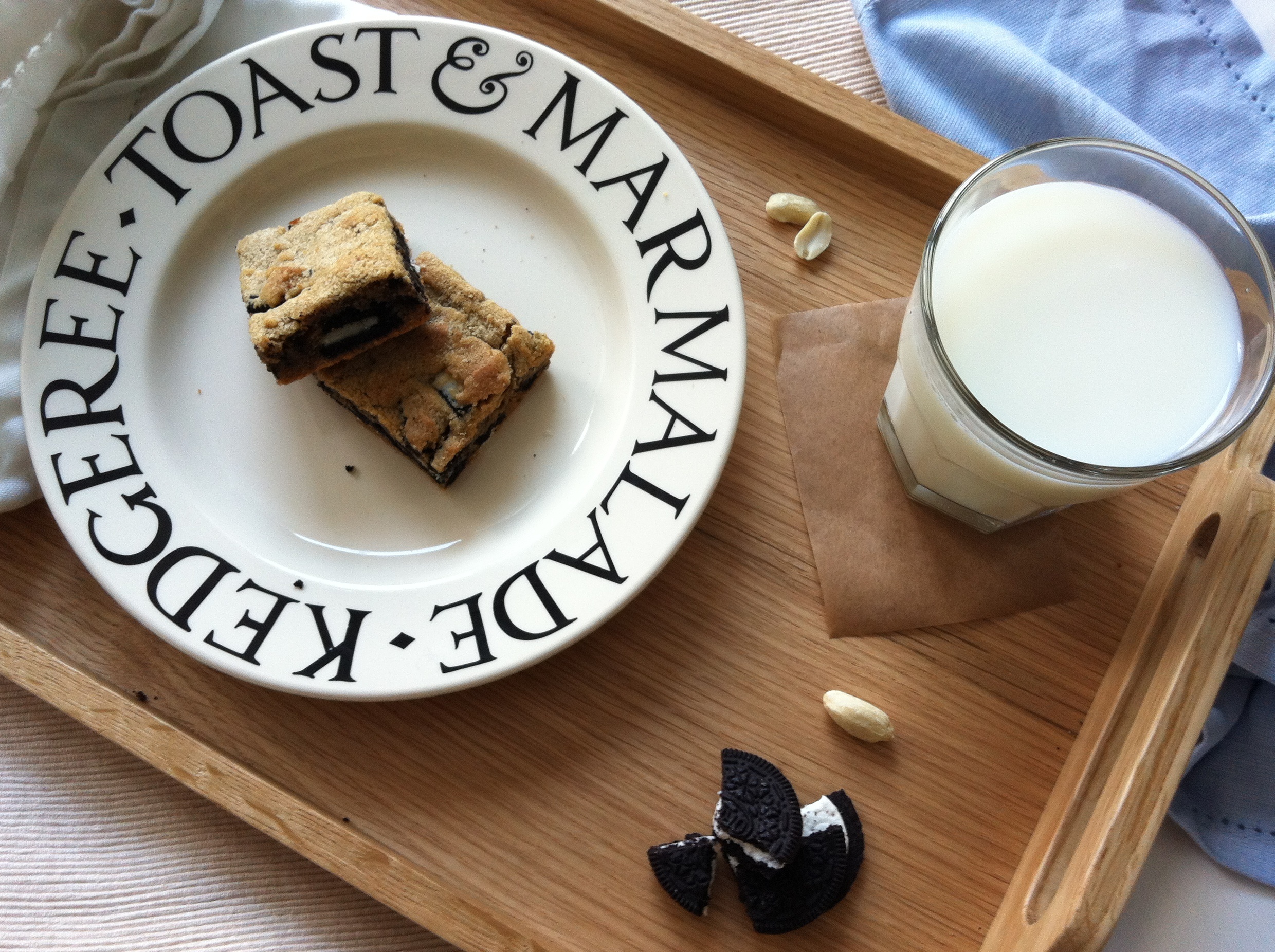 'Is it true…blondes have more fun?'
Since this provocative line to promote Clairol home hair colour was penned by US ad exec Shirley Polykoff back in the 1950s, the idea that blondes have a better time has become part of global consciousness. Blonde = bubbly, fun and frivolous. Brunette = natural, sophisticated but sensible. And every time a celebrity changes the colour of their hair the same old research – most likely commissioned by a hair dye company – is wheeled out as the age old debate continues.
Which do you prefer?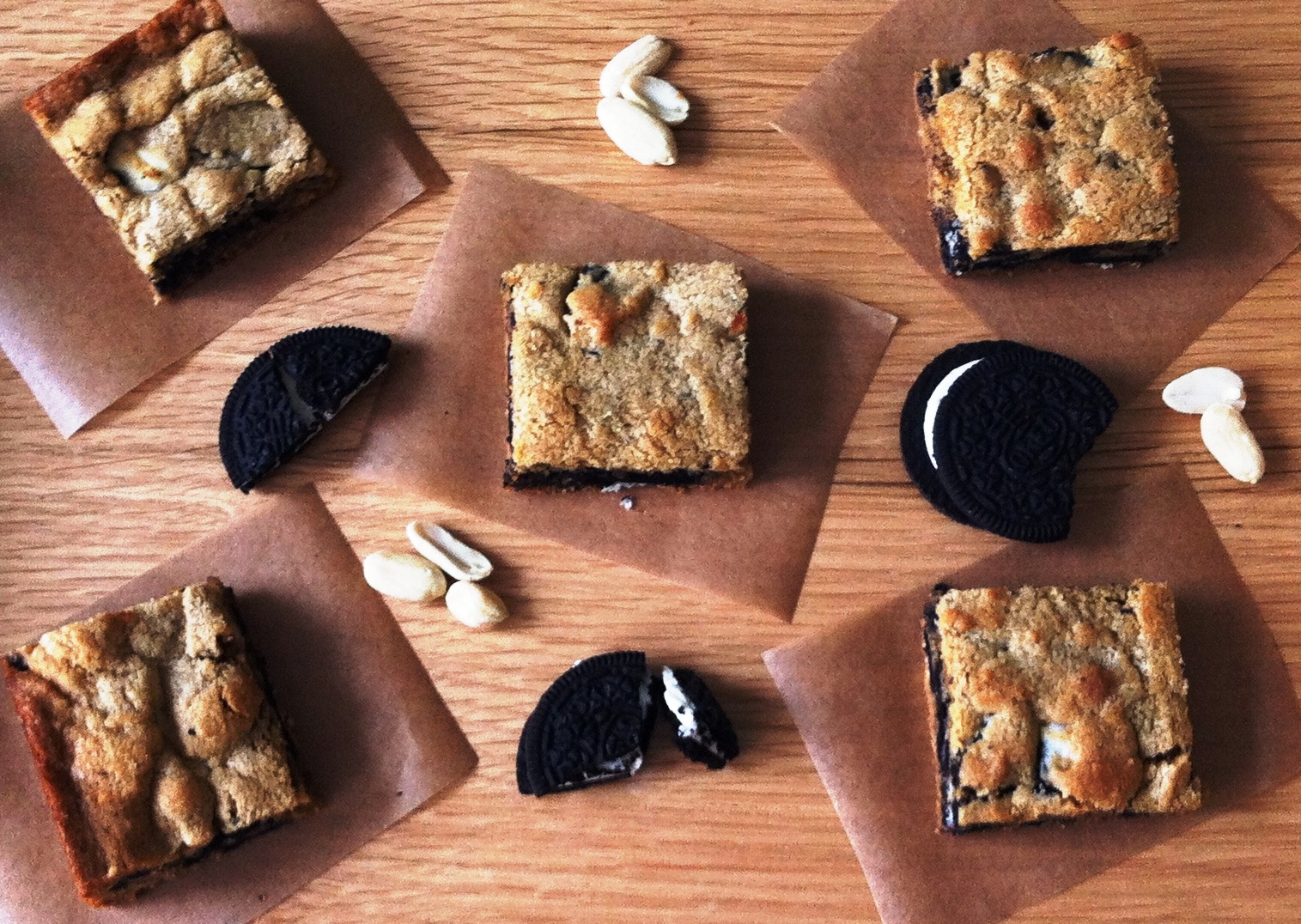 As a natural brunette, my inclination is to fly the flag for those with darker locks. However I'd be lying if I said I was completely immune to the lure of the bleach blonde bottle, and every summer for the last seven or so years I've headed to the hairdresser for some (incredibly natural of course) honey blonde highlights. I don't want to dye my hair forever, but I like the option of mixing things up, of changing my hairstyle to suit my mood and the time of year.
Which brings me onto brownies. Which – surprise…  – is what we're really talking about here. Brownies vs. blondies to be precise. Dark vs. light, The yin and yang of the sugary snack world.
In the time I've been blogging I've posted a fair few recipes for brownies and consumed several (dozen) more. The blondie has only had a single look in. Why? Unlike its bottle blonde counterpart, the blondie supposedly pre-dated what we now know as a classic chocolate brownie. Blonde brownies (or blondies) are said to be descendants of ginger cakes dating back to Renaissance times, but by the time the 1950s came around (and blonde hair dye was in its ascendance) they'd been relegated to secondary status behind their popular chocolate cousin.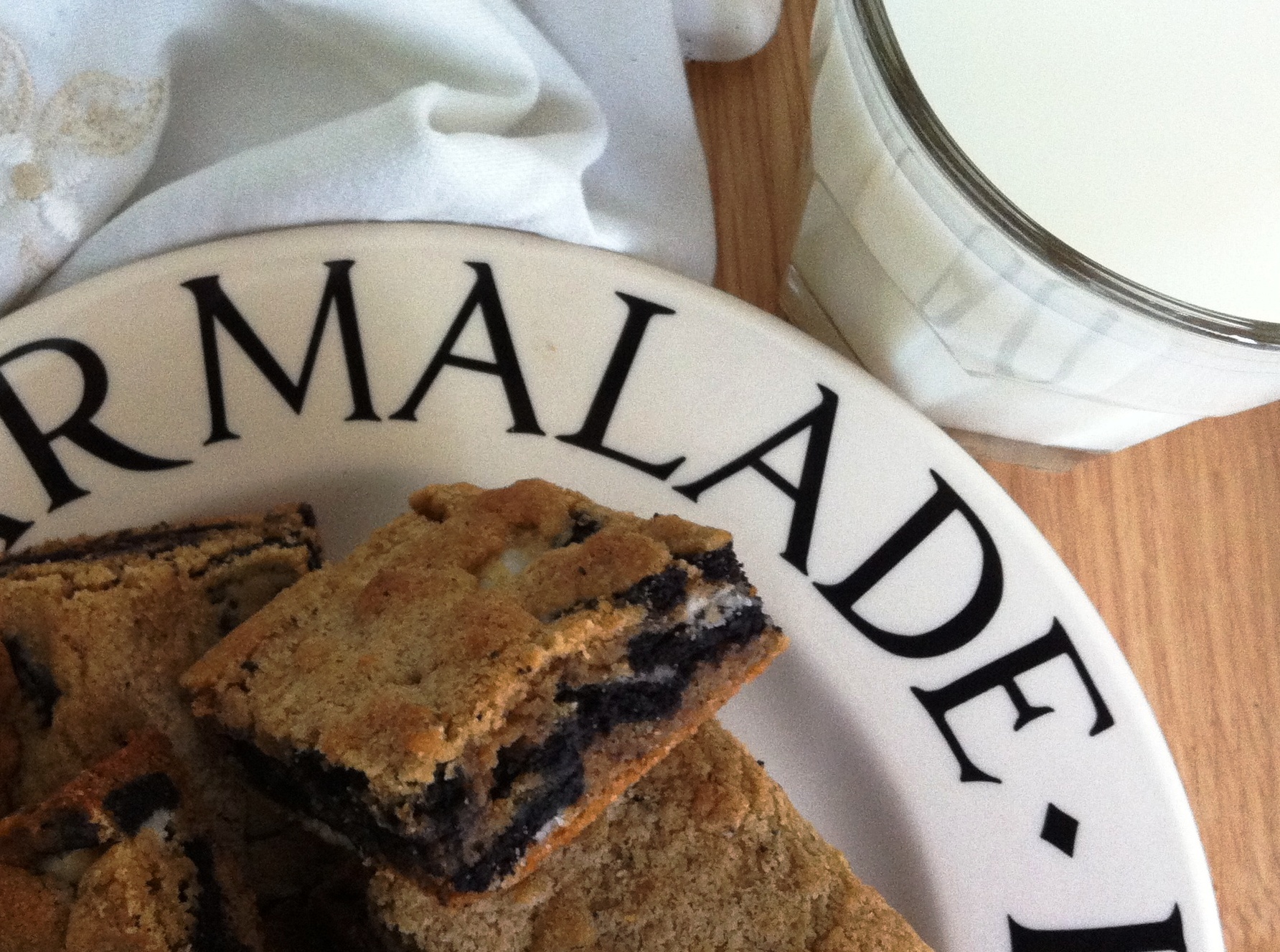 The main difference between blondies and brownies is cocoa content. While brownies contain varying degrees of cocoa and taste predominantly of chocolate, a blondie's flavour comes from soft brown sugar. Often slightly chewier than a brownie (because of the high sugar content) a blondie is super sweet and fairly dense ( think chocolate chip cookie dough baked into a bar) with a crisp crust and notes of butterscotch running through it.
I find that blondies can sometimes be a little too sweet. Without a hit of chocolate running through the batter, the sugar can become almost overpowering, and I think the tendency of recipes to team them with add-ins such as banana, caramel and white chocolate can be a bit too much if you're not careful. However get it just right and the blondie can be a glorious thing, so delicious in its own right that you'd never dare to compare it to a brownie.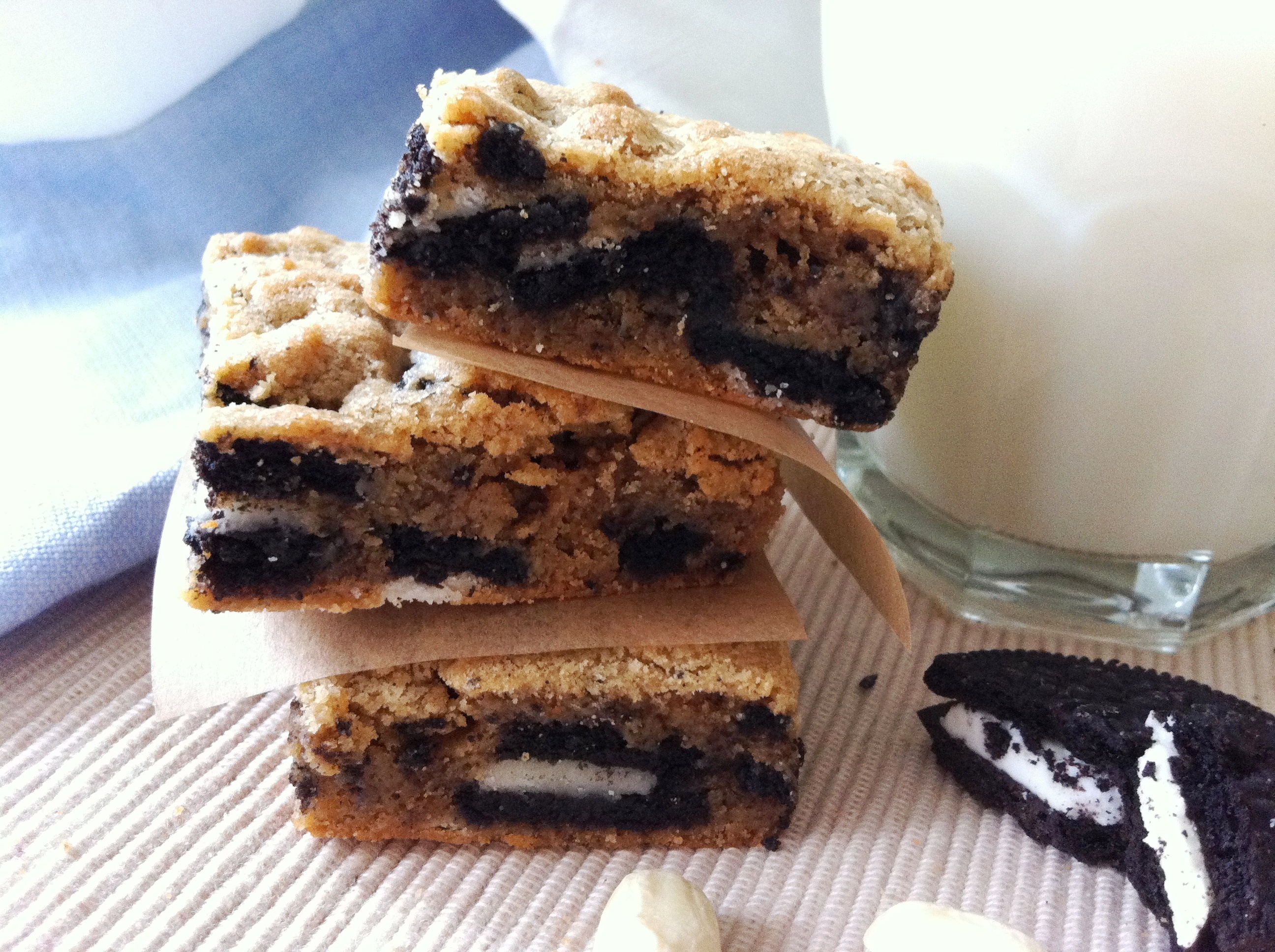 I'm hoping this recipe does just that job. I made this batch of blondies for Carnivorous Boyfriend which explains the inclusion of peanut butter (he is a major fan). The Oreos I had to hand after making a batch of Cookies & Cream fudge over Christmas (thanks to Julia at Café Lula) and I'm pleased to report that the two work really well together, providing just enough saltiness to balance the sugar-sweet binding of the blondie. The Oreos retain their shape really well, adding an element of crunch to each chewy, gooey mouthful (although one friend did remark that the dark ridges hiding under the batter looked a little like pieces of fake eyelash baked into the dough. Hmm . . .)
There are really only two ways to serve these blondies; as a dessert with a huge scoop of vanilla ice cream, or on their own with a cold glass of milk. Lots of milk. It cuts through the sweetness of each mouthful, creating the ultimate harmony of sugar, salt and cream. Yum.
Do blondes have more fun? I couldn't possibly say. But every so often we should definitely give them a chance . . .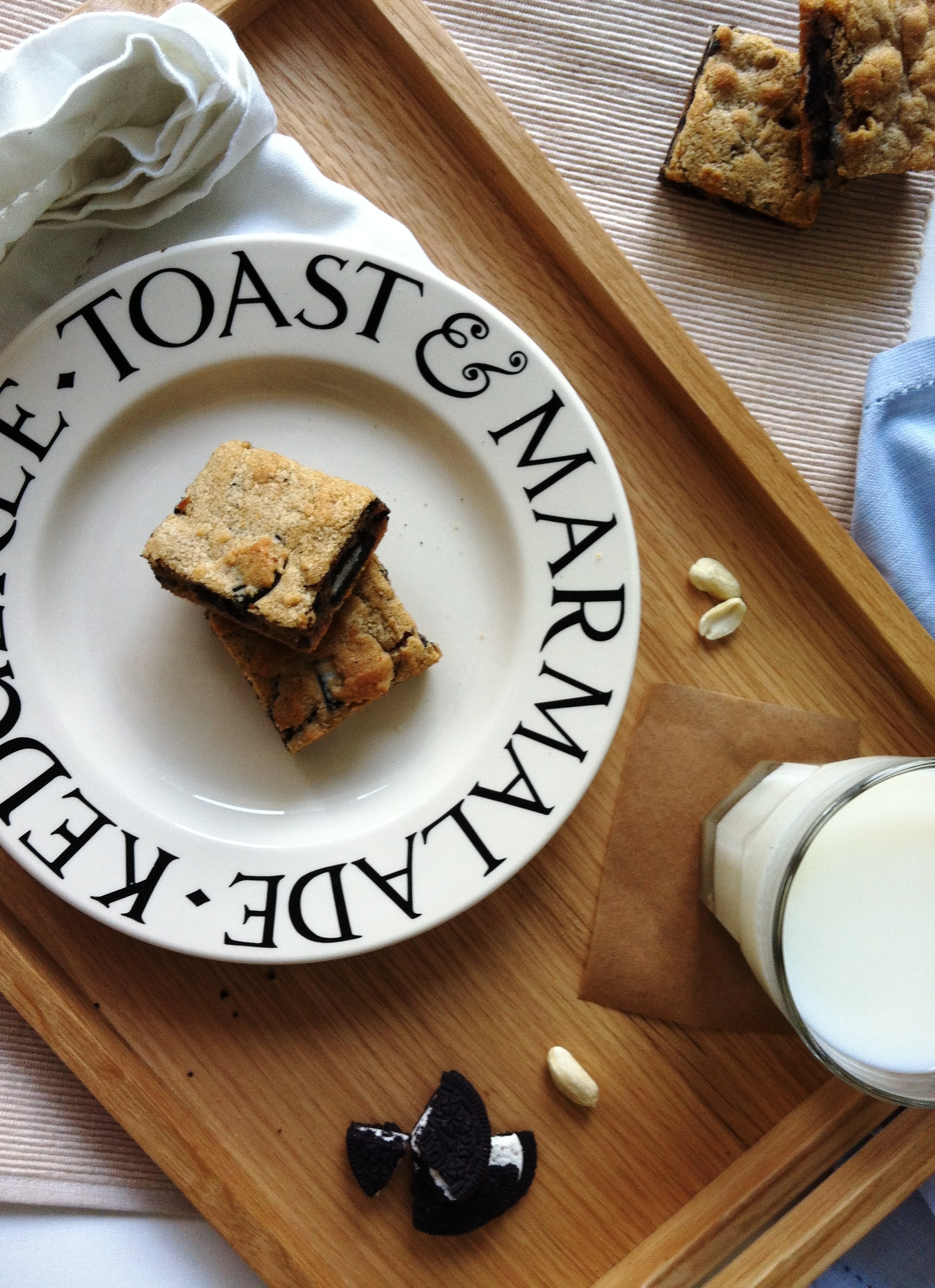 Cookies & Cream Peanut Butter Blondies (adapted from Bake by Rachel Allen)
Ingredients:
125 g plain flour
1 tsp baking powder
100 g unsalted butter, at room temperature, plus extra for greasing
150 g smooth peanut butter (unsweetened if possible)
175 g light brown muscovado sugar
1 large free range egg + 1 egg yolk, beaten
1 tsp vanilla extract
10 x Oreos, quartered
Method:
Preheat the oven to 170 degrees C. Grease and line a 20cm square cake tin.
Sift the flour and baking powder into a small bowl and set aside.
In a separate bowl, cream the butter and peanut butter together until very soft. Add the sugar, egg and vanilla extract and beat until well combined. Add the flour, baking powder and the quartered Oreos, folding gently to form a dough.
Scrape your dough into the prepared tin and smooth the top with a spatula. Bake for 20-25 minutes, or until golden brown but still slightly soft in the centre (a skewer with emerge with some crumbs, as with a brownie).
Remove from the oven and allow to cool in the tin, before removing and cutting into squares.