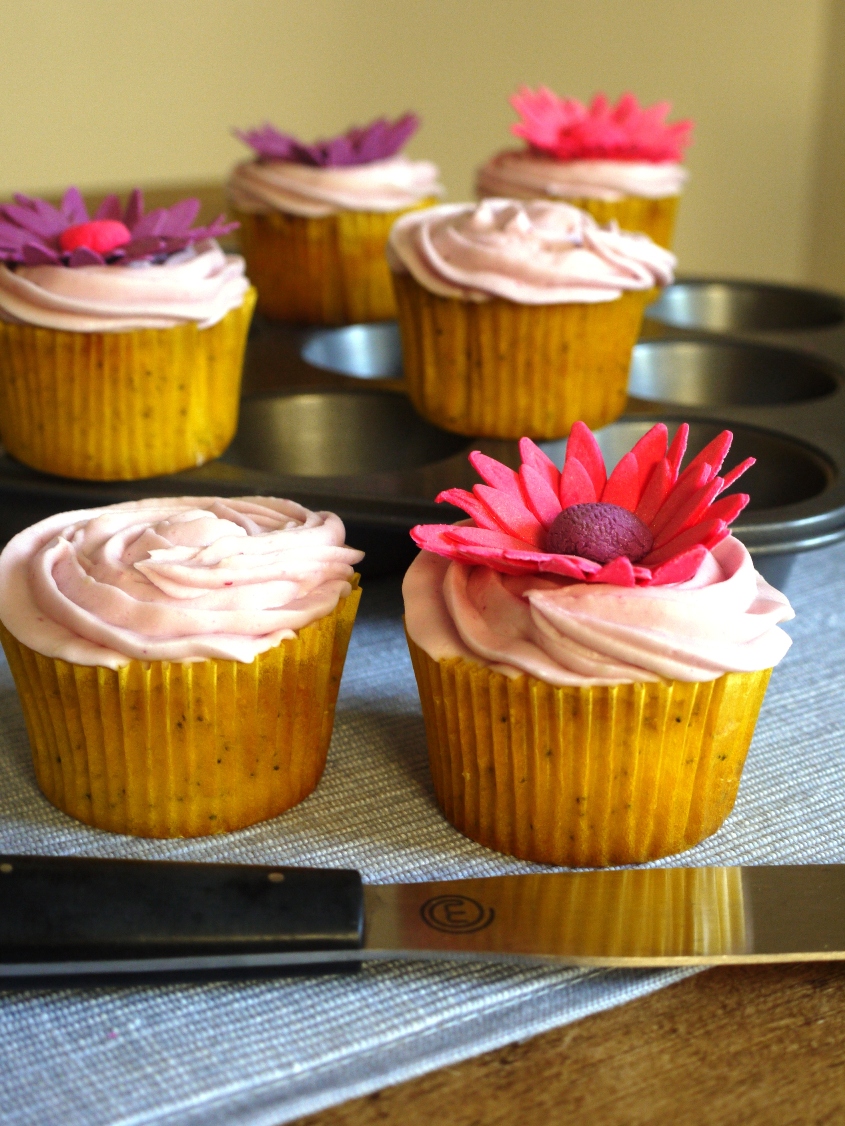 This weekend I'm up in Yorkshire for various family festivities, so I'm keeping this post pretty short. And sweet (of course), which most of my posts tend to be.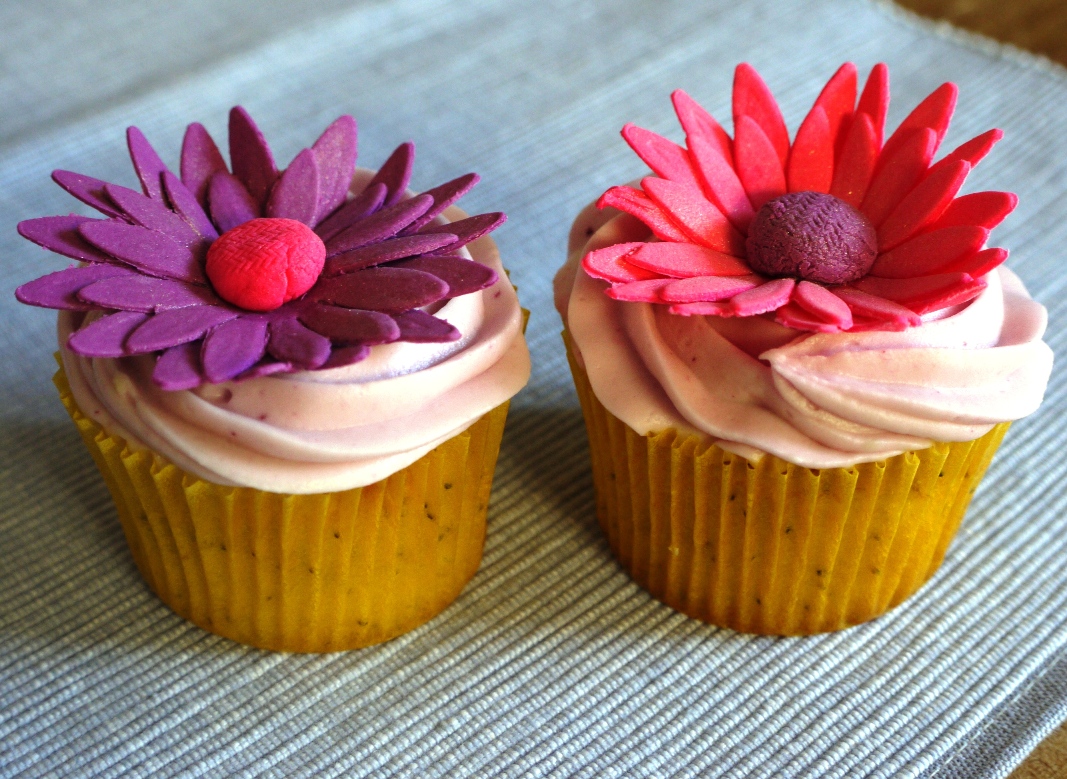 With a sprinkle of toasted poppy seeds for texture, a scraping of lemon zest for zing and a swirl of smooth, sharp blueberry buttercream simply for the sake of it.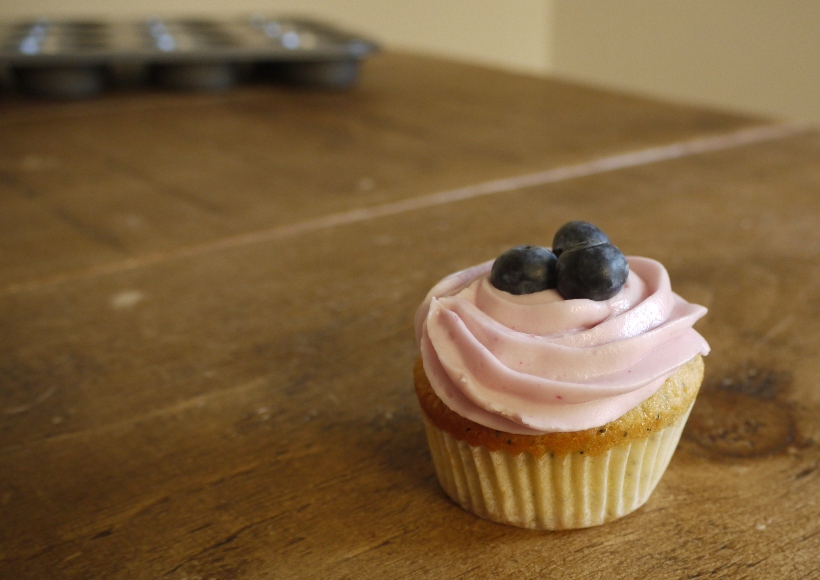 I don't often make cupcakes, but when I do, I like them to be light, moist and full of flavour. The sponge in these is as soft and fluffy as can be, and the buttercream not too thick, sharpened with cream cheese and an unsweetened fruit purée. The flowers are a little bit fancy – my very first attempt at working with sugar paste, which I want to work on improving over the next few months* – but without the flowers these little cakes are simplicity itself, topped with nothing more extravagant than a couple of beautiful ripe blueberries.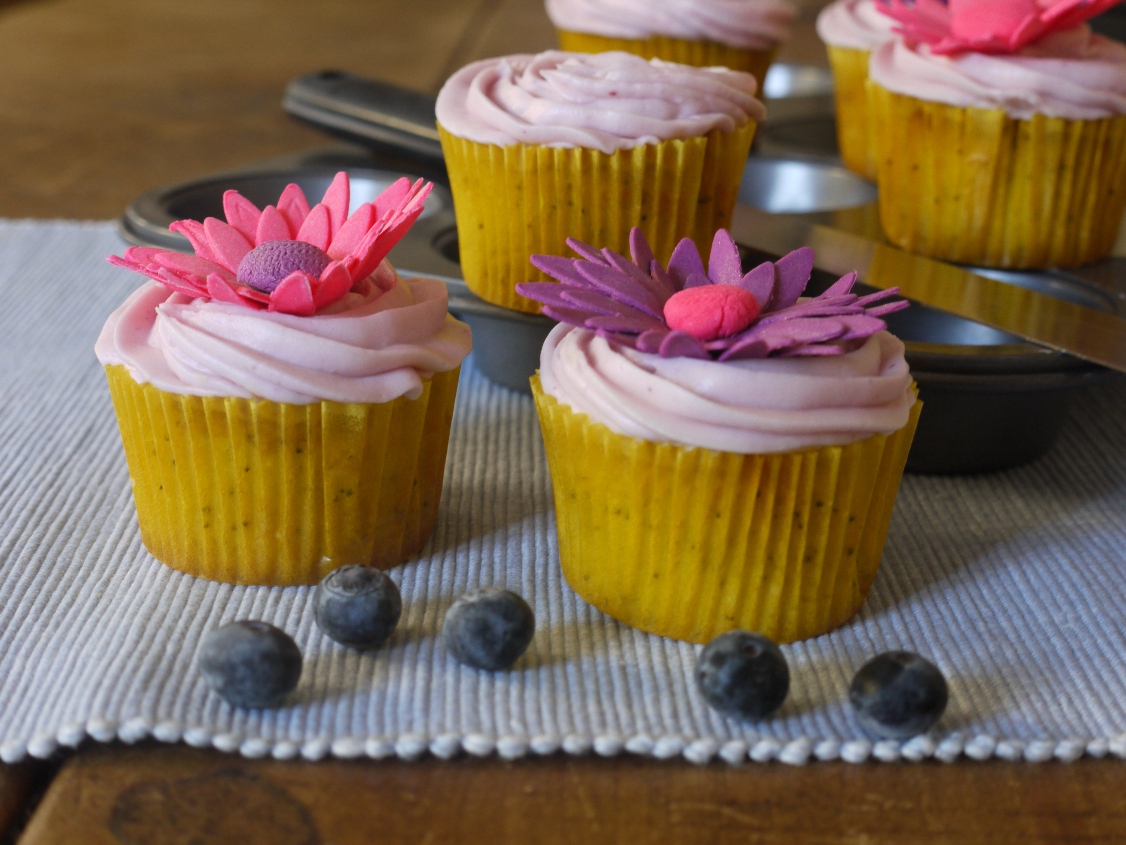 With their bright, fruity flavour and and pretty pastel colouring, these cupcakes are perfect to welcome in the Spring. If you're reading this post before Easter, they'd make a great addition to an afternoon tea this weekend. And if you're reading this after Easter, slowly crawling your way out of a chocolate-induced coma, they might be just the sort of sweet, light treat you're looking for to remind you that there is a whole world of desserts out there beyond those of the Easter-egg shaped variety.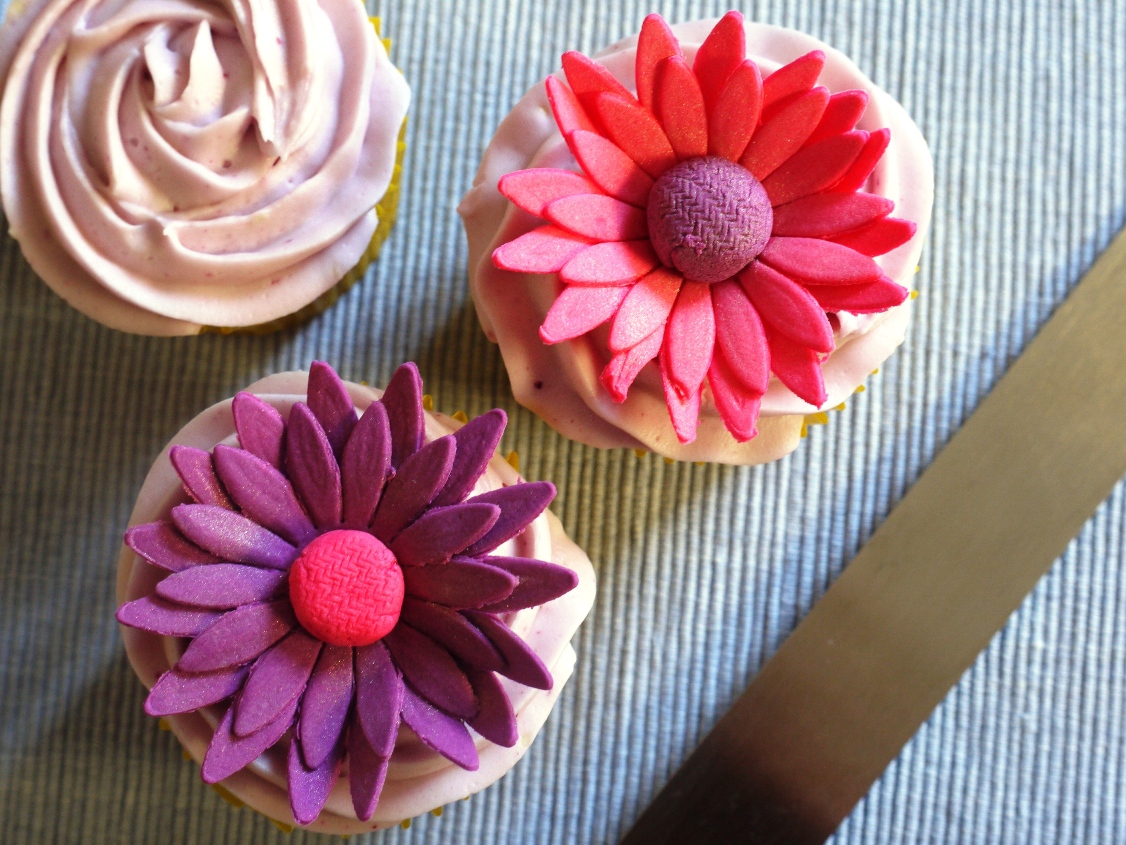 *If you follow me on Twitter, you'll know that Carnivorous Boyfriend's Mum has asked me to make the decorations for her wedding cake in August this year. It's a big task, and I've got a long way to go from this very first attempt, but I'll be posting my learnings along the way over the next few months…wish me luck!
Lemon Poppy Seeds Cupcakes with Blueberry Buttercream
Ingredients:
For the cupcakes
1 tbsp poppy seeds
225g self-raising flour
175g golden caster sugar
Zest of 2 medium lemons
3 large free range eggs
100g natural yoghurt
175g butter, melted and cooled a little
Method:
Preheat the oven to 180 degrees C. Line two 6-hole muffin tins cupcake cases.
Toast the poppy seeds in a small saucepan over a low heat for a few minutes. Remove from the heat and allow to cool slightly.
Sift the flour into a large bowl, then whisk in the sugar, lemon zest and poppy seeds. In a separate bowl, beat the eggs with the yogurt and melted butter. Whisk the wet and dry ingredients together until smooth and lump-free, then divide between the cases.
Bake for about 20 minutes, or until a skewer poked in comes out clean – the cakes will be quite pale on the top. Cool for 5 mins in the tin, then carefully transfer to a wire rack to finish cooling.
For the buttercream
Ingredients:
50g unsalted butter, softened
400 icing sugar, sifted
100g full fat cream cheese
2 tbsp blueberry purée (I heated blueberries with a little lemon juice til softened then pushed through a sieve)
Method:
In a stand mixer fitted with the paddle attachment, beat the butter and icing sugar on slow speed until it resembles a fine powder. Add the cream cheese, increase the speed and beat until a creamy mixture forms. Add the blueberry purée a little at a time, until you have the colour and consistency you like, then continue to whip on high speed for a couple of minutes more until light and fluffy.
Transfer your buttercream to a piping bag and pipe over the cooled cupcakes. Decorate with fresh blueberries, or sugar paste flowers, if you wish (I used this tutorial here).
These cupcakes taste best served at room temperature, so are best made and eaten on the same day to ensure the cream cheese frosting stays fresh and delicious.