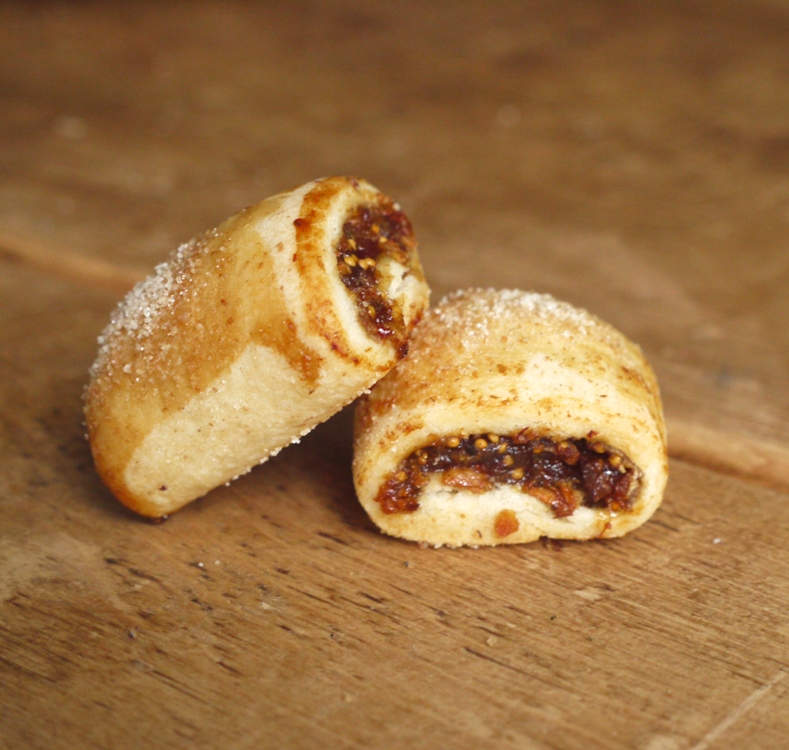 They say that the way to a man's heart is through his stomach. If my husband happened to be said man, you could pretty much guarantee his affection for life with a humble packet of fig rolls.
When he was little, Carnivorous Husband's mum would always buy two packets of fig rolls at the supermarket: one to keep in the cupboard and one for my hungry husband-to-be to consume in one sitting. A couple of hundred miles away, at a similar age and unaware at this point that he even existed, I took a similar approach to a freshly baked loaf of bread. Some treats, it seems, are made to be savoured, others to be eaten in enormous quantities.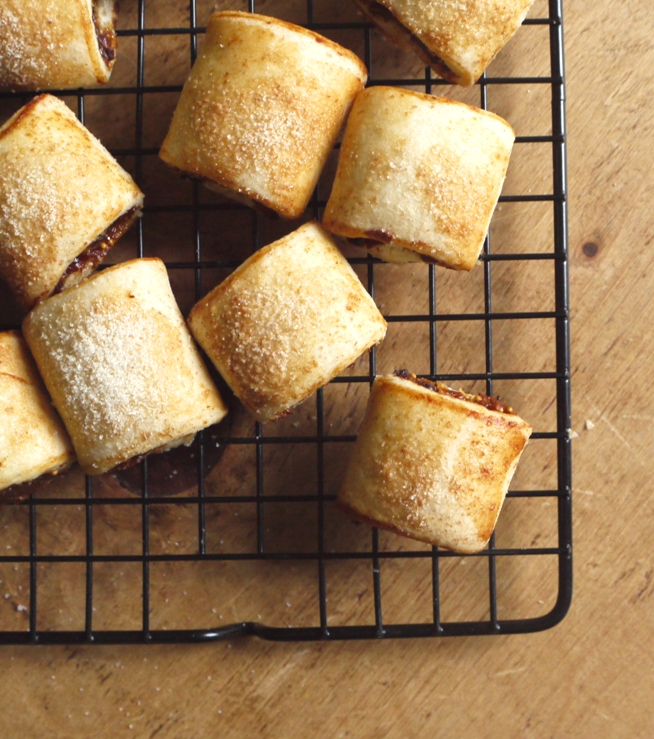 Nowadays I still find it hard to resist breaking into a brand new loaf of bread (you're supposed to let it cool before slicing, but seriously, if you've ever baked bread you'll know this is nigh-on impossible) but my husband's fig roll obsession is a little more under control. We don't really buy packaged treats in the little loaf house, so the only way a fig roll might make it into our kitchen is if it was of the homemade variety. Which is exactly what happened.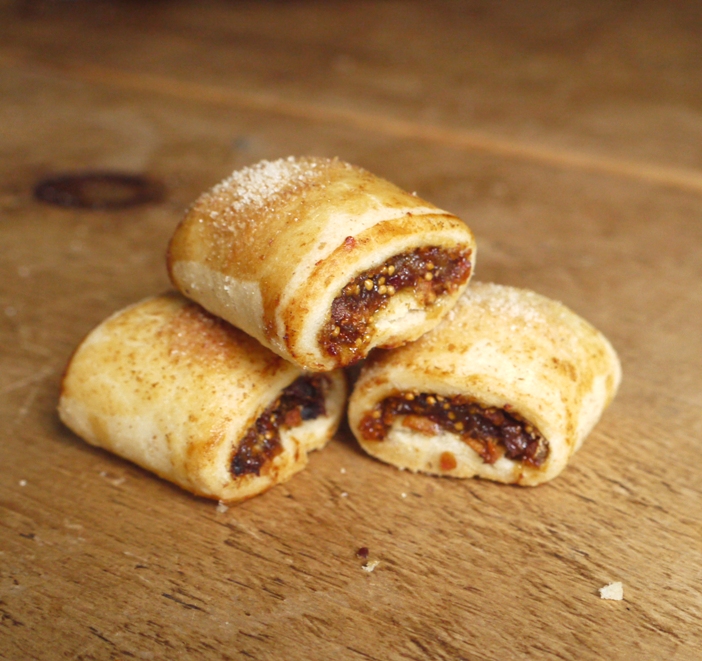 Carnivorous Husband's love of the shop bought variety of fig roll is strong enough that I've wanted to perfect a homemade version for a while now. Something softly sweet enough to appeal to a fig roll obsessive but with the rustic charm of a home baked biscuit. This year's Food Blogger Cookie Swap felt like the perfect opportunity to bake up a big batch and I couldn't resist putting a Christmassy twist on the filling (if only because I liked the alliteration of 'festive fig' rolls).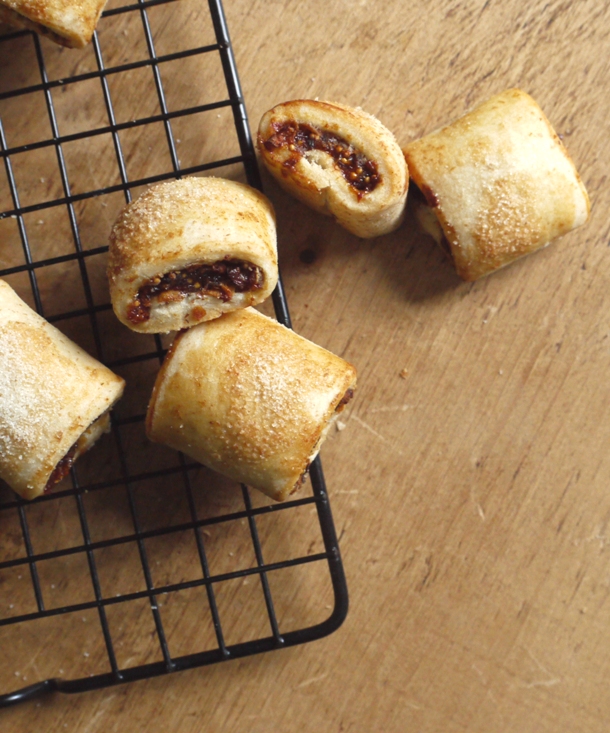 The result is a simple, soft biscuit with a sweetly spiced centre. Not entirely authentic in terms of flavour profile, but (I think) even more delicious because of it, brought to life with a nutty wholewheat pastry, the scent of orange and some squidgy Medjool dates thrown in with the figs for the simple reason that they're impossible to resist at this time of year.
My husband's verdict? Let's just say I ended up sending my cookie swap partners nine biscuits each instead of the suggested twelve.  No prizes for guessing what happened to the rest . . .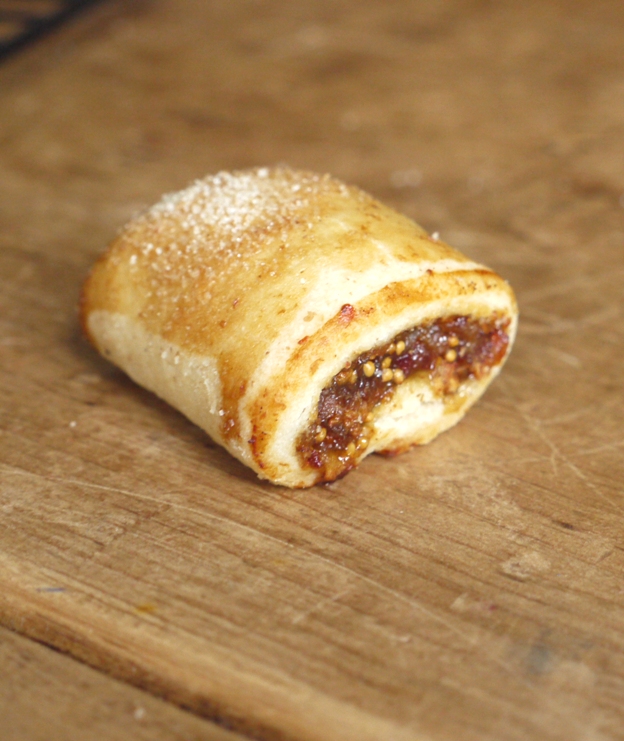 Festive Fig Rolls with Orange, Honey & Cinnamon
(makes 24 – 30)
I use semi-dried figs in this recipe which are softer and easier to mash. If using normal dried figs, soak in a little just-boiled water for 5 minutes or so before draining well and continuing with the recipe.

Ingredients:
For the pastry
110g unsalted butter, softened
75g golden caster sugar
1 large free range egg yolk
seeds of half a vanilla pod
juice & zest of one medium orange
75g plain white flour
75g wholemeal flour
50g ground almonds
pinch cinnamon
pinch ground allspice
pinch salt
For the filling
150g semi-dried figs
50g medjool dates (or use an additional 50g figs)
1 small apple, coarsely grated
juice and zest of one large orange
1 tbsp runny honey
pinch salt
For the glaze
1 medium free range egg yolk
1 tbsp full fat milk
granulated sugar, for sprinkling
Method:
To make the pastry, cream together the butter and sugar until combined. Beat in the egg yolk. Add the vanilla, orange juice and zest, flours, almonds, cinnamon and salt and gently mix everything together with your fingers to form a ball of dough. Flatten into a disc, wrap in cling film and refrigerate while you make the filling.
In a small bowl, mash the figs and dates with the back of a fork. Add the apple, orange juice and zest, honey and salt and mix to combine. At this stage you can blitz in a food processor for a completely smooth, sticky centre, or leave as is if you prefer more texture. Set aside while you roll out your pastry.

Preheat the oven to 170 degrees C. Line two baking trays with parchment paper. Remove the chilled pastry from the fridge. Dust your work surface with flour then roll the dough into a large rectangle (about 30 x 40cm), before cutting lengthways into four equal rectangles.
Working quickly (so the dough doesn't soften too much), spread one quarter of the fig mixture down the middle of one rectangle. Brush one of the long edges with a little water and roll the dough up lengthways, turning once rolled so that the seam of pastry is underneath. Repeat with all four rectangles then use a sharp knife to cut the lengths of pastry into pieces about 3cm wide.
In a small bowl, combine the egg yolk and milk. Brush over the tops of each fig roll, sprinkle with a little sugar then place on your prepared baking trays. Bake for about 20 minutes or until golden brown on top and the filling is sticky and slightly oozing. Remove from the oven, allow to cool on the trays for five minutes then transfer to a wire rack to cool completely.
Will keep in an airtight container for at least a week, making them the perfect present to pop in the post.