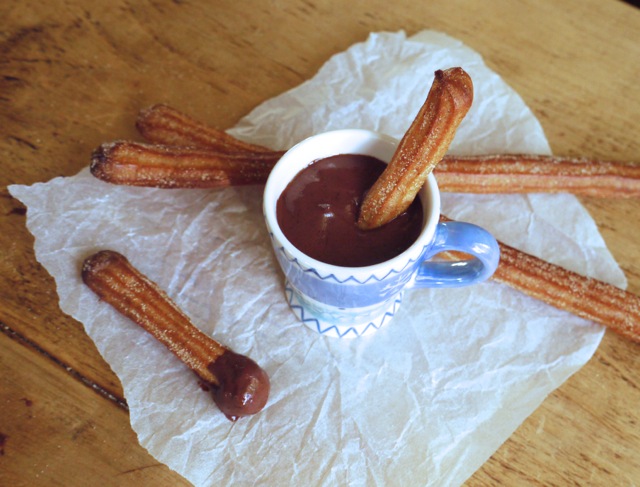 The first time I moved, I was nine years old. Our family had outgrown the house where I was born and my parents had managed to find a new one just around the corner. Or three corners, less than half a mile away and still within walking distance from the local sweet shop and bakery, to be precise to my nine-year-old self.

Although the new place was an improvement in every way: bigger garden, better space and my very own room up in the attic (which I shamelessly fought my brother for and – as the youngest – won), it took some getting used to. Our old home held so many memories and the new one needed living in a little, to bed down and become a part of our family history.
You may have noticed things look a little different round here today. I've moved, not in real life but online, and as of today thelittleloaf has a brand new home. As with anything new, it will take some getting used to: both for me and from your point of view as my wonderful readers, but I hope that you'll bear with me as I iron out any glitches and that you love the new look as much as I do.
As luck would have it, the man I married is not only the love of my life but a dab hand with all things digital. The fantastic team at the agency where he works are responsible for my little blog's beautiful makeover and for that I am eternally grateful. Southerly, I owe you a whole lot of cake.
In the spirit of moving and trying new things, today I'm bringing you a recipe inspired by our recent trip to Barcelona. Churros y chocolate is  a classic I've loved since I first visited the city aged fifteen on a Spanish exchange, but somehow it's never become a staple part of my baking repertoire at home. The reason, perhaps, being the fact that traditionally churros aren't baked, but deep fried.
This recipe is for anyone who feels ever so slightly scared by a pan of boiling oil, whether for health reasons or simply because you're fairly clumsy in the kitchen (yep, the latter would be me). Choux pastry is piped using a tiny star nozzle then baked until golden before being tossed in crunchy cinnamon sugar and dunked in hot chocolate sauce.

These churros are crisp without the grease, indulgent without  being excessively so and, accompanied by a thick, indulgent and entirely dairy-free chocolate sauce, are as close as you're going to get to a New Year, New You-type diet plan round here.
I hope you like the recipe. I hope you love the new site. Here's to chocolate, churros, amazing husbands and new beginnings.

Baked Churros with Maple Chocolate Sauce
Crisp strips of sugary pastry with a delicious dairy-free chocolate sauce. Whether baked or fried, churros are best eaten immediately to preserve the crisp texture so make sure you've assembled all your ingredients for this recipe and those you're planning to serve it to, nearby.
Ingredients
For the churros
40g wholemeal spelt flour
40g plain white flour
pinch salt
100g golden caster sugar, divided
2 tsp cinnamon
50g unsalted butter, cubed
150ml cold water
2 large free range eggs, beaten
For the chocolate sauce
250ml water
90g dark chocolate (minimum 70% cocoa solids), grated
1 - 2 tbsp maple syrup, or to taste
pinch fleur de del
Instructions
Preheat the oven to 200 degrees C. Line two baking trays with parchment paper. Sift the flours and salt over a third piece of parchment paper and set aside. In a large, shallow dish, combine 90g of the caster sugar with the cinnamon and set aside.
In a medium saucepan, heat the butter and water until the butter is completely melted. Bring to the boil then turn the heat down low and tip in the sifted flours and remaining 10g caster sugar. Beat with a wooden spoon over the low heat for about 45 seconds or until a ball of dough forms that leaves the sides of the saucepan completely clean. Remove from the heat and set aside for 2 minutes before beating in the eggs, a little at a time, until you have a thick, smooth mixture.
Transfer the choux paste into a piping bag fitted with a small star nozzle (remember that the dough will expand as it bakes) and pipe long lines (or squiggles and swirls, although these are a little more likely to snap or catch on the corners) onto the prepared parchment paper. Bake for 12 - 15 minutes or until crisp and golden.
While the churros are baking, make your sauce. In a medium saucepan, bring the water to the boil. Lower the heat, add your grated chocolate and cook for a couple of minutes, stirring constantly, until you have a thick, glossy sauce. Stir in the maple syrup, adding a little more or less to suit your taste (and remembering that the churros come drenched in sugar), then remove from the heat.
As soon as the churros are ready, remove from the oven and roll in the cinnamon sugar mixture. Serve immediately with pots of thick, hot chocolate sauce, to dunk.