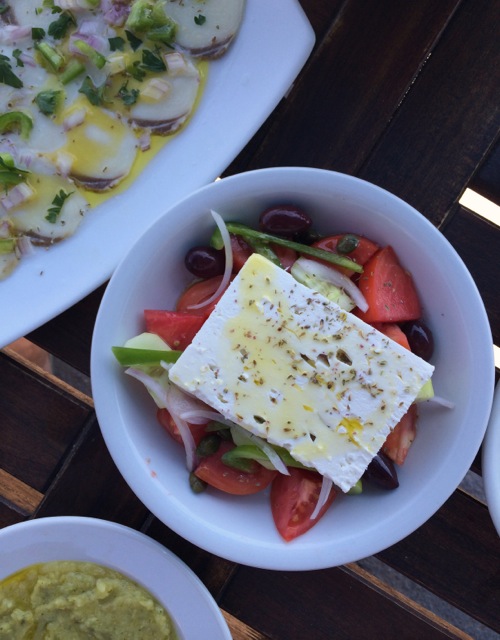 We spent the last week under alternating blankets of sunshine and stars on an island that, in places, resembles the moon. Barren, sun-baked yet somehow incredibly beautiful – with views across the Aegean sea which make you feel like you're standing at the edge of the world – Folegandros was exactly the antidote to everyday life we had both been craving.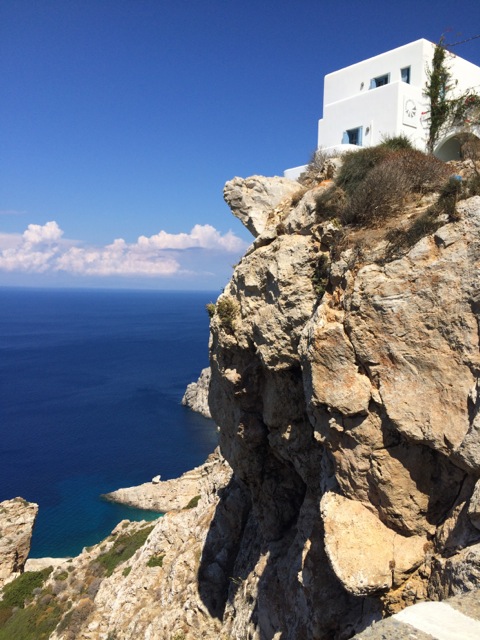 With little more to do than eat, drink and sunbathe, we relaxed into what felt like a restorative and natural routine – lying on the sand, swimming in the crystal clear sea then retiring to the shade to feast on fish freshly caught from the water we'd just vacated. Our days were dictated by little more than when we felt hungry and the movement of the sun and with so little electric light, the number of stars you could see at night was breathtaking. There was a lot of stargazing this holiday, marvelling at the wonders of the Earth we live on and the enormity of the solar system. All the sorts of things you forget when your day's made up of Underground, desk, computer, phone, TV.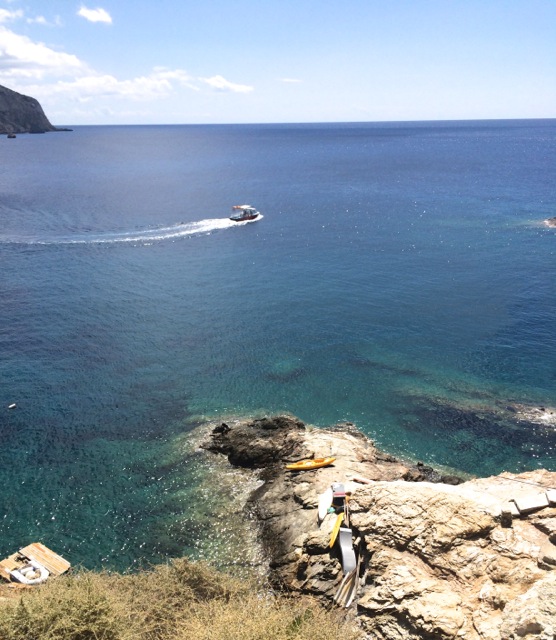 We ate simply but well on Folegandros. Fish, lamb and vegetables were local, bread homemade and the wine came in cool earthenware carafes with that holiday taste that can never quite be recreated when you get back home. Popeye would have been proud of the quantities of boiled local greens we hoovered down, accompanied by chickpea, aubergine or fava bean dips, tzatziki and the gorgeously garlicky skordalia. Not a day went by without some kind of deep-fried deliciousness – calamari, courgette fritters or little local fish – and every evening we treated ourselves to an ice cream or frozen Greek yoghurt made with the local, creamy goat's milk.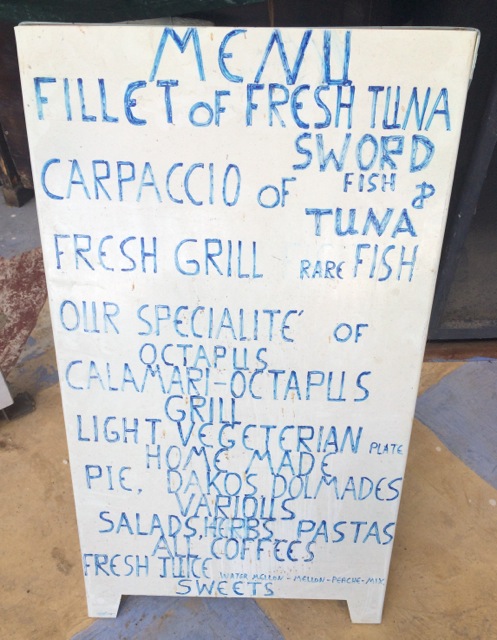 Beaches in Folegandros are the pebbled or shingly sort rather than tropical golden sands, but any slight discomfort underfoot is more than made up for by the crystal clear water. Most days we took a local fishing boat to different beaches, a number of which are only accessible by sea. Our favourite was overlooked by a single restaurant – Papalagi – built into the rocks above and I honestly don't know if there's a more beautiful dining spot anywhere in the world.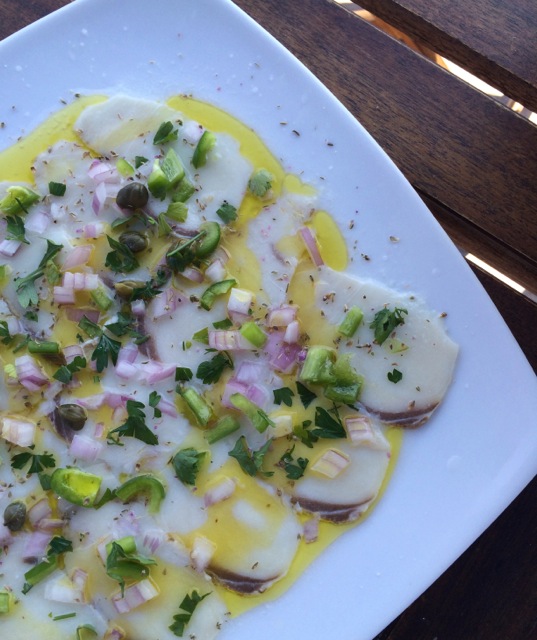 So we swam, sunbathed, ate, drank, read books, relaxed and fell in love with each others' company all over again. We marvelled at the enormity of the Earth beyond our daily London life, how much is happening that we never see or appreciate, how small and insignificant we are in the grand scheme of things and yet how much more special this somehow makes us feel.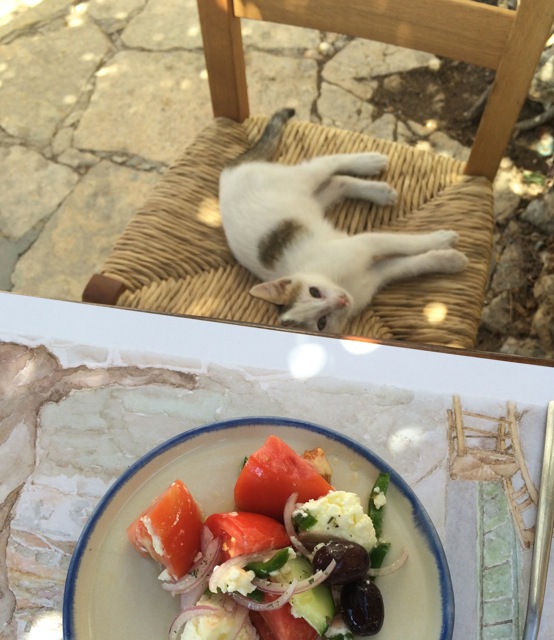 'Look again at that dot. That's here. That's home. That's us. On it everyone you love, everyone you know, everyone you ever heard of, every human being who ever was, lived out their lives. The aggregate of our joy and suffering, thousands of confident religions, ideologies, and economic doctrines, every hunter and forager, every hero and coward, every creator and destroyer of civilization, every king and peasant, every young couple in love, every mother and father, hopeful child, inventor and explorer, every teacher of morals, every corrupt politician, every "superstar," every "supreme leader," every saint and sinner in the history of our species lived there–on a mote of dust suspended in a sunbeam.' Carl Sagan.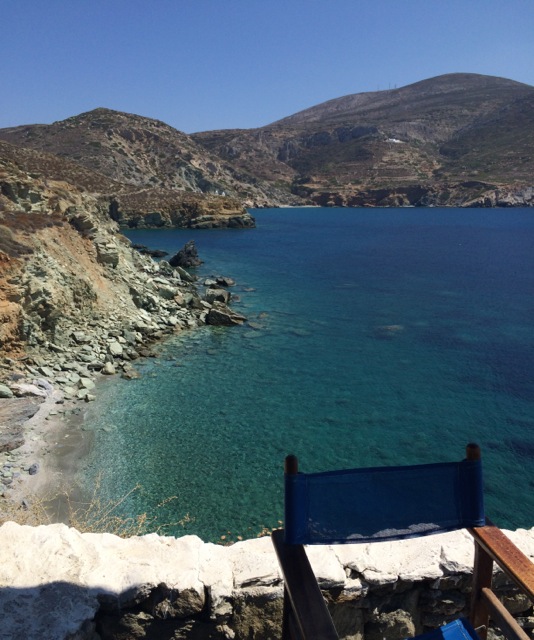 If you've not seen the photo Carl Sagan is referencing, Google Image 'mote of dust'. That little speck is Earth, Folegandros is the tiniest dot on that speck and we, with our wine and calamari, suntanned skin and stargazing tendencies, we're nowhere near being visible. The odds of any of this even existing are wildly stacked against, but somehow here we are. Whatever you're up to this week, take a few seconds to think about the wonder of everything around us: sometimes a holiday is all you need to put things back in perspective.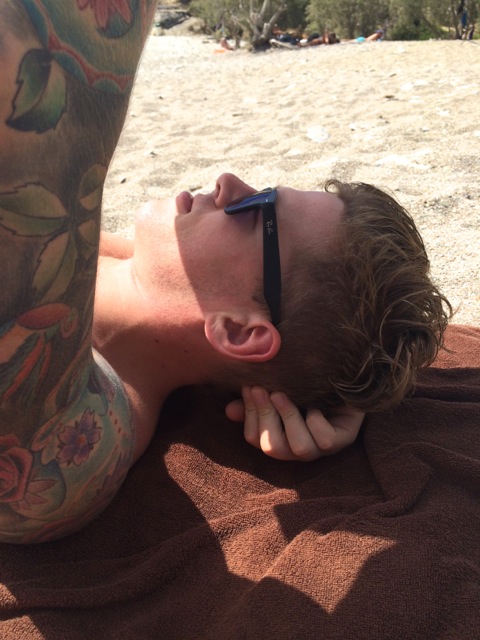 Now that I'm back from holiday and the book is nearly wrapped up (!), I'm planning to get back to my regular weekly recipe posts every Monday. And although I've not yet abandoned the flip flops and am desperately clinging on to every last second of summer, I've also started to compile mental recipe lists featuring galettes and crumbles, apples, plums, pumpkin and spice. Let's see if we can squeeze in a few more days of sunshine and I'll see you with something suitably autumnal next week. XOXO