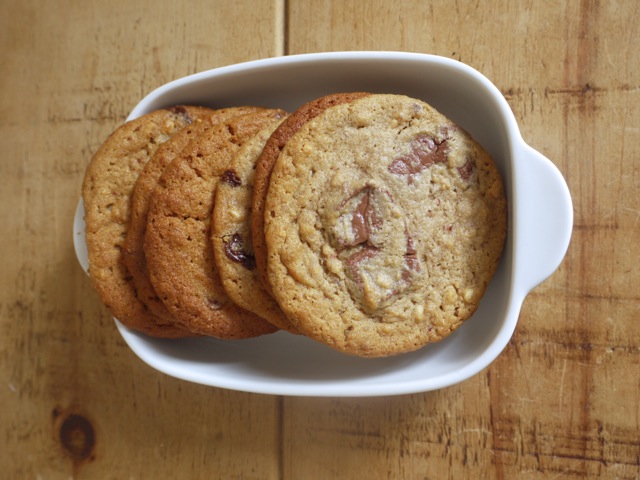 The last few weeks have been full of celebration. We're at that stage in life where everyone is turning thirty, getting married or engaged with the various drinks and parties and hen dos that go with it. In between all the socialising there's been little time for baking, so what I end up making tends to involve minimal time and effort for maximum results.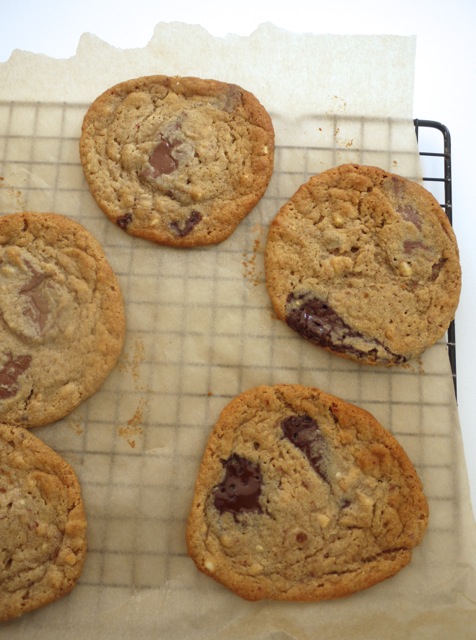 These cookies are the perfect low maintenance bake: quick to put together, easy to make and using the a simple set of store cupboard ingredients I always have to hand. They're a crowd pleaser too, as proven by their disappearance in less than 24 hours this weekend just gone (ostensibly a present to my mother-in-law for having us to stay, but I'm pretty sure Carnivorous Husband ate 80+% of them).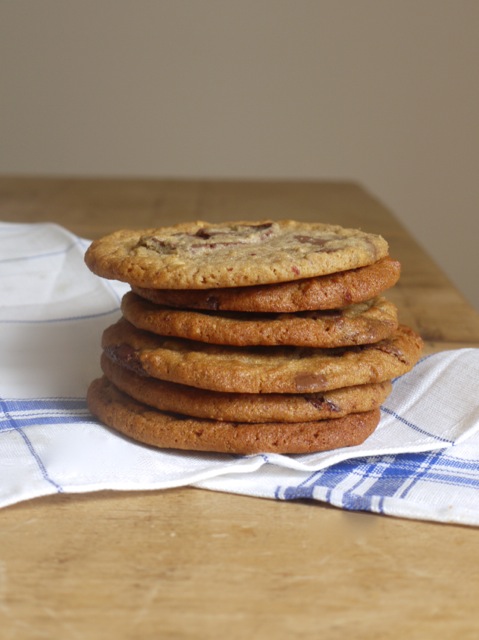 The recipe comes from Tara O'Brady's beautiful new Seven Spoons cookbook. I've mentioned it before (not yet tried this epic Walnut Oat Cherry Butter Tart Pie? What are you hanging round here for?) and it hasn't left my kitchen since landing on the doormat a month or so back. These cookies are the perfect example of a simple recipe made better by Tara's magic touch: these aren't just peanut butter cookies, these are Seven Spoons peanut butter cookies . . .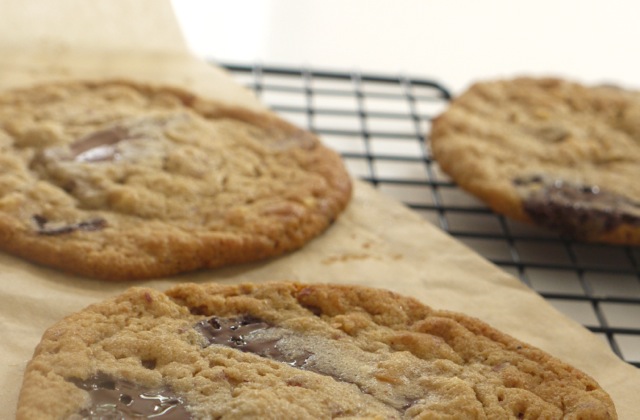 The only real tweak I made to the recipe was adding chocolate chunks (Sara mentioned this on Instagram and I couldn't resist) and omitting the the sea salt sprinkle on top (no real reason, I just fancied my cookies straight up sweet). The result is every bit as delicious as Tara suggests – if you're looking for an easy bake in the coming weeks, make these cookies. You're welcome.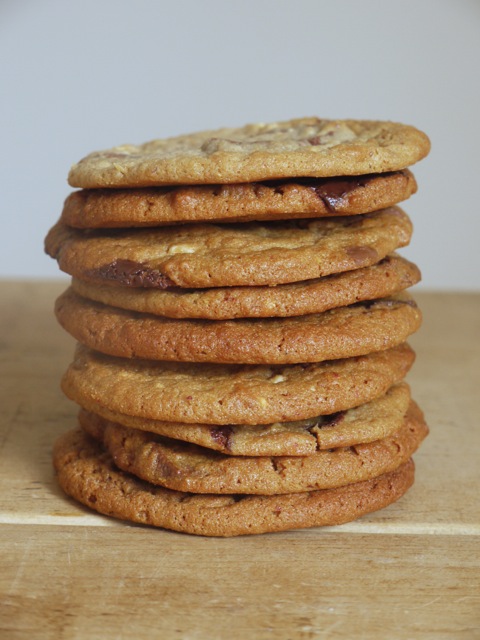 Wholemeal Peanut Butter Chocolate Chunk Cookies
Peanut butter cookies made with wholemeal flour, honey and a handful of extra chocolate chunks because I couldn't resist. I can't really describe them better than Tara herself: 'Chewy, tender-bellied and crunchily edged. Perfect.'
Ingredients
65g plain white flour
60g wholemeal flour
¾ tsp baking powder
½ tsp sea salt
200g chunky natural peanut butter
115 unsalted butter, softened
140g light brown sugar
70g granulated sugar
2 tbsp runny honey
1 egg
1 tsp vanilla extract
150g milk and dark chocolate, roughly chopped
Instructions
Preheat the oven to 175 degrees C. Line 2 - 3 baking trays with parchment paper, depending on their size.
in a bowl, whisk together the flours, baking powder and salt. In a stand mixer fitted with the paddle attachment, cream the peanut butter and butter until light and fluffy, about one minute.
Add both sugars and honey and beat on high speed for minutes, scraping down the sides as needed. Add the egg and vanilla, beating again to combine, then fold in the dry ingredients and chocolate.
Roll the dough into balls, about 2 tbsp each then place on a baking sheet and freeze for 10 - 15 minutes.
Divide the balls among the 3 prepared baking sheets, spacing about 5cm apart to allow for spreading. Bake 14 - 16 minutes until the cookies are crisp and golden and the edges but still slightly soft in the middle.
Allow to cool on the trays for 5 minutes before transferring to a wire rack to cool completely. Will keep in an airtight container for several days (if they last that long!).
Notes
I found the dough a little too soft to shape into balls immediately so popped it in the fridge for 15 minutes to firm up before doing so. I also found they took closer to 14 minutes in my oven for crisp, tender-bellied perfection. And I added the chocolate chunks. Otherwise the recipe is true to Tara's!