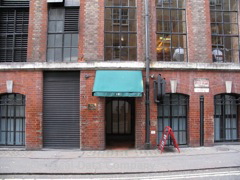 Gone are the heady days when publishers' lives were filled with star-studded outings and long boozy lunches. In fact, they're so long gone that in the short time I've been working in the industry, I've become more accustomed to a packed lunch at my desk than the kind of liquid lunches publishing history is made of.
Having said that, occasionally we do get to wine and dine our authors, and this week I was taken to Joe Allen. The last time I went was with my family as a teenager after seeing a West End show. I remember the bustling atmosphere, even as we sat down to eat after 10pm, the sultry lighting, friendly staff and generous servings, variously accompanied by giant stacks of fries or slabs of ice cream. Maybe the short supply of media types willing to splash their cash on a daily basis has had an effect on Joe Allen, because this time round, it seemed to have lost a little of its magic.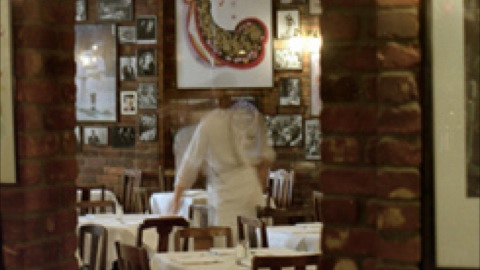 Tucked away in a darkened basement on Exeter Street, this restaurant has been a theatre-land stalwart since before I was born. The walls are lined with vintage posters, famous faces and wooden panels, and these, combined with the soft lighting and pianist tinkling away in the corner, make for a fun, if a little tired, dining room.
We were  party of nine, arriving for dinner on a quiet Monday night. Ushering us through to a cosy corner, the waiting staff were friendly and helpful, and quickly brought water, wine and bread to the table. The bread basket was nothing to write home about (by strict little loaf standards. . .), but crusty and doughy enough in equal measures to keep me happy until our starters arrived.
The menu at Joe Allen is pretty comprehensive. Divided into Starters, Salads & Eggs for those in more of the mood for brunch, Main Courses, Sides and Desserts, there's something for everyone. Gilt head bream and tiger prawns sit alongside chilli con carne, mutton cobbler and macaroni & cheese and, as you might expect from such variety, some dishes do better than others.
A starter of (very little) asparagus, red onion and blood orange was little more than a glorified side salad. The ingredients, while all nicely flavoured and fresh, lacked an extra something to bring the whole dish together. A chorizo starter was better, although the tiny nuggets of sausage again made this feel more like a side dish than the star of the show. Caesar salad and a plate of gravadlax did what they said on the tin; not hugely exciting, but nothing to complain about either.
Mains fared much better, although my overall feeling was that the food was good, not great, for these kind of prices. Grilled gilt head bream fillet was delicate, and the accompanying caper and parsley salsa was a nice contrast to the crispy skin. Four oversized chips served in a line seemed a bit pretentious for a restaurant that serves steaming bowls of chilli in simple white bowls, but they tasted pretty good. The chilli con carne with plain boiled rice was warm, comforting home-style food, and, in the restaurant's favour, the lower price point of £9.50 showed that they recognised this. The Barnsley chop was huge, while a plate of scallops were tiny, which made me glad I hadn't opted for this main (I adore scallops but the raisin couscous had put me off – raisins and savoury, I just can't do it).
After a large meal and a very small pause, we barely had time to undo our top buttons before the waiter was ready to take our order for dessert. It being Monday, and the start of the working week, we quickly made our decisions, although a slight breather before pudding would probably have been a better idea.
Puddings were giant, and mostly enjoyable in the sickly sweet way that giant puddings are. We demolished sticky pecan pie, a chocolate brownie and an enormous dish of rich chocolate and vanilla ice cream, but were left bemused by a slightly bizarre cheesecake. Snowy white, and with hardly a hint of crumb or crust, it tasted of very little apart from a strange salty tang. It felt like the kind of dish that might once have been a signature, but now fell slightly short of the mark in a restaurant that is just a bit long in the tooth.
Joe Allen's New York brasserie style comfort cooking was never going to win it any major awards. And situated in the heart of theatre-land, its pretty much guaranteed that it will continue to pull in a reliable stream of fairly uncritical punters. This is a  restaurant that's more about the atmosphere, history and location than incredible food, but I don't think that should mean they become complacent. My meal was ok. The company was good. But at knocking on £40 a head without wine, I think it could be better.