Having recently eaten some good, but slightly unremarkable, focaccia at Gemma Tuley's Fulham restaurant, Manson, I wanted to have a go at making my own. I'm loving The River Cottage Bread handbook at the moment so I decided to trust Daniel Stevens' detailed directions and advice and give his recipe a go.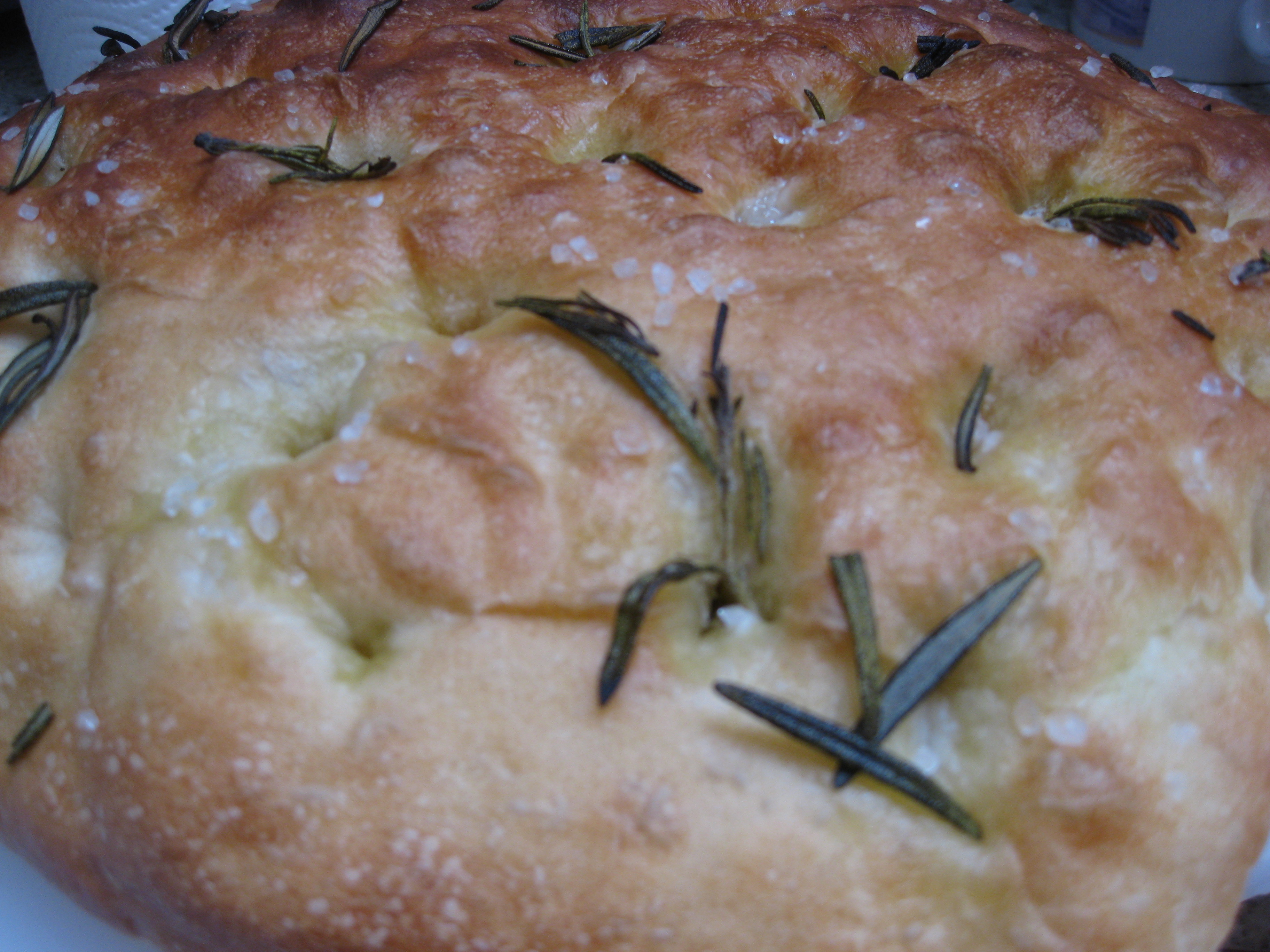 My reward was an incredible pillow of beautiful golden bread, studded with salt crystals and speckled with crispy baked rosemary. The shallow finger wells collected little pools of fruity olive oil, and a good ten minutes of dedicated kneading resulted in a slightly aerated dough with little air pockets that made this really look and taste like the real thing. Focaccia seems to be a pretty forgiving dough, so if you're fairly new to bread baking, I definitely recommend giving this a go.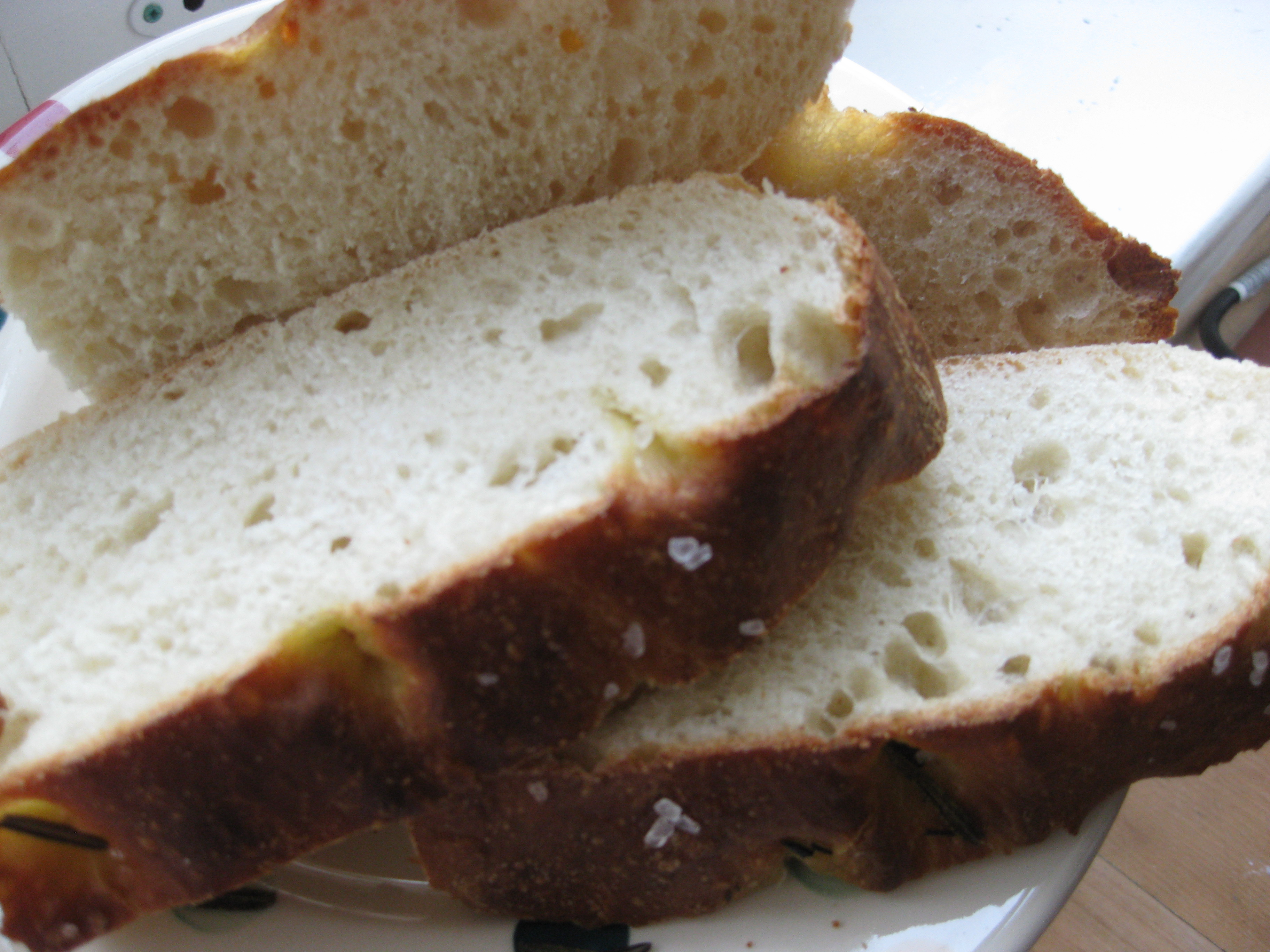 Homemade Italian Focaccia (quantities adapted slightly from The River Cottage Bread Handbook to match my 7g sachet of yeast)
700g strong white bread flour, Italian '00 if possible
7g powdered yeast
14g fine salt
480ml warm water
1 tbsp olive oil plus extra to finish
3 sprigs rosemary, leaves stripped and torn
A good sprinkle of flaky sea salt
Combine the flour, salt, yeast and water in a bowl to form a sticky dough. Add the oil, then turn the dough onto a clean worksurface and knead until smooth and silky, around 10 mins.
Shape the dough into a round and return to the cleaned bowl. Wrap the bowl in a black bin liner and leave to rise in a warm place for around an hour (this weekend it was so gorgeous I left mine to rise in the sunshine in the back garden). When it has doubled in size, tip it onto the work surface and press into a rough rectangle.
Place dough on a lightly oiled baking tray and leave to rise, wrapped back up in the bin liner, for around 30 mins.
Preheat the oven to 250 degrees C/Gas Mark 10 (basically the highest your oven will go).  Press your focaccia dough all over with your fingers to form deep pockets (these will later collect all that delicious oil, salt and rosemary), drizzle with olive oil and scatter with salt and rosemary.
Bake for 15 mins, then turn down the heat if browning too quickly, and bake another 5-10 mins.
Remove from the oven and leave to cool slightly. Focaccia is delicious served warm, so if you don't want to eat it straight away, you can reheat in a low oven just before serving.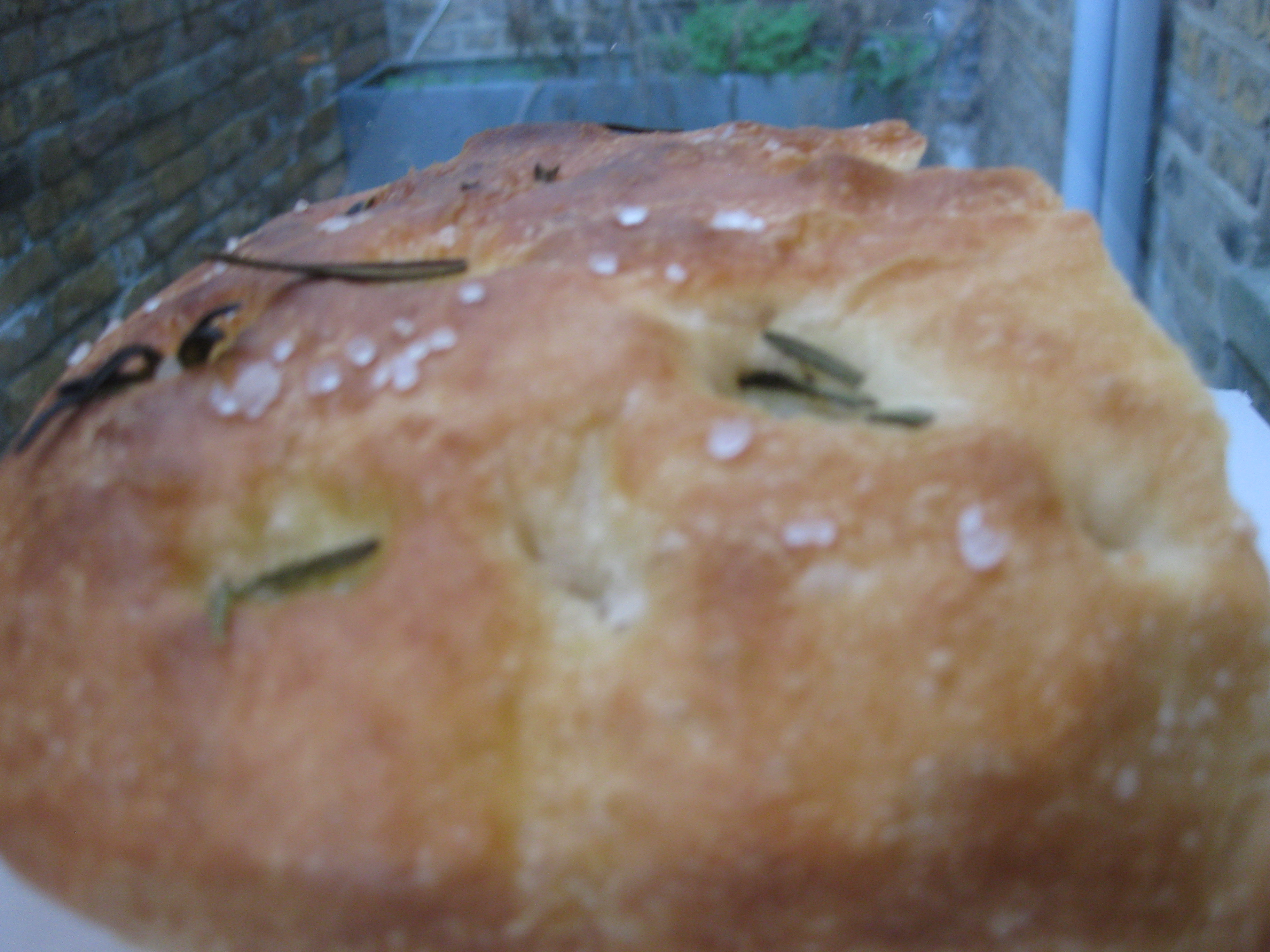 Once you've made this recipe you'll come back to it time and again. You can also try different toppings and flavour combinations – I love it with black olives and a sprinkling of red onion which caramelizes beautifully on the golden crust. Or sundried tomatoes distributed through the dough, different pestos and cheeses, nuts, thyme instead of rosemary . . . the list in endless.