If I had a pound for every blog post out there talking about the quest for the perfect chocolate chip cookie, I would be a very rich girl. Whether it's UK bloggers lamenting the lack of good recipes using metric measurements, or US bloggers vying for the ultimate 'just like Mom used to make' recipe, chocolate chip cookie chat is definitely a hot topic on the baking agenda of the blogosphere.
And not without good reason. There's nothing better than sinking your teeth into  thick, chewy American style cookie, soft in the middle, crispy and buttery round the edges and studded with bittersweet chocolate chunks. We're not talking 'dip in your tea and nibble appreciatively' British style biscuit here, this is a full on super-sweet indulgence best enjoyed with a complete lack of guilt and a giant glass of cold milk.
I recently made a batch of crispy chewy oatmeal and raisin cookies. Oaty, nutty and possibly slightly too worthy, they got me thinking about other cookie recipes to try, and I began my search for the ultimate chocolate chunk cookie recipe (note chunk, not chip – I think coarse chunks of chopped dark chocolate deliver a far superior cookie to their oversweet, manufactured cousin the chip).
After trawling my favourite foodie sites, I was delighted to find that a fellow blogger had already done most of the legwork for me. I arrived at Signe Johansen's blog Scandilicious through Google search and will definitely be returning to read her simple, beautiful compilation of recipes and foodie thoughts. Signe's 'quest for the perfect chocolate chip cookie' took her on a journey through baking books and tweets, allowing her to incorporate tips from various seasoned bakers while weeding out any strange or over-the-top suggestions. The result is the recipe below, which I knew I had to try as soon as I saw her pictures.
Chewy, crispy and not too sweet, with delicious chunks of dark chocolate, this one's going straight to the top of my ultimate chocolate chunk cookie leader board. I think it's going to be hard to top, but if you think you've got a better recipe I'd love to try it out so please get in touch!
Incredible giant chocolate chunk cookies (adapted from Signe Johansen's blog)
Ingredients 
300g plain white flour
1/2 tsp baking powder
1/2 tsp sea salt
180g salted butter, melted
200g light brown muscovado sugar
100g golden caster sugar
1 large free range egg plus one large yolk
2 tsp vanilla extract
150g dark chocolate, 70% cocoa minimum, coarsely chopped
Method:
Preheat the oven to 160 C/ 325 F. Line two baking sheets with baking parchment and set aside.
Sieve together the flour, baking powder and sea salt.
Whisk together the melted butter together with both sugars, then add the large egg, extra yolk and vanilla to the mixture. Whisk again and then stir in the flour, beating the mixture for a few minutes to stretch the gluten strands.
Fold in the chocolate chips. The cookie dough should feel almost dry now, like a solid lump (Signe says she wishes she'd taken  photo at this stage to illustrate, so I made sure I did!) – don't let the chocolate chips cluster in just one part of the dough.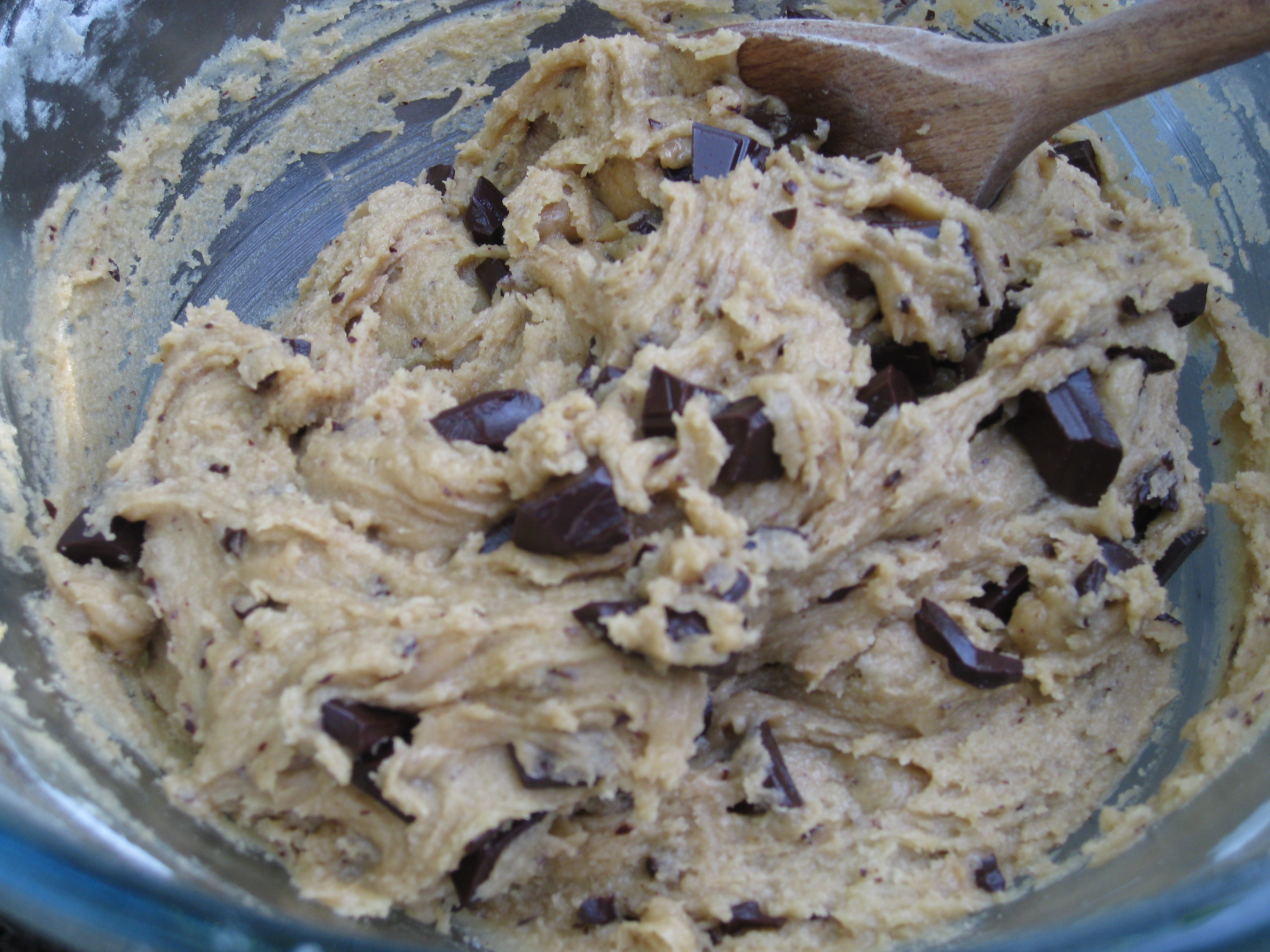 Opinion varies on whether to chill the dough before baking or just cook straight away. I was hungry and impatient, but it was a pretty large batch of dough so I divided the mixture in two, chilling half and spooning the other half onto the tray with an ice cream scoop (To note, ice cream scoop sized dough balls result in HUGE cookies!)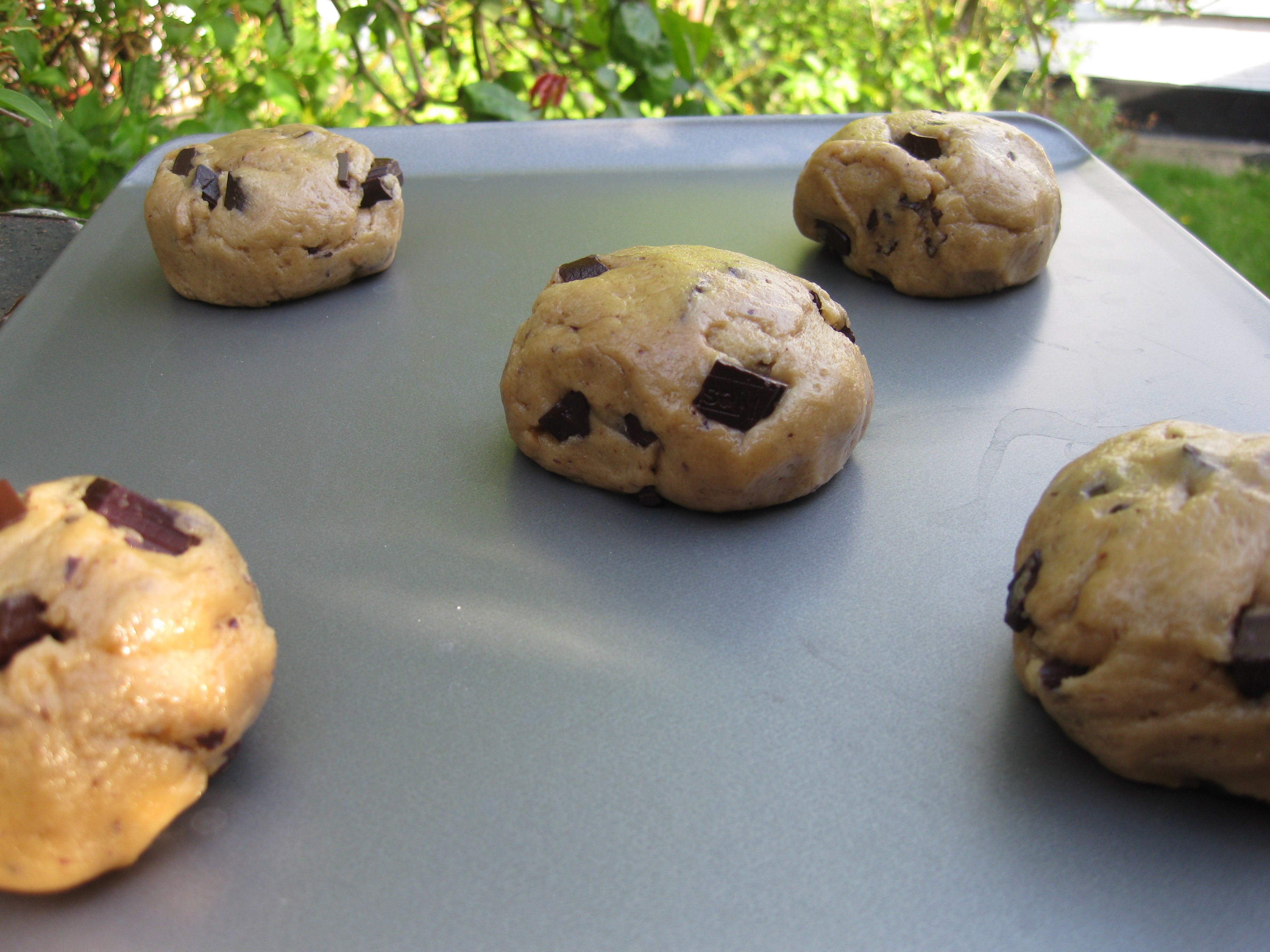 Bake for 15-18 minutes until the cookies are golden, the sides feel firm-ish to the touch but the centre is still quite soft. This is really important as you don't want to overcook and lose that slight squidgy texture.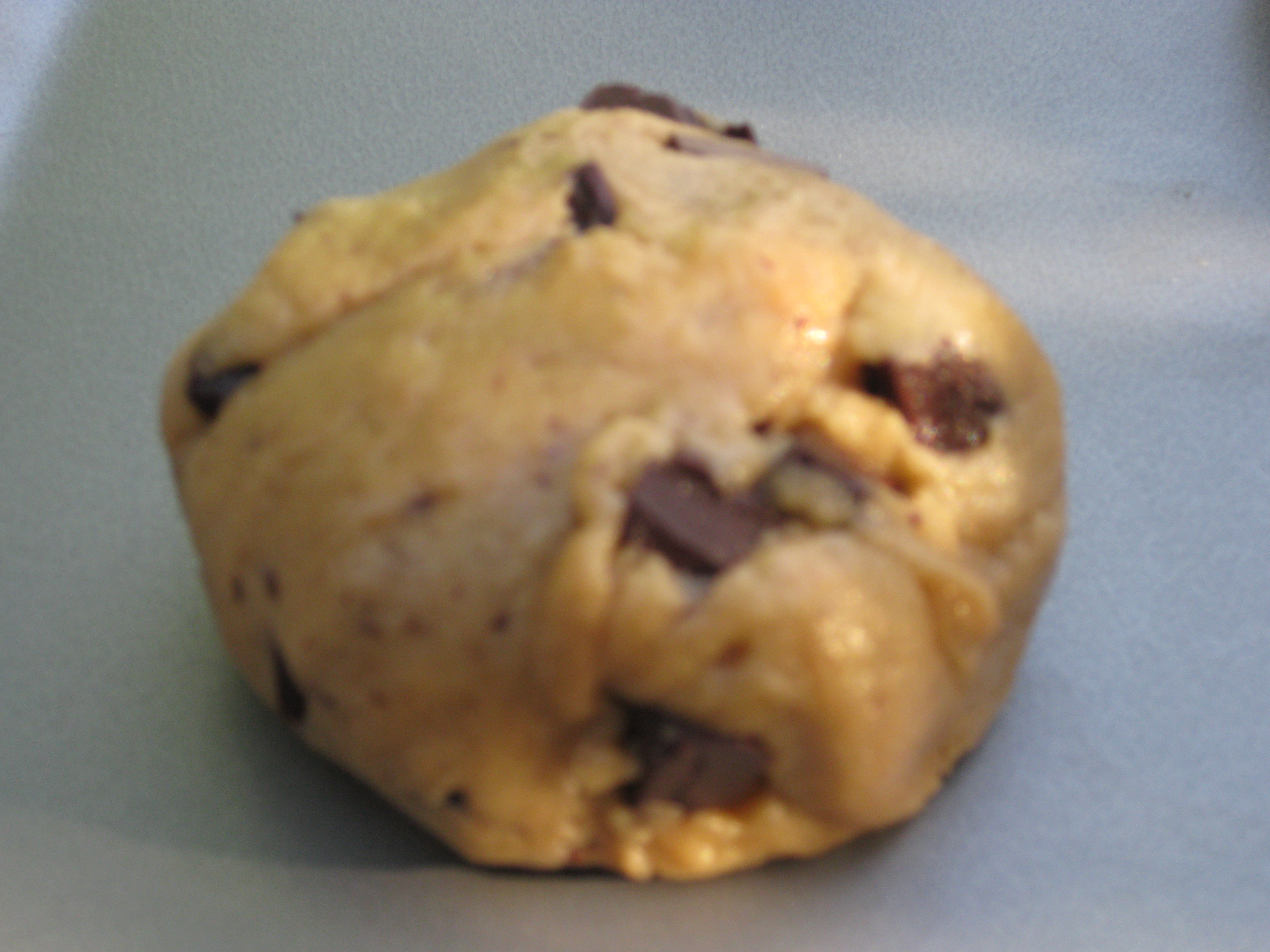 Cooling the cookies on the baking sheets helps keep their chewy consistency so I'd definitely recommend this.
Once cooled, remove from the tray and serve or store in an air tight container. Yum.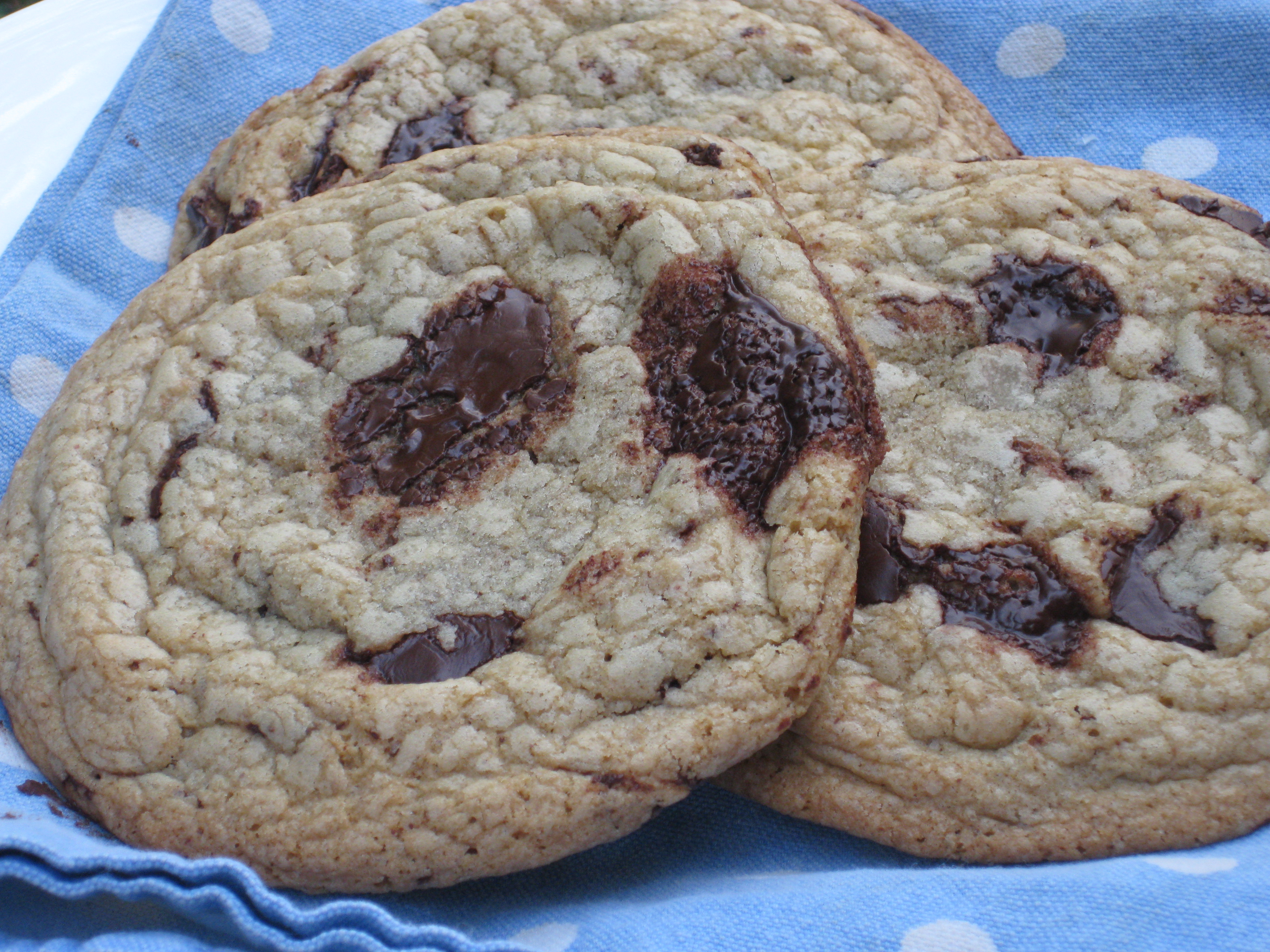 (I made the second batch of chilled dough into smaller cookies, about 2/3 of the size of the palm of my hand. The resulting cookie was chewier and crispier but I'm not sure if this was down to size difference or the fact that I'd chilled it. Not a very fair experiment but I'm not that fussed, both batches tasted incredible)