A couple of weeks ago I posted the results of my recent quest for the perfect chocolate chunk cookie. Dense and chewy, with a crispy edge and large dark chocolate chunks, these giant cookies were definitely up there. But perfection isn't a finite thing, and yesterday I decided to rustle up another batch, using the lessons I'd learnt from last time round.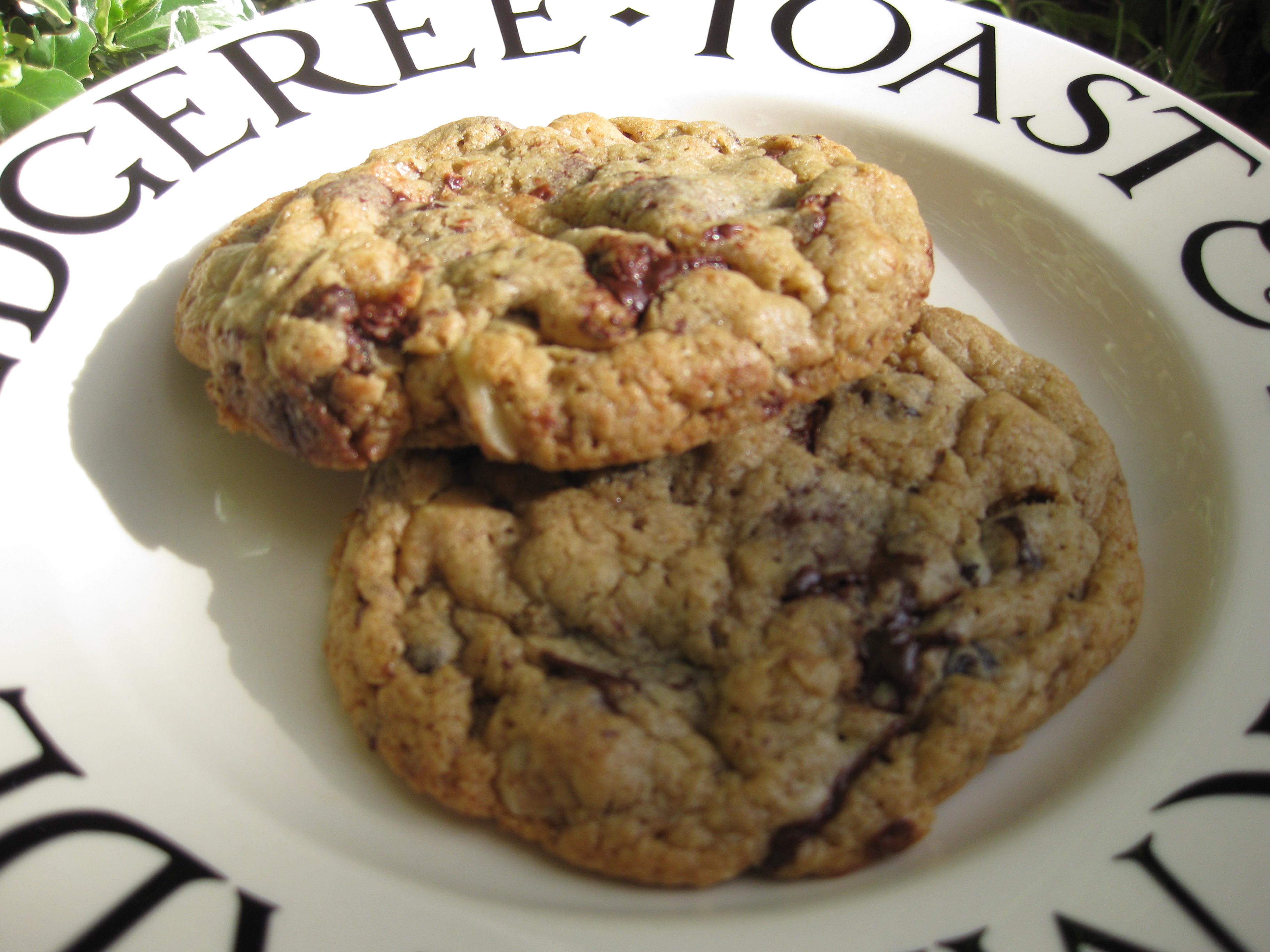 These are the result. I substituted plain white flour with light brown – the extra husk gives the cookies a slightly denser, nutty flavour. I also upped the brown sugar content and increased the butter ratio ever so slightly to create a a richer, fudgier result. Finally I reduced the amount of chocolate and added a third raisins and a third walnuts. I'm loving the crunch of nuts in my cookies at the moment, and the raisins add a plump juiciness that just cuts through the rich dough and chocolate. Perhaps not a cookie for absolute chocolate purists, but right now they're top of my list.
Incredible chunky chocolate, raisin & walnut cookies
Ingredients 
150g light brown flour
1/2 tsp baking powder
1/2 tsp sea salt
100g butter, melted
100g light brown muscovado sugar
25g caster sugar
1 medium free range egg plus one medium yolk
1 tsp vanilla extract
50g dark chocolate, 70% cocoa minimum, coarsely chopped
50g walnuts
50g raisins
Method:
Line a baking sheet with baking parchment and set aside. Sieve together the flour, baking powder and sea salt.
Whisk together the melted butter together with both sugars then, continuing to whisk, add the egg, extra yolk and vanilla to the mixture. Stir in the flour with a wooden spoon, beating briefly. Fold in the chocolate chunks, walnuts and raisins until well incorporated.
Set the oven to 160 C/ 325 F and pop the dough in the fridge while it pre-heats. This will firm the mixture up slightly and make it easier to shape your cookies.
After 15 mins or so, remove the mixture from the fridge and shape into around 8 large rounds. Squash them slightly onto the tray and allow plenty of space between each as they will expand as they cook.
Bake for 15-18 minutes until the cookies are golden, the sides feel firm-ish to the touch but the centre is still quite soft. This is really important as you don't want to overcook and lose that slight squidgy texture.
Cool the cookies on the baking sheets. This will help to give them a gorgeous chewy texture.
Stored in an airtight container these cookies will keep several days – if you can make them last that long!