Barcelona is a foodie haven. Sandwiched between the mountains and the Mediterranean, its menus combine the very best of land and sea; from tiny mouthfuls of tapas to huge plates of paella, there's enough to keep even the greediest of gastronomes happy. Variety is the order of the day, and spontaneity a must – there's nothing more fun than diving into a random bar for a plate of pinxtos and cheap copa of cava.
That is unless you want a table at Albert and Ferran Adrià's latest venture, Tickets. Promising a quirky, fun-fuelled adventure through food at pretty sensible prices, this new restaurant is a far cry from the cloistered temple to gastronomy that was El Bulli, and is currently, quite literally, the hottest ticket in town. When I went online a couple of months ago hoping to book a table for our trip, the system was pretty much blocked out to the beginning of July.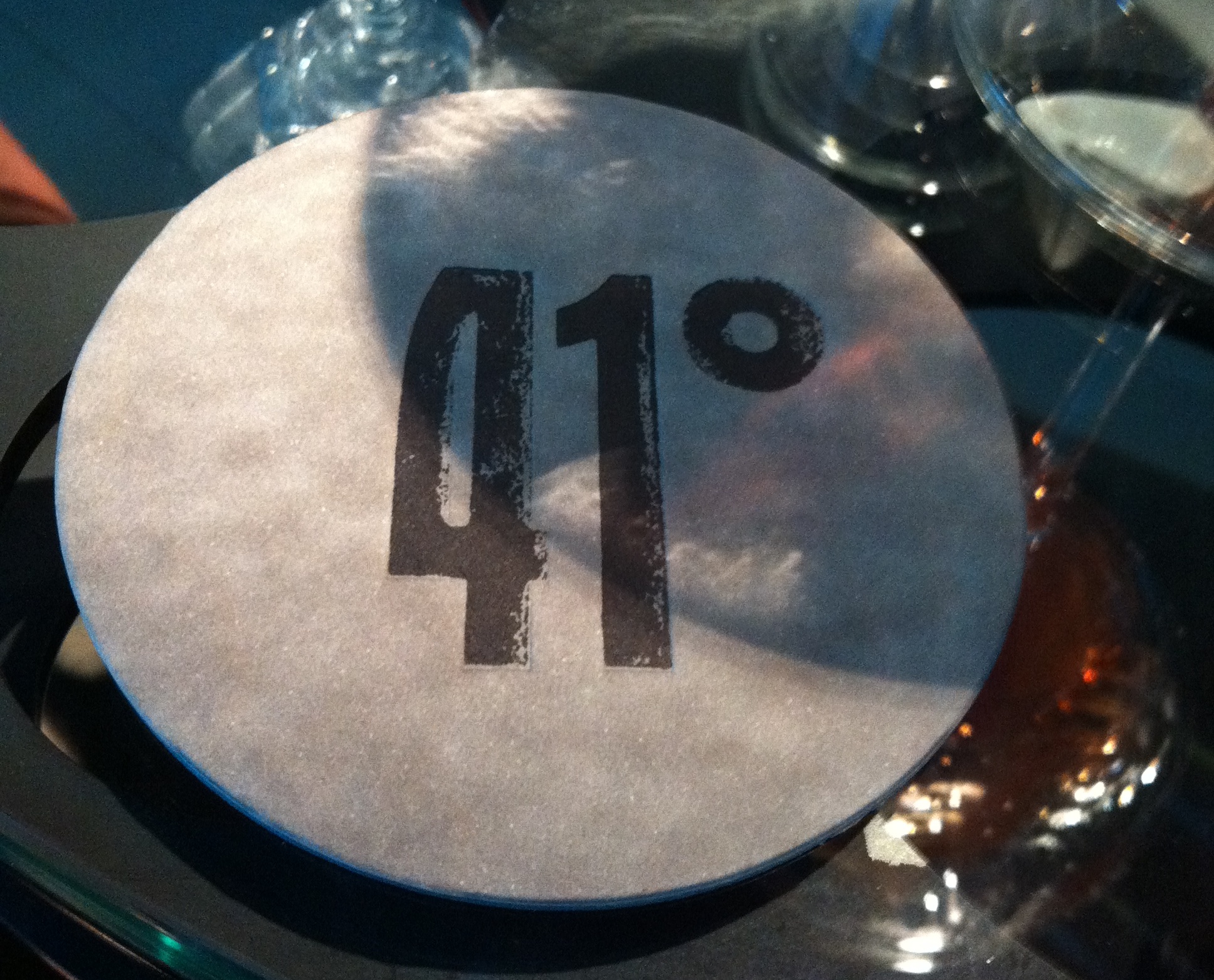 Not to be disheartened (plenty more foodie fish in this city…), I made a booking at 41°, the adjacent cocktail bar which also dishes out bite-sized snacks including El Bulli's 'spherical green olives' (olive puree held together by sodium alginate). My plan was for Carniverous Boyfriend and I to have a couple of drinks, try some of the crazy concoctions, then pop round the corner to eat at Lolita Taperia, a tapas bar on the site of the former Inopia, and highly recommended by fellow food blogger Sabrina Ghayour.
Unfortunately, the evening we wanted to visit, Lolita was shut for the festival of San Juan. Still not disheartened (it's hard to be in a city this bright and buzzy), we settled down to cocktails in 41°, accompanied by those famous olives. Served in single silver spoons, these wobbly green spheres burst in your mouth to deliver a fresh, briney shot of olive with a smooth salty kick. Fun, inventive and theatrical, they perfectly showcase the Adriàs' approach to food.
The menu of 'snacks', oysters and caviar in 41° is extensive, but you could bankrupt yourself pretty quickly if you tried eating (as some people evidently were) enough tapas to constitute a meal. As our second round of cocktails drew to a close we sadly eyed up the little plates of food appearing around us and resolved to make a booking at Tickets well in advance next time we were in Barcelona. However moments later luck (and a little bit of Spanish speaking) seemed to be on our side when, as we stood to leave, our beaming waitress pulled us to one side. She'd had a word with the restaurant manager on our behalf, and would we like to eat in Tickets? Big smiles all round.
From the moment you arrive, Tickets is an experience like no other. This is the embodiment of the Adrias' 'vida tapa' – gastronomy as a way of life, of understanding food, and of involving the diner in the theatre of everything they eat. A doorman dressed in top hat and circus master's outfit ushers diners behind a red rope and under rows of theatre lights into their section of the restaurant. Each area is based around a kitchen station, from the Willy Wonka-esque dessert bar with candy-floss-festooned trees to the open seafood section decorated with wavy tiles, clean lines and curved white tables. This is where we sat, with a view of the whole restaurant, and bustling kitchen which seems to house almost as many chefs as diners.
Hoping it would stand up to the assault of different flavours we were about to taste, we ordered a bottle of reasonably priced Muga rosé then began the important process of deciding what to eat. The menu is divided into short sections, intended to be eaten in that order; Snacks, el Picoteo (nibbles), Jamón, Oysters, Xuxis (or mouthfuls), little tapas from land and sea, desserts and drinks. Everything sounds delicious and each dish has an element of the unknown, confounding your expectations and bringing surprise and excitement to every mouthful.
A dish of little fried fish, so common on the Barcelona seafront, comes as wafer thin crisps dusted in seaweed powder and wrapped in a newspaper cone. Whole fish skeletons reminiscent of a cartoon cat's dinner nestle together with crackly strips of octopus and sesame encrusted rings of calamari more beautiful than jewelry. An 'air baguette' of jamon iberico transforms a breadstick into a delicate hollow pastry which crumbles against melt-in-your-mouth pork  fat and tiny endive hearts appear on a bed of ice, the temperature magnifying the crisp, fresh flavour.
For some dishes, the artistry is as much in the preparation as the flavours themselves. A stunning dish of mashed avocado and spicy loin of cod was prepared tenderly at the table by a friendly tattooed chef who shared his stories of partying at Sonar Festival with us (we'd also been the week before). The mash receives what seems to be a specific number of turns with a large silver spoon before a blanket of opaque fish is tucked over the top and we're allowed to dive in. We watch another couple's mushroom dish arrive in a giant inflated plastic dome which, when burst, releases the most incredible earthy vapours around the room, and decide it's definitely one to try next time.
Some of the food is more straightforward. Crystal bread with tomato is simply a beautifully light version of the Catalan obsession, pa amb tomaquet, and rabbit ribs with foamed garlic mayonnaise are just that; incredible, and perfectly battered, but less confusing to the senses. Empanada gallega is light and delicate, a cauldron of stewed cod rich and unctuous, and the clean flavours of the wonderfully fresh oysters are allowed to shine through without any tampering. Mollete bread with dewlap (the flap of skin under an animal's neck…) sounds pretty unappetizing, but the fluffy white sandwich of melting meat is an unmissable version of  fast-food taken to another level (much like Carles Abellan's McFoie Burger at Tapas 24).
We wanted to get down to the beach by midnight to watch the San Juan fireworks, so opted against the incredible selection of desserts on offer. However next time I definitely want to try the candy floss trees, intriguing 'cool-hot chocolate fritters' and ice cream from the roaming cart, complete with ice cream van chimes (!). Instead we finished the meal with 'liquid ravioli' made with payoyo cheese from Cadiz. Appearing on a silver spoon in the same way as the olives, and topped with a single crispy crouton, the raviolo resembled a perfectly boiled quail's egg. When slipped into your mouth it bursts in an explosion of cool, cheesy flavor followed by the crunch of bread. It's rich, surprising, and the perfect end to a fabulous meal.
The whole feast came to around 120 Euros for 2, including a bottle of rosé, glass of dessert wine and coffee, plus a generous tip for the lovely waitress who found us a table. The food is delicious, service efficient and charming and the atmosphere second to none. Next time you're in Barcelona, make sure you book your Tickets in time.