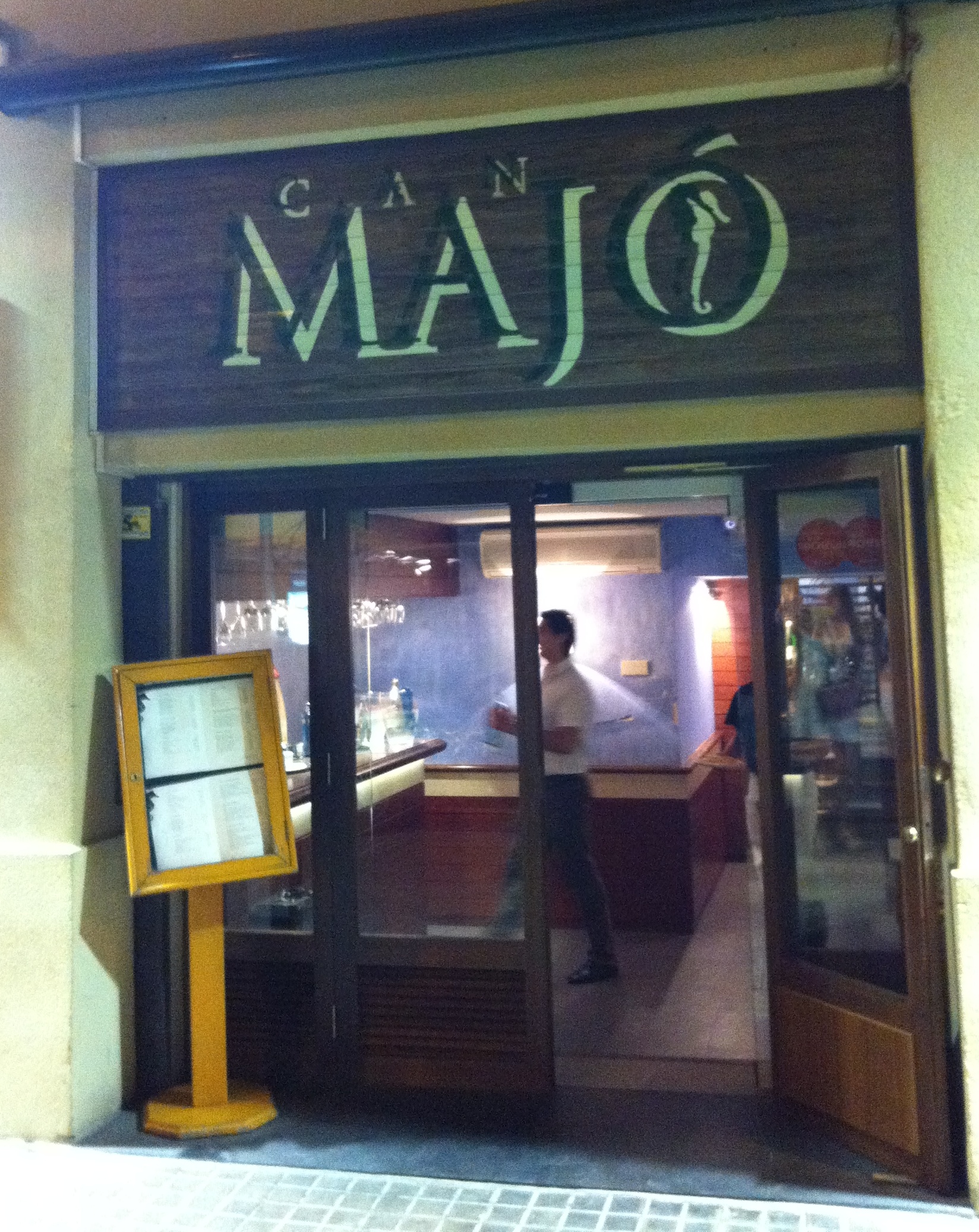 A couple of months ago Carniverous Boyfriend's Dad took us skiing in Baqueira Beret, a Spanish resort in the Aran Valley. Out for drinks in a local bar one night, we bumped into a group of snowboarders from Barcelona (about five hours south of the resort) and decided to pick their brains before our upcoming visit in June. When I asked where to go for great seafood and paella, their answer was unanimous; Can Majó.
Once back in the UK, I got stuck into Google, downloaded a couple of Barcelona apps, and started researching what and where to eat. Remembering the Spaniards' advice, I looked up Can Majó and discovered that it's something of a Barcelona institution.
Situated in a picturesque spot on the Barceloneta seafront, this seafood restaurant is a firm favourite with visitors and locals alike. The secluded terrace looks out over the beach; busy and bustling by day, sweeping and romantic at night, while the menu showcases the best of the Mediterranean; plates of incredible shellfish followed by rich paellas and beautifully fresh fish.
As is often the case with popular, pricey institutions, Can Majó receives a mixed press. Travel guides are pretty unanimous in their praise, but a number of online reviewers find reason to complain. Possibly they feel that the restaurant doesn't deliver against expectations, or perhaps it's simply a gut a reaction to the fairly hefty prices (although Can Majó isn't the same level of quality, I'm thinking of somewhere like London's River Cafe which provokes such a mixture of adoration and criticism). No doubt about it, the food here is pretty expensive, but you're paying a premium both for the stunning location and the exquisitely fresh seafood. Peoples' experiences may vary, but on this occasion we found it absolutely worth the expense.
The menu is divided into hot and cold starters, shellfish, main fish dishes, paellas and fidueas, and daily specials. Classic calamares a la romana and tiny fried whitebait sit alongside more unusual offerings such as spiny sea snails and sea cucumber, followed by rich paellas and huge platters of fish and shellfish. The wine list is Spanish, with some sensible options at the lower end of the budget, as well as a couple of daily recommendations at less than 12 euros  bottle. Not bad when you can spend over twice that on a main dish alone.
While we tried to decide which fishy deliciousness to order from this extensive list, a bowl of olives and the ubiquitous pan con tomate arrived at the table. Olives were packed with salty goodness; a mixture of glossy, fat and juicy, and tiny, nutty varieties, nestled together with pearl-like picked onions. Pan con tomate was rich with beautifully ripe tomato – whoever was in the kitchen had a lighter hand on the olive oil and salt than other places we'd eaten at on this visit, but the resulting flavour was cleaner and fresher because of it.
A dish of tiny grilled scallops on the shell caught our eye, so we kicked off by sharing them and a plate of classic calamares a la romana. While squid appeared piled high with a wedge of lemon, the scallops were a daintier affair – tiny molluscs sprinkled with sea salt and delicately displayed on a strip of slate. Both packed punches of wonderfully fresh flavour – the flesh of the squid strong and succulent against a crisp, light batter and scallops rich and firm with a fishy kick of creamy coral.
We'd heard great things about the rice dishes at Can Majó, so to follow we ordered the special seafood paella for two. At a whopping 20 euros per person, it doesn't come cheap (standard paellas sit closer to the 15 euro mark), but when the huge pan arrived, piled high with glistening crustacea, any thoughts of cost disintegrated in a wave of hunger and excitement.
You can find paella in pretty much every restaurant and bar in Barcelona, but finding a good one is a little trickier. A favourite trick is to skimp on ingredients; there's nothing worse than a big bland pile of rice masquerading as the real deal. Can Majó came up trumps on this front, the paella packed with juicy prawns, mussels, clams and strips of tender squid, all topped off with giant langoustine to crack and suck to your heart's content. It also featured a wonderful socarrat – the trademark golden, caramelized crust on the bottom of a paella pan. Verging on burnt, with nutty, toasted undertones, this is said to be the ultimate sign of paella perfection. My photo really doesn't do the dish justice – probably because I only remembered to take it half way through my excited assault on the plate . . .
As we finished up the remaining grains of rice, I thought back to the recommendation we'd had from those Spanish snowboarders several months before. Was it the best seafood and paella in Barcelona? There are so many places to eat in this amazing city that I'm not sure I could even begin to answer that question without taking up residence for several years (and kissing goodbye to my wallet and waistline). But for beautifully cooked dishes using simple, fresh ingredients in an incredibly romantic setting, it's certainly a top contender.
Do you have a favourite Barcelona haunt? Would you take the fresh simplicity of somewhere like Can Majó over the crazy concoctions of somewhere like Tickets? If you have any recommendations I'd love to hear your thoughts – I'm already planning my next trip . . .