A word of warning before you embark on reading this post: if you've given up chocolate and sweet stuff for Lent, you might want to look away now. Recent events suggest I have a tendency to lead people into temptation . . .
Last week I met one of my school friends for dinner after work. There were supposed to be three of us, but my other friend ended up stuck in the office in the way, it seems, that only lawyers can, unsure whether more paperwork might come through from the States and if she'd be there until ten at night or two in the morning. Despite her absence, the evening was lovely: wine was opened, stories shared, gossip caught up on and plenty of good food consumed. After two very virtuous fish-based mains, we both decided to go for the most indulgent-sounding dessert on the menu: chocolate brownie with homemade hazelnut ice cream.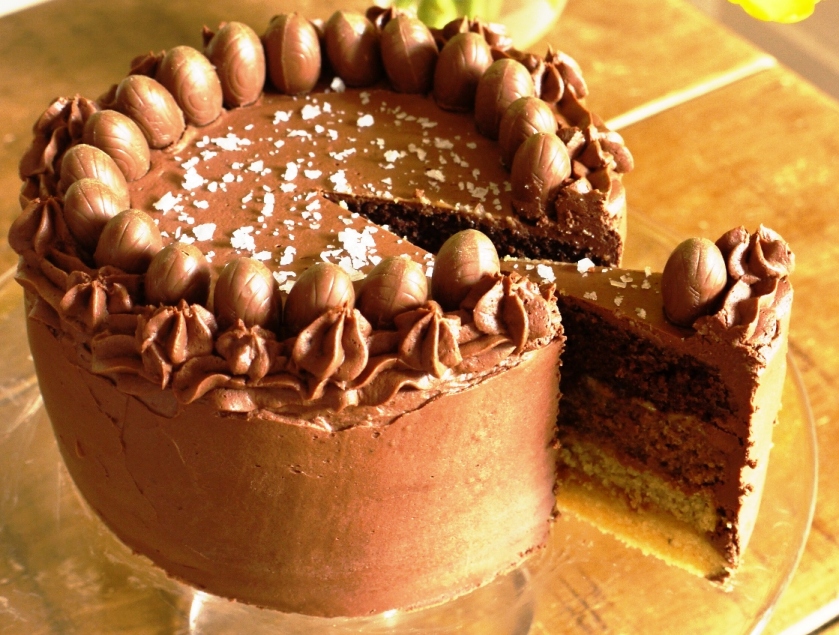 The brownies arrived warm and gooey: unashamedly rich, dense slabs swimming in pools of chocolate sauce and garnished with a token sprig of mint and single strawberry. Knowing I'm constantly on the quest for the perfect brownie, my friend asked how this one measured up (it was ok, I've had – and made – better, but it kept me more than happy that evening), and we spent a good few minutes debating the merits of chocolate vs. cocoa, fudgy vs. cakey, gooey vs. chewy and other such matters of extreme importance. Not quite politics or world peace as a topic of conversation, but in our defense it was a Wednesday night.
After dinner, I headed home to see how Carniverous Boyfriend had fared with his solitary steak supper (cooked outside on the BBQ despite the time of year, Man vs. Food style, of course). As I walked through the door, I heard the familiar ping of a message on my phone. My friend texting to let me know she's home safe, I thought, as I pulled it from my pocket to punch in a reply . . .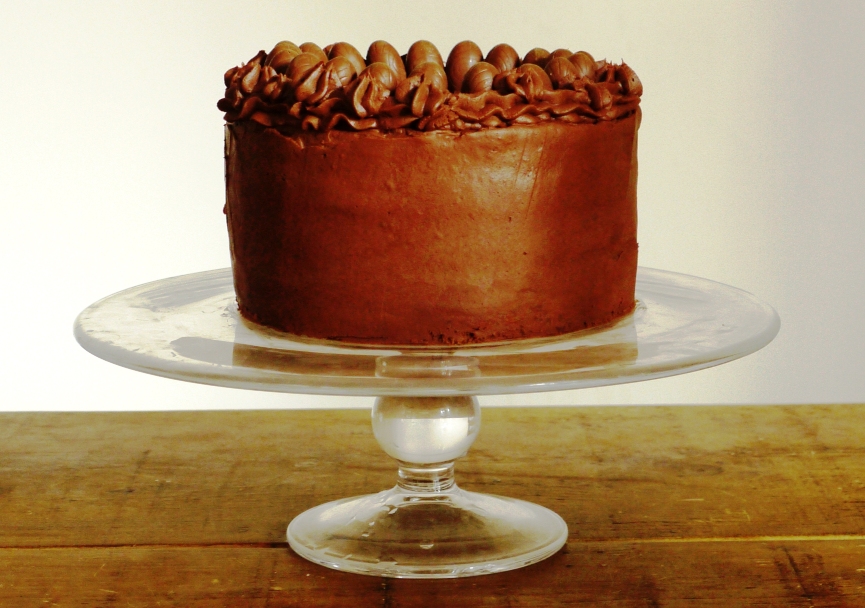 'S**t!!! Just remembered I gave up chocolate for lent! Don't tell anyone about the brownie . . .'
Oops.
This text made me laugh. I love that my friend completely forgot that she wasn't meant to be eating chocolate, that we debated the merits of different types of chocolate while she was eating it, and that she still only twigged when she got home. This text also made me realize that if my company alone could convince this friend to break her Lenten vows (subconsciously or otherwise), anyone arriving at this blog for the first time – presented with pages of photos, recipes and rapturous descriptions of desserts – probably stands next to no chance against any kind of will power they might have or resolutions they may have made.
Oh well, I did warn you. And if you've read this far, I'm guessing you either hadn't made any Lenten vows in the first place, or I've managed to sway you to the dark side, so let's get stuck in and talk about cake. Quadruple-layer chocolate, vanilla, caramel and chocolate caramel cake to be precise, spread with more sticky, salty caramel, slathered in a thick, rich chocolate ganache and studded with mini chocolate Easter eggs. Why Easter eggs? Why not Easter eggs? The supermarket shelves are groaning with gorgeous displays of all kinds of chocolate eggs at this time of year and when I was buying the ingredients for this cake I just couldn't resist.
This would be a lovely cake to make for Easter. Tiny chocolate eggs are squashed into swirls of thick, fudgy buttercream and sprinkled with gold dust which I just thought would work with the golden layers of cake within. It looks so simple from the outside, but is guaranteed to please a crowd when you slice through the icing to reveal four different cakes sandwiched together with sweet and salty caramel. And if you've got any fussy eaters, with vanilla, chocolate, caramel and chocolate caramel sponges, there's sure to be something to please pretty much everyone.
This cake is adapted from a recipe I found on the BBC Good Food website. The main differences are size – I scaled it down to an 18cm round as even my eyes know that a 20cm cake would be more than our collective household stomach could handle – and ingredients – I made my own salted caramel because it's so much better than anything you can buy in a jar, and swapped yoghurt for milk in the second set of sponges for no better reason than that I ran out. It's good, really, seriously, unforgettably good in fact, but not for the faint-hearted.
My final word of warning: if you do head over to the BBC website to check out the original recipe, don't look at the calorie content they've included. You don't want to know. Unless you're the person that gave up sweets and treats for Lent, in which case you probably feel extremely smug right now . . .
Chocolate & Caramel Layer Cake (adapted from the BBC Good Food website)
For the vanilla & chocolate sponges

Ingredients:
150g unsalted butter, very soft
150g caster sugar
2 large free range eggs, beaten
100g plain yoghurt
120g self-raising flour
60g ground almonds
2/3 tsp baking powder
1 tsp vanilla extract
2 1/2 tbsp cocoa powder
Method: 
Grease and line two 18cm round tins. Preheat the oven to 175 degrees C.
Cream together the butter and sugar. Carefully add the eggs, one at a time, beating until incorporated. Fold in the yoghurt, flour, almonds, baking powder and vanilla extract until combined. Scrape half the mixture into one of your prepared tins, then add the cocoa powder to the remaining mixture and fold to combine. Scrape this chocolate batter into your separate tin and bake both cakes for around 20 mins, or until a skewer inserted comes out clean.
For the caramel & chocolate caramel sponges
Ingredients:
150g unsalted butter, very soft
100g light brown muscovado sugar
50g dark brown muscovado sugar
2 large free range eggs, beaten
50 ml milk
120g self-raising flour
60g ground almonds
2/3 tsp baking powder
1 tsp vanilla extract
1/2 tbsp cocoa powder
Method: 
Repeat the steps as above, substituting the muscovado for the caster sugar and milk for yoghurt. Add the cocoa to only half the remaining batter, as above, so you have one caramel and one chocolate caramel cake.
Allow all four cakes to cool completely.
For the frosting & filling
Ingredients:
300g salted caramel (I use this recipe, but you can also buy caramel in a tin & season with a little sea salt)
100g dark chocolate, chopped
100g milk chocolate, chopped
220ml double cream
Method:
Put your chocolates in a heatproof bowl. Warm the cream in a small saucepan until it begins to bubble then pour over the chocolates. Leave to stand for 30 seconds then stir until the chocolate is completely melted. Continue to beat until the ganache has cooled and thickened.
Place the vanilla sponge (the palest one!) on a serving plate and spread over one third of the caramel. Place your caramel sponge on next and repeat the process, followed by your chocolate caramel sponge and finally your plain chocolate sponge.
Spread the ganache over the whole cake, smoothing with a palette knife dipped in boiling water. Put any excess icing in a piping bag and pipe swirls around the top edge. I decorated mine with little chocolate Easter eggs dusted with gold powder and a sprinkle of sea salt. Mini eggs would be another good option, or you can leave it plain.
This cake is best served at room temperature when the sponge tastes beautifully moist and the caramel slightly soft, so if you do want to store it in the fridge, make sure you take it out about thirty minutes before slicing and serving.