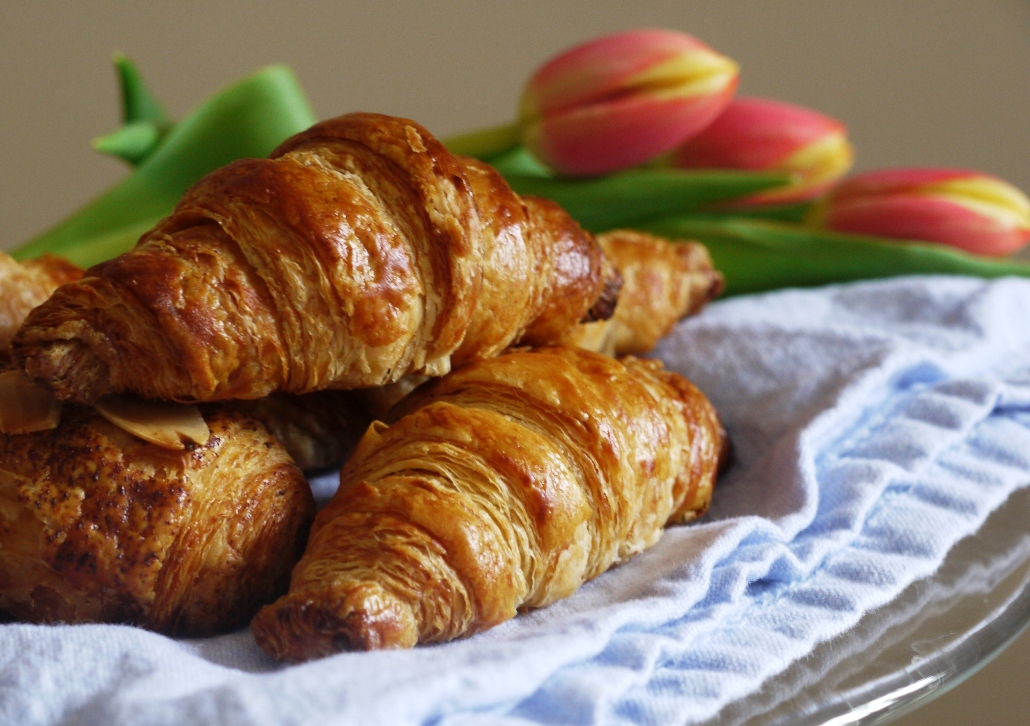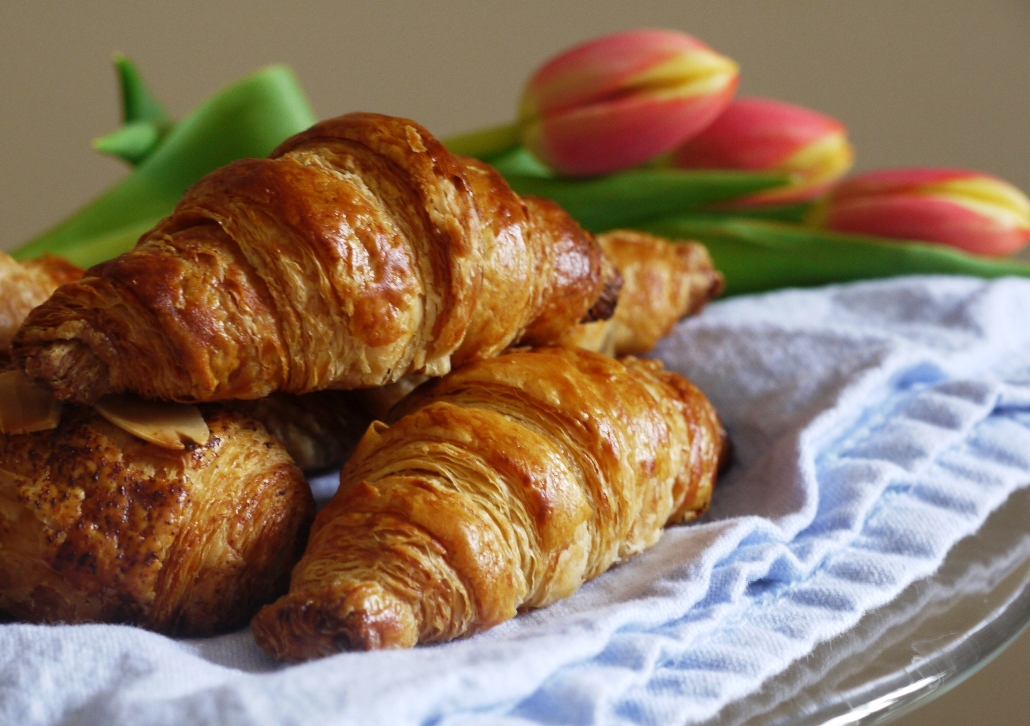 How far would you go to find the perfect croissant?
With so many wonderful bakeries in the city, Londoners like me are lucky enough to have some pretty amazing options on our doorstep. Fancy venturing a little further afield? France is your obvious answer, synonymous with the very best croissants in the world and only a couple of hours away. Doable in a day, definitely, and not so completely crazy if you're really on a mission to find that perfect pastry.
I'm going to throw another option into the mix. How about we travel for twenty two hours, averaging around 500 miles per hour, covering nearly 11,000 miles and ending up in Surry Hills, an inner-city suburb of Sydney, Australia? We'll head for Bourke Street, number 633 to be precise, and before you can even begin to feast your eyes on the incredible array of bread, cakes and pastries displayed in the window, you'll detect the irresistible smell of butter and baking that draws Sydney-siders to Bourke Street Bakery like moths to an irresistible, edible flame.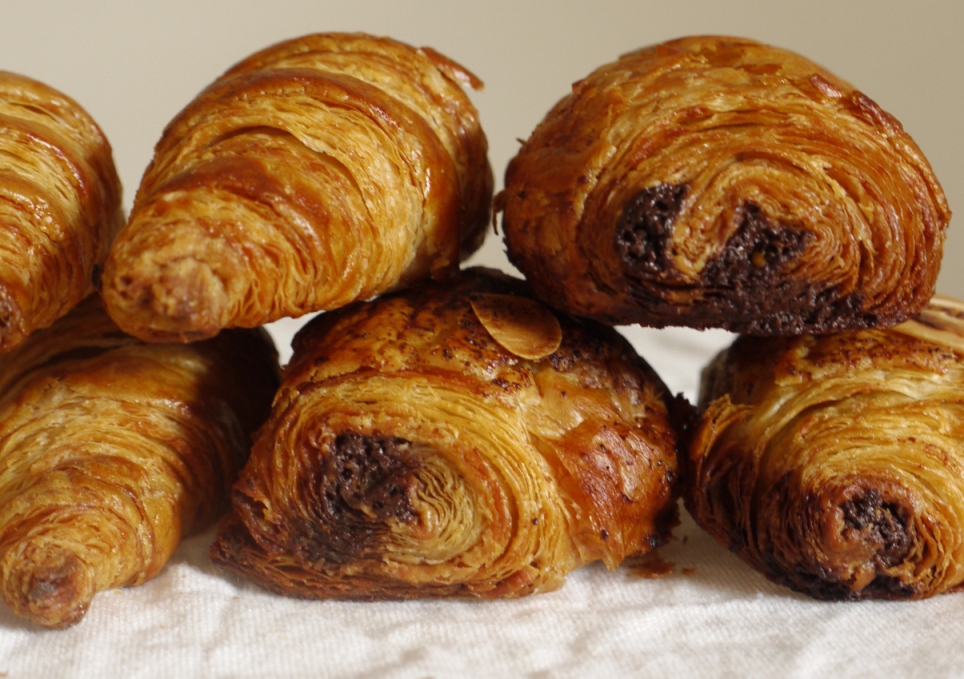 I'm afraid the journey we're taking is imaginary. I've never been to this bakery, and can't imagine I'll be visiting any time particularly soon, but I hope I can offer you the next best thing – a taste of one of their incredible croissants.
Bourke Street Bakery is something of a Sydney institution. Parisian pastry expert David Lebovitz visited under the strict instructions of Yottam Ottolenghi not to miss it, and calls it 'somewhere very special', while the thousands of Sydney residents that visit every day are testament to just how amazing Bourke Street's baked goods are. And luckily, although the bakery itself (in fact there are now four) is just a distant dream for this London-based little loaf, the owners have also written a brilliant book, meaning I can at least attempt to make some of the awe-inspiring recipes myself.
I've been making quite a few things from the Bourke Street Bakery book recently: starting a sourdough culture has opened up a whole new chapter I'd previously left untouched, and I'm getting used to the idea of using a pre-ferment to improve the quality of my dough. When I found out that March's Fresh From the Oven challenge was to make croissants – something I've done before using the River Cottage Bread Handbook croissant recipe – I decided it was time to tackle the slightly more complicated Bourke Street Bakery method.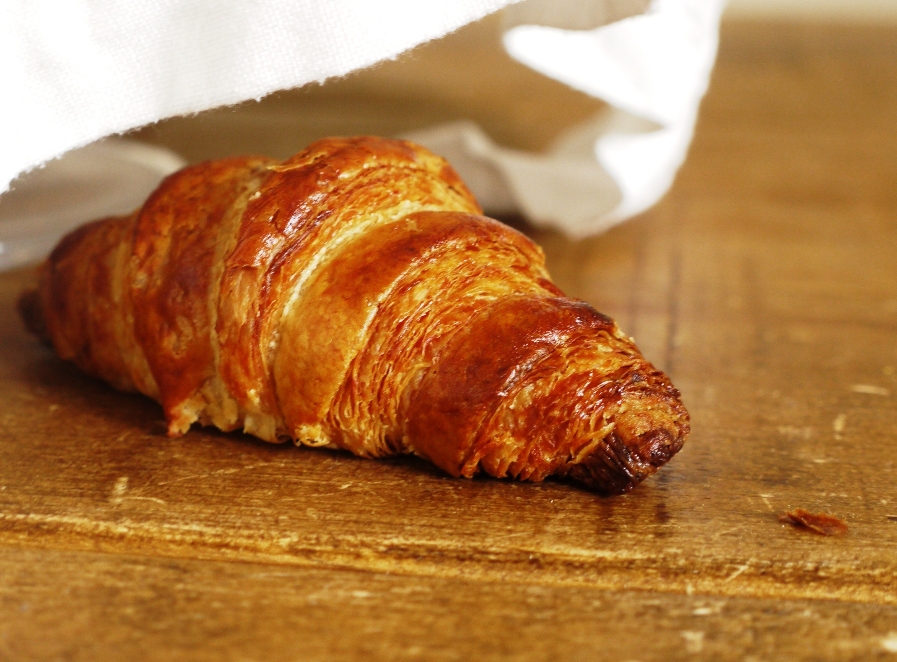 The book provides details on how to make a basic croissant dough using ferment, before going on to elaborate on different executions in dedicated sections – pain au chocolat, pain au raisin, praline twists filled with rich crème patissière, two types of fruit danishes and 'bear claws': crunchy toed pastries filled with frangipane and dusted in a blanket of icing sugar. All the recipes are accompanied by mouthwatering photos and I definitely want to try them all, but there are only so many hours in the day, so I opted to make my mixture into the most basic two versions, croissants and pain au chocolat. I figure I've got to leave something untried for when I actually get around to visiting the bakery in person, right?
I made my croissants with some lovely unsalted French butter, drinking in the rich, round smell as I pounded it out into a smooth square with which to laminate my dough. The recipe calls for lots of rolling and resting which means it is somewhat time consuming, but if you're in the house for a couple of hours and have other things you can do in between, it shouldn't make you feel like you've taken up your entire day. And the extra time in the fridge really does help produce a better end result – I think these croissants are a marked improvement on the previous ones I've made, in taste, texture and appearance.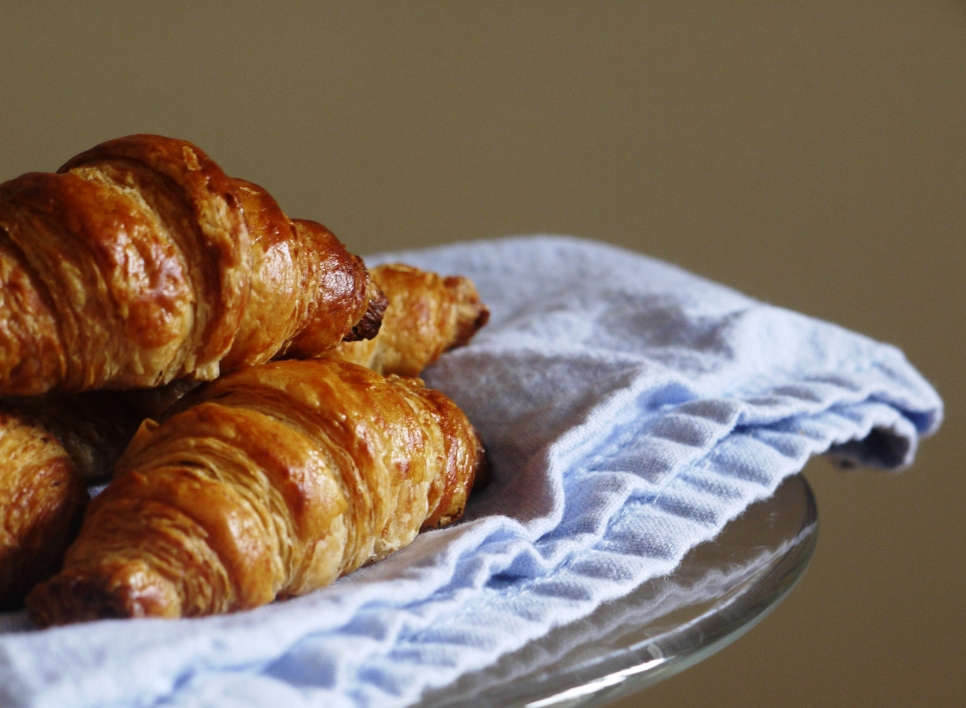 But the proof of the pudding, as they say, is in the eating. Carnivorous Boyfriend ate six – possibly seven – in one sitting. And although he's a pretty enthusiastic taste tester of practically everything I make, I know something's seriously good when complete silence descends, interrupted only by the odd contented murmur and a single short bout of coughing induced by inhaling a final flaky crumb.
If you've never made croissants before, the method below might sound a little daunting, but I promise that if you follow the instructions exactly as they come (don't skim read instructions or skip out the resting stages to save time), you'll make a croissant worthy of the wonderful Bourke Street Bakery. Lovely soft layers break into flaky golden shards making them both decadent and light, crisp yet mouth-meltingly tender, and suitably rich with a beautiful natural buttery sweetness. The plain croissants are so full of flavour you won't want to put anything near them other than your mouth, while the chocolate ones are deliciously indulgent with bars of the darkest chocolate and a scattering of toasted flaked almonds.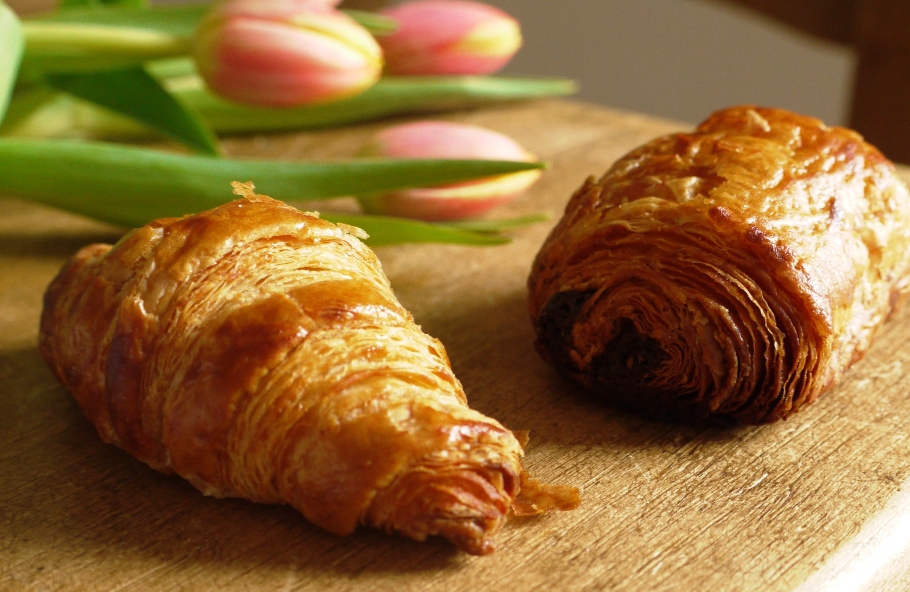 Whether it's travelling for thousands of miles or spending a few extra hours in the kitchen, finding the perfect croissant is likely to be a labour of love. But once you taste that beautiful, buttery, flaky pastry fresh from the oven, I promise it's worth every last little bit of effort. Plus you'll have exerted yourself more than enough to justify taking a bite of that second croissant . . . or sixth . . .
Croissants (adapted from the Bourke Street Bakery book)
I've written out the recipe to make 18 plain croissants below. If I included the pain au chocolats this post would get ridiculously wrong – plus it's a good excuse for you to buy the book 🙂
Ingredients:
For the ferment
100g strong white bread flour, chilled
50ml whole milk, chilled
1 tsp soft brown sugar
Pinch salt
5g fresh yeast
20g unsalted butter, softened
For the croissants
935g strong white flour, chilled
500ml whole milk
60g soft brown sugar
15g salt
35g fresh yeast, chilled
500g unsalted butter, chilled
For the egg wash
1 free range egg yolk
75ml whole milk
Pinch salt
Method:
Put all the ingredients in the bowl of a stand mixer fitted with a dough hook. Process on low speed for 3 minutes or until a smooth, elastic dough forms. Gather into a ball, leave at room temperature for two hours, then refrigerate. You could also do this by hand – you'll need to knead the mixture for about ten minutes.
To make the croissants, put the flour, milk, sugar, salt, yeast and ferment in the bowl of a stand mixer fitted with a dough hook. Mix on low speed for four minutes then increase to high speed and mix for a further two minutes.  Again, you could do this by hand – it will take about ten to fifteen minutes of good kneading.
Gather your smooth, elastic dough into a ball, place inside a black bin liner, tie the top allowing air space for expansion, and pop in the fridge at least two hours, or preferably overnight.
Once your dough is rested, remove it from the fridge, along with your butter. The aim is for butter and pastry to be about the same temperature – chilled but malleable. Place the butter between two sheets of baking parchment and gently pound with a rolling pin until you have a 20 cm square.
Using a lightly floured rolling pin, roll your dough into a rectangle 20 x 40 cm. Place the butter on one half, and fold the dough over the top so it is completely enclosed, pinching the edges so no butter can escape. Carefully roll your butter enriched dough into a rectangle about 20 x 90 cm. Fold the rectangle from one long end by one-third, then fold the other third over the top so your dough is now 20 x 30 cm – the same as you would fold a letter three ways to fit it into an envelope.
Put the dough in a plastic bag and refrigerate for 20 minutes – this will allow the gluten to relax. Repeat this folding and resting process twice more, each time rotating the dough 90 degrees. After the final roll, rest for a further 20 minutes, then remove from the fridge and roll into a rectangle approx. 25 x 100 cm and 5 – 8 mm thick.
Cut the rolled dough into 18 even triangles. The base should be 9 cm wide and the two sides 21 cm high. Place your triangles on a tray lined with baking paper and refrigerate for 10 minutes, covered with a tea towel. Once rested, remove from the fridge, stretch each triangle out slightly, then roll up from the base to the tip, pressing the tip back into the dough to secure.
Preheat the oven as high as it will go. Place the rolled croissants onto baking trays lined with baking paper spaced well apart*. Cover loosely with a damp tea towel and leave to rise in a warm place for about 2 hours, or until almost doubled in size.
Make the egg wash by whisking all the ingredients together in a small bowl. Remove the tea towel from your croissants, brush each one with the egg wash then place in the oven. Reduce the oven temperature to 190 degrees C and bake the croissants for about fifteen minutes, or until a beautiful, dark golden colour.
Remove from the oven and allow to cool slightly before serving. Croissants taste best the day you make them, but they're still pretty good reheated the next day. You can also freeze them after rolling but before proving (see * above), allowing an extra hour of rising time before baking.