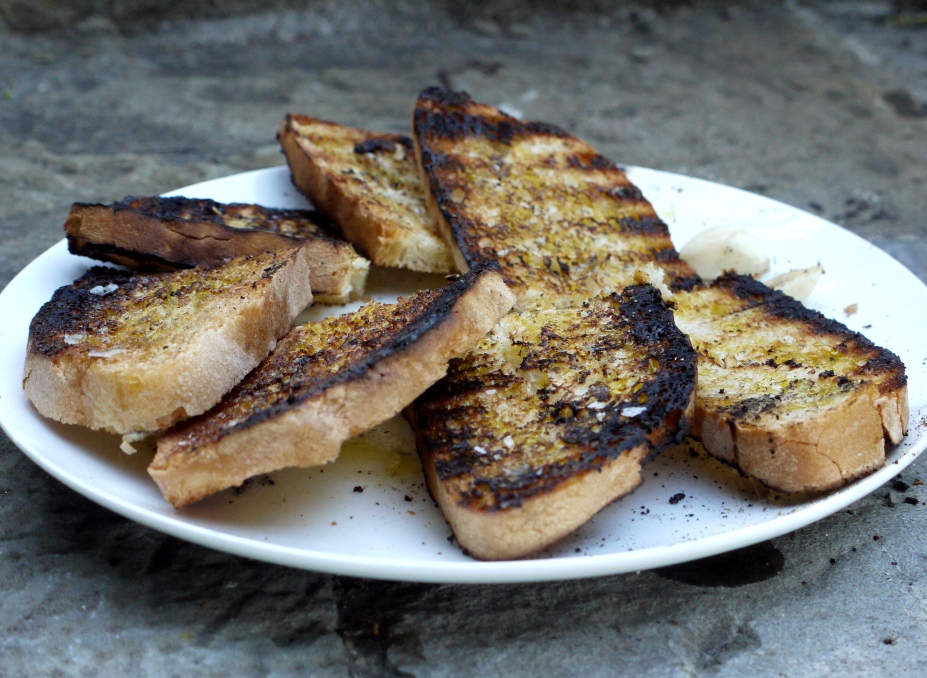 When I was fifteen I had a Saturday job in the local chemist. Situated on a sleepy suburban high street it was pretty easy work, and allowed me to spend the whole day with one of my best friends from school who worked the same shift as me. It also happened to be opposite a well-known recording studio, meaning that our otherwise fairly mundane days were often punctuated by the excitement of seeing a celebrity come in to buy cotton buds, shampoo or other more intriguing (read embarrassing) items.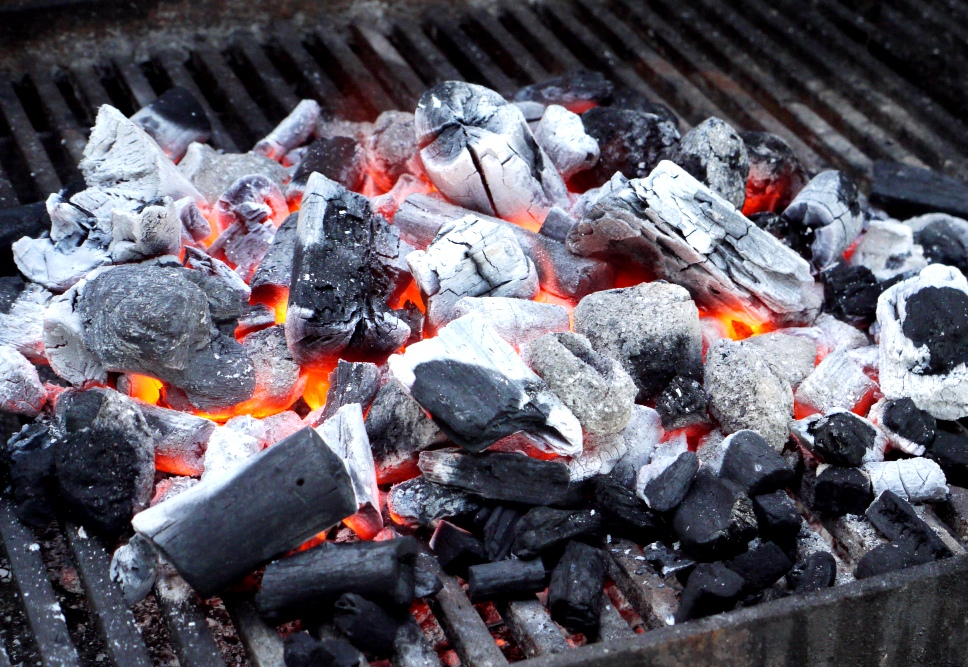 Because the chemist was just around the corner, I was allowed to head home at lunchtime, as long as my friend and I staggered our breaks to ensure that someone was always there to man the till. My Mum would make sure food was ready and waiting, and it was wonderful to eat a proper hot meal in the middle of the day rather than wolfing down a sandwich or surviving on sweets and crisps. I couldn't begin to remember every meal she made, but one thing I do recall which seemed to make a regular Saturday lunch appearance was salad dressed with a crushed raw garlic vinaigrette.
Raw garlic in itself is not a problem. While some people won't go near the stuff, I love the pungent kick it imparts to a dish, the heady, almost spicy feel as it hits your tongue with a smack of flavour. No, the problem is when you consume raw garlic then head back to work to spend the afternoon serving customers in a shop. It keeps the vampires at bay, but otherwise not so good.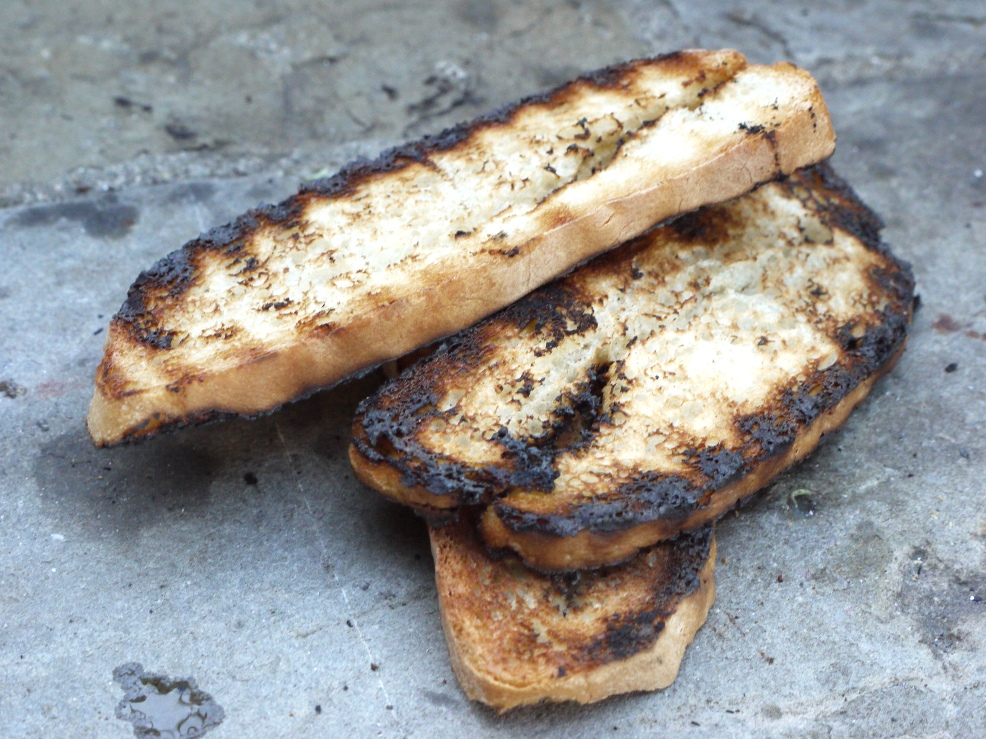 When making these
bruschette
the other day
in Italy
, I was reminded of those Saturday lunches as I rubbed a fat raw clove of garlic into crisp, charred Tuscan bread. I hadn't intended to post them as a recipe – a bit of toast rubbed with garlic is hardly going to set the world alight – but because they are something we made practically every day on holiday, because they remind me of holidays and happiness and good times, and because I had some photos I wanted to put up, I decided to write this post.
There are just a few things to bear in mind when making bruschetta. First up make sure you pronounce it right, the 'sch' is hard not the soft 'shh' you hear in restaurants around the world. The bread should be thick, slightly chewy and preferably toasted over the hot coals of a BBQ. Unsalted Tuscan bread is good, but if you don't have any to hand, sourdough is a delicious alternative. The olive oil should be fruity and good, a notch above anything you'd cook with as in such a simple dish it has nowhere to hide. Sprinkle over a little coarse sea salt – not completely compulsory, but it brings out the flavour. And finally, don't be shy with the garlic – this is the star of the show and as long as all your guests indulge, there's no need to worry about garlic breath.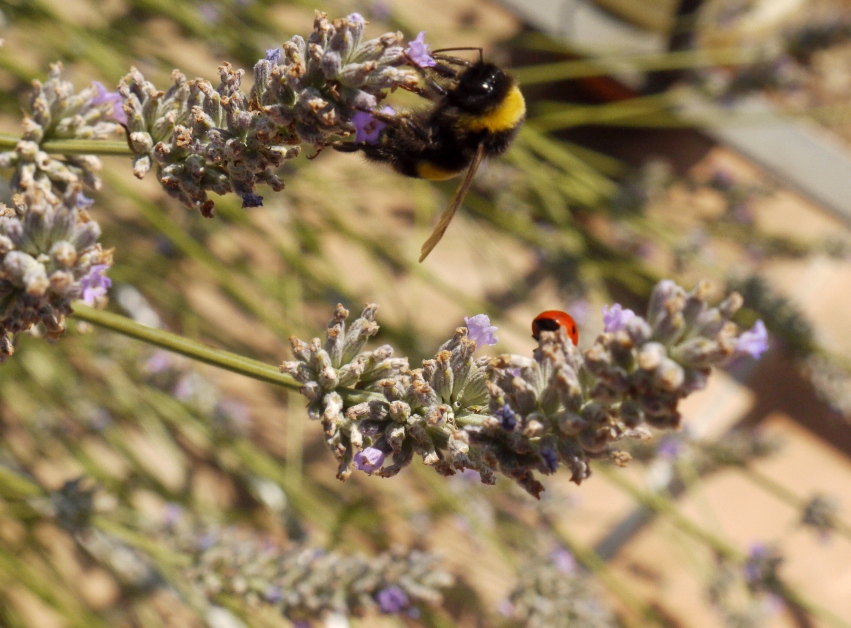 Once you've made your base bruschetta, the world is your oyster in terms of add-ons. Chop up fresh plum tomatoes and tear over some basil. Smash cannellini beans and pair with blanched earthy chard. Mozzarella with a sprinkling of chilli is delicious, or squash broad beans and mint before crumbling over some ricotta. I could go on and on with the wonderful ways in which you can eat this delicious Italian garlic bread but I won't. The blank canvas is yours – go and experiment for yourself, safe in the knowledge that you're keeping the vampires at bay.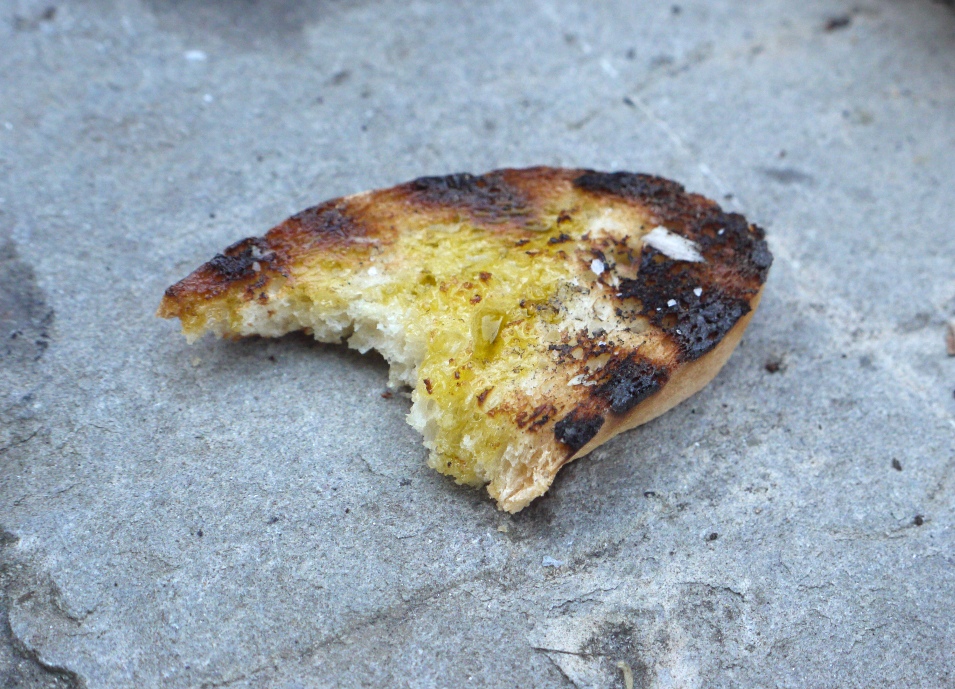 Bruschetta
(makes 8)
Ingredients:
1/2 loaf unsalted Tuscan bread, sliced thickly (or 8 slices of your favourite rustic loaf – sourdough is good)
1 fat clove garlic, peeled & sliced in half
Olive oil, to drizzle
Salt, to sprinkle
Method:
Get your BBQ nice and hot.
Toast the bread over the hot coals until nicely charred on each side. Remove from the heat and rub one side of each slice with garlic. Drizzle generously with olive oil then sprinkle over the sea salt. Enjoy with a cold glass of wine as the rest of your meal cooks on the BBQ.