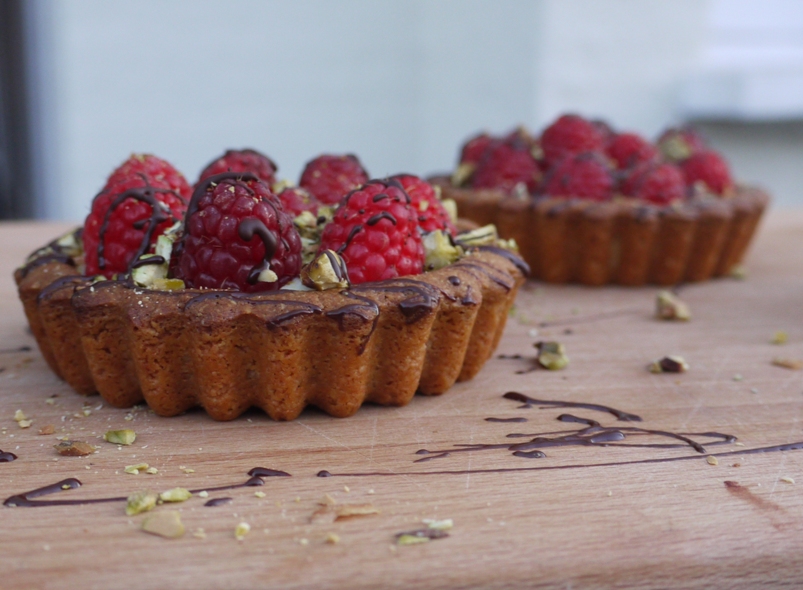 First up, a quick note to say that thelittleloaf is now on Facebook! If you read this blog and would like to see more recipes, photos and links, I'd love it if you'd head on over and 'like' my page.
I can clearly remember the first time I tasted maple syrup. My brother had a friend from Canada and one year he came back from his holidays with a little glass bottle of viscous amber liquid for us. I'd never tasted anything quite like it: silky textured and distinctively flavoured, like honey, but not and sweet as sweet can be.
We treasured that tiny container – this was a treat from all the way from across the pond with little likelihood of being replaced – and eked it out in little portions. My favourite way to eat this syrup, bizarrely, was straight up, poured over raw porridge oats and left to macerate for a few minutes until the mixture became beautifully soft and sweet. I'm sure my dentist – and my Mum – would have any number of objections but in my defence, this odd concoction probably wasn't so very much worse than any of the sugar filled breakfast cereal options out there nowadays (it's a tenuous excuse, but I'm sticking to it).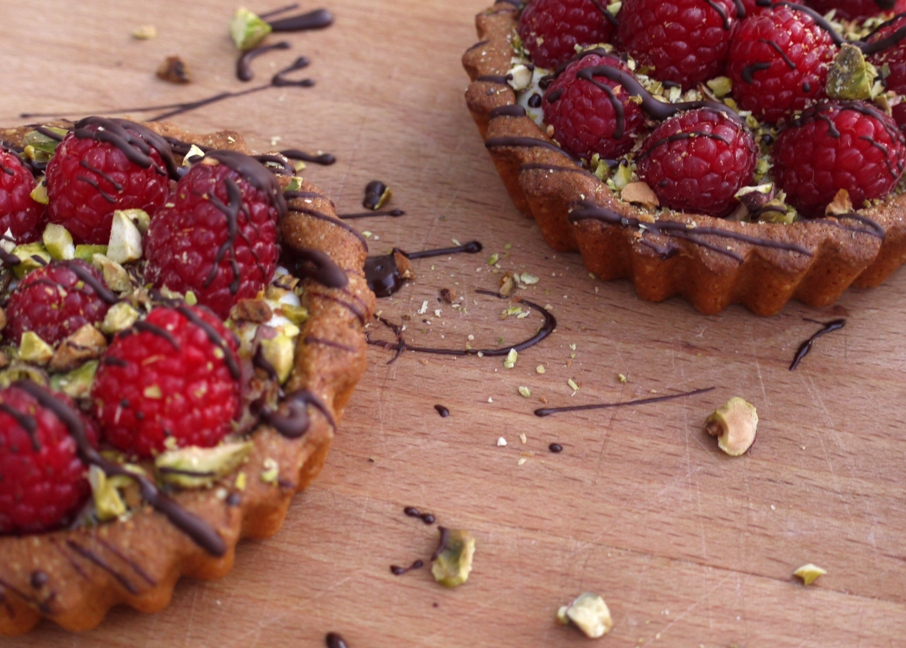 Nowadays I like my maple syrup in slightly more acceptable forms: drizzled over bananas and yoghurt for a simple, speedy dessert, made into ice cream laced with sticky wet walnuts or incorporated into baking as an alternative to sugar or honey. Maple syrup has an extremely distinctive flavour so isn't always a suitable sweetener, but every so often a recipe comes along that allows it to shine right through.
While I very much subscribe to the eggs, butter, flour and sugar school of baking, I'm aware that not everyone can enjoy these delicious ingredients. I read a number of blogs where the authors are gluten free or baking for those with allergiees, a close friend of mine is a coeliac and another has recently been diagnosed as allergic to both flour and eggs.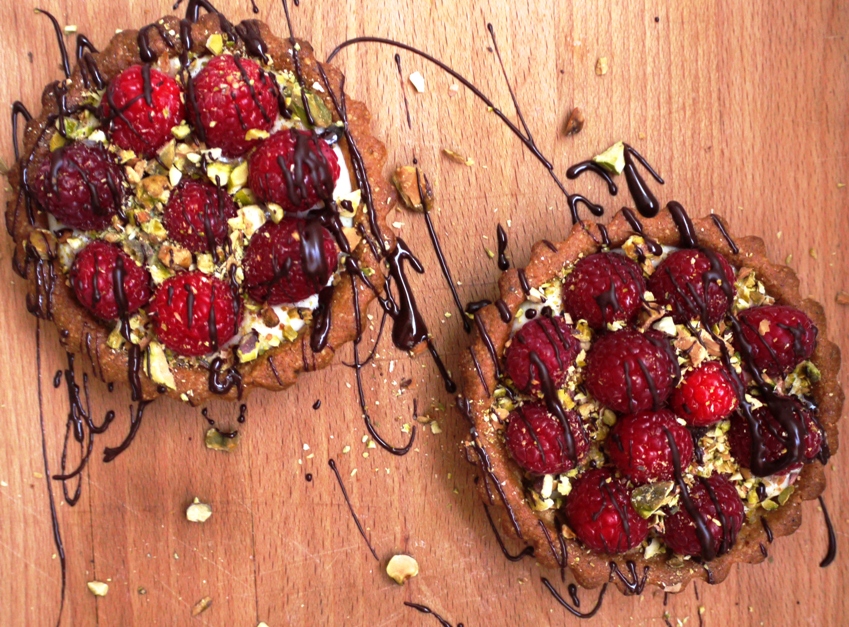 Like buses, these things seem to come at once and this week I have not one but two gluten free, egg free meals to make. Undecided as to what to bake for both desserts, I spent some time experimenting this weekend, looking at everything from naturally gluten free ice creams to things like cakes and pastry which requite a little substitution to make them entirely allergy friendly. I've had my eye on these tartlet cases over on Erin's Yummy Supper blog for a while and now seemed like the perfect time to try them.
Having some dark maple syrup to hand I substituted it for the honey, and seeing that the butter used in this recipe was melted, I couldn't resist browning it for that beautiful, nutty beurre noisette flavour. Again incorporating ingredients I had in my kitchen I then made up a simple vanilla pastry cream, topping it off with fresh raspberries, toasted pistachios and a drizzle of dark chocolate.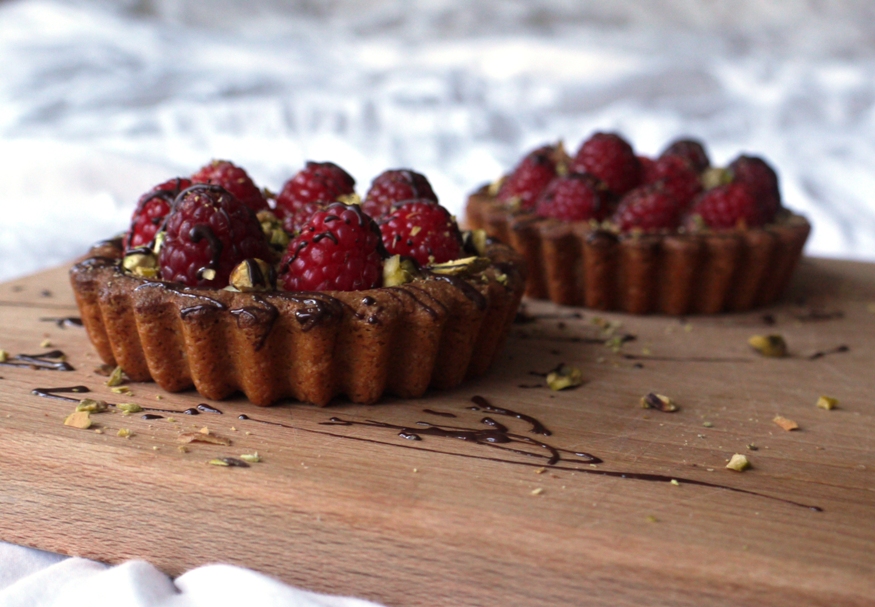 These tartlets are entirely gluten free but I'd recommend you try them even if you're a regular fan of flour. The maple syrup shines through the nutty tones from the brown butter and ground almonds and the pastry has a lovely crisp, unusual texture. There's egg in the pastry cream so if I make this for my egg free friend I'll be substituting in whipped cream or mascarpone. If you or your loved ones are on a restricted diet, you could easily do the same.
So there you have it, simple, gluten free 'pastry' without any of the effort of rolling and trimming and the perfect showcase for the joy that is maple syrup.  Possibly a slight step up from the sickly-sweet breakfasts I was sneaking in as a little girl . . .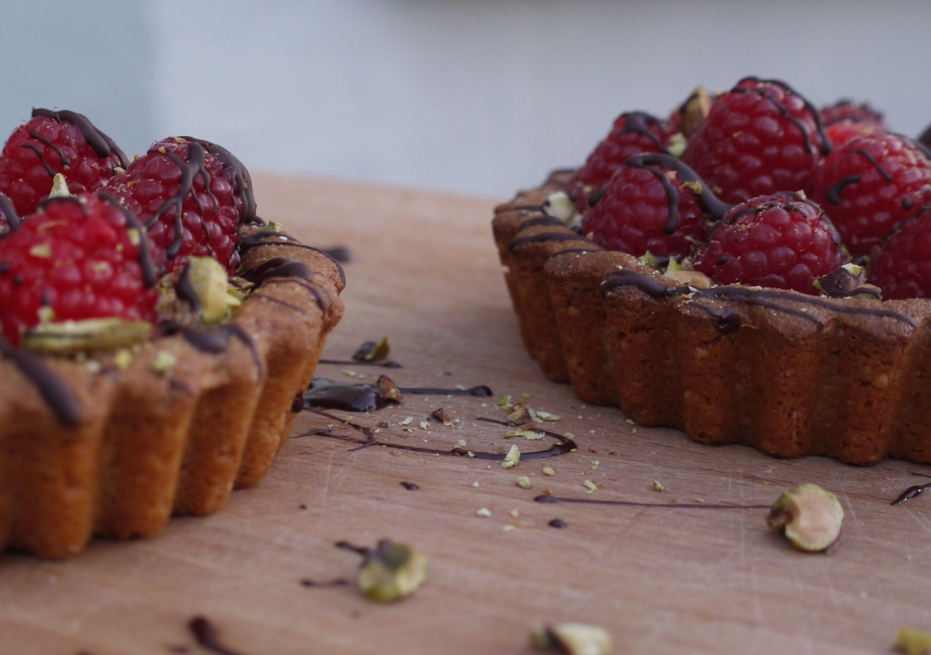 Brown Butter, Pistachio & Raspberry Tartlets (inspired by Yummy Supper)
(makes 6)
Ingredients:
For the tartlets
70g butter
90ml maple syrup
175g ground almonds
Pinch sea salt
For the pastry cream
4 egg yolks
65g golden caster sugar1 tbsp corn flour
200ml full fat milk
200ml double cream
1 tsp vanilla extract
To finish
One punnet raspberries
50g pistachios, toasted & coarsely chopped
50g dark chocolate, melted
Method:
For the tartlets
If your tartlet tins aren't non-stick, grease with a little butter. Preheat the oven to 175 degrees C.
Melt the butter in a saucepan over a medium heat. Continue cooking, swirling the pan constantly, until the butter starts to foam and crackle and the milk solids separate out begin to brown. Once the butter is golden with a nutty aroma, remove the pan from the heat and set aside to cool completely.
Add the maple syrup, ground almonds, cooled melted butter and salt to a bowl and mix until well combined. Divide the mixture between your six tartlet tins and press into the bottom and sides. Prick all over with a fork then bake for 10 minutes.
After 10 minutes, remove the tarts from the oven. The 'pastry' will have risen up so prick again with a fork and use the back of a teaspoon to push back into place. Return to the oven and bake for a further 6 – 8 minutes until golden and firm.
Remove from the oven and allow to cool completely.
For the pastry cream
In a small bowl, whisk together the egg yolks, sugar and corn flour.
Bring the milk and cream to a simmer. Stir the hot cream into the egg mix then return to the saucepan and gently heat, whisking constantly, until thickened. Strain into a bowl and pop in the fridge to firm up (minimum 30 minutes), covered with a disc of greaseproof paper to stop a skin forming.
To finish
Put the pastry cream in a piping bag and pipe a swirl into each tartlet case. Top with raspberries and sprinkle with the chopped pistachios. Finally finish with a drizzle of melted dark chocolate.
Store in the fridge until ready to serve. We ate these on the day of baking and one day later. The final two tartlet shells were a little soggy by the time I tested them on the second day so I'd advise eating these within a day of making.
Featured on Tombola.co.uk