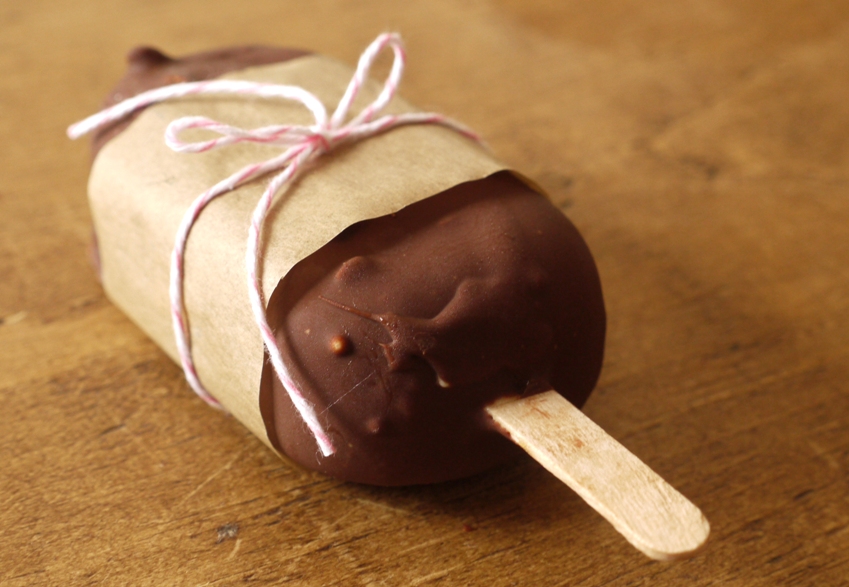 Everyone wants to be happy. Whether it's that lifelong happiness that comes with from great friendships and falling in love or a fragment of joy found in the briefest of moments, if you've ever wondered what life is all about, this is it. Happiness is what you need, guaranteed.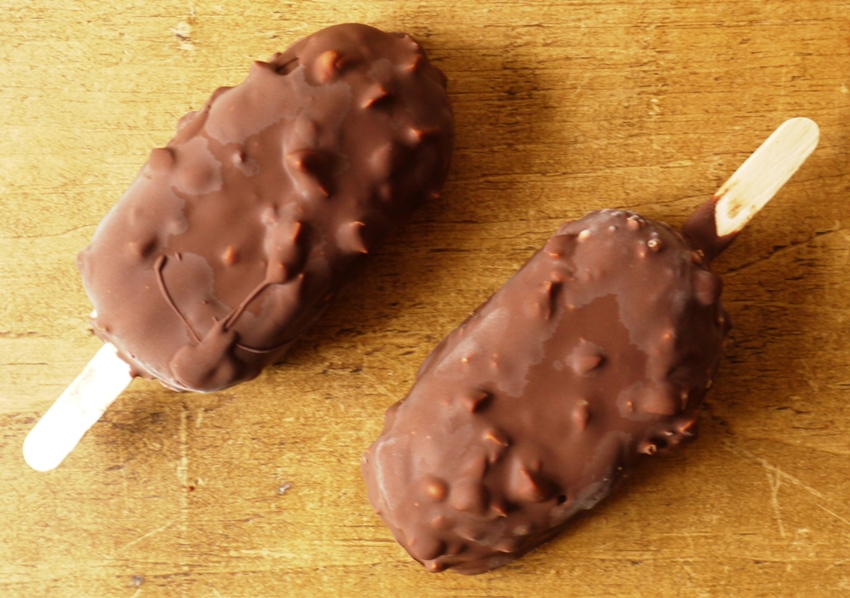 On Friday, Carnivorous Fiancé and I had a rare couple of hours together before leaving for work. In between the office, writing this blog and our various other hobbies and routines, it's not often we see each other for more than a few minutes in the morning. We made breakfast side by side, spent time talking over muesli, fruit and eggs, cranked the stereo up loud and jived around the room to the tune that will be the first dance at our wedding. I dipped these ice cream bars in chocolate (we had friends for dinner that evening), we jived some more and Carnivorous Fiancé ended up having to change his shirt because I'd managed to smear it with sticky chocolate fingers.
Happiness isn't perfection, it's finding joy in the simplest of things.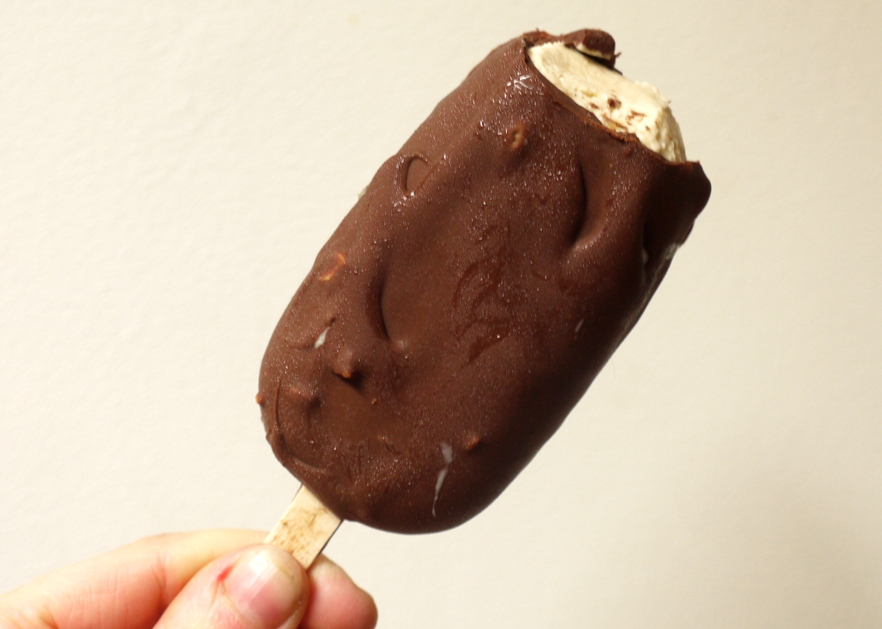 Speaking of simplicity (and happiness), these ice creams are where it's at. Made with a basic blend of peanut butter, sugar and cream, the ice cream takes only as long as your machine does to churn it. A few hours to freeze solid then the whole lot is cloaked in melted chocolate and studded with roasted peanuts for the ultimate in smooth, sweet, crunchy, creamy, salty, melting mouthfuls. Remember those fragments of joy I mentioned? A corner of one of these ice cream bars is definitely one such fragment.
Incidentally, these ice creams are entirely gluten and egg free. I made them for a friend who is allergic to both and he described them the next day as 'the best thing I've ever eaten off a stick'. Perhaps not the best thing he's ever eaten ever, but lollipops, kebabs, candy floss and pretty much any kind of ice lolly or ice cream, beware.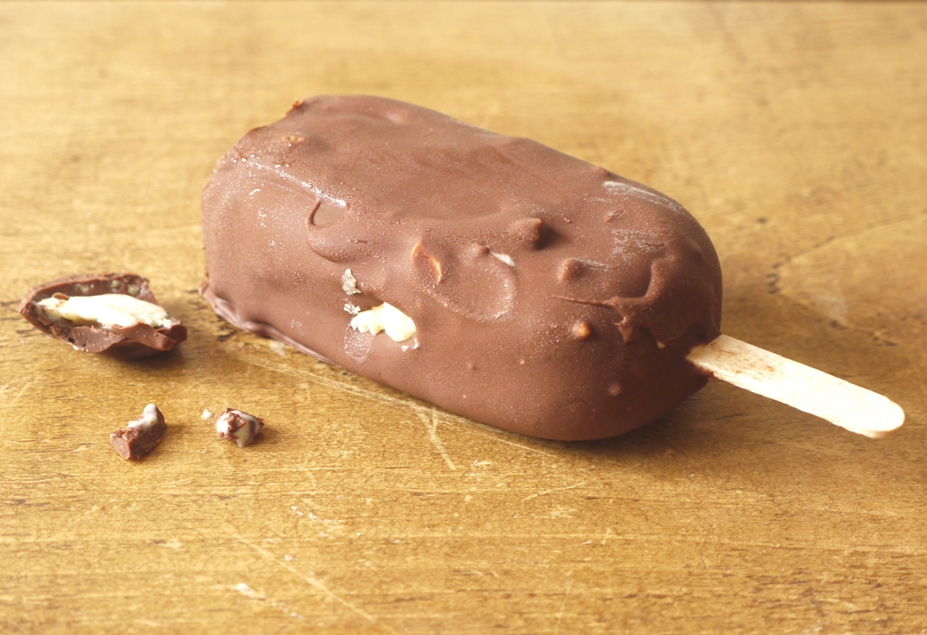 One note on egg-free ice creams (and any ice cream really): ingredients are key. Less powerful than their egg-enriched cousins, ice creams made of cream, milk and a single flavour rely heavily on good ingredients. Use natural peanut butter with no added sugar or salt, full fat cream and milk, quality vanilla and flaky fleur de sel if you can find it. Likewise with the chocolate coating – there's nothing to mask the flavour here so use your favourite brand. If you have time, salt and roast the peanuts yourself – it's much easier to adjust the seasoning as you wish.
If you don't own the silicone moulds I used, you could freeze the ice cream as a block and cut into bars once solid, as I did with these homemade Snickers ice creams. Don't worry if they don't turn out completely perfect, they'll still taste delicious and make you very, very happy. Sometimes it's the small things.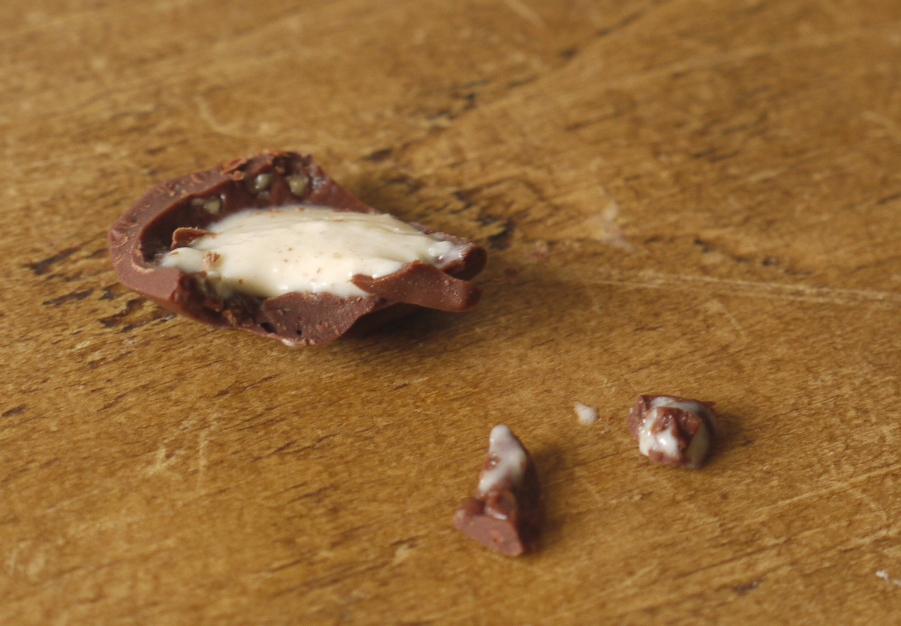 Chocolate Peanut Butter 'Magnums'
(makes approx. 6 depending on the size of your moulds)
Ingredients:

180g good quality smooth peanut butter
150g golden caster sugar
400ml double cream
260ml milk
Pinch of salt
¼ tsp vanilla extract
Method:
In a blender, combine the peanut butter, sugar, cream, milk, salt and vanilla extract until smooth. Chill the mixture thoroughly in the fridge, then churn in your ice cream maker according to manufacturer's instructions.
Transfer the ice cream into silicone bar moulds, inserting a wooden stick then smoothing the tops flat. Freeze until hard – overnight would be ideal.
Ingredients:

300g milk chocolate, chopped
50g dark chocolate, chopped
1 tbsp vegetable oil
2 – 3 tbsp roasted salted peanuts, coarsely chopped

Method:

Line a tray that will fit in your freezer with baking parchment.
Melt the chocolates and vegetable oil in a heatproof bowl suspended over a pan of simmering water. Remove from the heat and allow to cool for 5 – 10 minutes.
Remove the ice cream bars from their moulds. Stir the chopped peanuts into the chocolate then, one at a time, dip the ice cream bars into the mixture, using a spoon to ensure the sides are completely coated. Allow the excess chocolate to drip off then place on the prepared baking parchment.
Return the ice cream bars to the freezer until ready to serve.