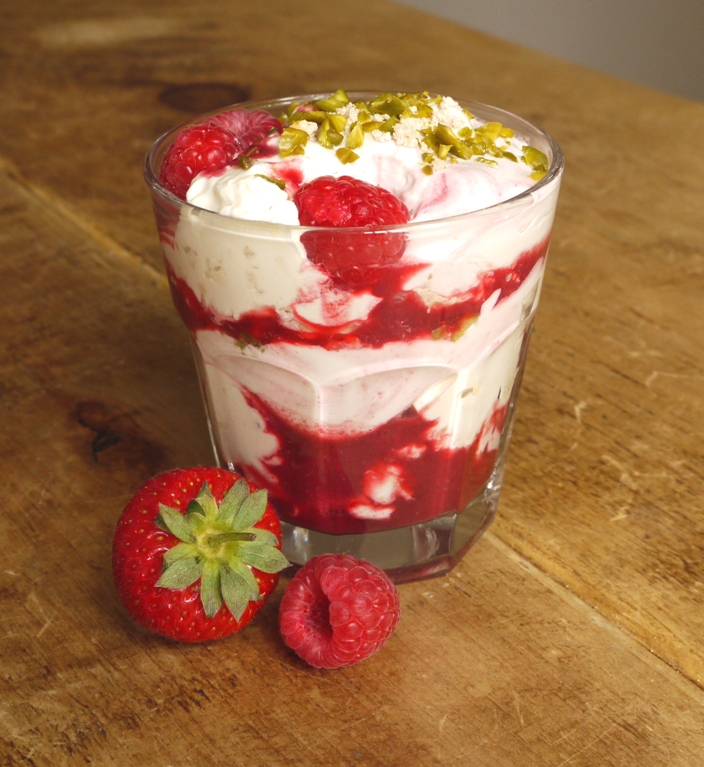 Meringues will always make me think of my Granny.
Not my paternal grandmother – a skilled home baker whose larder was always stocked with a homemade chocolate cake, fluffy scones or knobbly rock buns the size of a fist – but my mother's Mum. The same amazing woman who would serve stale Maltesers had little interest in baking, producing meringues from a packet and filling them with cream from a can, yet somehow this dessert remains utterly magical in my memory.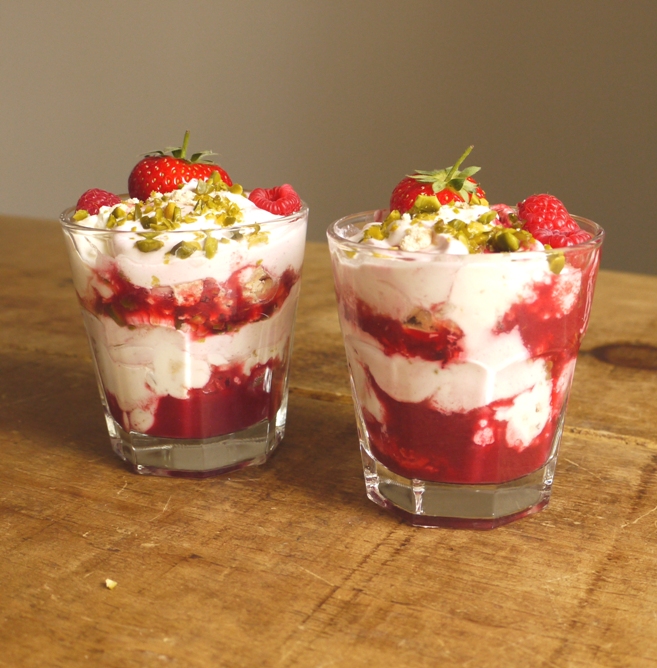 While the uniform, chalky sweetness of shop bought meringue nests will always hold a special place in my past, nowadays I prefer to make my own. Meringue is so simple to whip up using store cupboard ingredients and also provides the perfect excuse to make an egg yolk rich ice cream at the same time. Making your own meringue also allows you to play around with the ingredients, using brown or white sugar to caramelize and crisp or adding in nuts or cocoa for flavour and texture.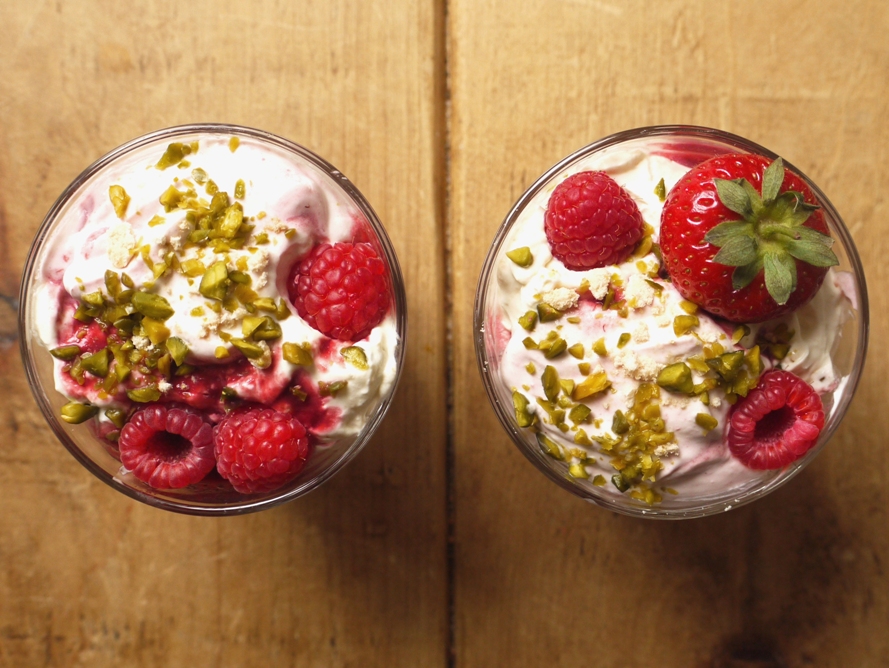 A little egg white goes a long way and one of my favourite ways to use up leftover meringue is in a simple Eton Mess. But while sweet cream, crushed meringue and the juiciest of summer strawberries are a pretty much perfect combination, I'm not sure you need the basic recipe written down here. Instead I'm sharing a slight variation on the classic, involving a little sharp yoghurt, the crunch of nuts, a summery fruit syrup and those all-important homemade meringues.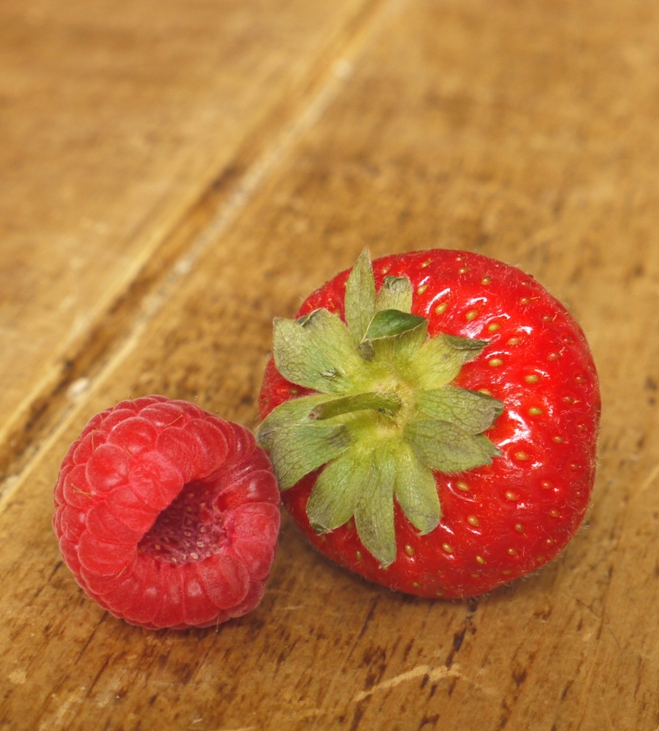 I've included Greek yoghurt primarily for taste rather than health reasons: I like the slight tang against the richness of cream and find full fat works best, but if you're trying to lighten the load you could substitute a low fat version if you wish. Summer fruit is also fairly interchangeable: try cherries with flaked almond meringue for something a little more sophisticated or make it into an altogether smoother affair with a soft compote of rhubarb or gooseberry.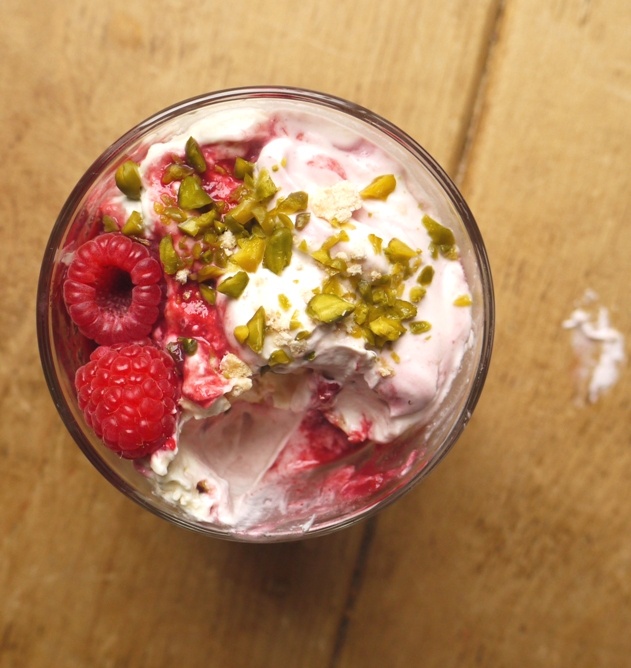 Whenever we asked my Granny what was for pudding, she'd always tell us 'Wait and see'. We knew exactly what was coming but somehow a sense of mystery made the whole experience more exciting. One day I plan to keep the tradition alive by doing exactly the same thing for my grandchildren, even if I am an awful food snob and refuse to use shop-bought meringues.
Raspberry & Pistachio Eton Mess
Ingredients:

For the meringue
3 large egg whites (use the leftover yolks for ice cream or custard)
175g golden caster sugar
Handful pistachio nuts, roughly chopped
For the raspberry syrup
340g raspberries
Juice of half a lemon
40ml good quality runny honey
80ml water
To assemble
450ml double cream
100ml Greek yoghurt
200g raspberries
200g strawberries, hulled & sliced
Handful pistachio nuts,roughly chopped
Method:
For the meringue
Preheat the oven to 150 degrees C. Line two baking trays with parchment paper.
In a large, clean bowl, whisk the egg whites until soft peaks form. Whisk in the sugar, a little at a time, until fully incorporated and the meringue is thick and glossy.
Dollop rounded dessertspoonfuls of meringue onto the prepared trays, leaving a little space between each meringue. Scatter with the chopped pistachios.
Place the meringues in the oven, turn the temperature down to 140 degrees C and bake for one hour. Without opening the door, turn the oven off and leave the meringues to cool completely inside.
For the raspberry syrup
Combine the raspberries, lemon juice, honey and water in a small pan and bring to a simmer. Reduce the heat and cook for about five minutes until thick and sticky. Remove from the heat and pass the mixture through a fine mesh sieve, discarding the seeds. Set aside to cool.
Whip the cream until soft peaks form. Fold in the Greek yoghurt then divide between two bowls. Crumble about three quarters of the meringue into one bowl along with the raspberries, reserving a few for decoration. Swirl the other bowl with half the cooled raspberry syrup.
To assemble
Drizzle a little syrup into the bottom of six small glasses or bowls (I like glasses because you can see the layers). Top with a spoonful of meringue mixture followed by a spoonful of raspberry cream, a little crumbled meringue, a few slices of strawberry, some chopped pistachios and a little more syrup. Repeat the layers until all the mixture is used up, finishing each glass with a fresh raspberry and scattering of nuts.
Serve as soon as possible as the meringue will start to lose its crispness, although I've been know to happily polish off any leftovers the next day.
Other posts you might like:
Raspberry, Peach & Hazelnut Eton Mess
Lemon Meringue Ice Cream
Raspberry & Pistachio Tarts