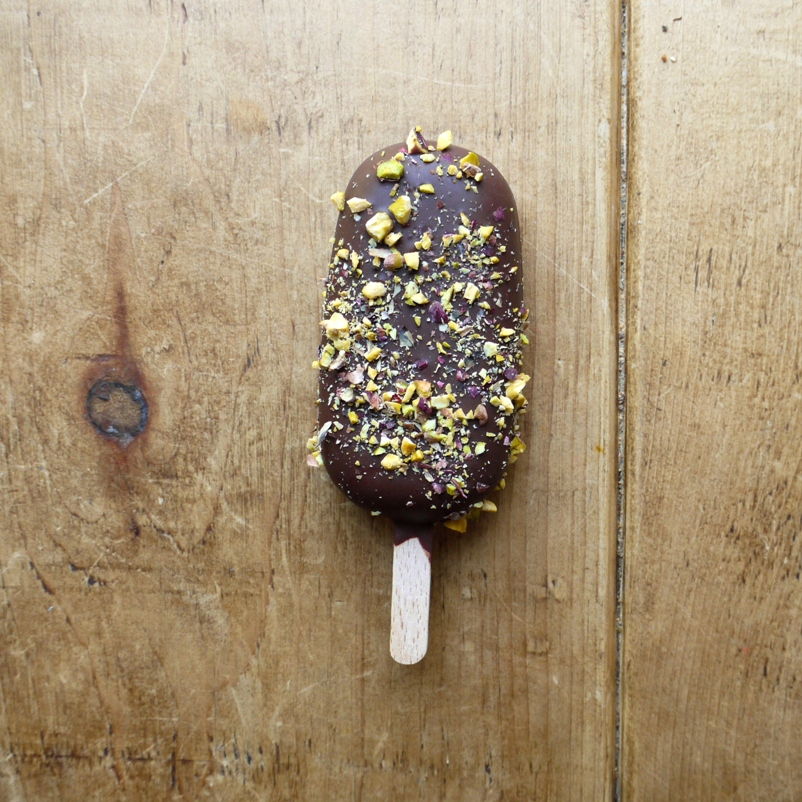 If someone presented you with a 'seriously nutty' pistachio ice cream, what would you expect?
To me 'seriously nutty' suggests the presence – perhaps even an abundance – of nuts. And in the case of a pistachio ice cream, pistachio nuts. Call me an idealist, but if an ice cream is labelled as 'nutty', I'm expecting a whole load of the good stuff.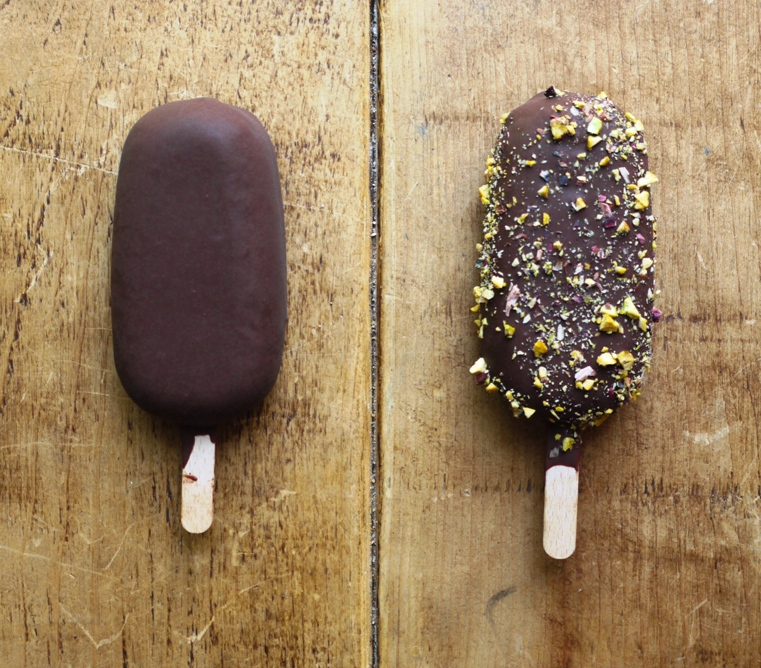 What I wouldn't expect (although perhaps on reflection with my cynical anti-supermarket – which is where I found this particular imposter – hat on, I would) is an ice cream flavoured with 'pistachio sauce'. A sauce which, on examination, is made up of sugar, colouring, spinach extract, curcumin, flavouring, rice starch and, conspicuously, no pistachios.
Seriously nutty? If you take the term nuts to mean crazy, perhaps.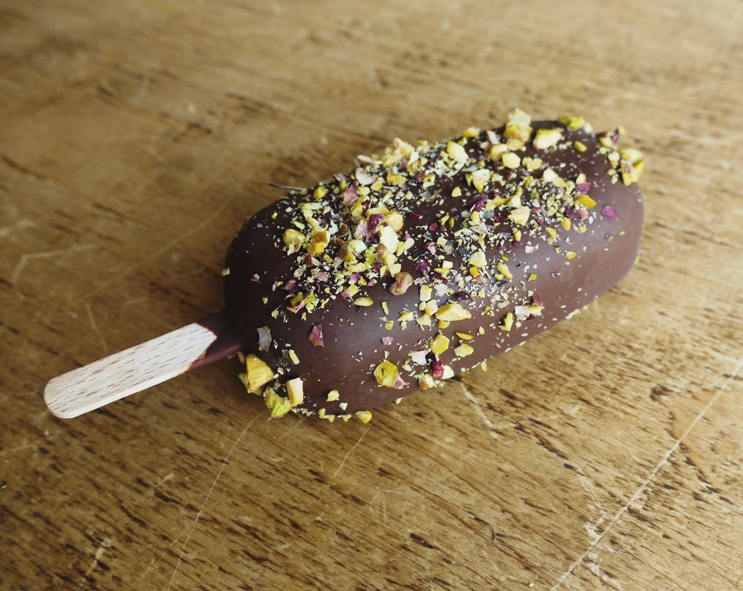 Upsetting as it is, there's a simple reason behind these devious hidden ingredients: pistachios are expensive. Ice cream makers the world over use artificial ingredients (in its defense, at least the tub I was looking at used natural colouring like spinach) and finding a top quality pistachio ice cream is difficult to say the least. Unless you make it yourself.
A few months ago I discovered Bronte pistachio paste, a sort of sweet, green version of Nutella made with Italian pistachios, sugar, milk powder and fat. Delicious as it is (I could eat the stuff by the spoonful), these add-ins mean it's not the purest of ingredients to work with, so I was thrilled when the founder of Why Nut offered to send me some of their 100% pistachio paste.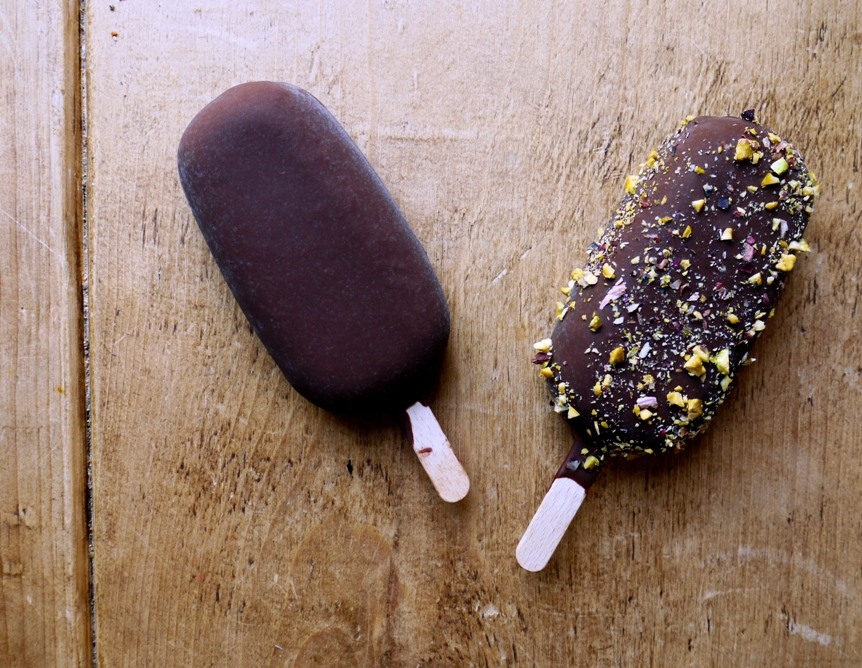 I don't normally review products on my site, but I'm more than happy to mention something as wonderful as this. Why Nut pastes are used by master chocolatiers like William Curley and Rococo and the intensity of colour and flavour is next to none. Think Nutella versus a spoonful of melted chocolate, both delicious, very different, but the latter more adaptable to use in different ice creams and desserts.
Just over a litre of ice cream below is made with about £5 worth of pistachio paste. Add in the other ingredients and it's going to come in a fair bit more expensive than a shop bought tub. But it's worth it because it's better. Cloaked in chocolate then sprinkled with salty pistachio nuts, this pale green ice cream is an utter joy to eat. And seriously nutty in exactly the right sort of way.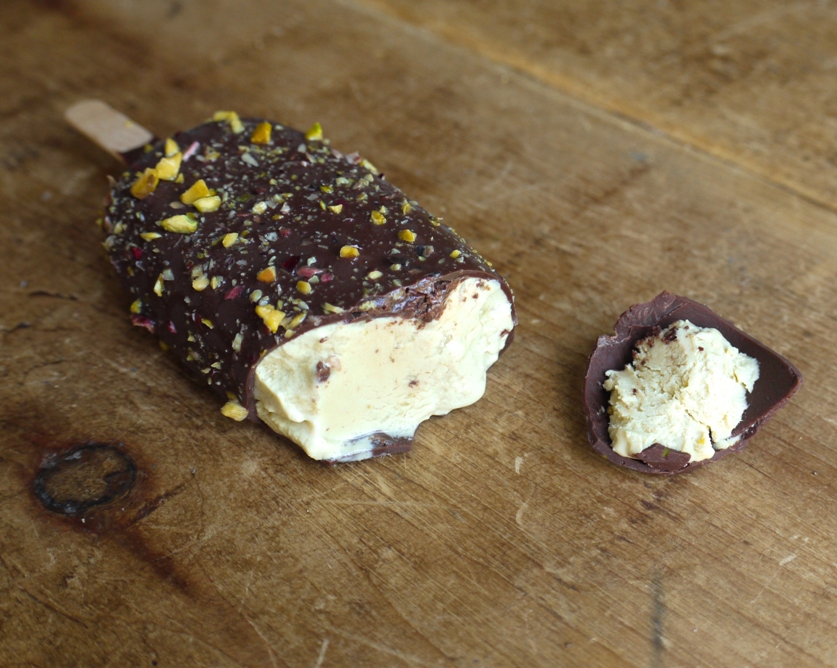 Pistachio Ice Cream Bars
(makes approx. 8 ice cream bars)
The beauty of these little ice creams is in the silicone moulds (which you can pick up online fairly inexpensively). However if you don't have any, you could freeze the ice cream in a square container lined with parchment paper, then slice into bars before following the instructions to coat with chocolate below.
Ingredients:
For the ice cream
6 large free range egg yolks
600 ml double cream
200ml whole milk
Pinch sea salt
160g golden caster sugar
90g 100% pistachio paste (I got mine from Why Nut, which is wonderful)
For the coating
150g dark chocolate
75g milk chocolate
2 tsp unflavoured coconut oil (you could use a less refined version, but the coconut flavour will come through)
Handful good quality salted, roasted pistachios, finely chopped
Method:
For the ice cream
In a medium bowl, whisk the egg yolks until pale and thick. Pour the cream into a separate bowl, sit it in an ice bath and set a mesh strainer on top.
In a medium saucepan, heat the milk, salt and sugar until the sugar is dissolved. Pour the warm milk mixture into the eggs, whisking constantly until combined. Return the whole mixture to the saucepan and cook over a medium heat until the custard has thickened, stirring constantly to ensure it doesn't catch or overheat.
Remove the custard from the heat and pour through the mesh strainer onto the cream. Whisk the mixture over the ice bath until cool.
Once cool, whisk in the pistachio paste. Chill in the fridge for a couple of hours or overnight, then churn according to your ice cream manufacturer's instructions. When the ice cream is churned, transfer into silicone ice cream moulds and freeze. After an hour, insert your wooden lolly sticks then return to the freezer to harden completely.
For the chocolate coating
Line a tray with parchment paper and place in the freezer.
Melt the chocolate and coconut oil in a heatproof bowl suspended over a pan of simmering water. Remove from the heat and allow to cool slightly before transferring into a tall glass (having the chocolate in a container with high sides and a narrow diameter will allow you to submerge each ice cream bar easily in the chocolate).
Remove the ice cream bars from their moulds and, working quickly, dunk the bar in the chocolate and remove, allowing the excess to drip off before sprinkling with the chopped pistachios. Lay on the parchment lined tray in the freezer and repeat.
Other posts you might like:
Chocolate Peanut Butter 'Magnums'
Strawberry, Chocolate & Pistachio Ice Cream Bars
Chocolate Pistachio Eclairs