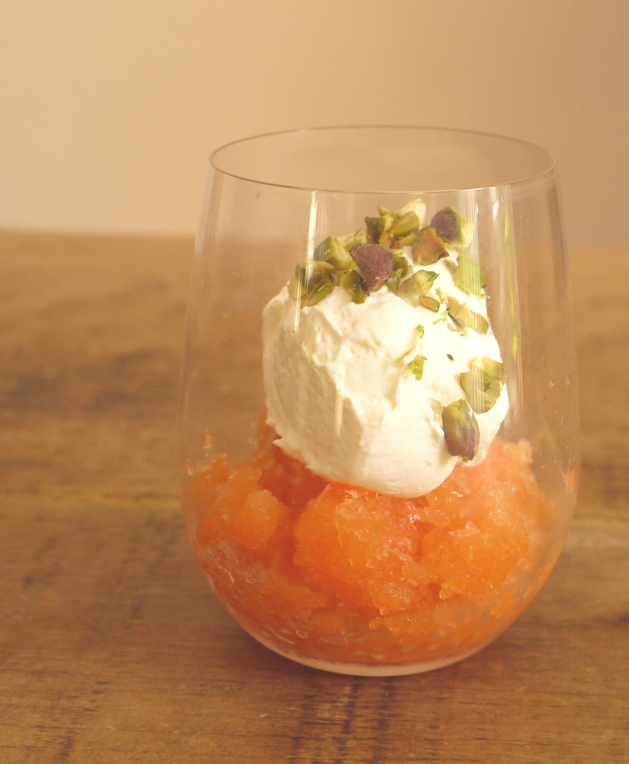 A couple of weeks ago I turned 29. In true little loaf style, I managed to draw the celebrations out for well over a week, beginning with a BBQ in the rain, through two lunches, dinner with friends and a family meal on the actual day to a romantic meal for two. A pretty good haul for my very last birthday as an unmarried lady ('single' somehow sounds wrong; I've not been single for over eight years).
The highlight of it all was an evening at Pollen Street Social with Carnivorous Fiancé. I've wanted to eat there for ages and thankfully the restaurant didn't disappoint, from the endless supplies of beautiful homemade bread (so important for first impressions, but sadly something so many places get wrong) to the tiny personalized cake and card they brought over at the end of our meal after discovering that it was my birthday.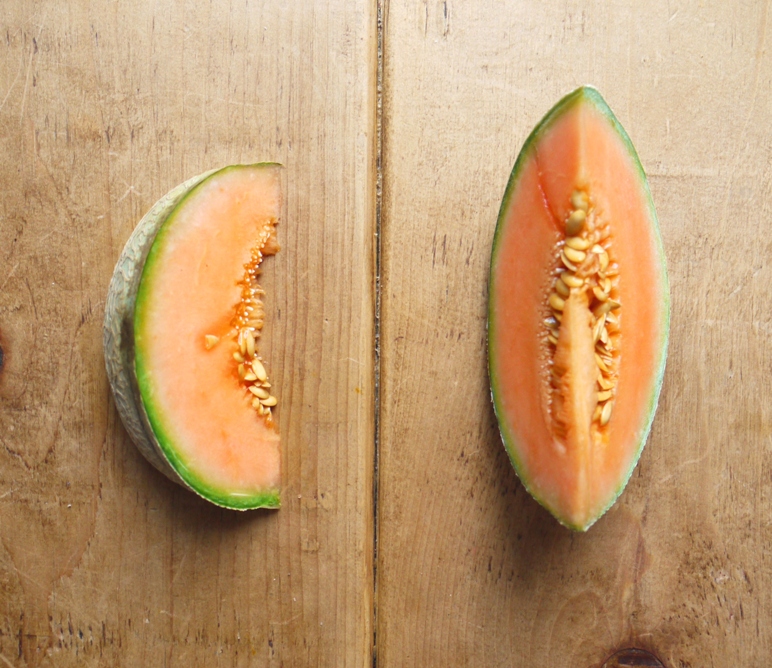 I'm sure what you really want to hear about dessert so here's what I ate: 70% Chocolate ganache with banana ice cream, sesame crumble, Pedro Ximenez and chocolate coral. The ganache was ridiculously rich, the crumble like the best rice krispie cake you've ever eaten and the Pedro Ximenez appeared as sticky little dots of Christmas pudding-like gel. The coral – which when observed on other peoples' tables appeared to be firm and crunchy and, well, coral-like – was in fact a sort of semifreddo, moulded into the most amazing shape. The plate was a complete work of art, something I could absolutely eat with my eyes (before greedily spooning into my mouth).

But the thing which really won my heart, which blew me away in the way that only something so understated and unexpected can do, was a simple pre-dessert of camomile and cantaloupe granita with a yoghurt lime foam, the floral tea and sweet, aromatic melon combining in ice cold crystals to create the most perfect palate cleanser.
This recipe is my attempt to recreate that sweet at home and I hope that you'll love it as much as I do. Don't be put off by the Michelin-starred inspiration: this is absolutely a simple dish to make at home. Granita is something that anyone can whip up with a freezer and a little bit of patience (no ice cream machine needed!) and I defy you not to fall for the honey chamomile syrup, even if you don't get as far as blending it with melon and freezing the whole lot into this beautiful ice.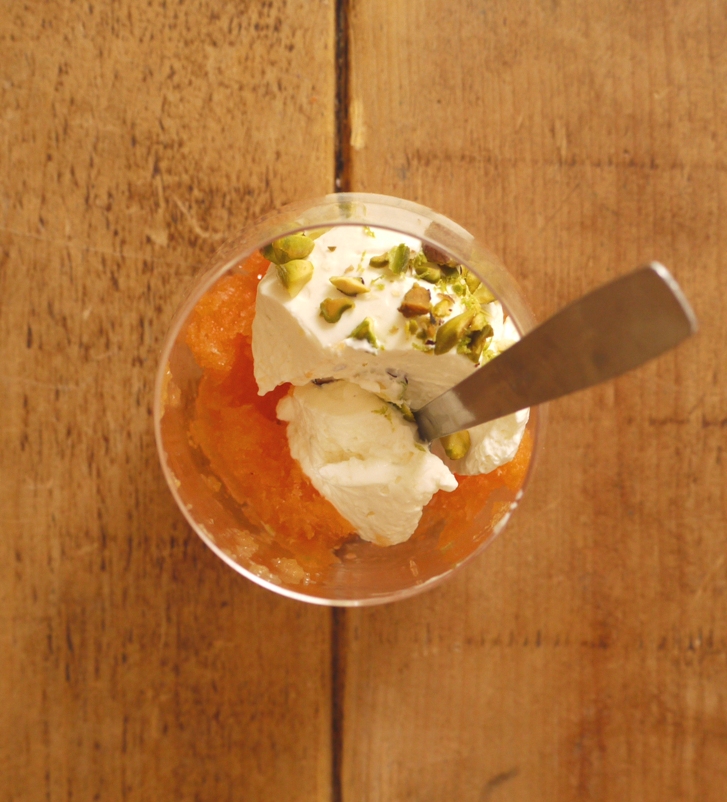 I have absolutely no desire to make my own foam at home but this creamy citrus mousse is a more than suitable substitute for what we ate in the restaurant. Something about the fat in the dairy combined with the sweet ice crystals of granita allows the flavours to linger longer on your tongue, creating a mouthful that is both comforting and refreshing all at once.
If you end up with any leftover granita, as I did, it's wonderful softened and slurped as a sort of iced tea slush puppie, or stirred into Greek yoghurt at breakfast time, if you're that way inclined (I am).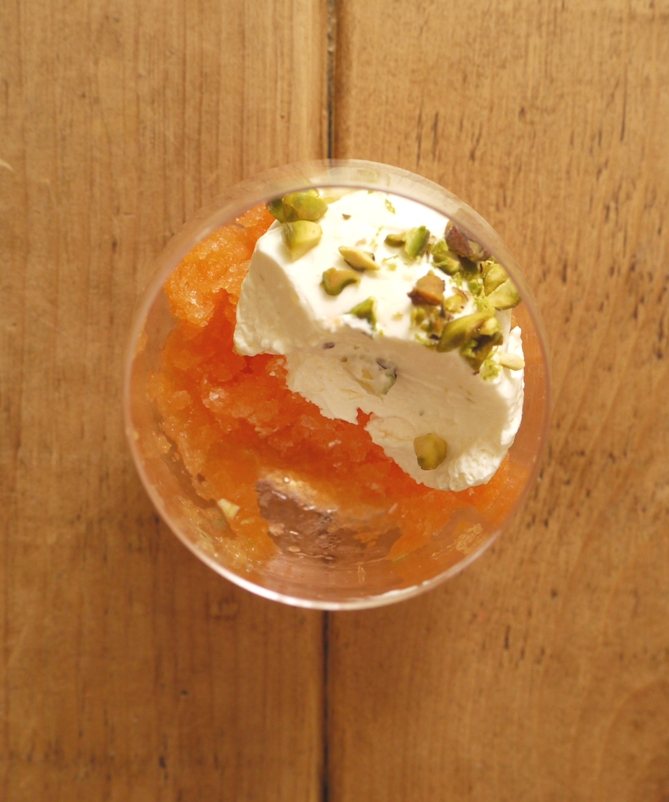 Camomile & Cantaloupe Granita with Lime Yoghurt Mousse
(Serves 8-10, depending on portion size)

Ingredients:
For the sorbet
200ml water
1 camomile teabag
90ml good quality runny honey
2 small melons, de-seeded & roughly chopped (I used 900g flesh)
Juice half a lemon
For the mousse
1 heaped tsp gelatin
2 tbsp water
250ml double cream
350ml Greek yoghurt
Juice & zest of one lime
50ml runny honey (optional – I found the sorbet was sweet enough to balance out the dish, but if serving the mousse alone, I'd definitely add a little sweetener)
To serve
Pistachio nuts, chopped
Zest of one lime
Method:
For the sorbet
In a small saucepan, bring the water to the boil. Remove from the heat, add the teabag and steep for 10 minutes. Remove and discard the teabag, stir in the honey and bring to the boil. Simmer until reduced slightly, about 5 minutes, to create a simple chamomile syrup.
In a blender, blitz the melon until smooth. Add the camomile syrup and lemon juice then blitz again. Pour into a shallow container and freeze. After about 45 minutes, rake up any ice crystals that have formed at the edge of the container with a fork then return to the freezer. Check every 30 minutes for another two hours, raking up the crystals each time to form a lovely icy granita.
For the mousse
In a small heatproof bowl, combine the gelatin and water, stir then set aside.
In a medium sized bowl, whip the cream to medium stiff peaks. In a separate bowl, whisk together the yoghurt, lime juice and zest. Whisk the honey into the yoghurt, if using.
Heat the gelatin in the microwave for 12 seconds (or melt in a bain marie). Working quickly, pour the melted gelatin over the yogurt mixture and whisk to combine. Gently fold in the whipped cream until everything is blended then scrape into a container and refrigerate.
To serve
Divide the granita between six serving bowls or glasses (glasses look prettier so you can see the layered effect). Top with a scoop of yoghurt mousse then finish with a few chopped pistachios and a sprinkle of lime zest.